After a hiatus of almost 2 years, the availability of COVID vaccines and booster shots finally motivated me to take the plunge and start travelling again. As a fan of Oceania' Executive Culinary Director, Jacques Pépin, my plan was to defrost in the Mediterranean and indulge in culinary delights while cruising on the Riviera.
However, as with any travel during the pandemic, everything is subject to change. The bad news mostly centered on itinerary disruptions, including a shift from Monte Carlo to Marseille as the port of embarkation. But there was also good news – the cruise line proffered a last minute upgrade to their sumptuous 24-hour butler serviced Penthouse Suites for a mere $750/pp. It was an offer I couldn't resist…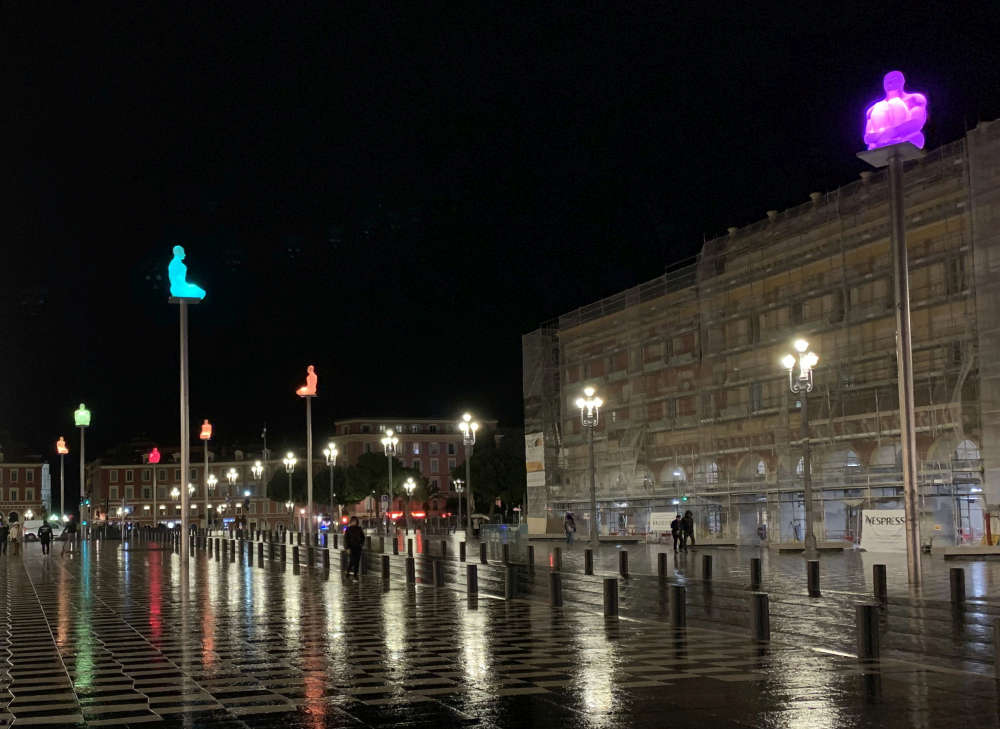 Having been to Nice plenty of times, it was more convenient to stay there as originally planned and then catch Oceania's complimentary transfer to Marseille the next day. Nice in winter was soggy as usual but it also gave me the chance to take pix of Catalan artist Jaume Plensa's Conversation à Nice in solitude. Representing the 7 continents, these 7 statues liven up Place Masséna at night with their color changing LEDs.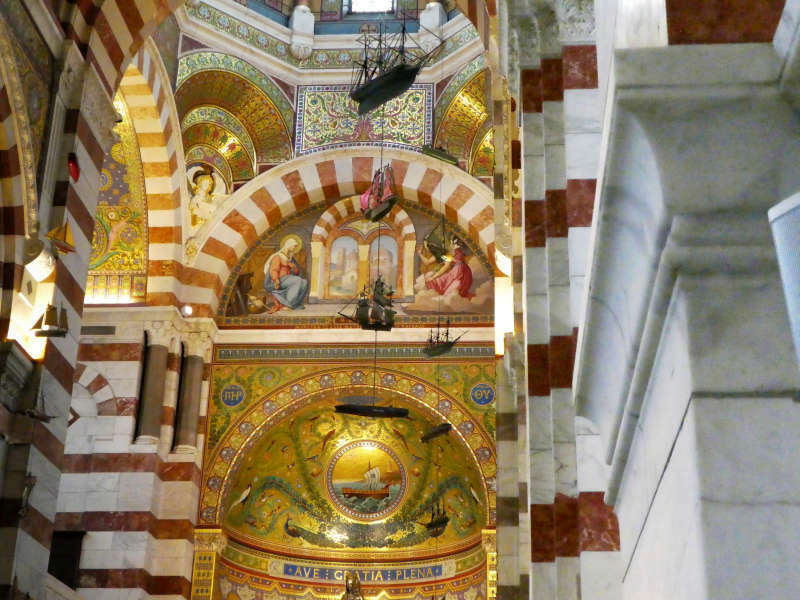 Given Marseille is France's largest port, it's not surprising that the Neo-Byzantine Basilique Notre-Dame de la Garde, known locally as La Bonne Mère, is the sailors' Basilica. Paintings of sailing vessels deck the walls, while models of ships, airplanes and the odd submarine hang festively from the ceiling – all ex-votos from grateful sailors and aviators to the Holy Mother for her protection in their time of need.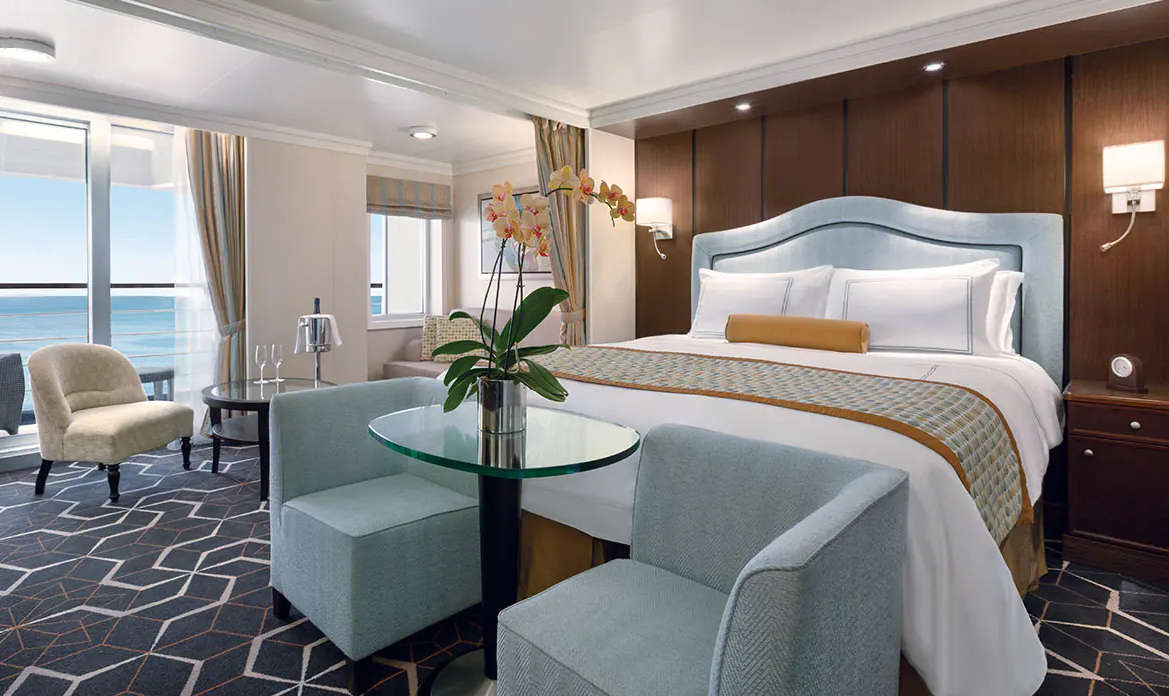 After meeting all the COVID protocols, including a dockside PCR test, we were finally allowed to board the ship. Having 440 sq. ft. of space to luxuriate in was heavenly, but when our butler delivered the canapes and chilled champagne, having those sassy corner chairs and glass table for ensuite dining kicked everything up a notch into the sublime category!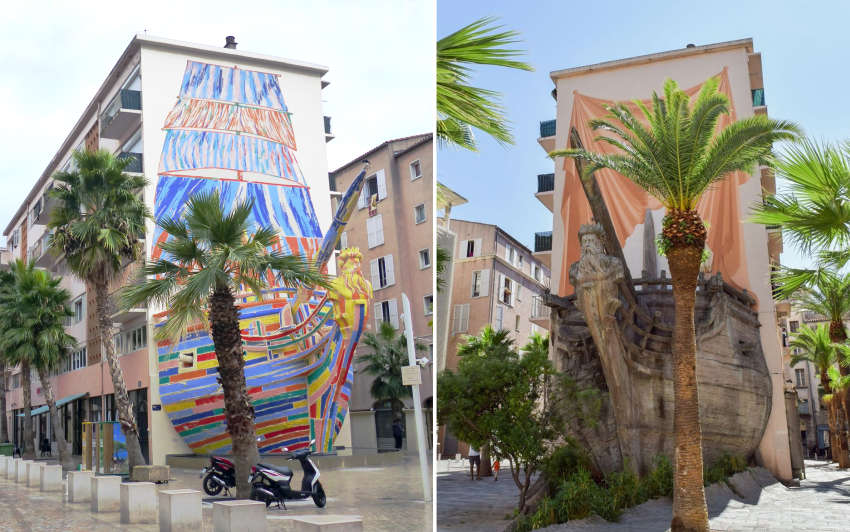 Our first stop was Toulon, a major port on the Mediterranean coast and home to France's main naval base. Wandering around, I came across this strange sight in Place Vatel. Seeming to plough out of the apartment block, the polychromed structure was apparently the replica prow of an 18th century frigate, La Fore. The 'improvements' had to be fairly recent since all prior pix in my research showed the sculpture in a natural finish and the wall's painted sails sported a totally different design (as shown in the image on the right). While paint does protect wood against the elements, I personally prefer the original understated look to this technicolor bow and Neptune figurehead.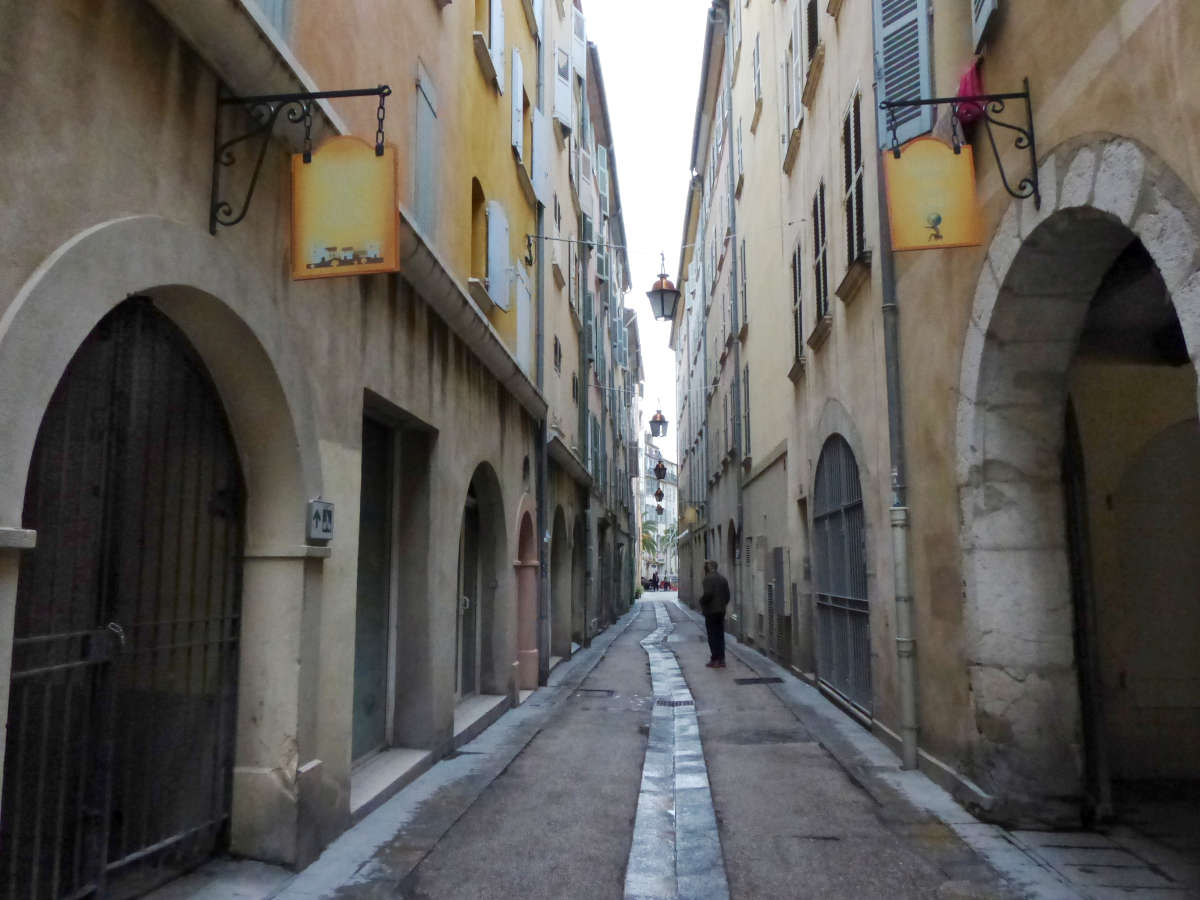 Passage Baboulène in Toulon's Basse Ville (Old Town) reminded me of Lyon's traboules as some of the buildings in the alley offer semi-public short cuts to walk through to adjacent parallel streets.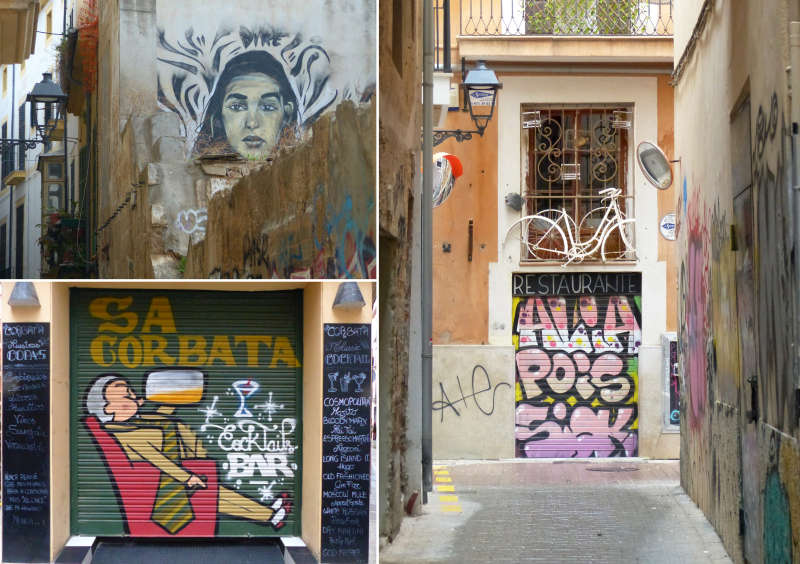 Our next port would have been Barcelona, but was changed to Palma de Mallorca due to COVID restrictions. Although I've visited the city before, I've never focused on Palma's vibrant street art. While public spaces are the usual avenues for such endeavors, it's also ubiquitous on shop doors (wood or metal rollups) and walls to function as signage or decoration for the owners.
Seeing that 'corbata' means 'tie' in Spanish, I appreciate the wicked humor in the bar door's graphics. I was also smitten by the whimsical bike that was de-constructed to fit above the restaurant door. While the 3 small white cages could have been decorative, the 4th unpainted one was certainly for food storage!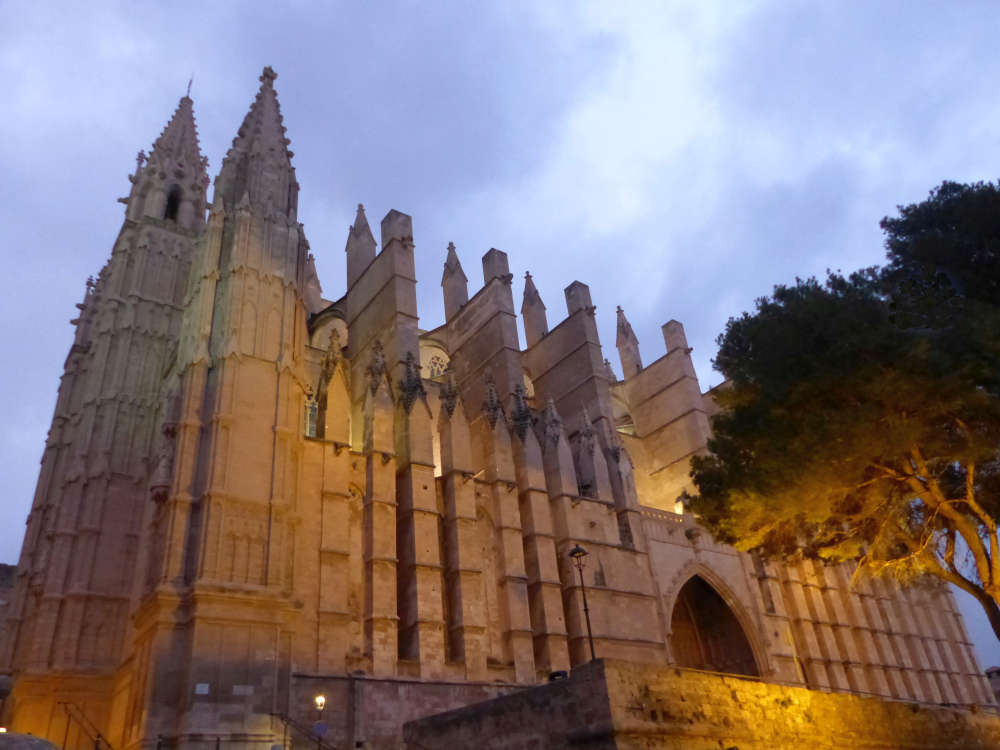 .This is probably one of the most famous landmarks in Palma due to Gaudí's involvement in its restoration, even though he quit the job partway. The Gothic Cathedral was built on site of a Mosque dating from several centuries of Moorish rule in the Middle Ages. More popularly known as La Seu, its walls lit up dramatically in the dusk.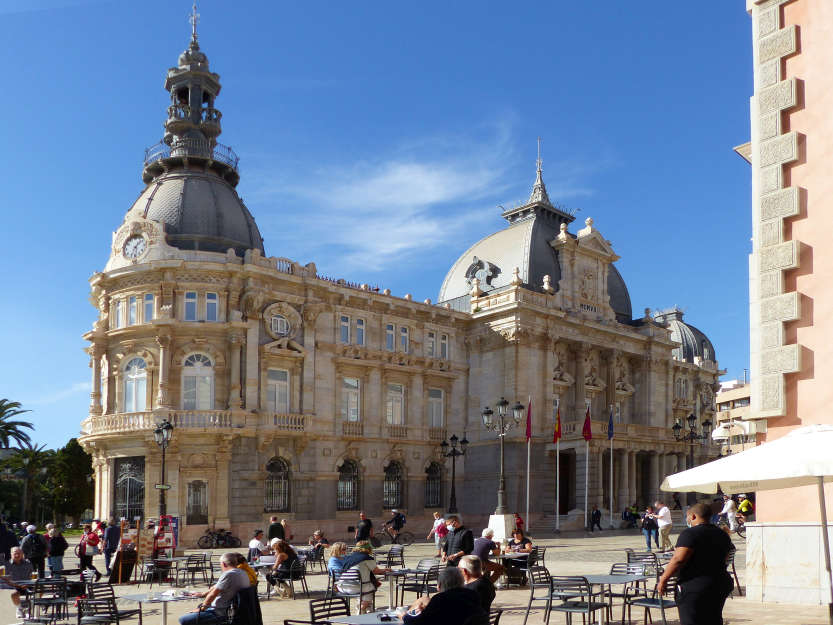 .The following day was Cartagena. A short walk from the cruise dock and we came upon the imposing Town Hall with its ornate zinc roof glinting in the sun. This is one of Cartagena's most striking examples of Modernisme, or Modernist architecture, which originated in Barcelona and is the Catalan take on Art Nouveau.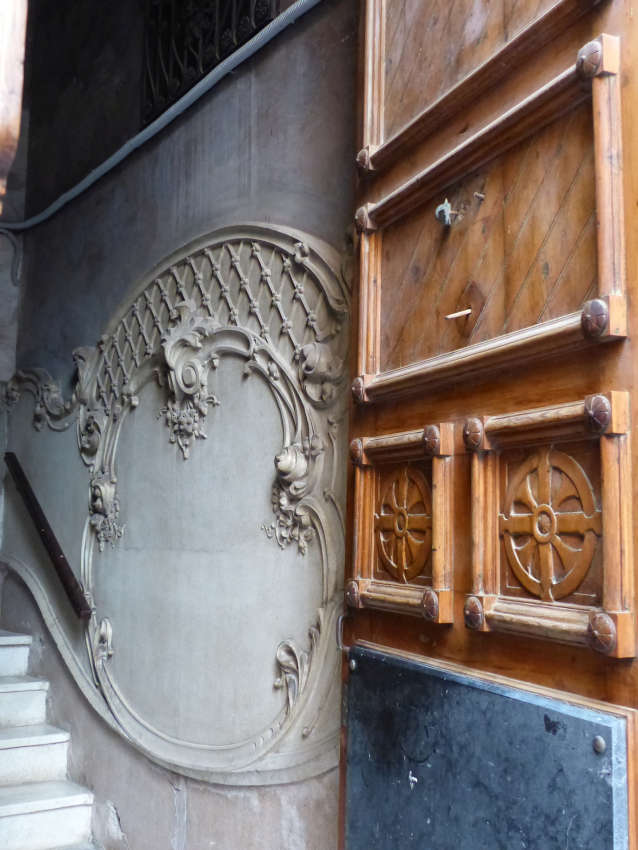 Calle Mayor is a bustling pedestrian street choc-a-block with Modernist architecture and chic stores. I love the intricate details on these walls and doors and was happy to see all the restoration work taking place along this street.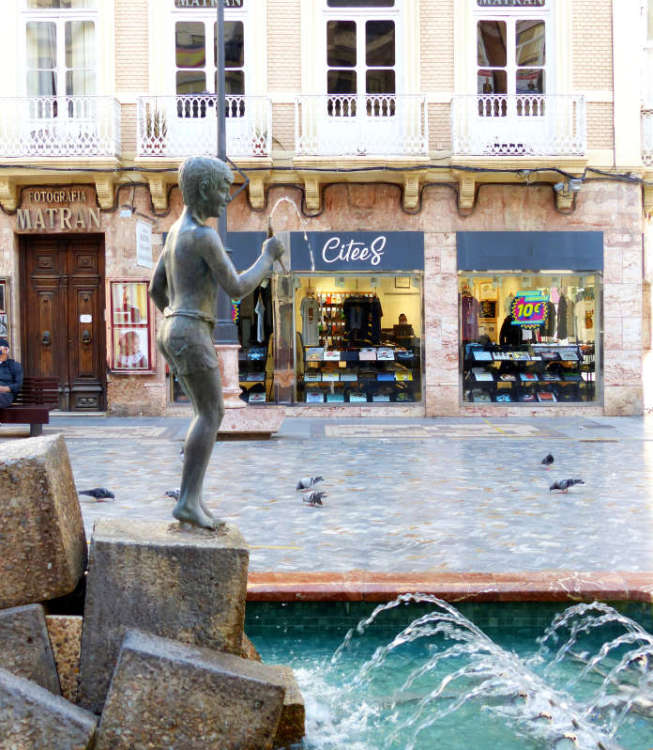 This sculpture by Manuel Ardil Pagán is in front of the Palacio Pedreño, a prominent Modernist building. The statue is dedicated to Cartagena's street urchins, known locally as icues, who scavenge around the harbor for small fish discarded by the fishermen. As part of the fountain's design, water is cleverly recycled through the fish's mouth!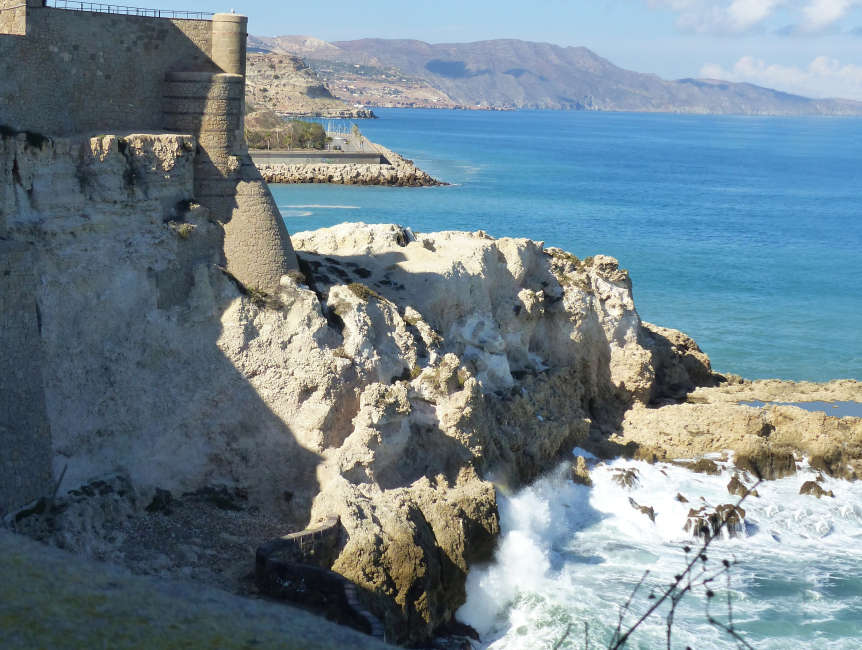 We sailed south to the Spanish exclave of Melilla which is surrounded on 3 sides by Morocco. La Vieja, the 600-year old fortress that's perched on a rocky promontory, is a reflection of the town's North African roots.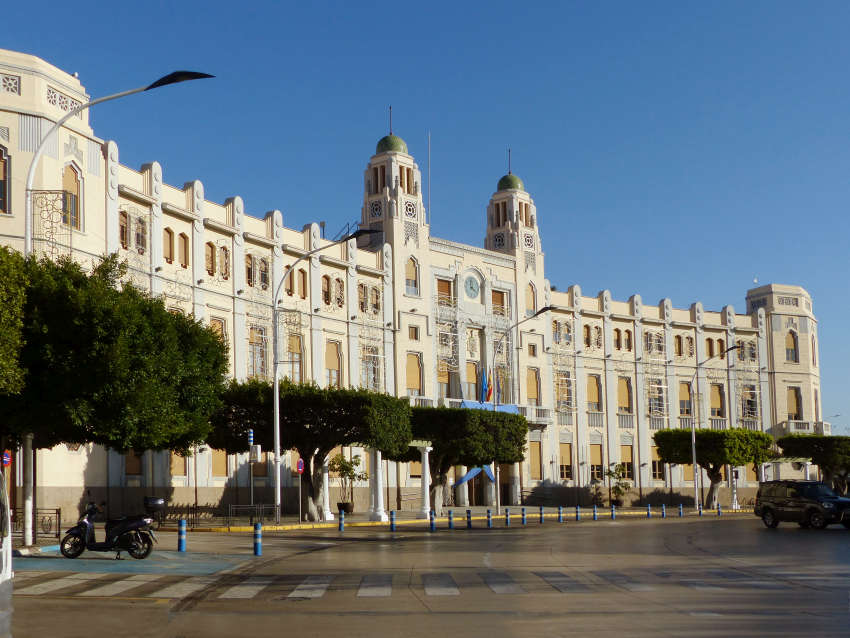 Melilla boasts having the most modernist buildings outside Barcelona and Valencia. This is the legacy of Catalan architect Enrique Nieto, who studied under Lluís Domènech i Montaner and purportedly worked for Antoni Gaudí before settling down in Melilla, where he rose to become its chief architect.
Nieto's style evolved from Modernist to Art Deco and integrated Arab influences into his work along the way. One of his major projects was this twin-towered City Hall, an impressive Art Deco edifice with a Moorish feel.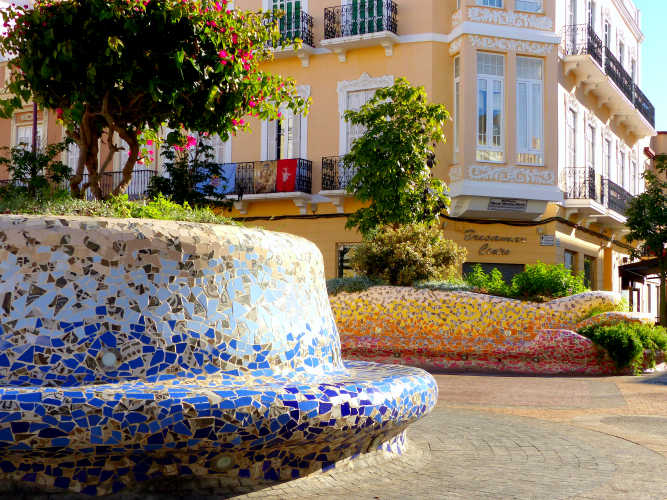 Wandering around the quiet town, we came upon these vibrantly colored Gaudí-esque mosaic planter benches at Plaza Héroes de España. It's easy to think you're in Barcelona until a local walks by in a kaftan…