'Tis the season to be Jolly, so here are six awesome bar cabinets to help your Holiday Cheer. Whether you're smitten with the bespoke drinks cabinet from the House of Armani, or beguiled by architect Naihan Li's creative armillary bar, these one-of-a-kind bar furniture will certainly fire up your inner mixologist!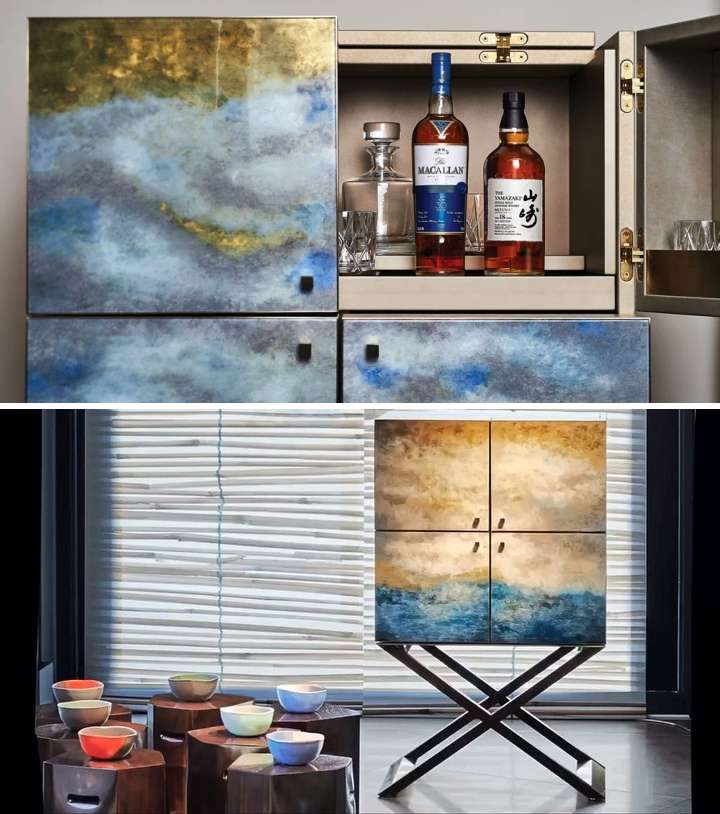 The stunning limited edition Club Bar Cabinet from Armani Casa is inspired by Japanese artist Hokusai's iconic woodcut The Great Wave off Kanagawa. To evoke the ocean's dynamic character, the multi-layered blue, gold, and gray lacquer work takes 2 craftsman 92 hours to complete. The cabinet features in-door storage for drinkware, with a fold-out top for concocting libations. There are three pullouts for the ice bucket, cocktail accessories, and of course whatever rarified wines and spirits deemed befitting for this $63,180 cabinet!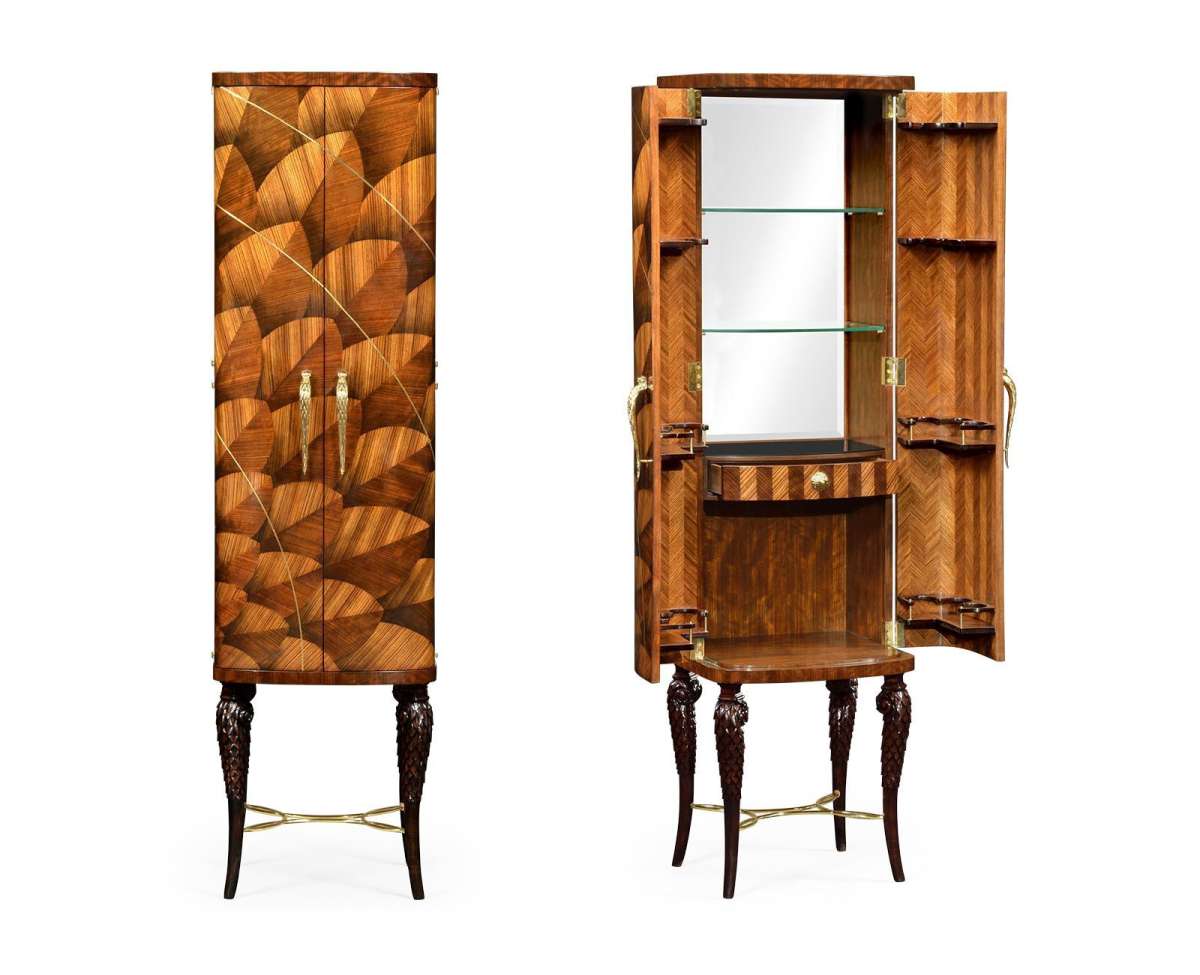 Unassumingly called Feather Inlay Drinks Cabinet, this opulent Regency style case piece by UK cabinet maker Jonathan Charles showcases exquisite marquetry in a radiating feather pattern with inlaid brass accents on the exterior, and herringbone stripes on the interior. The cabinet is set on decorative ebonized legs and measures 20.25" x 18" x 75.25". All the wood is hand finished to highlight its beauty and to ensure quality, the locks, keys, screws and hinges are made in house.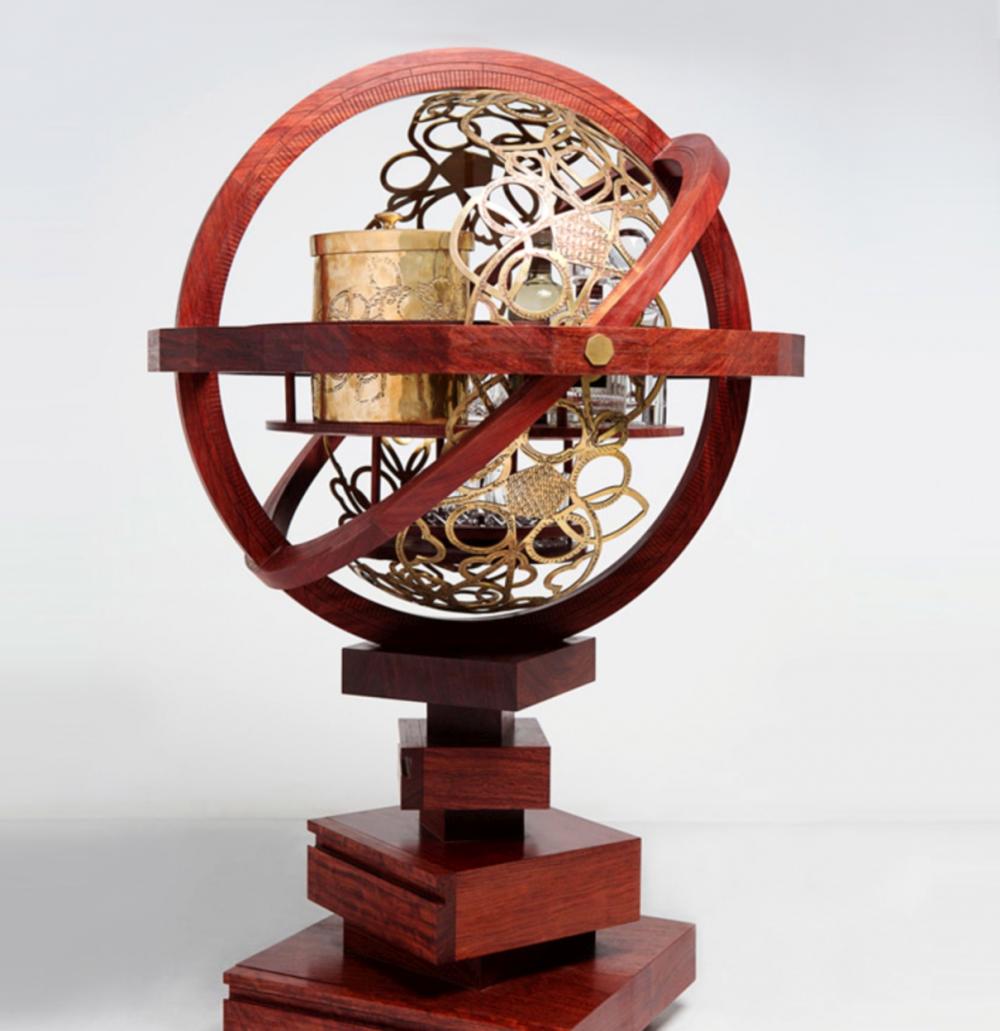 Created for Australian art consultancy Broached Commissions, this East Armillary Sphere Whiskey Bar by Naihan Li is a riff off the armillary sphere. Just as the reference celestial body of the ancient astronomical instrument is in its center, whiskey bottles are displayed, with an engraved ice bucket, on the shelf around the middle of the filigree sphere. Tumblers are stored on the shelf below, with 3 hidden drawers for mixology gear cleverly stashed in the wooden base.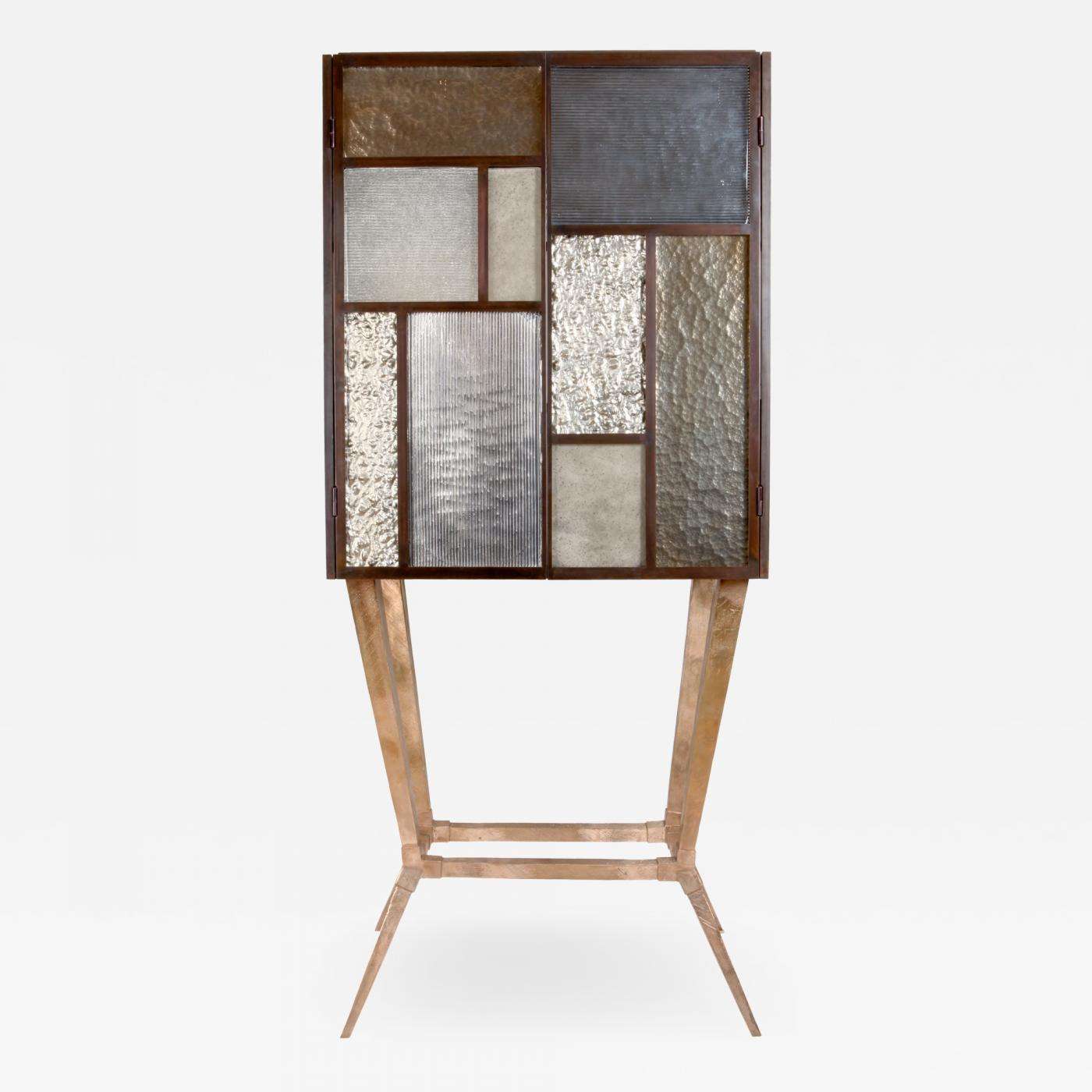 For Don Draper fans, the acclaimed art gallery and studio Charles Burnand Gallery will make holiday festivities more memorable with this modernist bar cabinet. Tableau is a Mondrian-esque masterpiece comprised of 17 pieces of art glass in a patinated steel frame set atop a cast bronze base. Each Murano glass 'tile' is hand floated and selectively gold or silver leafed to accentuate its rich texture. Modern conveniences of this 33.5"x 17.75" x 75.25" cabinet include motion activated LED in-cabinet lights and magnetic doors.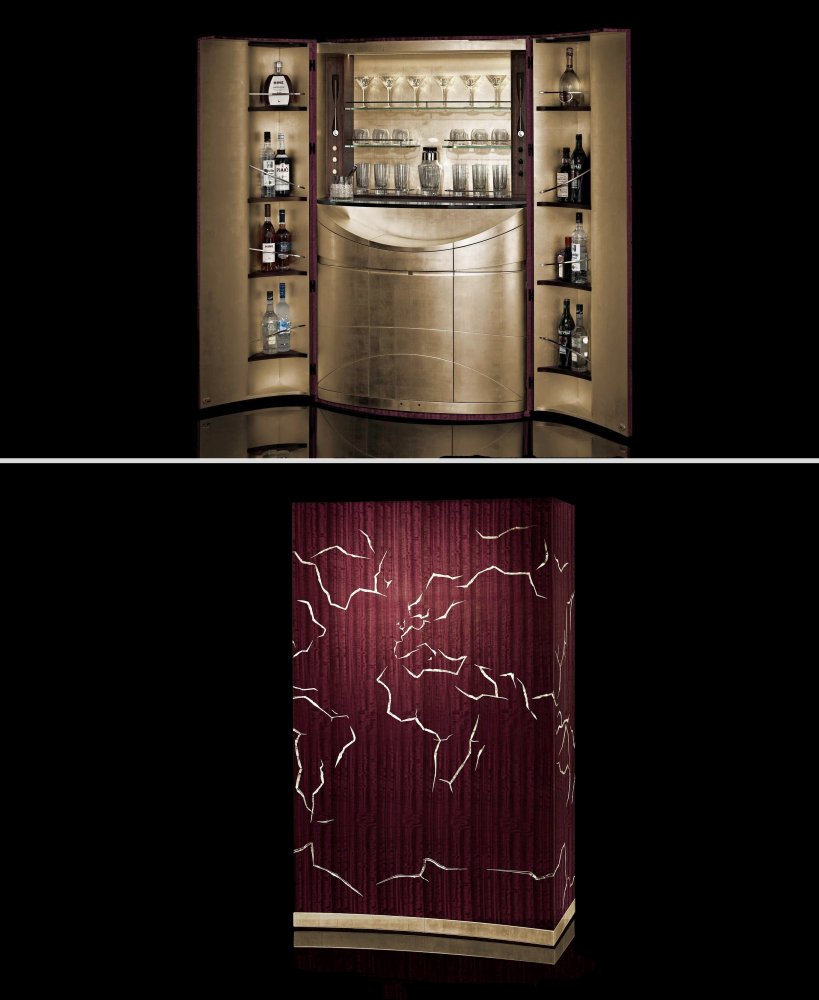 Hard to say if the British (and its Commonwealth) are more pre-occupied with upmarket tippling than the rest of us, but this imposing drinks cabinet, chock-full of gadgets, is certainly a sight to behold. Hand crafted by UK luxury furniture and cabinet maker David Linley, this bar has everything one wants for entertaining and then some. Aptly named Tectonic, the ebonized walnut exterior sports deeply chiseled markings overlaid with white gold leaf and nickel to represent stylized fault lines in the earth's crust.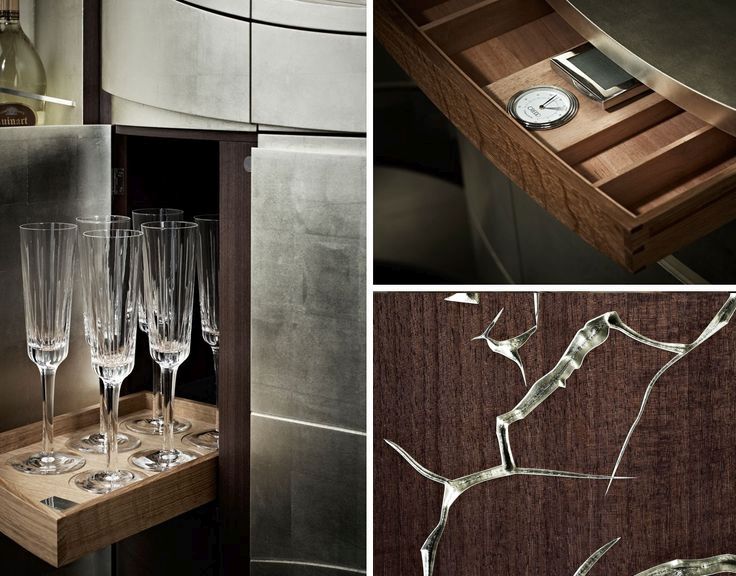 For those in the know, the bar opens up with the press of a secret button. This will then rotate the bar columns to provide access to the bartending paraphernalia. Hidden behind the doors and drawers are a fridge and cigar humidor, in addition to glassware storage. Of course this posh setup comes with a price – to a tune of $271,138!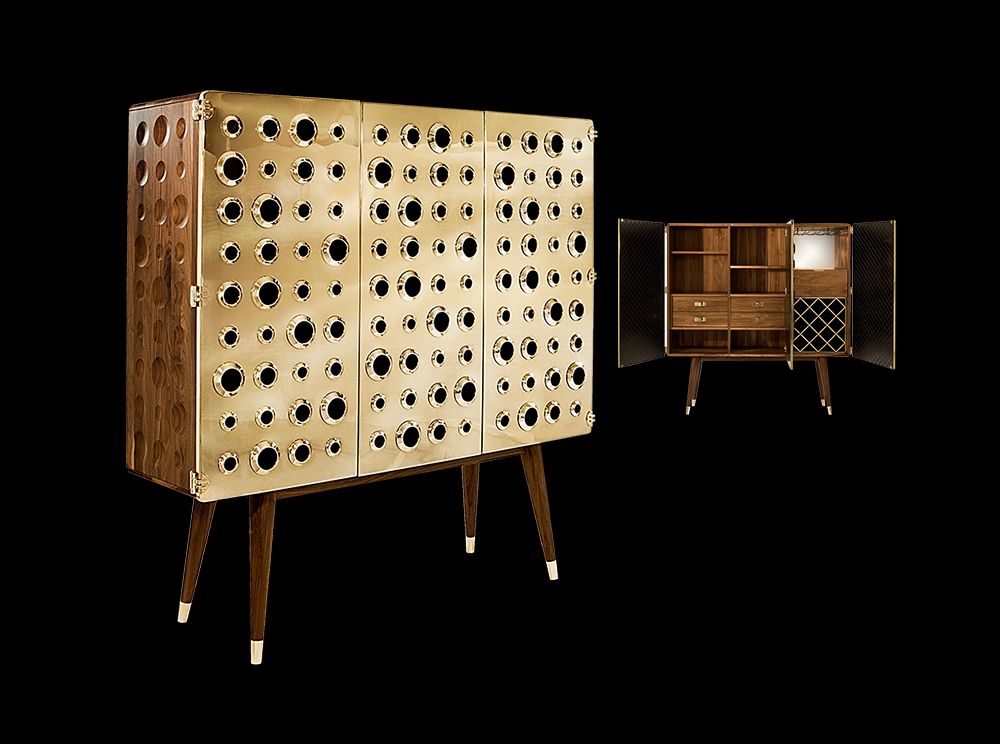 Mid-century modern sensibility gets a reboot with the whimsical circular motif of this Essential Home Monocles drinks cabinet. The walnut bar comes with liberal metallic accents in the doors, knurled knobs, leg ferrules, and wine rack. The brass doors showcase rows of 3-dimensional 'port holes' accented by contrasty black interiors, while the sides and back echo the circular theme as carvings in the wood panels. Arresting looks aside, the 66.14" l x 20″ d x  68.11" h cabinet is well organized for all your party needs – a pair of doors open to reveal the cocktail center with shelves and drawers for bar tools as well as liquor storage, while the other section is dedicated to housing wine and stemware for oenophiles.
Standard finish is Varnished Walnut, Matte Black and Gold Plated Brass. However for those looking for options, metal choices include Matte Gold Plated Brass, Polished Brass, Brushed Brass, Aged Brass, Nickel plated, Matte Nickel, Brushed Nickel, Black Nickel, Matte Black Nickel, Copper Plated and Brushed Copper.