If you love exquisite kitchen & bath furnishings, this post is for you! You'll find kitchen and bathroom furniture & fixtures that will blow your mind: from the use of carbon fiber in interior furnishings to futuristic range hoods that befit the Jetsons, this collection of furnishings will certainly impress and delight!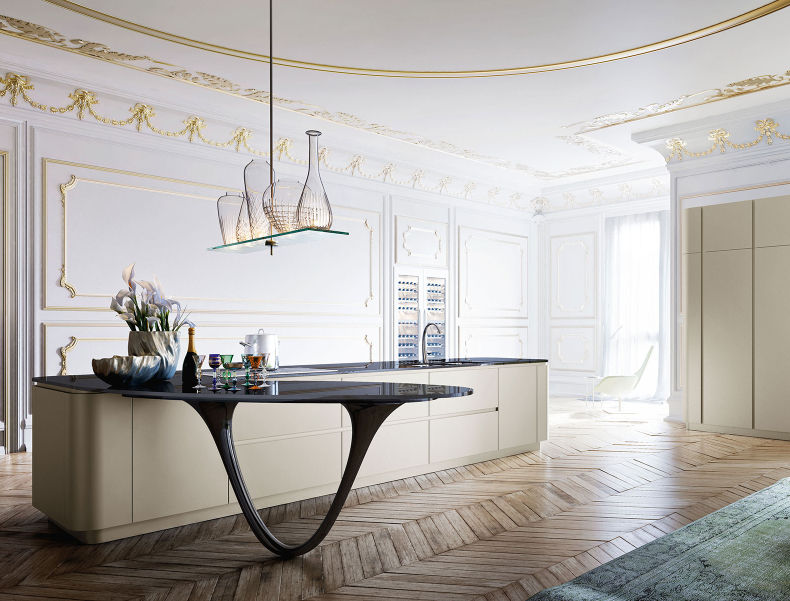 The model Ola 25 LE commemorates 25 years of collaboration between Snaidero and Italian automotive design firm Pininfarina, whose clients include Ferrari, Alfa Romeo and Maserati. The elegant cabinetry features mica-infused champagne lacquer cabinets. Drawing on its automotive roots, Pininfarina used carbon fiber for the peninsula top's ethereal support and finished it in black gloss lacquer to match the glossy black glass counter top.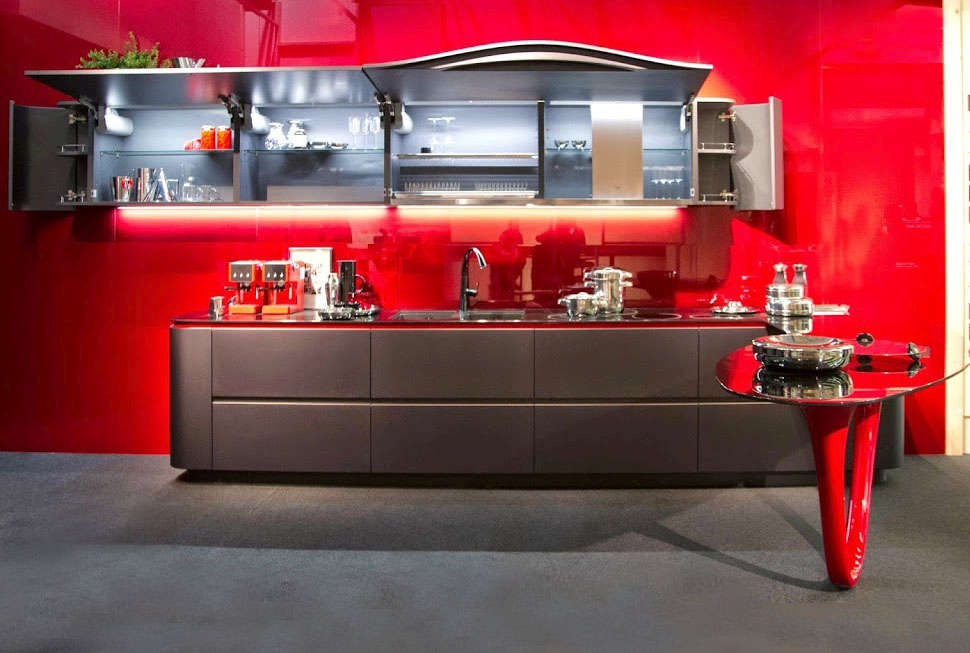 This version showcases matt black lacquer cabinetry sporting a red metallic lacquer reveal. Red base for the black glass worktop provides a punch of color.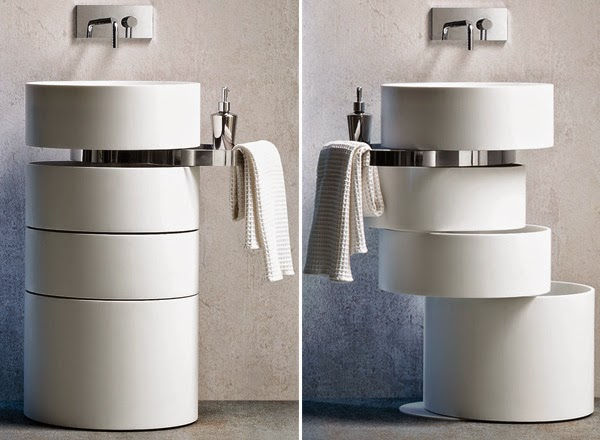 The Orbit Sink by Alessandro Isola is a study in simplicity. The freestanding Corian sink sits atop a neat stack of cylinders anchored by a metal pivot. The chrome ring pulls double duty as a towel rail and soap tray, while the 3 rings underneath swivel out to serve as storage units, orbiting around the sink.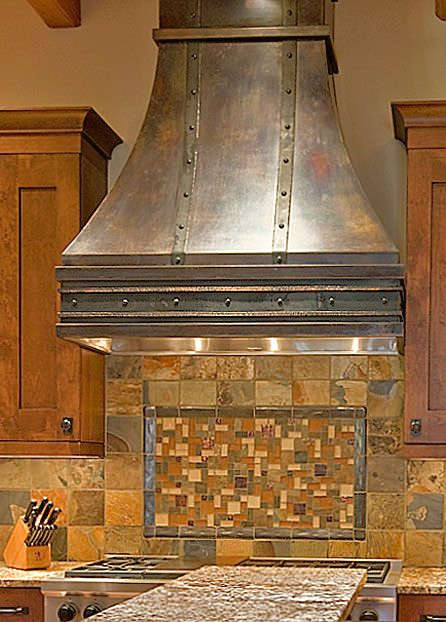 Fashioned from 16 gauge pure copper, the CopperSmith vent hood's soft patinas, hammered detailing, decorative iron straps and rivets are guaranteed to create old world charm. You'll love the subtle variations in tone, finish, and construction of this handcrafted wall hood.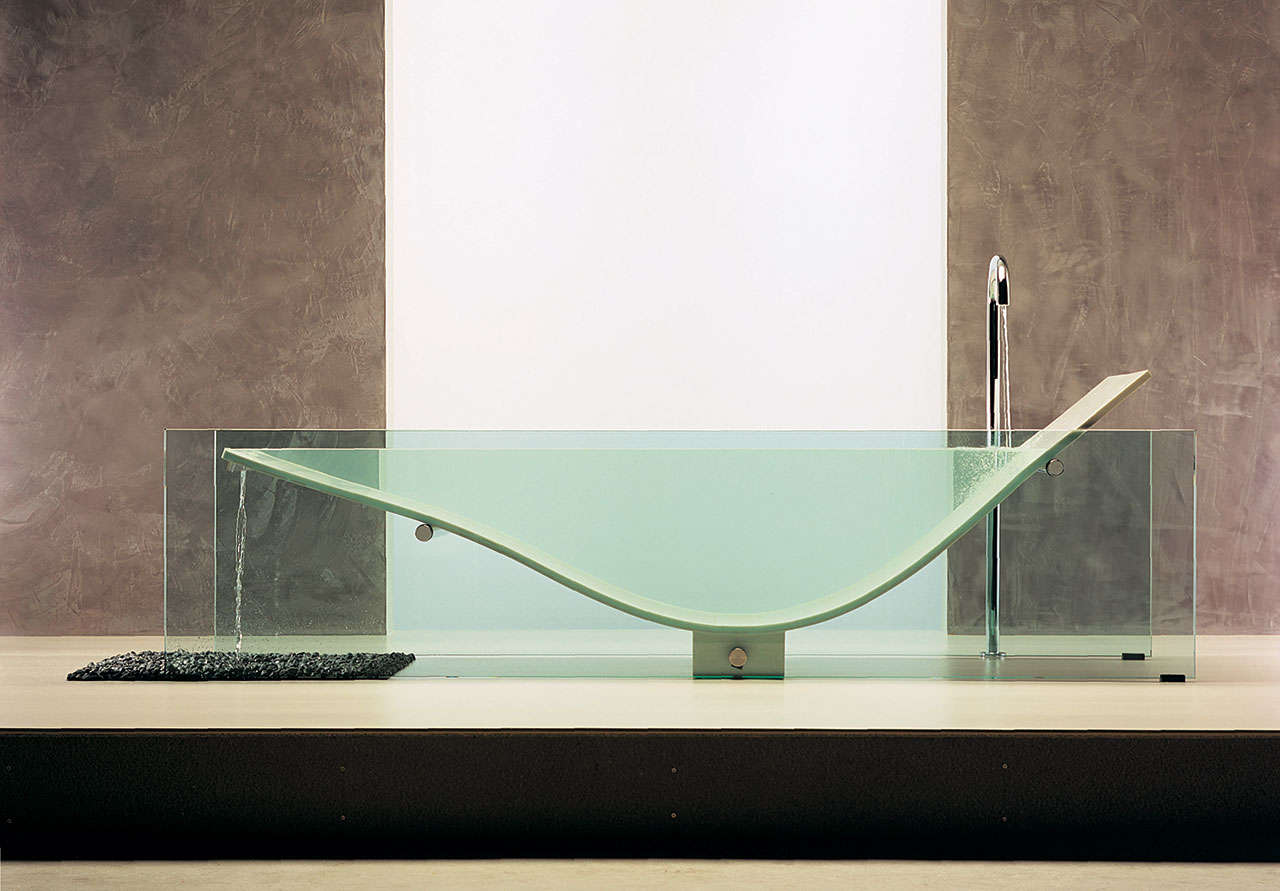 A statement piece in any bathroom, Omvivo's signature Le Cob bath will foster a sense of tranquility with the soothing sounds of water cascading onto a bed of black pebbles. While you have to forage for the pebbles, the glass and Corian bathtub does come with waste and overflow drain tray!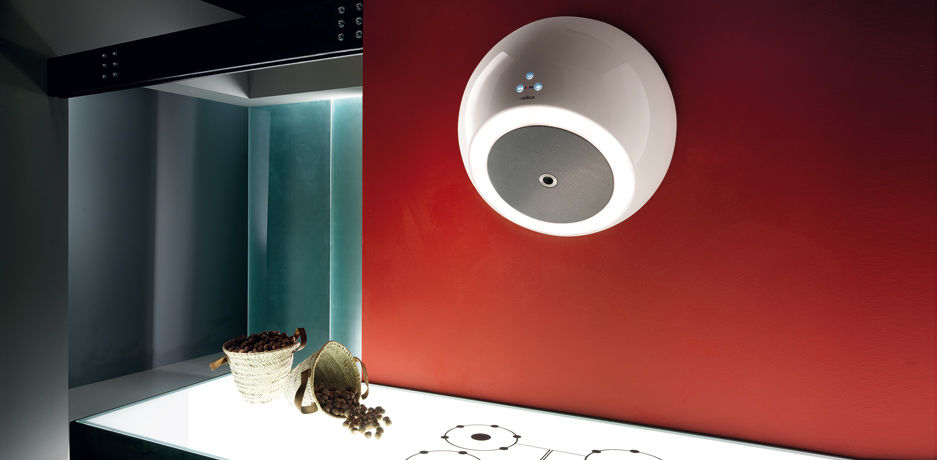 Designed by Stefano Giovannoni, the Elica Bubble extractor hood's spherical form is the perfect antidote to the ubiquitous angular kitchen counters and furniture. As an additional bonus, tall or accident-prone home owners can get some relief from the canted design of the hood.
The thermoplastic casing is available in white, black or silver and houses a decorative but functional circular light fixture. All hood functions are touch pad or remote controlled.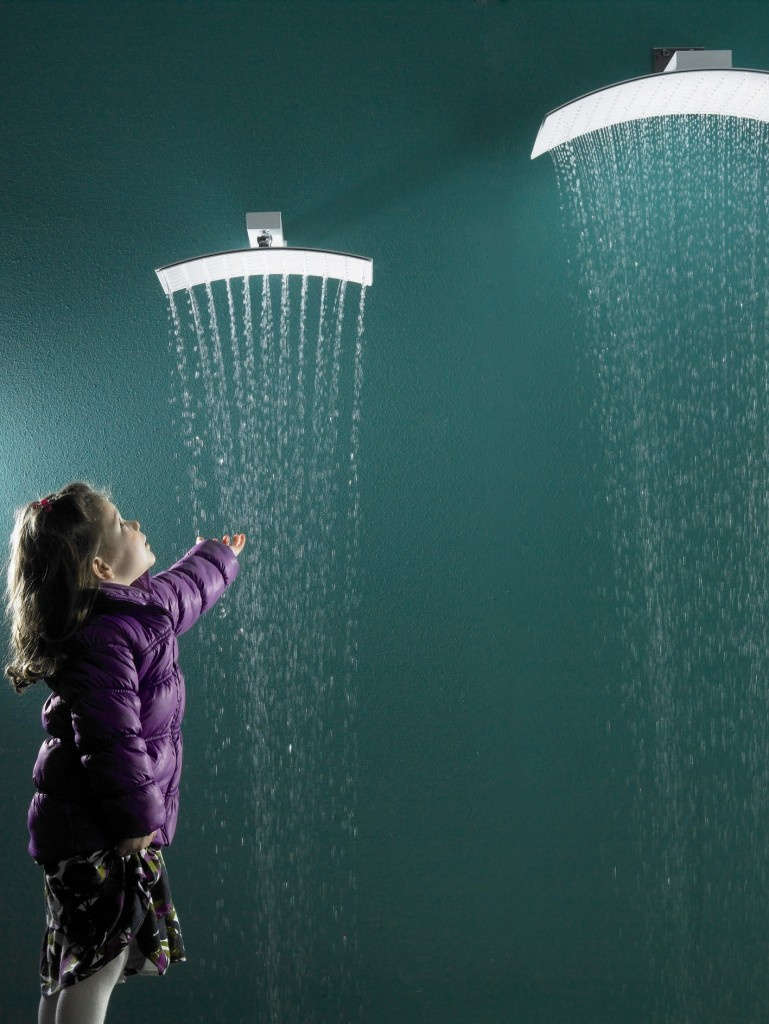 The Pluvia shower head by Italian architect Luca Scacchetti comes in two sizes: the 22" x 15.75" Extra Large and 14.76" x 8.66" Mini, which is still pretty substantial. The stylish concave antiscale shower head can be hung via multiple means, with a shower arm, from a shower column, to the ceiling, or flush mounted.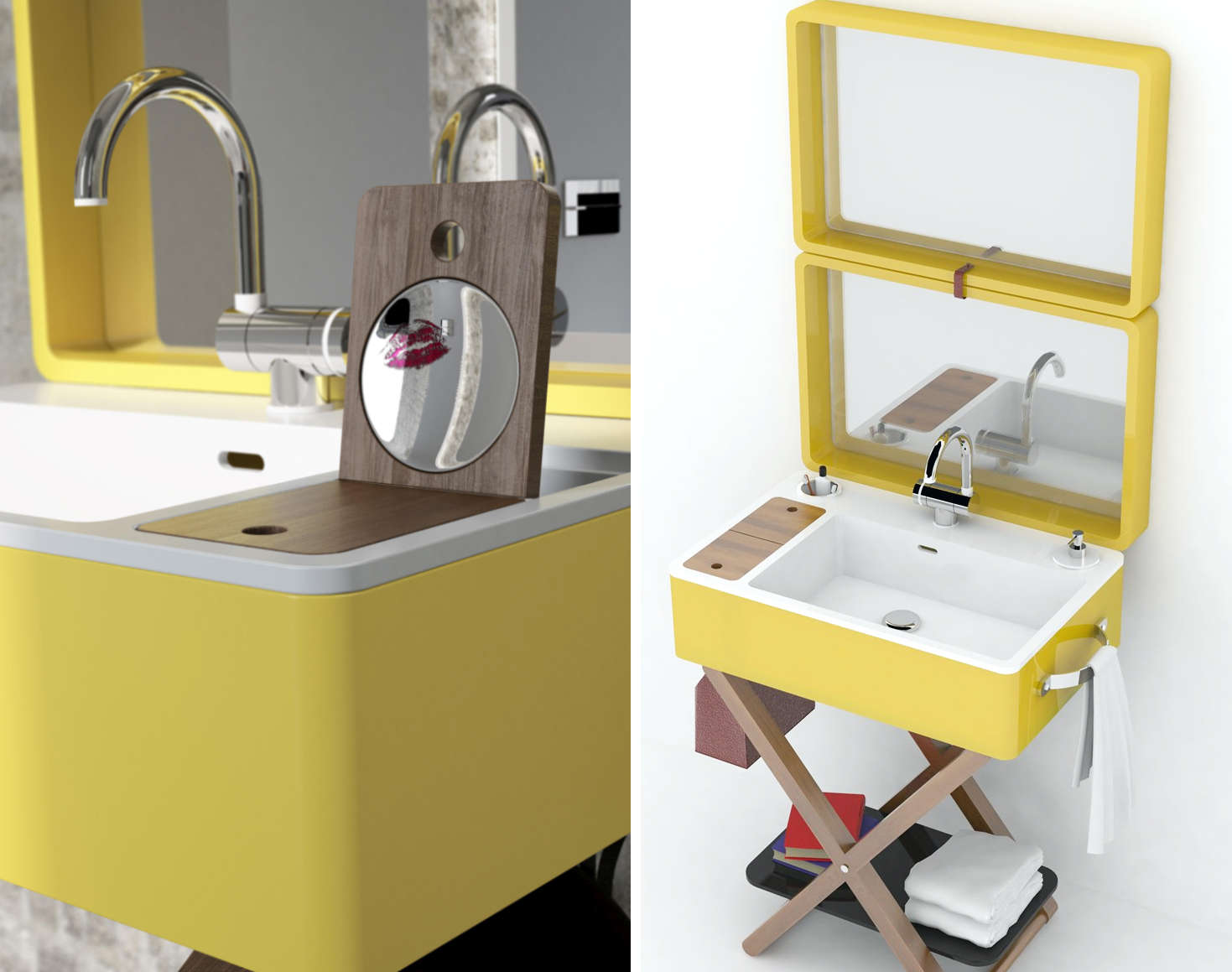 My.Bag, a washbasin system by Olympia Ceramica, is a playful re-imagination of suitcase-as-vanity. Available in ice, green, turquoise, yellow or wenge, the basic 'suitcase' contains a wash basin, folding faucet and mirror.
Accessories include a soap dispenser, leather caddy, round makeup mirror in wood storage cover, clip-on LED embedded mirror, and chrome suitcase handle towel rail. The suitcase, when closed, doubles as a counter top and is supported by a detachable wenge or ash base reminiscent of a luggage rack.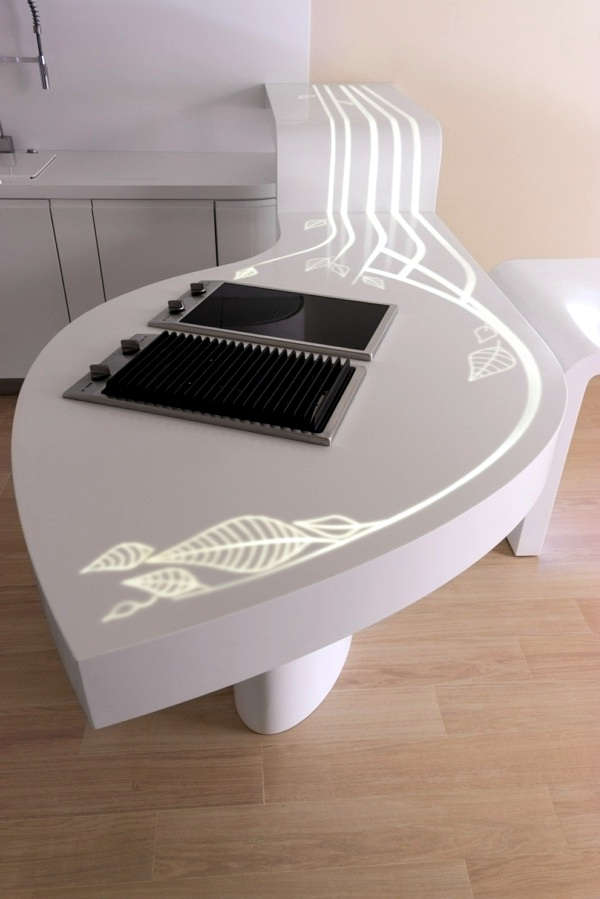 Romanian architect Irina Stoica's leaf-shaped kitchen island for a Bucharest residence is adorned by luminescent vines. The white backlit HI-MACS counter is designed to shine in the evening, so to speak, and will surely be the talk of the party at dinner soirees!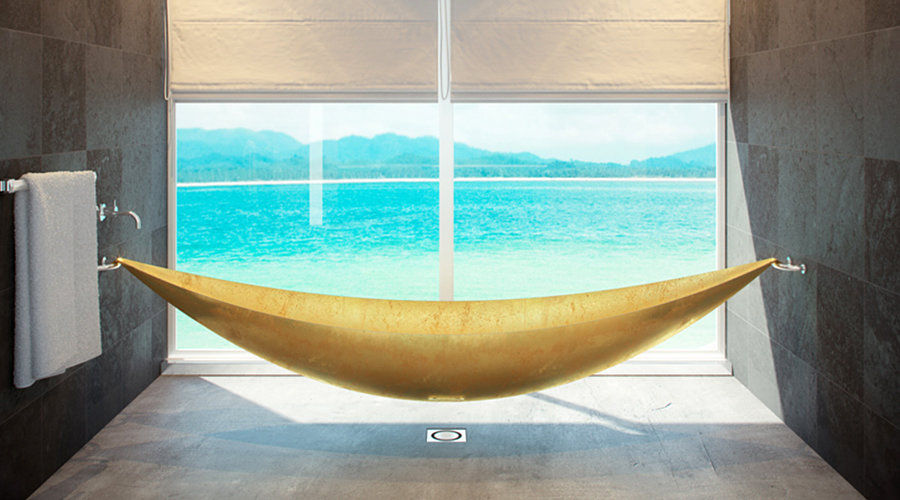 Nicknamed 'Gold Vessel', this gleaming bathtub is over-the-top luxe. Made from carbon fiber, it is covered in 24 karat gold leaf and protected with a clear lacquer. For those who prefer a less glittery bathtub, there are alternative finishes in a variety of colored lacquers.