In recognition of the upcoming Kitchen & Bath Industry Show, here's a collection of hot new rollouts and gorgeous kitchen & bath furnishings. Some of them celebrate exquisite craftsmanship and design while others push the boundaries of technology to enhance our on-the-go lifestyle, from wireless charging vanities to robo-mixologists.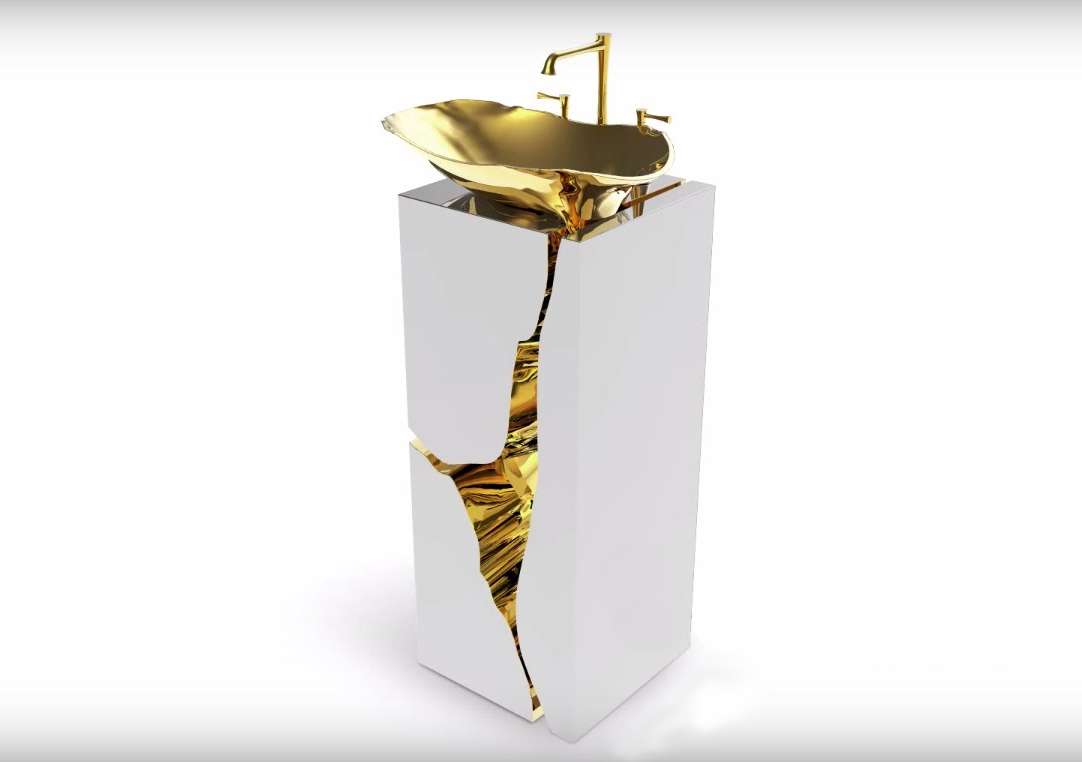 The sink from Maison Valentina is aptly named Lapiaz as it is vaguely reminiscent of a weather-worn limestone block – except the 'stone' here is a sink pedestal of white lacquer with a mirrored top, and its golden hued cracks and crevices are of polished brass. For those with the means, the sculptural masterpiece from Maison Valentina will definitely elevate your bathroom to a whole new level!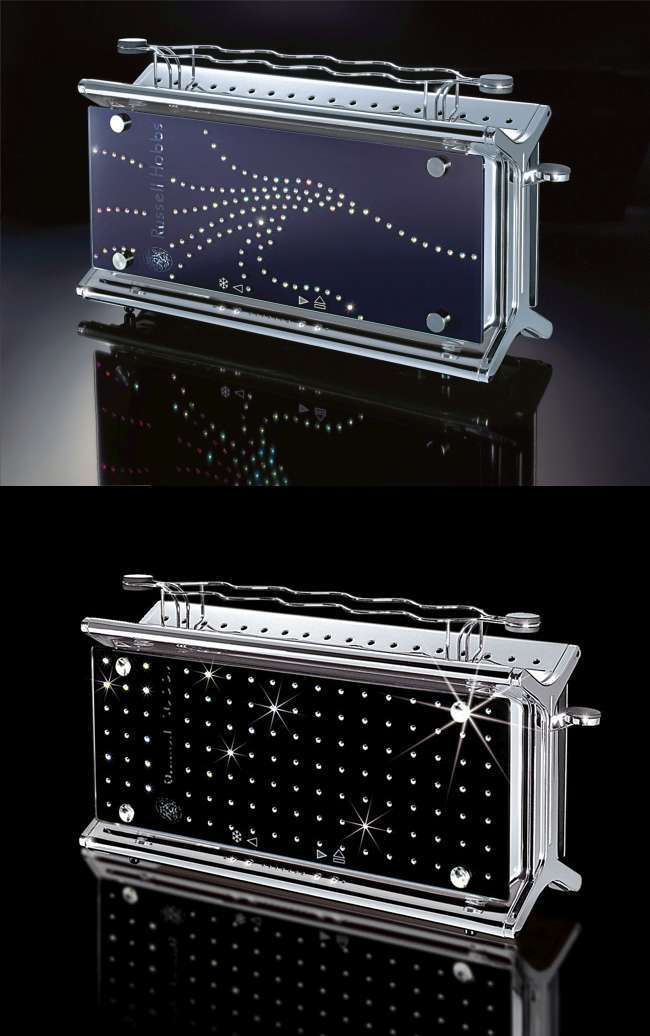 The collection from Russell Hobbs comes with glass or stainless steel options and is an exclusive edition limited to 500 units. Priced at $300, consider this toaster jewelry for your kitchen…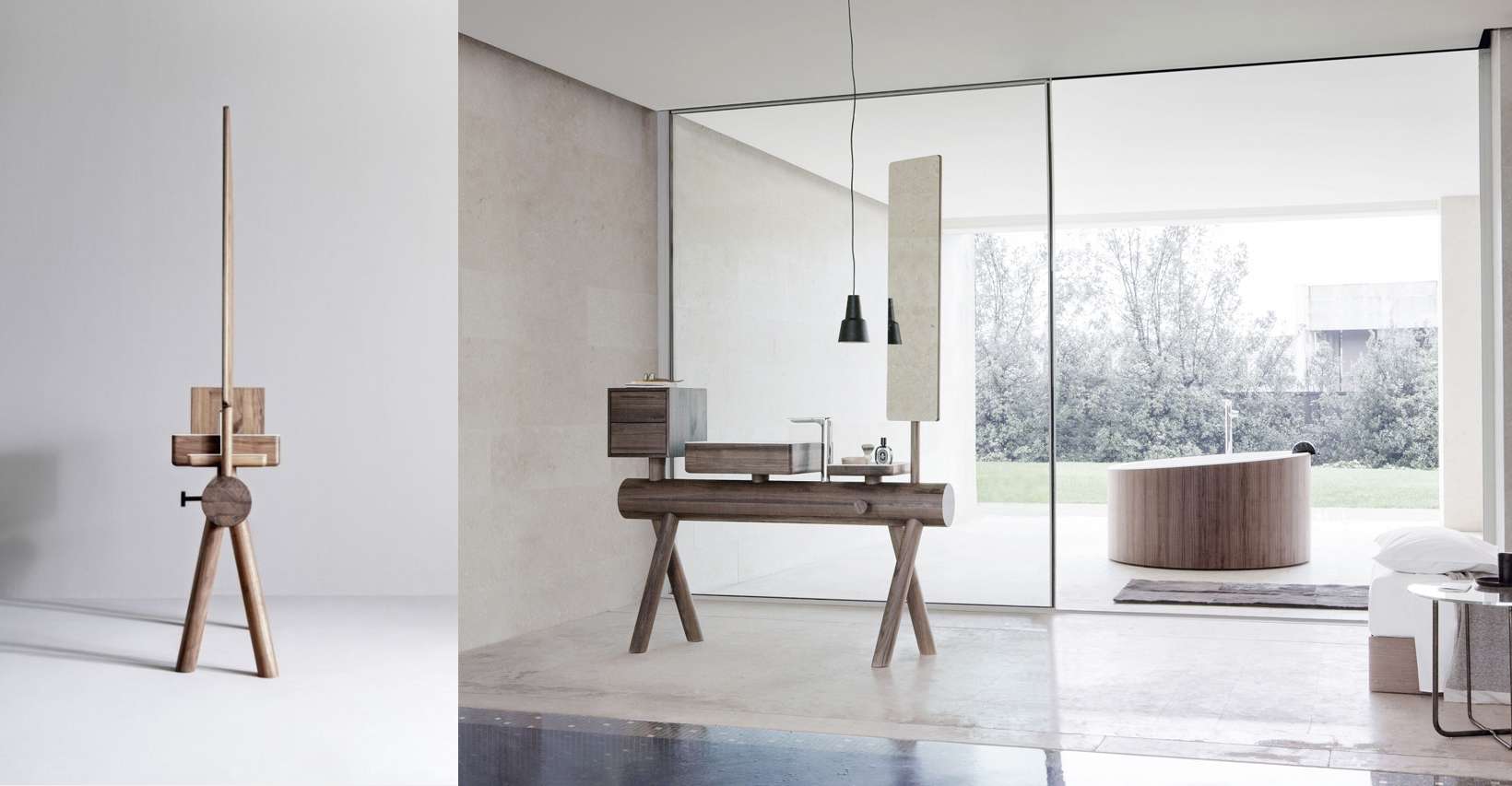 The freestanding vanity of the Dressage Collection from Graff actually resembles a horse!  All plumbing is cleverly hidden in the saw horse-like base structure so nary an offensive drain will be in sight.
The warm woods of Canaletto walnut, oak or wenge are paired with Corian to minimize upkeep. Though compact, the vanity offers all the essentials: a square sink, tray with a towel hook, set of drawers and a large rectangular rotating mirror.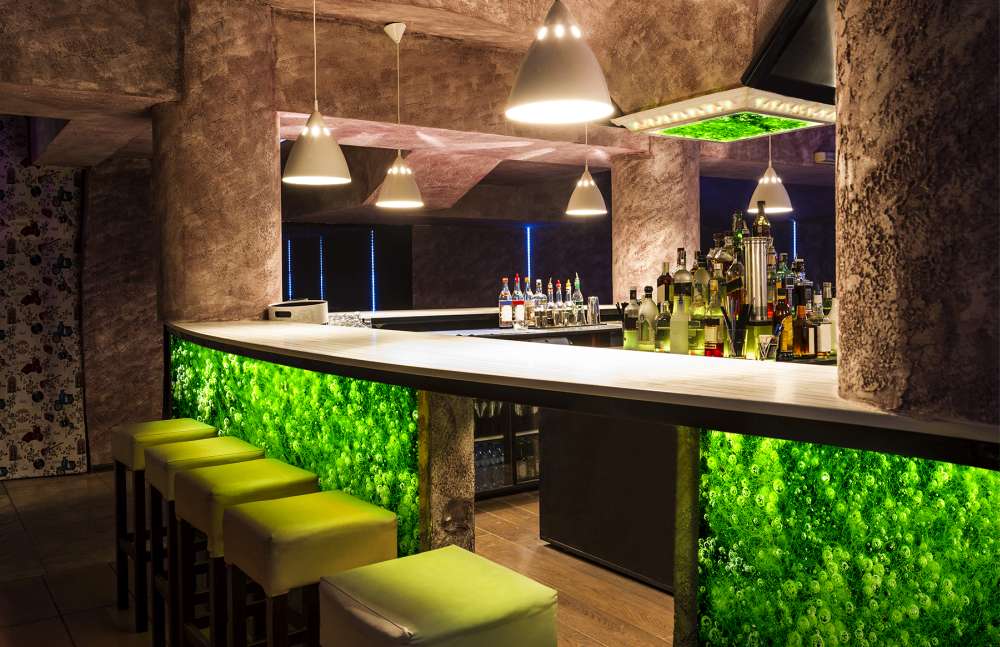 Lumisplash features a 3/8″ translucent fiberglass panel with dimmable LEDs and can be used for ambient lighting. It comes with stock images but custom designs and sizes are available. The material is also scratch, abrasion, stain and chemical resistant which makes it ideal for both vertical and horizontal applications in kitchens or bathrooms.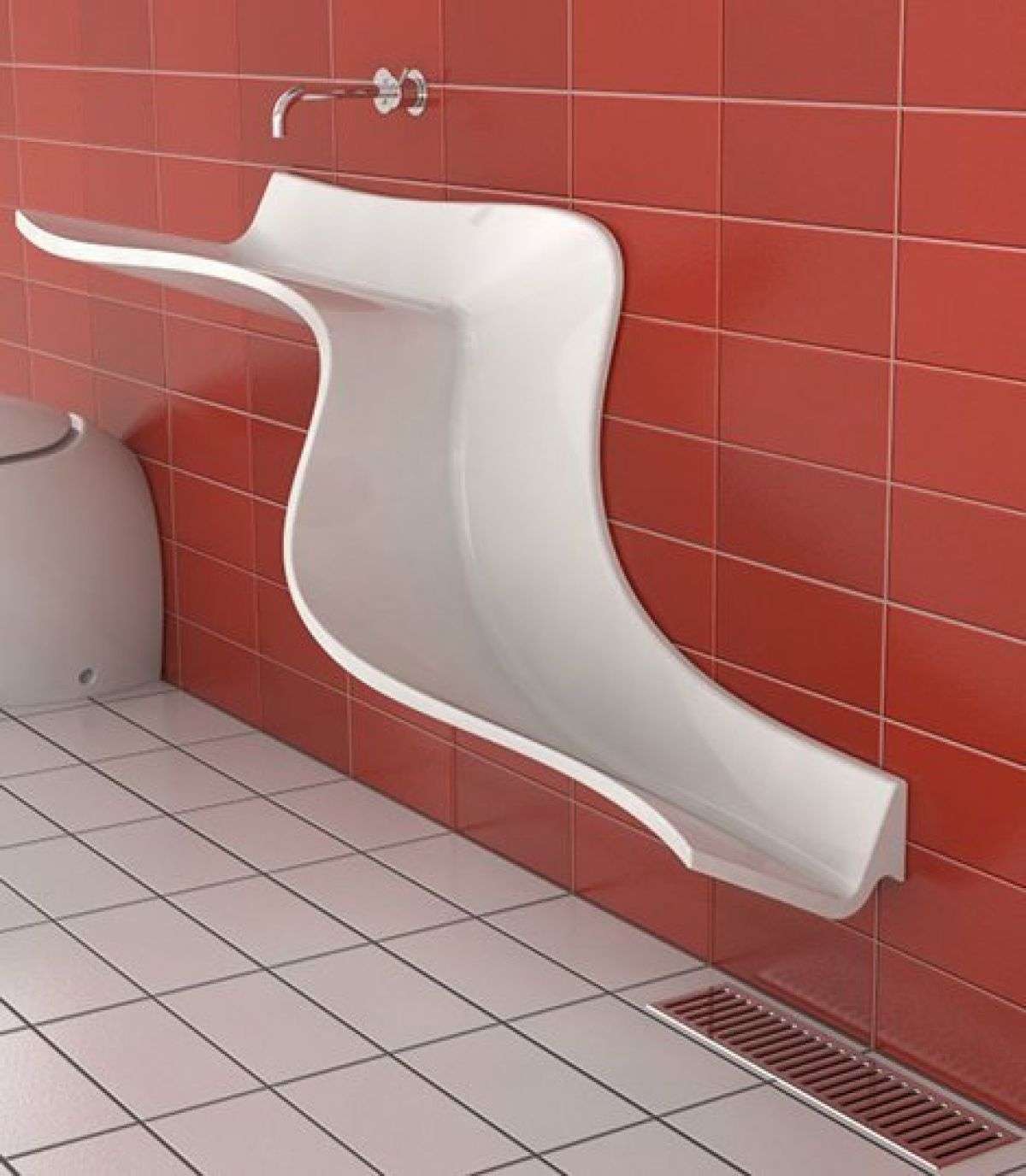 This basin's ingenious design eliminates under sink plumbing altogether – water just flows into the floor drain, avoiding any need for traps or pipes.
Abisko is an earth friendly cast mineral basin inspired by the cascading waterfalls of its namesake National Park in Sweden. Kudos to Johan Kauppi and Lars Sundström for capturing the spirit of the tumbling rivers in this elegant, organic design.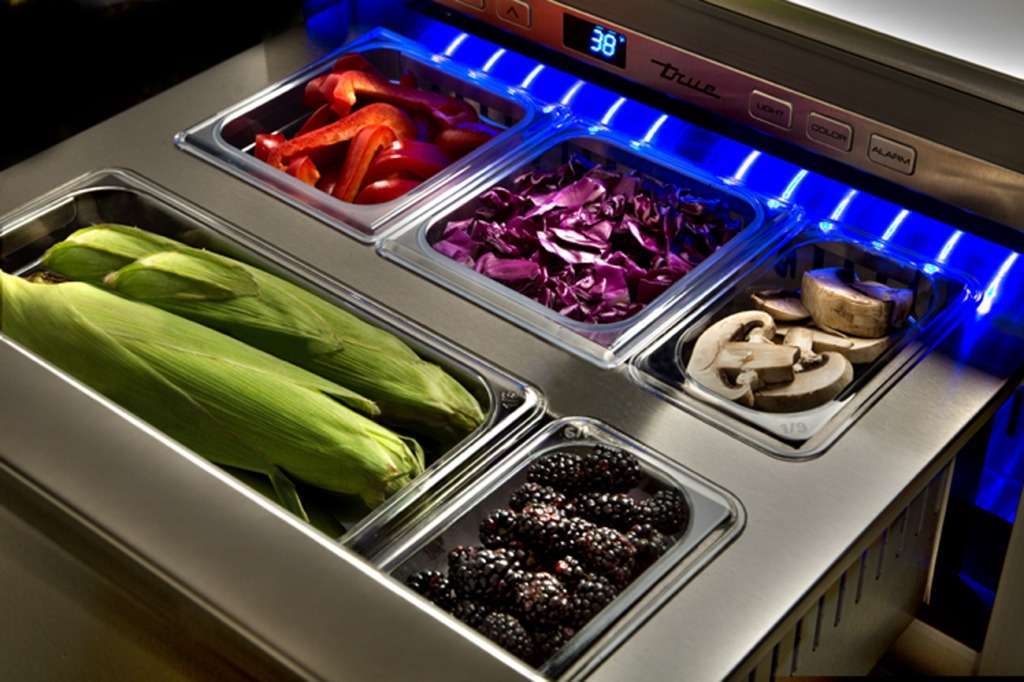 Debuting next week at the Kitchen & Bath Industry Show is True Refrigeration's Drawer Pan Kit for its Undercounter Refrigerator Drawers. The Kit allows cooking enthusiasts to finally practice mise en place, a time saving organizing technique used by professional chefs, in the comfort of their own home.
The stainless steel inserts are comparable to ingredient stations in commercial kitchens and can hold up to 6 ingredients with temperature and humidity control.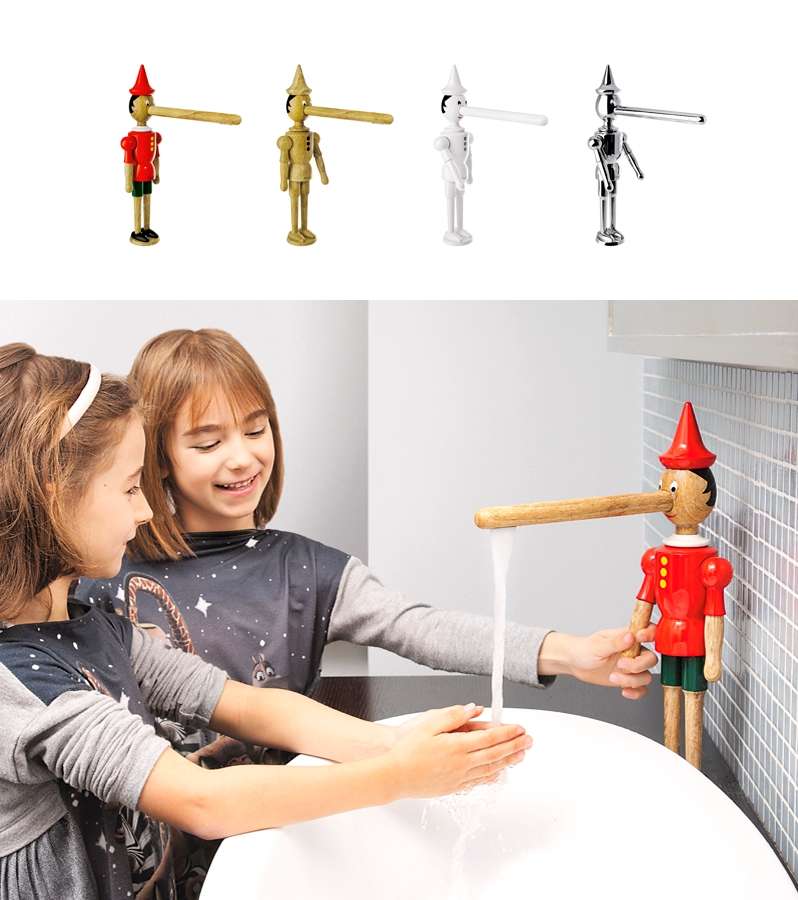 The whimsical Pinocchio mixer is the brainchild of Italian designer Bruno Negri and comes in 4 finishes. For those who want carefree maintenance, chrome is available. The wood finishes require more attention but it's the material that makes the faucet unique. Ultimately, the mixer's high quality brass and ceramic cartridge may outlast the novelty of the product.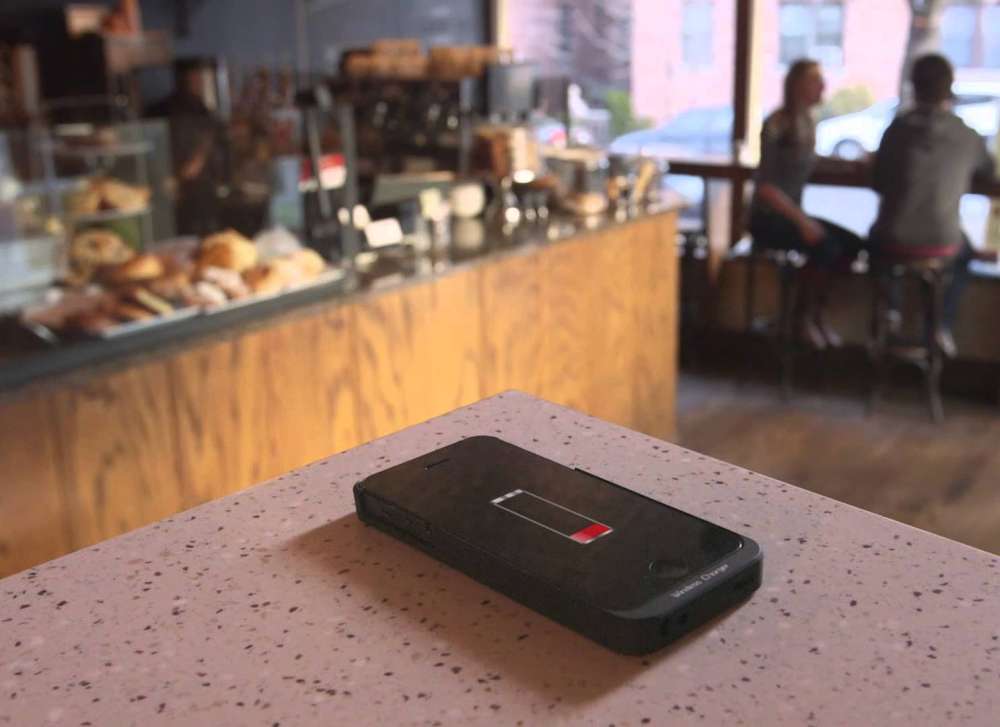 LG is embedding TechTop wireless charging technology into its HI-MACS acrylic solid surfacing material. This will eliminate the pile of outlets and cords that is the bane of our connected world.
TechTop only requires one electrical connection to power a HI-MACS island or vanity and can charge mobile devices placed anywhere on the counter top.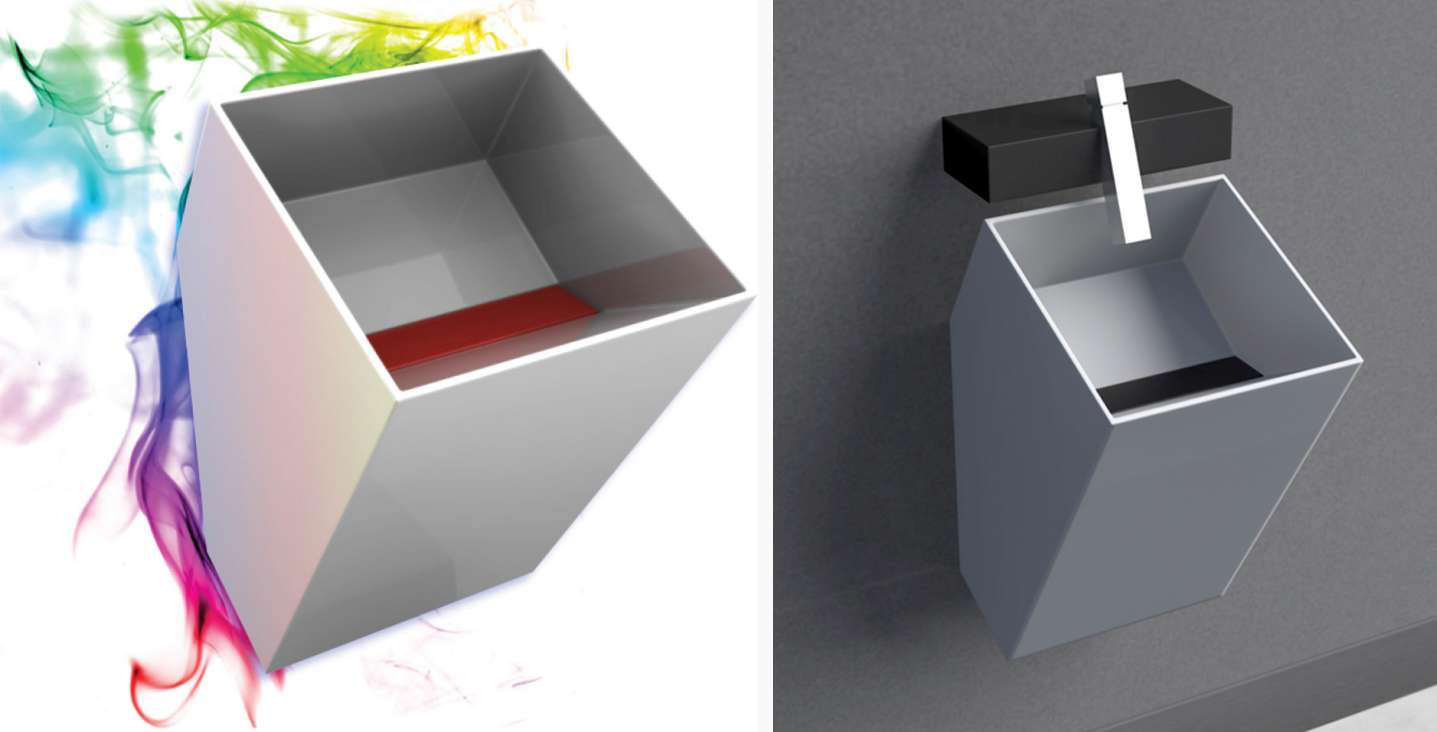 The Mimi basin from Valley is made of AURA Stone. A benefit of using resin is that it allows the design, shape and color of the sink to be customized easily. Contrast colors are available for the linear drains to spice up the minimalist aesthetic.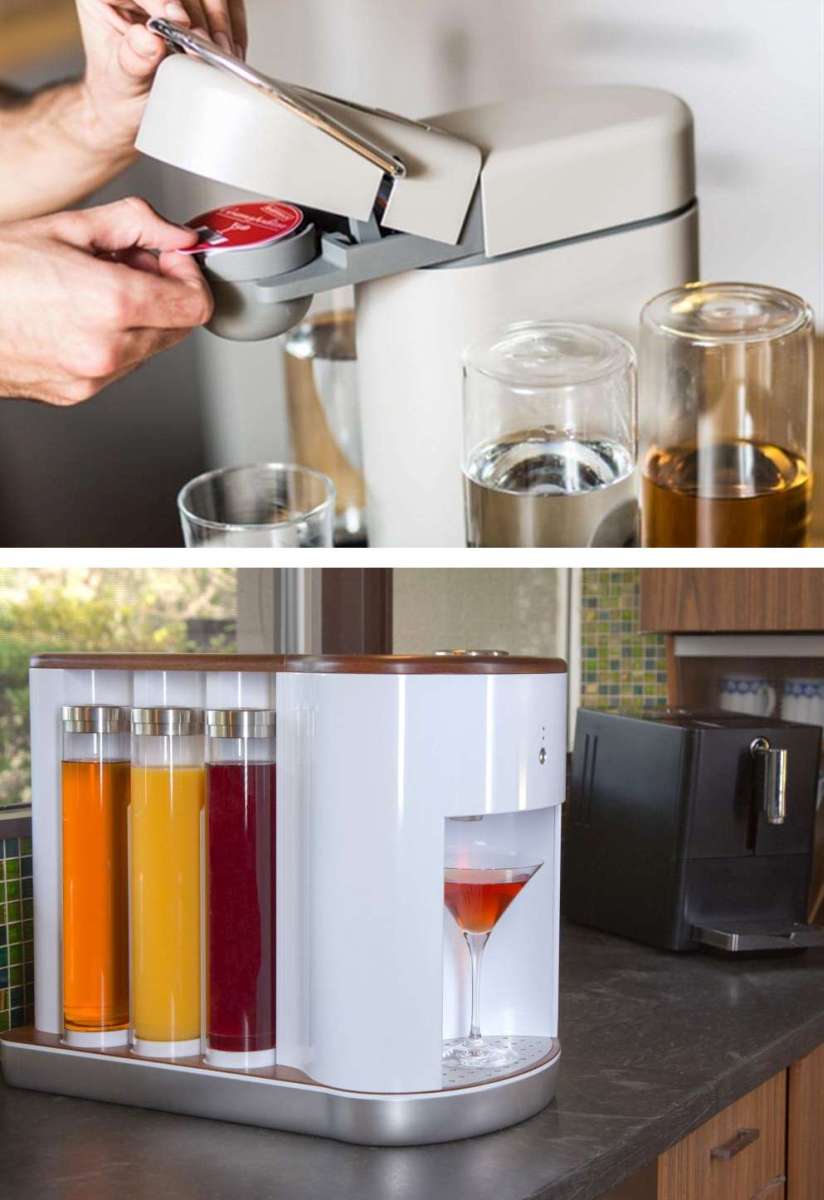 Bartesian currently only offers 6 flavors: 3 classic (Cosmopolitan, Zest Martini, Sex on the Beach) and 3 original drinks. The machine has 4 containers for liquor, but the separately purchased capsules for liqueurs, bitters, juices and other flavorings are what make the drinks. A shaker is also included for those who want more action. $299 plus $20 for 12 capsules.
Somabar is an app controlled device that creates cocktails based on specified ingredients or crowd-sourced recipes with the push of a button. The machine comes with 6 airtight containers or 'pods' for alcohol and mixers. While it can potentially create an unlimited number of cocktails, Somabar cannot make chilled drinks and functions more as a drink dispenser. The smart appliance is more expensive at $429.
In conclusion, if you're a gadget meister on the prowl for a mechanical mixologist, it's time to take note, but if you're a craft cocktail connoisseur and want you drinks muddled, shaken or garnished, then you'll want to pass on these machines.