In the quest for a more sustainable future, many designers and craftsmen are seeking new options to source their creations. This post showcases furnishings that are not only beautifully designed but also socially and environmentally responsible. Here you'll find industrial waste cleverly reclaimed with 3D printing, a host of biomaterials upcycled through innovative manufacturing processes, and landfill-bound discards recycled or repurposed as part of the circular economy. Check these furnishings out and have a Green Day!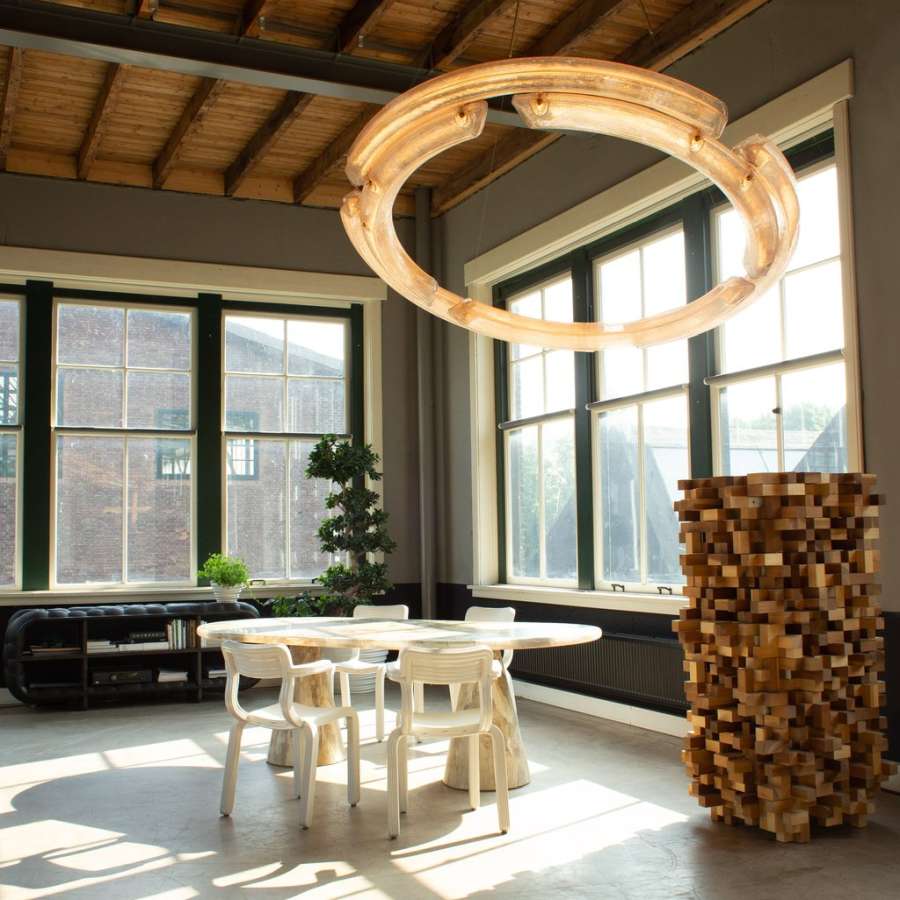 Created by Dutch designer Dirk Vander Kooij, the eco-friendly Buitenhuis Chandelier is made with a 3D printer using melted rooftop windows, safety glasses, and polycarbonate industrial chocolate molds. The light fixture consists of 2 rings, each containing 3 movable arcs. A smooth two-way pulley system allows components of the suspension fixture to be manually adjusted both horizontally and obliquely.
Hundreds of replaceable LEDs add sparkle to the transparent glass-like extrusions. Due to the random nature of reclaimed materials, the resulting light can look warm or cool. Made of recycled plastic, brass, steel and aluminum, the light fixture is dimmable and available in 2 sizes, 7″ h x 47″ x 47″ and 7″ h x 63″ x 63″.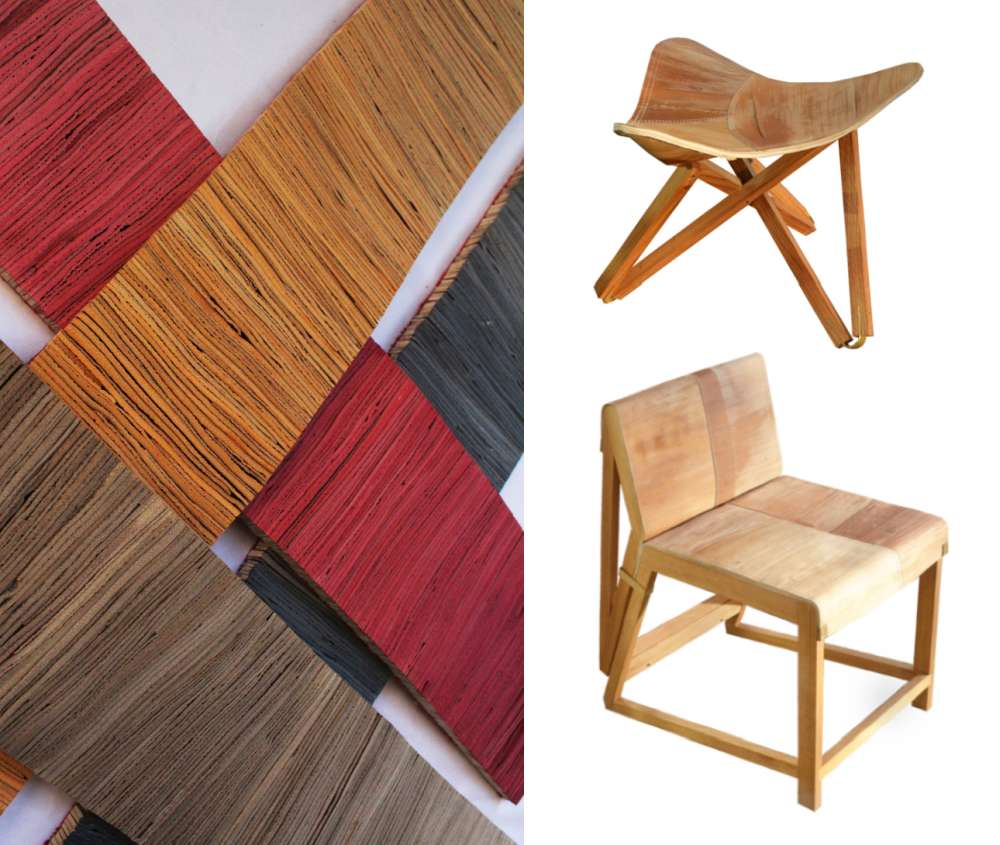 Studio Tjeerd Veenhoven is an innovative product design firm that has developed a sustainable plant-based leather called PalmLeather from leaves of the Arecae palm, a tree commonly found in India. Better known for its betel nut seeds, the tree's dried brown leaves are soaked in a non-toxic softening agent for a couple days, after which they become very pliable and can be machine processed into vegan 'leather'. Unlike the water intensive leather, cotton and wool industries, the sustainably made textile uses 5.3 gal of water for every 10.7 sf of product manufactured. PalmLeather is used in furnishings and has attracted the interest of the automotive industry.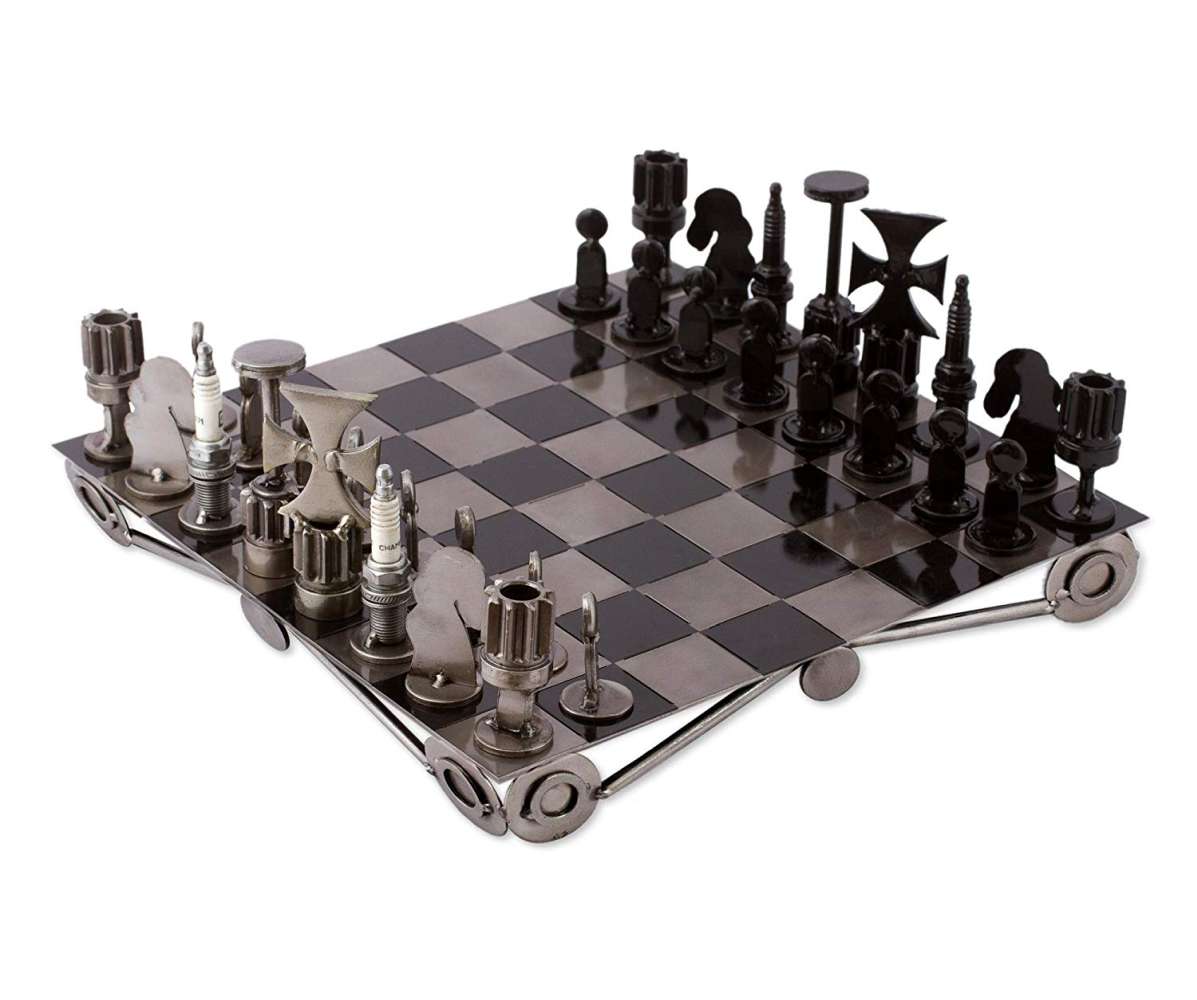 Perfect for car buffs, these handmade chess sets are – guess what? – upcycled from used auto parts. Each unique set is made from random salvaged parts so there will be slight variations in size and shape of the chess pieces. Some, like spark plugs, are more recognizable than others but they all bore marks of service from their prior lives. The chess board is 12.75" x 12.75" x 2" h, with the chess piece heights ranging from 1.3 " to 3.2". Hauling the chess set can double as weight lifting for some since it weighs a hefty 6.2 lbs!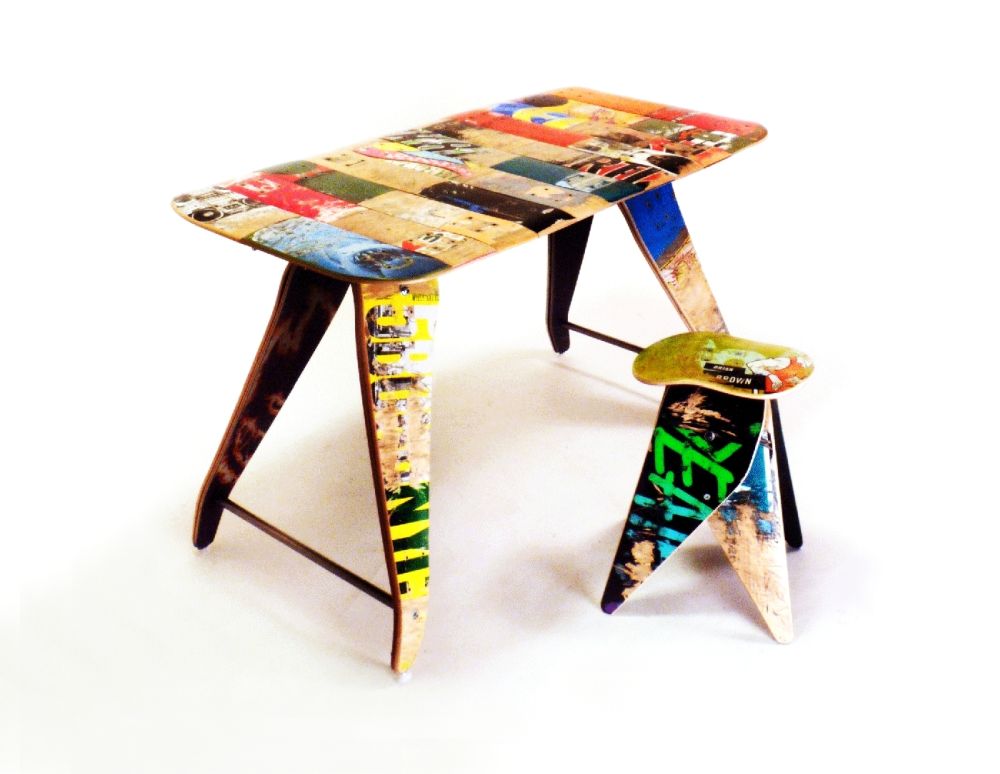 Driven by a love of skateboarding, street art and sustainable design, Jason and Adam Podlaski of Deckstool have been creatively recycling broken skate boards into furniture and accessories since 2007. Components are hand selected based on the salvaged board structure, color and graphics. The goal is to showcase skateboard graffiti art with the attendant scratches and scrapes.
The skateboard desk is 48" x 24" x 30" h, making it a great surface for doing homework, while the stool is 14″ x 14″ x 18.5″ h, the perfect pull up to a dining table. Deckstool also makes coffee tables and benches.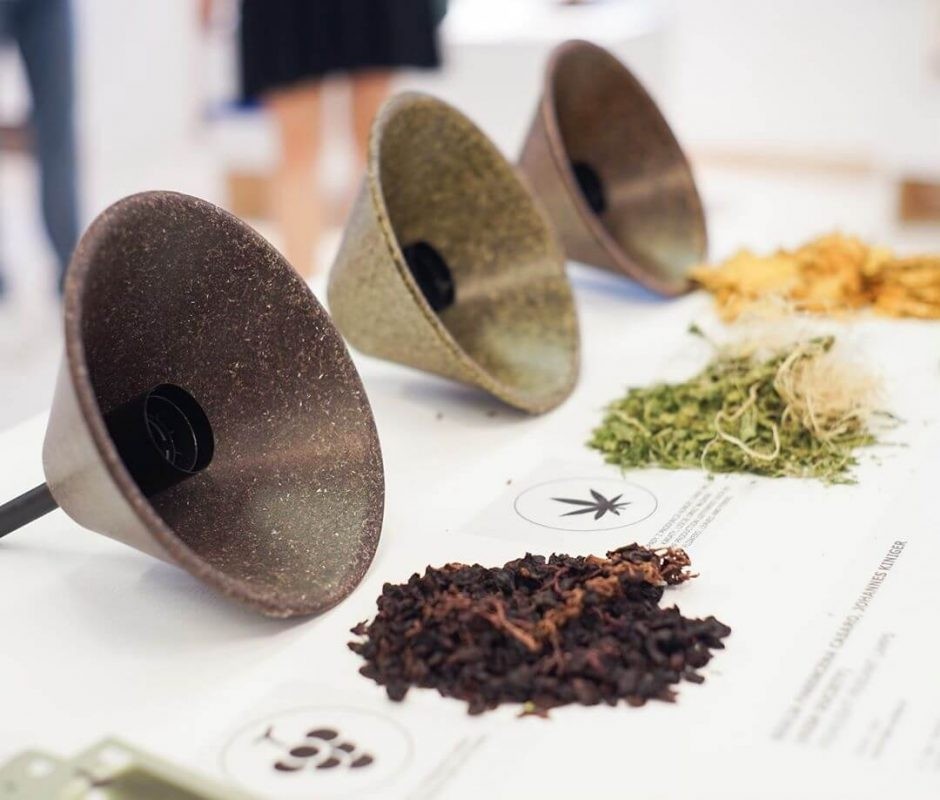 The Highlight Collection, brainchild of Italian design firm High Society, is a series of pendant fixtures from recycled wine, hemp and tobacco industry biomaterials. For each model, the collected agricultural waste is chopped up, added to a bio-based binder, and pressed into shape via a solar powered compression-molding machine. Carnauba wax, the sealer, is then applied for protection. Due to the process, each shade's markings are distinctive.
Grape marc, the discarded seeds and skins from local organic wineries, is the reason for the purple hue of Highlight Wine. Byproducts from pesticide-free industrial hemp production bring in the green coloration of Highlight Hemp, while organic tobacco farmers supply the raw materials that result in Highlight Tobacco's earthy brown tones.
Available in 2 sizes and shapes: 7.87″ dia x 6.69″ h and 13.78″ dia x 6.69″ h. Recommended with E27 4.3W and 7W LED globe lamps correspondingly.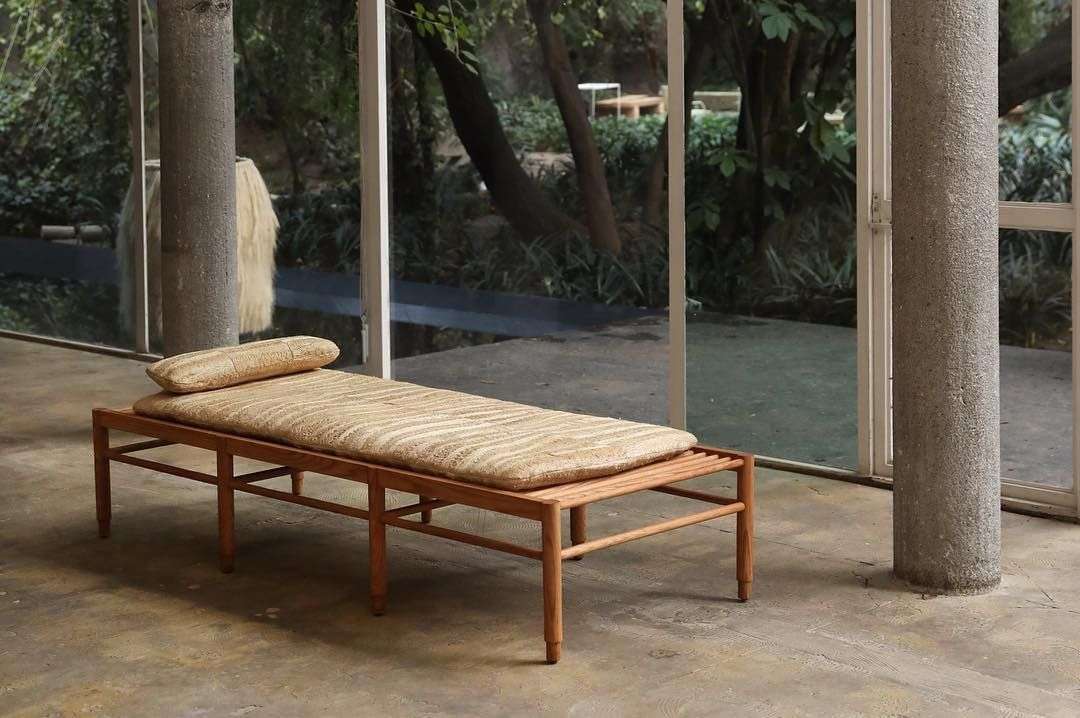 Inspired by his Mexican heritage, London based industrial designer Fernando Laposse set out to create furnishings with a sustainable but unusual material that would resonate with his countrymen. He found it in the humble loofah (also known as luffa). Abundant in the tropics, it's the fruit of a vine from the pumpkin family and a favored scrubber for both humans and dishes alike. The Loofah Daybed showcases Fernando's hand-stitched 'pad' of oversized loofahs on a contemporary wood frame. It's certainly a study in simple forms and elegant lines!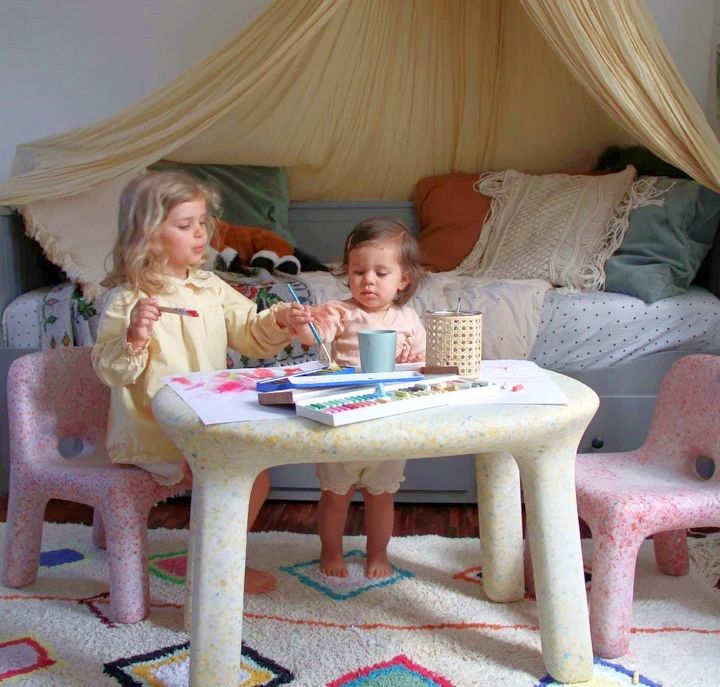 It's never too early to teach children about the circular economy! Based on its research that shows toys are kept for 6 months on average and use the most plastic among all consumer goods, the Belgian firm EcoBirdy decided to manufacture earth friendly children's furniture from upcycled toys. Towards that end, it has developed a patented technology to recycle post-consumer waste into ecothylene, a proprietary high grade polymer that is 100% recyclable and free of hazardous chemicals.
Meticulous sorting, cleaning and grinding down of the discarded toys allow chips to be produced by color and turned into smooth speckle-finished furniture without additional pigments or plastic.