The Amazon
The big day finally arrived – we were heading to the Brazilian Amazon! We flew from Rio via Sao Paulo to Manaus, the gateway to the rainforest. In the process we got separated from one of our bags and attempts to track it through Portuguese speaking TAM Airlines staff who could rarely be reached by phone (and definitely not email) became an adventure unto itself…
On arrival at the lodge, we found that the Amazon was suffering from a severe drought. Good thing is, despite daily rains, the humidity remained comfortable – which was a far cry from the sweltering heat of the Ecuadorian Amazon we experienced on a prior trip. Bad thing is the drought had severely affected the flora and fauna in the dwindling waterways.
The Amazonat Jungle Lodge is run by Jacques van Egeraat a Dutch transplant with his Brazilian wife, who are incredibly gracious hosts. To accommodate my quest for a safety deposit box, hot shower, and a relatively bug free room (yes, this is the Amazon but having a swarm of insects hanging out in one's cabin is less than ideal…), they allowed me go thru 4 of their cabins during our stay! We spent 5 days at the lodge (including Christmas) and went on daily excursions to different tributaries of the Amazon with a local guide.
According to custom, Christmas Eve is the 'big day' when families gather for a late dinner, then open presents before they go to midnight mass and party afterwards till the wee hours. Being treated to the Holiday feast (all the more spectacular because of the limited supplies available) and chatting with our host about all things Amazon (and Brazil) was a highlight of the trip. Christmas was supposed to be a work day but Jacques was concerned our guide might have over-indulged the night before, and went to personally pick him up to make sure our tour happens.
During our stay, we took nocturnal tours looking for tarantulas and alligators, went on the Amazon River as well as the black water Urubu River in search of wildlife – while motoring past a floating dental clinic, butcher shop, and hotel! We also hand-lined for piranhas and hiked into the lodge's jungle camp called Jane's Place (aptly named after Tarzan's wife).
I had loved camping overnight in the Ecuadorian Amazon before, despite the site being populated by LARGE, strange, and generally nasty looking insects. On that memorable trip, the camping party for the 2 of us included our guide, the shaman with his son, the chef and the boat captain! I reluctantly decided against overnighting at Jane's Place because unlike the tents & sleeping bags we had in the Ecuadorian camp, hammocks were the only bedding choice. Of the few times I ever used one, I had always found it to be uncomfortable, and I definitely want a tent for protection against all the biting critters.
Despite finding notably less bird and monkey species compared to our Ecuadoran trip, we had numerous sightings of the elusive pink dolphins, experienced firsthand the bio-diversity of the Brazilian Amazon, and saw how the river remains the lifeblood of the indigenous peoples.
On our last day Jacques drove us to Manaus and chartered a boat to show us 'The Meeting of the Waters' where the dark Rio Negro and the sandy colored upper Amazon River can be seen flowing side by side without mixing. Then he took us to a buffet restaurant that is licensed to serve turtles and alligators among other local specialties. Whenever we think of our Brazilian Amazon adventure, I will remember the amazing hospitality of Jacques and his wife and the wonderful X'mas they and their staff shared with us. We spent our free time at Manaus wandering around and sampling more gelados one last time before heading to the airport.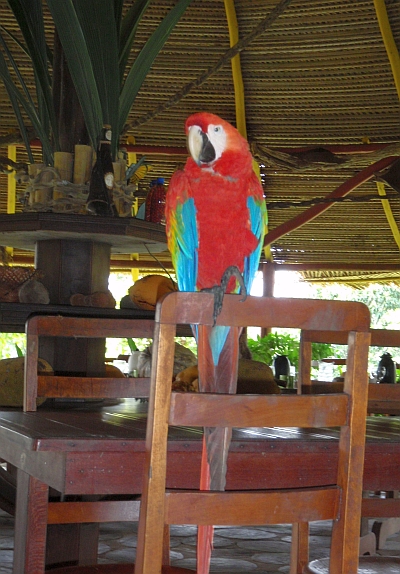 São Paulo
Our last stop was São Paulo – a metropolis, a veritable concrete jungle diametrically opposite to the Amazon. More than other cities we've seen, the local businesses celebrate Christmas with an abundance of exquisite window displays and monumental scenes on their building facades, giving a much more festive look to the downtown area.
As we walked around town, we saw some interesting graphics and architectural details among the buildings.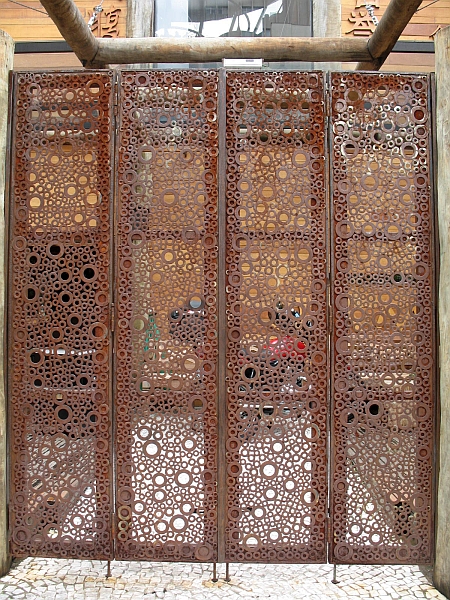 For the final outing of our trip, we took the metro to the Mercadão (Big Market) which houses over 300 stalls that sell just about everything edible, including meat, vegetables, cheese, spices, and fish from all over Brazil. Chock full of restaurants, traditional snack bars and bakeries, one can browse around for hours.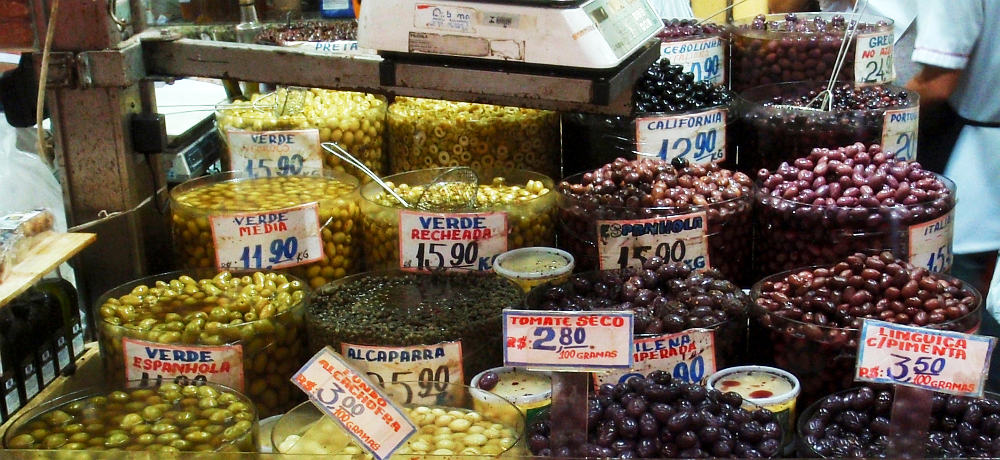 Here is a bolinhos de bacalhau recipe from the internet. For a fancier version, try Tyler Florence's Pasteis de Bacalhau.
Bolinhos de Bacalhau
1 pound salt cod
2 cups of mashed potatoes
2 tbsps of finely chopped parsley
2 large eggs
oil for frying
Soak salt cod overnight and during the morning, changing water three times. Drain, remove skin and any bones and cut in small chunks. Simmer a small onion, thinly sliced, with a bay leaf and 4 peppercorns in 2 cups of water. After 5 minutes, add the cod and 2 cups of water. When it simmers, cover the pan and remove from heat, so the cod doesn't toughen. The cod can be kept in this liquid in the refrigerator until needed.
To form the bolinhos: drain the fish and flake it well into a bowl. Add 2 cups of mashed potatoes; beat two eggs with a pinch of salt and add them to the fish and potatoes. Add the parsley, salt and freshly grated pepper to taste. Wait about 1/2 hour to form 1 1/2 inch balls. Fry in oil at 375°. Dry in paper towels. Serve with very cold beer!
Epilogue – After spending countless fruitless hours trying to contact TAM Airlines about our lost luggage, the bag mysteriously showed up at US Airways in Atlanta, one day before we were eligible for compensation for the missing bag! So now all is well…