We hear much about art imitating life and vice versa. Here's a collection of light fixtures that are artistic interpretations of the real world: from flying acrobats to the animal kingdom, the English alphabet to architectural wonders, these imaginative ceiling, table, and floor lamps are sure to surprise and delight you!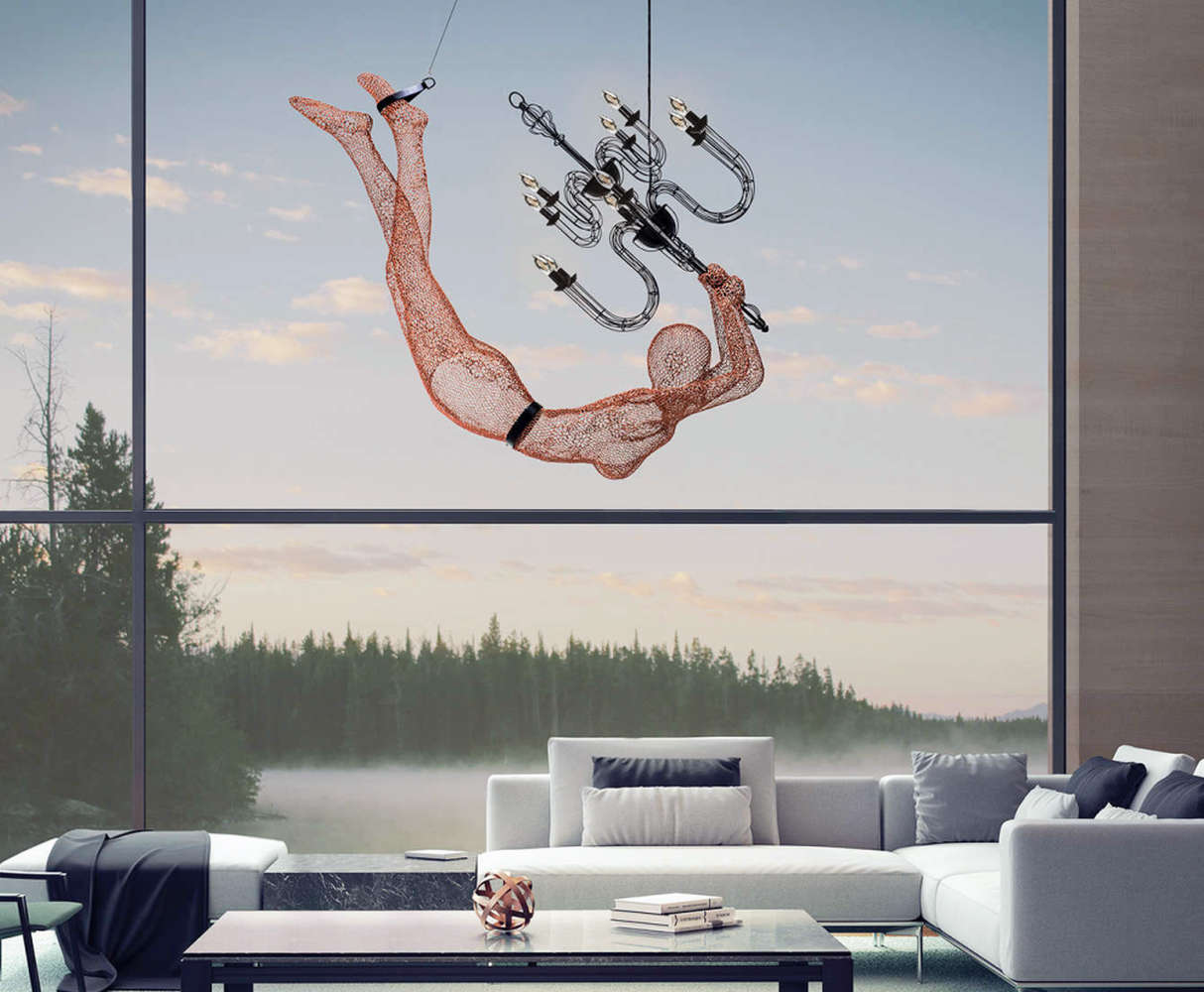 Looking as if frozen in midflight, the chandelier wielding aerialist is intricately hand woven from fine copper wires. The stunning fixture is created by award winning industrial designer Kenneth Cobonpue as part of his Limbo series of chandeliers. The imposing 10-light steel fixture measures 51.5″ w x 44.75″ h x 29″ d and comes prewired for E14 lamps.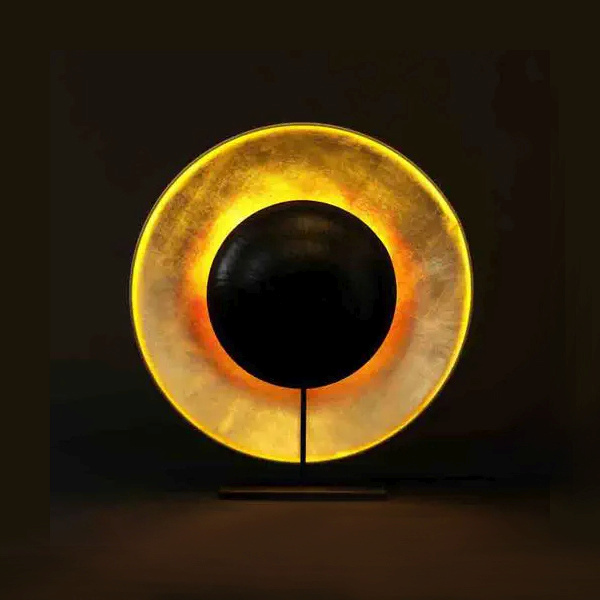 From Céline Wright comes Eclipse, an artisanal table lamp hand made from Japanese rice paper.
Mounted on a black steel stand, the fixture consists of 2 platter-shaped parts with their convex sides facing out. For the 24.4" dia back plate, Céline uses rice paper and tarlatan to provide a rich texture, then applies copper foil on top for a shimmery effect. The smaller 13.8" dia rice paper lamp shade in front of it is painted black on the outside and red on the inside. The fixture is powered by two 11 W E14 compact fluorescent bulbs. The resulting dramatic red glow around the dark orb is a superb example of art imitating nature – in this case, that of a total solar eclipse!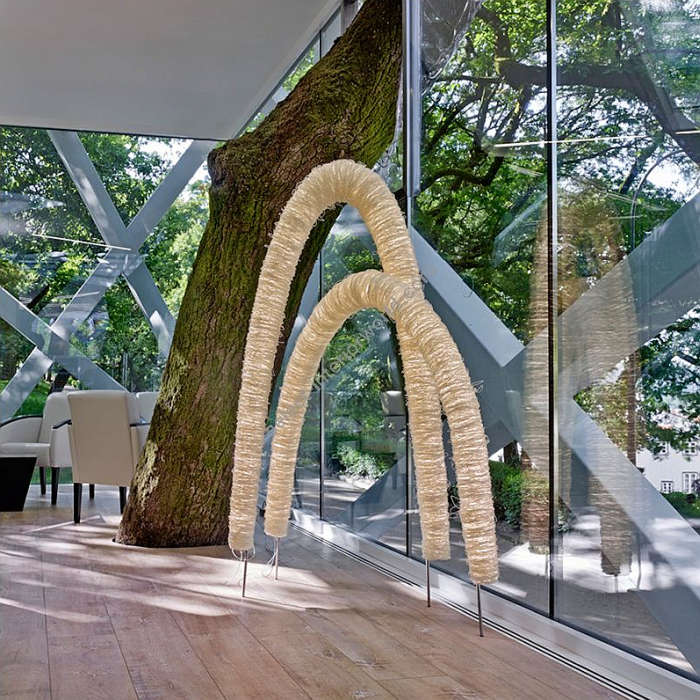 This floor lamp by designer Arturo Álvarez is inspired not by the Golden Arches, but the imposing arcades of Santiago de Compostela in Galicia, Spain. The fixture is 72.8" h x 53.1" w x 23.6" d and consists of 2 arches, with one straddling over the other. The shade is made of pressed recycled cellulose molded into cords. The LED light bulbs emit a soft translucent light through the coiled forms to create an elegant symphony of light and dark.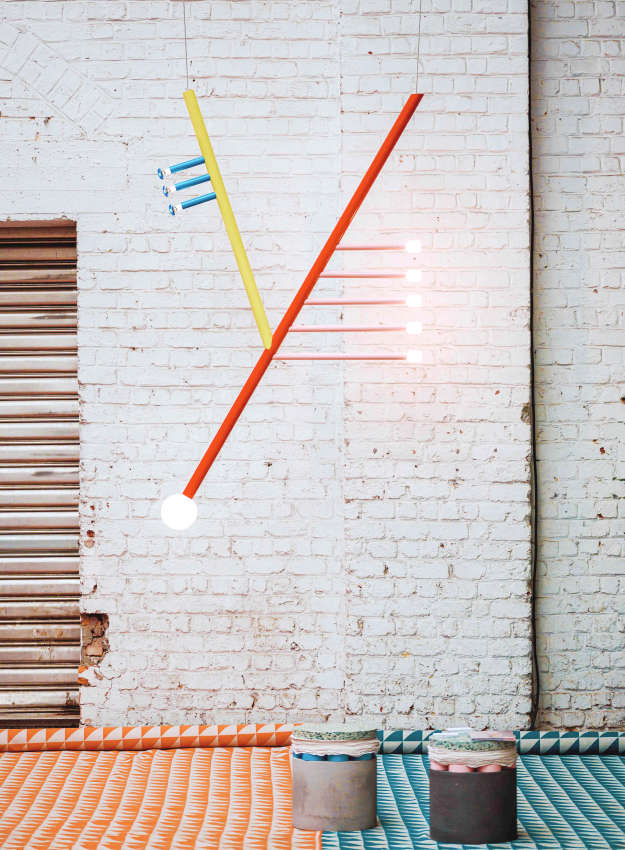 Belgian lighting designer Koen Van Guijze is known for his contemporary, often Brutalist, designs with a touch of whimsy. He is partial to working with marble, steel, brass, concrete, cork, ceramics, sand and paper, as well as materials that are upcycled or used in unusual applications.
The Unique Y Pendant is a celebration of postmodernism: from its eponymous, self explanatory shape, to the bright, primary colors, the suspension fixture embraces the Art Deco lines and pop art palette that Ettore Sottsass championed. The fixture is of lacquered aluminum and 78.7" w x 78.7" h x .4" d. It is dimmable with eight E14 and 1 LED light bulb.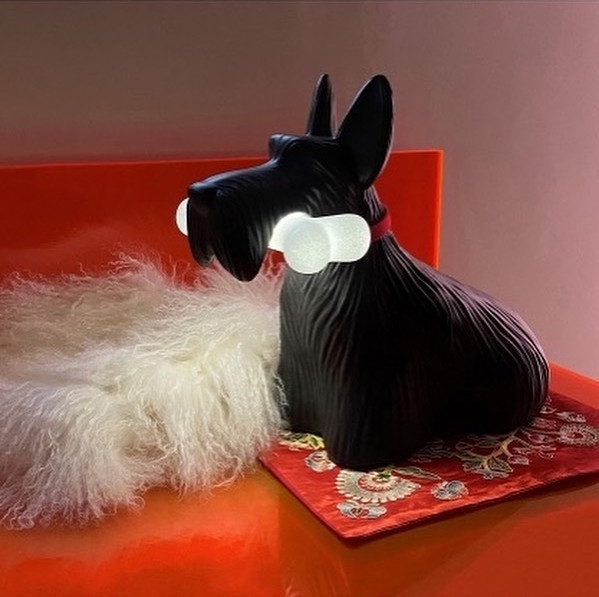 Scottie is a polyethylene table lamp that's wittily shaped like a Scottish Terrier with an illuminated dog bone in its mouth. It is designed by Stefano Giovannoni for Qeeboo and available in Black or White. Measuring 9.5" w x 17.7" d x 14.6" h, the light comes with a 5 W rechargeable LED battery. The touted6-hour battery life coupled with a remote control makes the fixture highly portable. However, Scottie is not water proof and so it's only suitable for indoor applications.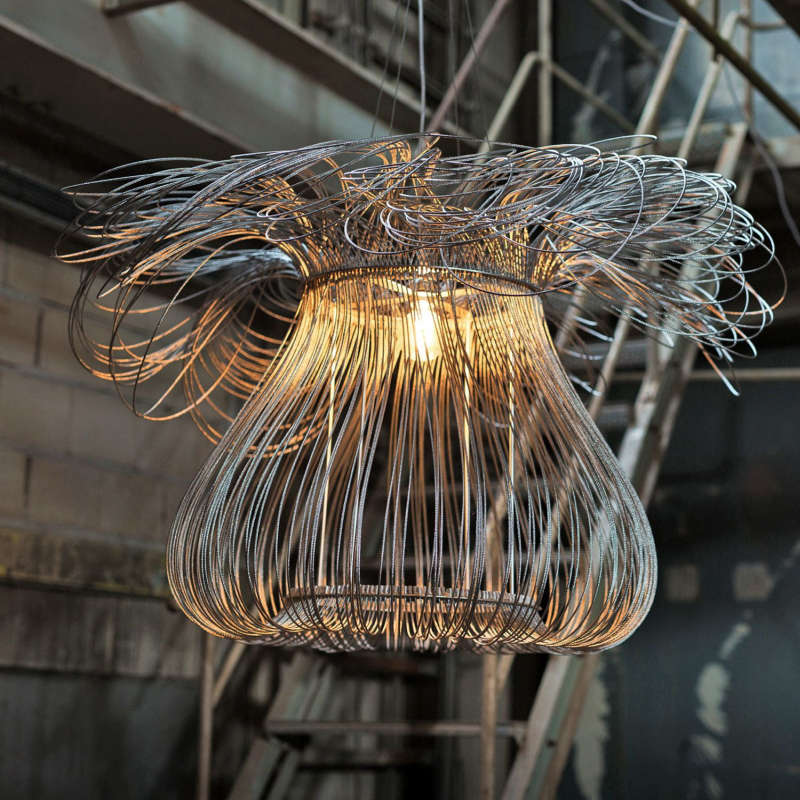 Made with wrapped wire ropes in Steelwire finish and lit by a single LED, this cool ceiling fixture is aptly named Anemone. The suspended lamp comes in 3 sizes with thicker wires for the larger models: 27.6" dia x 13.8" h with 8 W LED, 2 mm wire rope; 43.3" dia x 23.6" h with 11 W LED, 3 mm wire rope; and 59.1" dia x 27.6" h with 11 W LED; 4 mm wire rope. Custom sizes available upon request.