It's that time of the year again, where heaters become your indispensable 'warm furniture', a necessary evil of your daily life. Here's a fresh and brash crop of radiators that will dispel the appliance's stodgy image: some are unapologetic references to art and pop culture, while others are glamorously studded with bling or happily channeling your furry friend. Enjoy!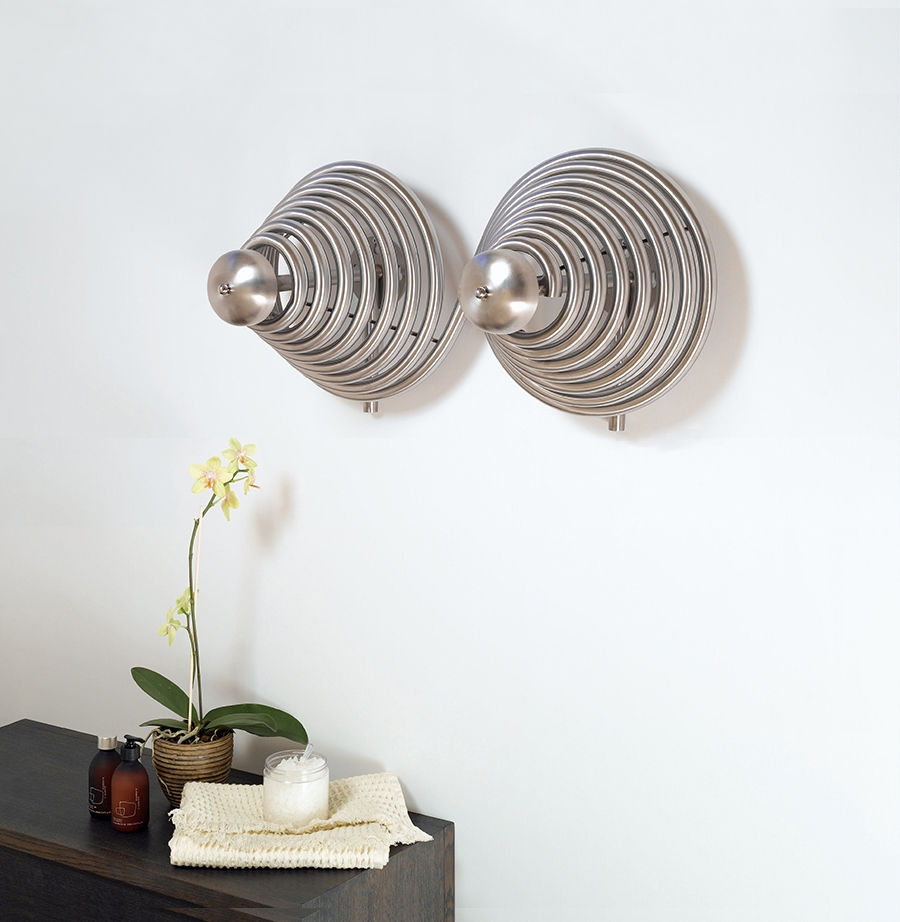 A playful take on Jean Paul Gaultier's legendary cone bra for the Material Girl, Aeon has transformed the normally uninspired wall heater literally, and figuratively, into a pair of hot commodities! Designed for smaller spaces, the 35" l x 16" h x 17" d heater generates 1339 BTUs and has a 20-year warranty. It comes either Polished or Brushed Matt in Gold, Black, Bronze, Antique Bronze, Copper and Rose Gold PVD. For Madonna's legion of fans, who wouldn't want a bit of the Queen of Pop in their homes?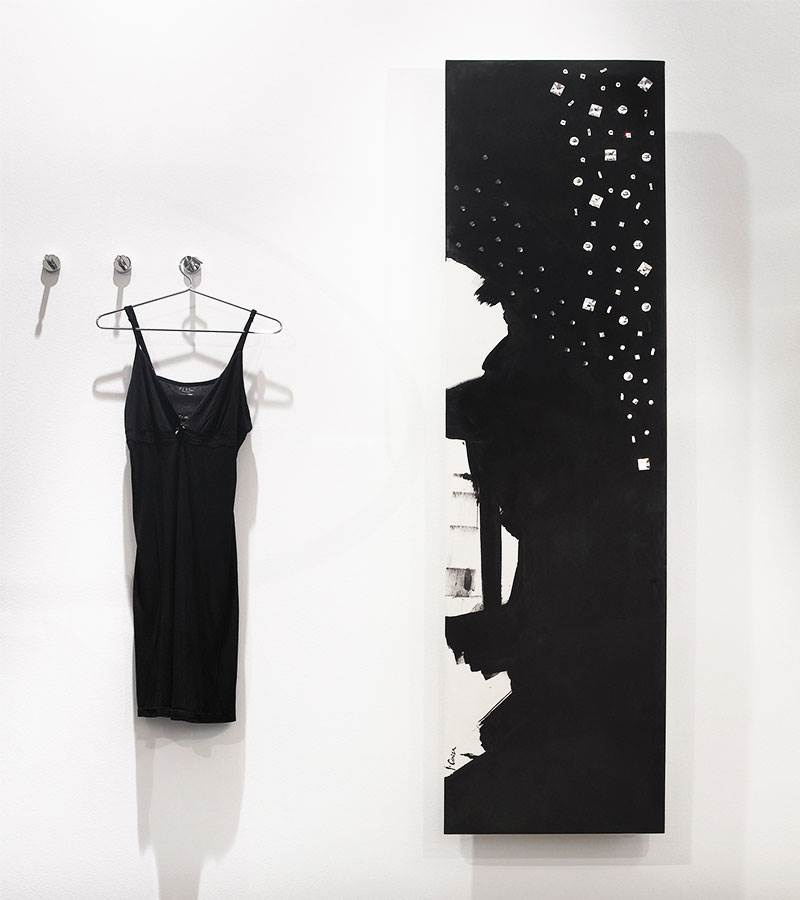 Looking for something to jazz up your walls? Why not add a piece of functional art? From the French atelier Cinier comes stunning wall radiators that can double as contemporary art. The glittery Black Diamond heater features handset Swarovski crystals on a stylish black and white graphic panel of Cinier's proprietary substrate, Olycale® Stone. The material is engineered to efficiently store and then release heat slowly but evenly across the slab's entire surface. Olycale is derived from a white rock in Southern France, which is crushed and then formed with the heating elements embedded in the mix. To meet the needs of any home, Cinier offers a wide variety of options – 20" w x 87" h  , 24" w  x 87" h, 28" w x 87" h, 24" w x 83" h, 20" w x 73" h; heat source – electric or hydronic; and power – standard or boosted. The choice is yours…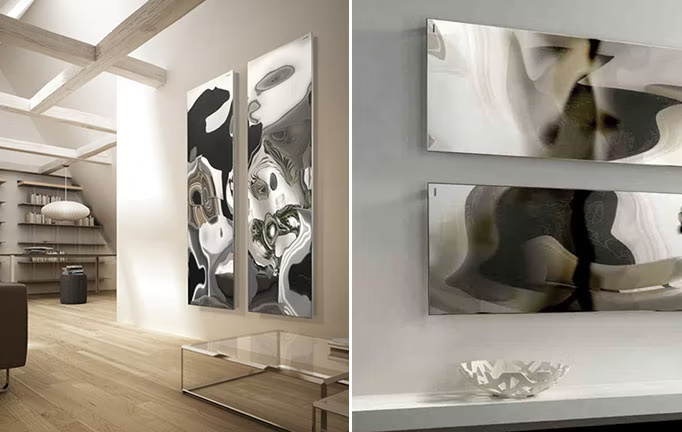 The brainchild of French product designer Jean-Marie Massaud for Cordivari Design, this dynamic 3-dimensional wall heater is inspired by ocean waves. The 67" x 20" x 3" d undulating polished stainless steel panel changes its appearance depending on the viewer's position and time of day. It can be installed vertically or horizontally and cruises to a maximum temperature of 203 F.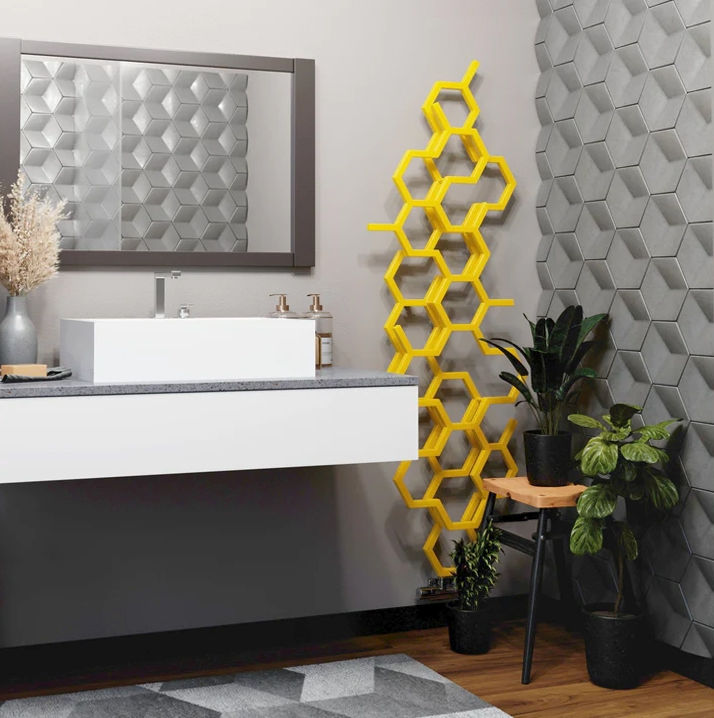 This eye catching Hex radiator by Terma reminds me of a honeycomb, but in technicolor! As a bonus, the heating element's geometry offers ample hanging space for towels. The heater's 5 different sizes, coupled with its unique shape and modular nature, provides plenty of flexibility for configuration changes to meet future needs. With standard finishes that include Bright Copper, Soft Matt Black, Sparkling Grey or Mustard Yellow, and other RAL colors on request, Hex is sure to work with any home's color scheme!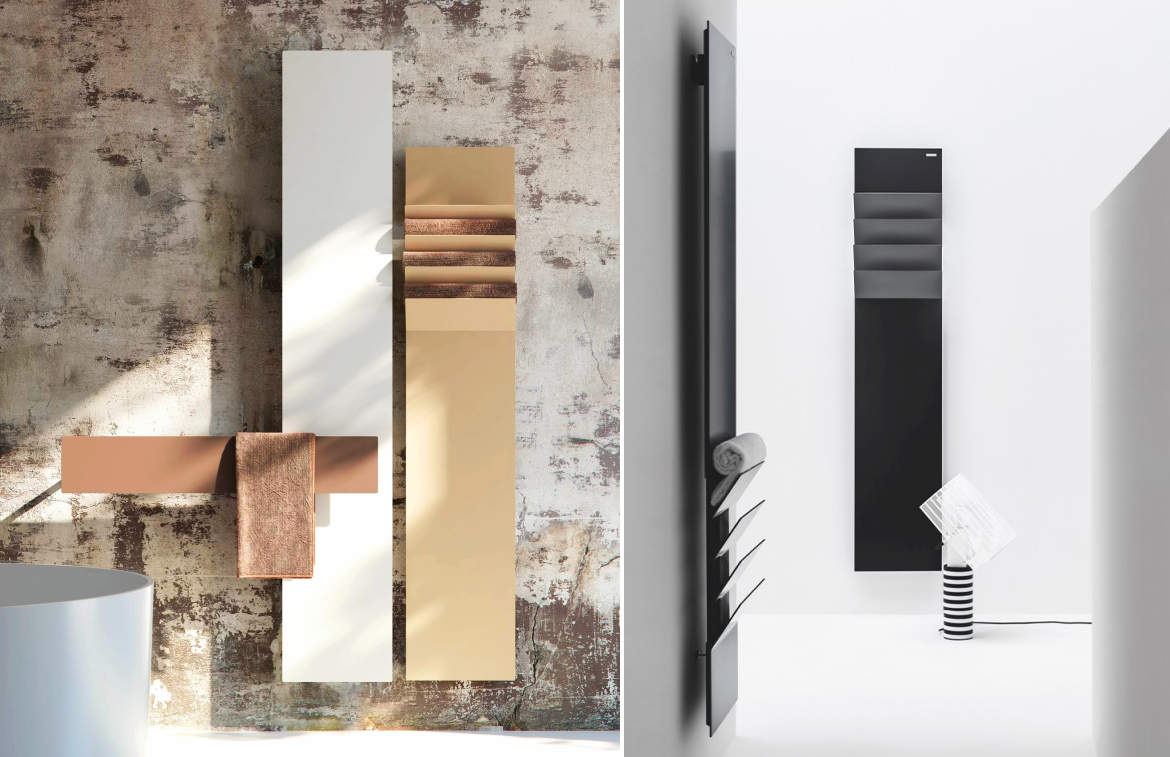 The Flaps radiator by Victor Vasilev for Antrax is a practical solution to address a common design problem: where to put towels without cluttering up a minimalist bathroom. The heater kills 2 birds with one stone by keeping towels warm as they are rolled up and stashed between its 0.2" thick metal plates. Made of aluminum, which is easily recyclable and a great heat conductor, the radiator comes in 2 sizes (67" l x 14" w x 3" d or 79" l x 14" w x 3" d), 2 flap locations (high or low) and 200 colors.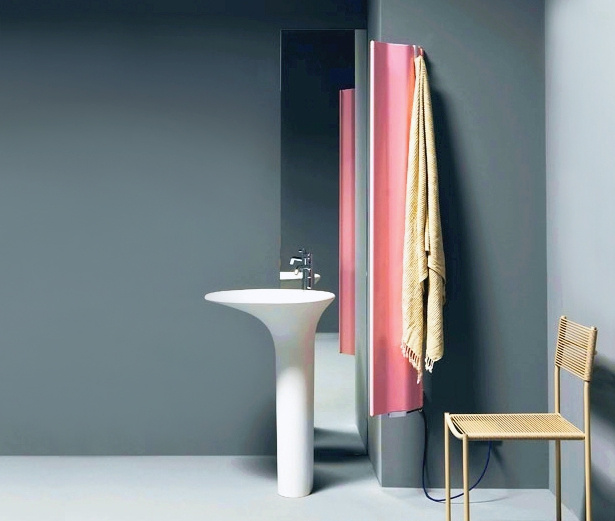 The recipient of numerous awards, Origami by Alberto Meda is inspired by the traditional Japanese folk craft that transforms flat sheets of paper into 3 dimensional objects. The elegantly fluted wall mount heater is available as single or double panels and can be collapsed to almost half its width.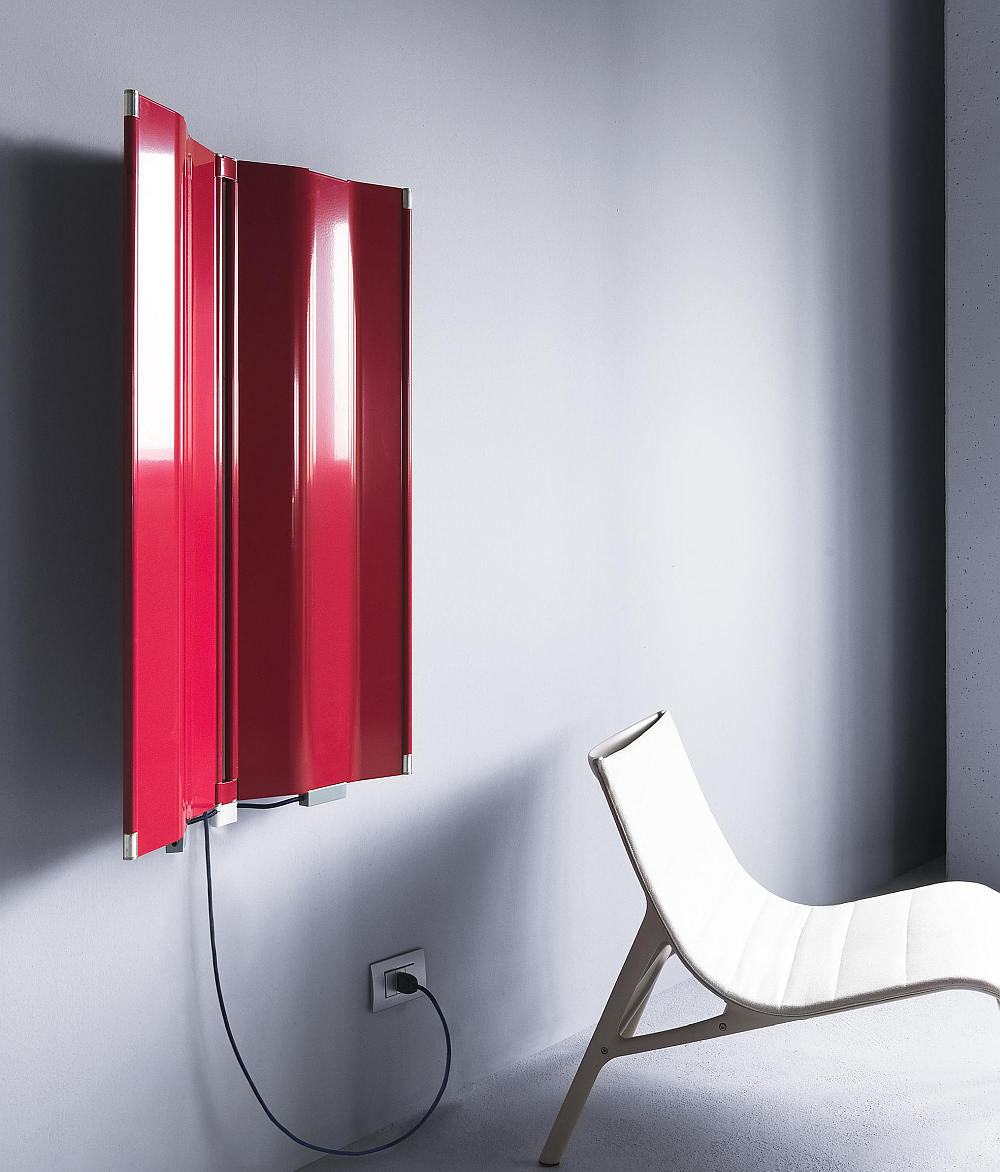 As a special bonus for those who vex over messy towels in the bathroom: the Origami wall heater can hide them inside its sinuous folds. There's even a hook made for the job!
Metal finish options include: Matt White, Satin Light Grey, Pearl Mouse Grey, Mica Black, Matt Ruby Red. Cable color is Red, with Blue on special request. The plug and play heater comes with touch controls, offering 3 heat levels, a boost setting, and 2 timer options that will keep the house warm and toasty 24/7.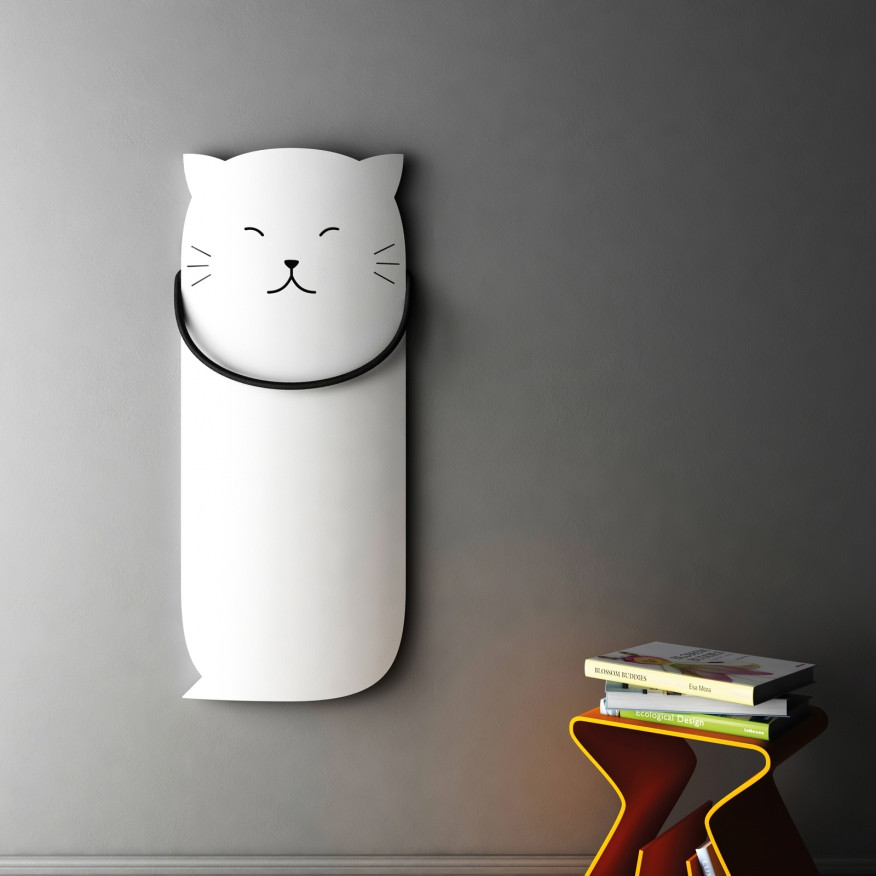 Last but not least is the whimsical Schema Cat designed by Meneghello Paolelli for Ridea. This low profile heater with Cheshire Cat-like graphics is purrfect for children's bathrooms – and the cat collar is actually a towel warmer in disguise! The radiator is 19" w and comes in 3 heights: 47", 59" and 71".