Looking for cool fixtures to jazz up your bathroom? How about 'invisible' wash basins, Swarovski tricked-out faucets, or desert inspired soaking tubs? For more eclectic tastes, there are also op art urinals and bespoke boudoir furniture. If bathroom furnishings leave you uninspired, these snazzy and unique products are sure to cure your bathroom blahs!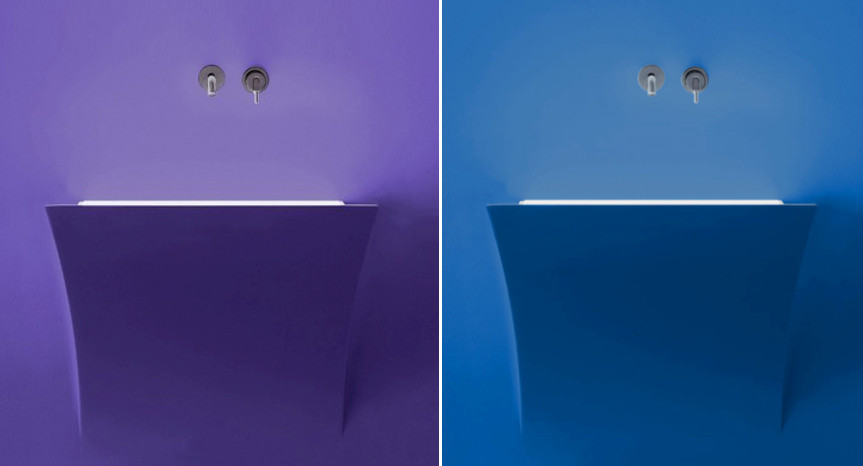 The brainchild of designer Domenico De Palo, Strappo makes a dramatic statement in any bathroom. Meaning 'torn up' in Italian, the outward curve of the sink is intended to look as if the wall is being peeled back. Fabricated from Corian, the wash basin can be finished in the same material and color of the surrounding wall, blending the sink into its surroundings, rendering it almost invisible to the cursory eye.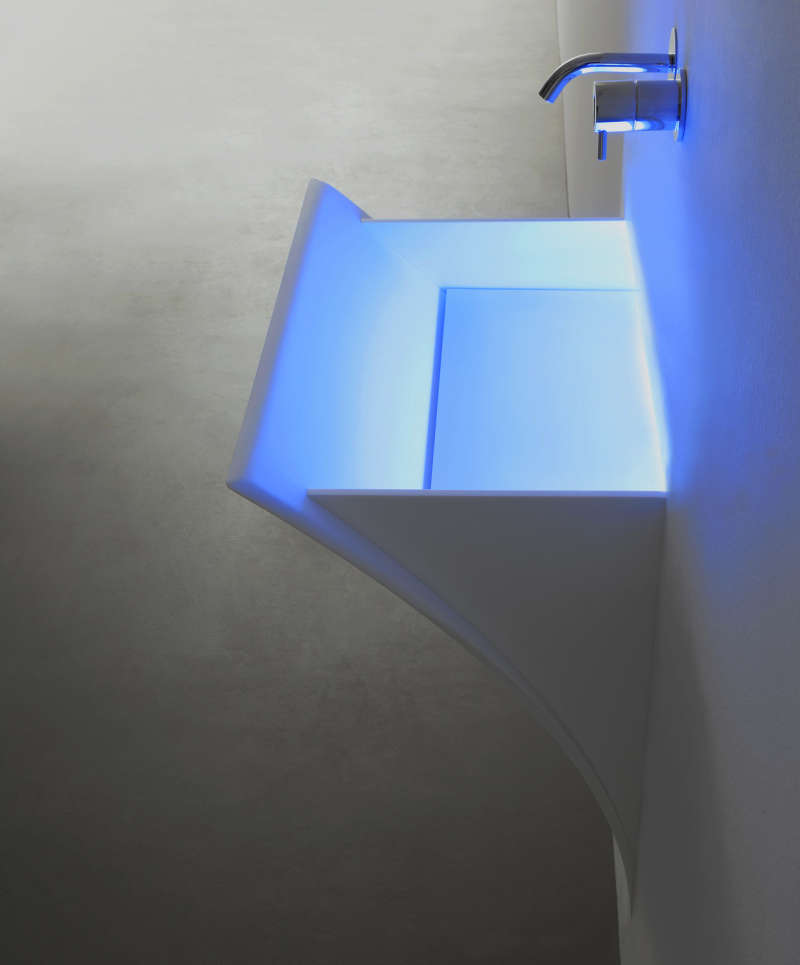 For a different effect, try the optional LED lighting. The soft glow around the sink will liven up your daily rituals! Strappo is available in 2 sizes: 32.6″ w x 18.9″ d x 31.1″ h and 36.5″ w x 20.2″ d x 39.9″h.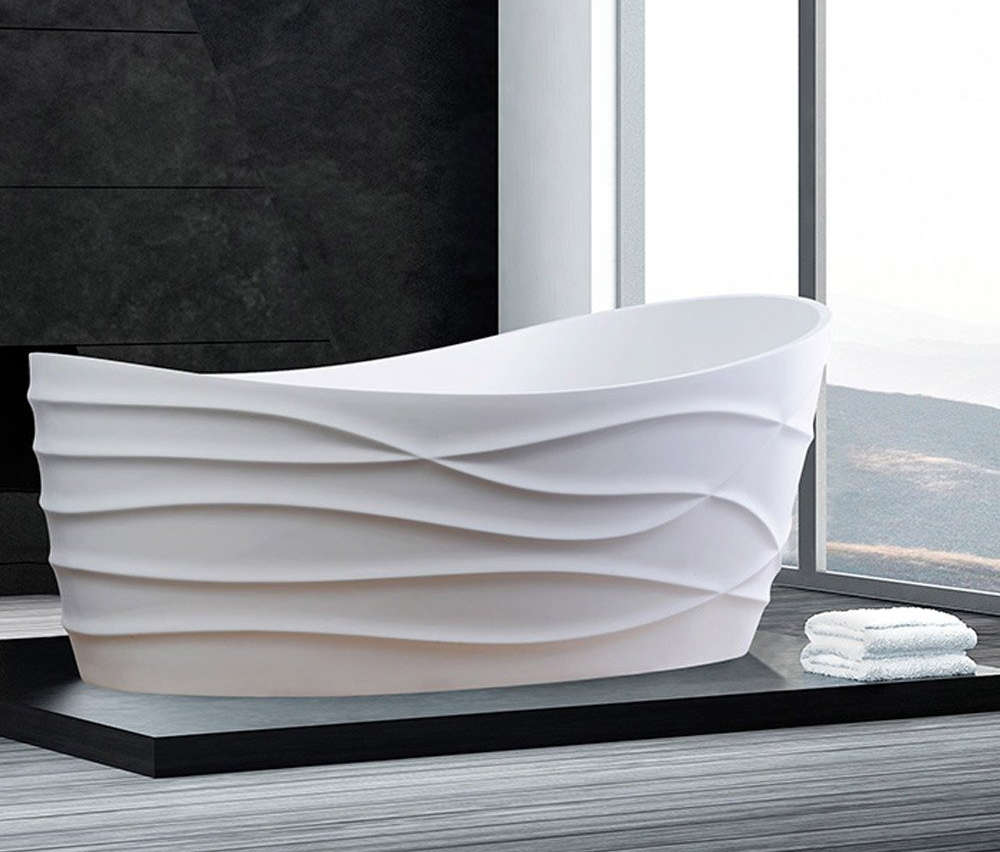 Imagine being transported virtually to Egypt's idyllic Siwa Oasis at the edge of the Great Sand Sea for some much needed R&R. The tranquil palm studded retreat was the source of inspiration for Dune by French designer Caroline Beaupere. The tub's exterior comes with 2 options: it can be sleek and smooth to accentuate its sensuous lines or rippled in texture, evocative of the rolling wind sculpted dunes surrounding the sun drenched oasis. The choice is yours!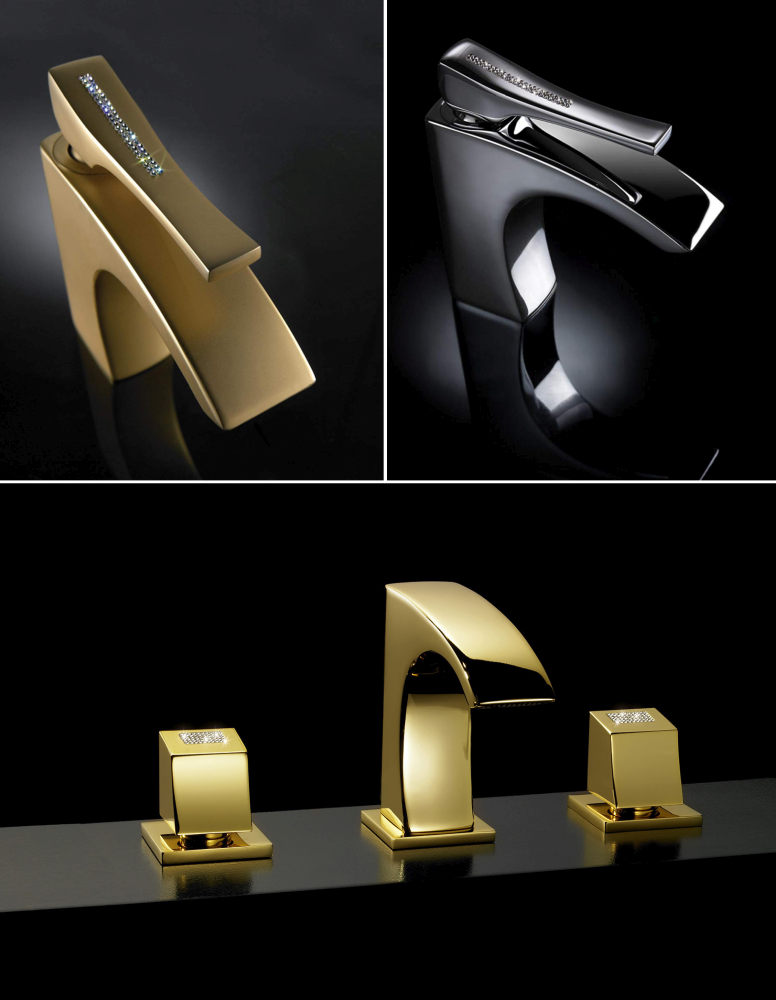 For a touch of class, the Skip Diamond faucet from Maier features Swarovski crystals in its single lever and widespread faucet handles. The single lever handle sports an elegant 2 row design while the knobs on the widespread faucet amp up the glam factor with their crystal-studded 10×10 grids. The faucets come with a 5 year guarantee and are available in Chrome, Gold or Brushed Gold finishes.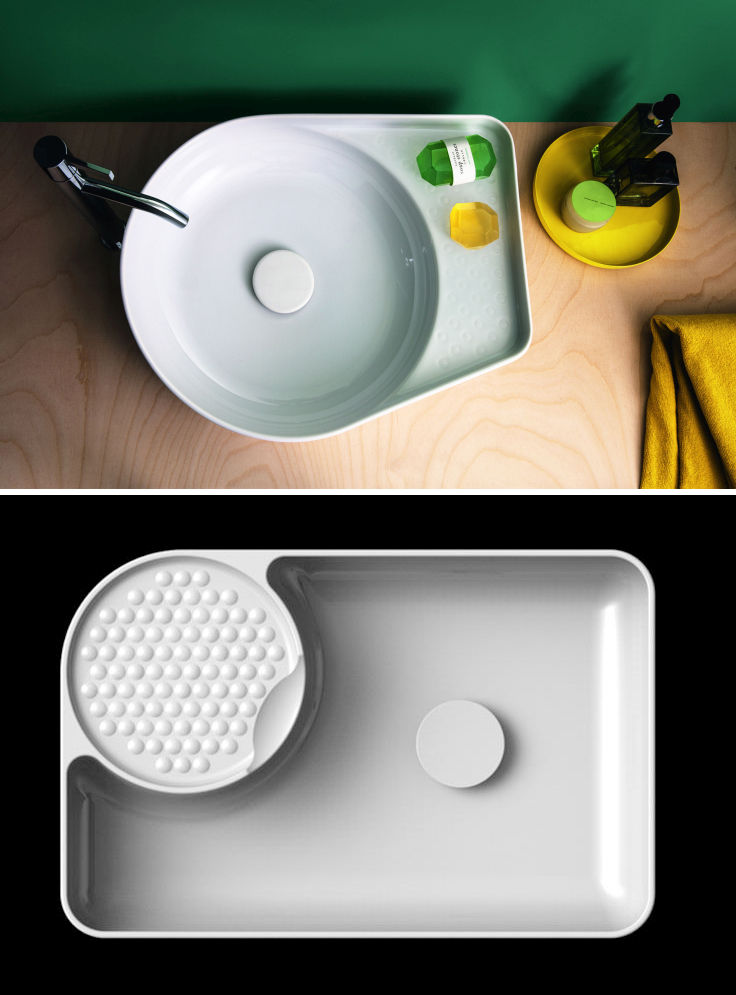 Konstantin Grcic has created a bathroom collection made from Saphirkeramik, a proprietary ceramic material by Swiss manufacturer Laufen. Being extremely strong and flexible, this innovative composite allowed Grcic to create designs with ultra-thin walls and tight radii. Val is characterized by sophisticated geometric forms with finely detailed textures and level changes to create integral drain-off platforms. There are even a couple of multipurpose trays for jewelry, hand soaps or towels to round out the offering!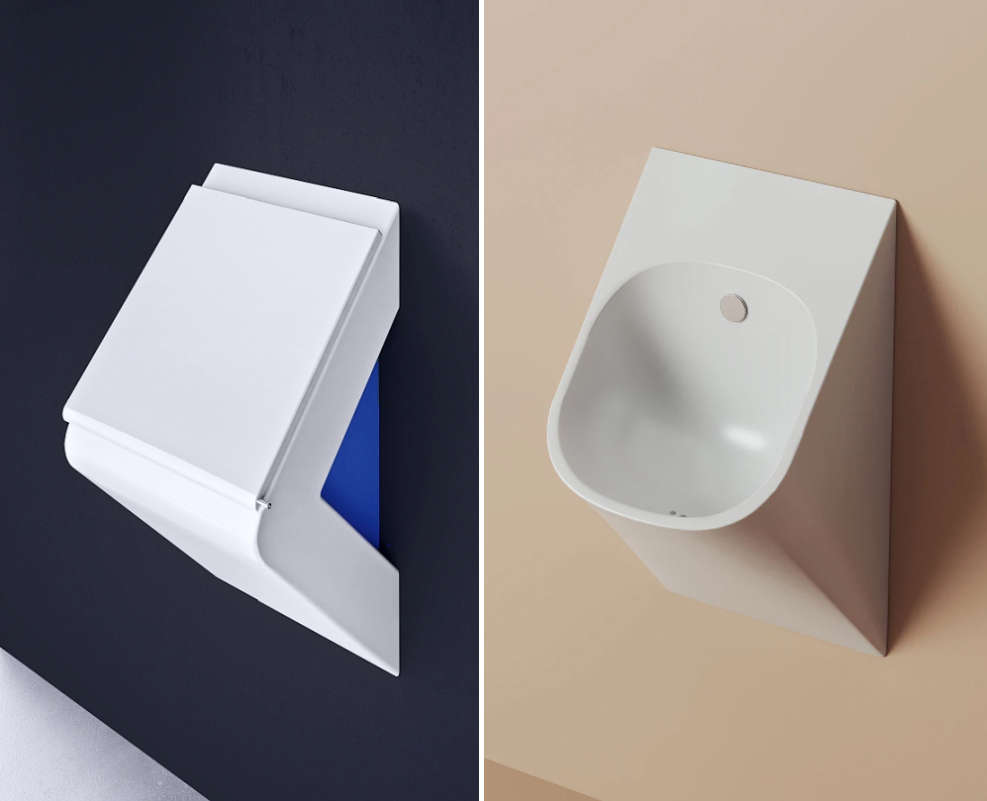 First debuted in 2006, Marco Paolelli and Sandro Meneghello's memorable La Fontana urinals got a recent reboot. The original design (shown on left), with its colorful white-framed triangular side panels, delivered a punchy graphic statement especially when arrayed in a row. However time has come for a reboot of the design to meet current tastes and sensibilities. For La Fontana 2.0, the dynamic duo distilled their design to its essence so the pared down curves and angles can take center stage. Which version do YOU prefer?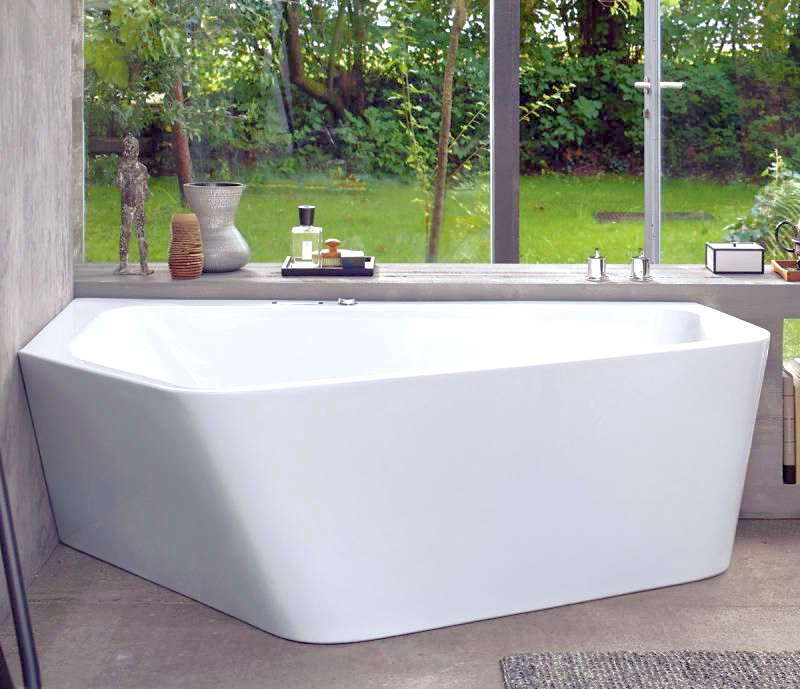 For those wanting to play footsie with their Significant Other, Paiova 5 by Duravit have you covered! It boasts a trapezoidal design that can accommodate 2 bathers side by side. What's more, the bathtub comes with 2 backrest angles, 40° and 46°, to meet different needs and can be installed either as a corner bathtub or be left freestanding in a room. Paiova 5 comes in two sizes: 66.9" x 51.2" and 74.8" x 55.1", and is offered as right corner, left corner, built-in or monolithic.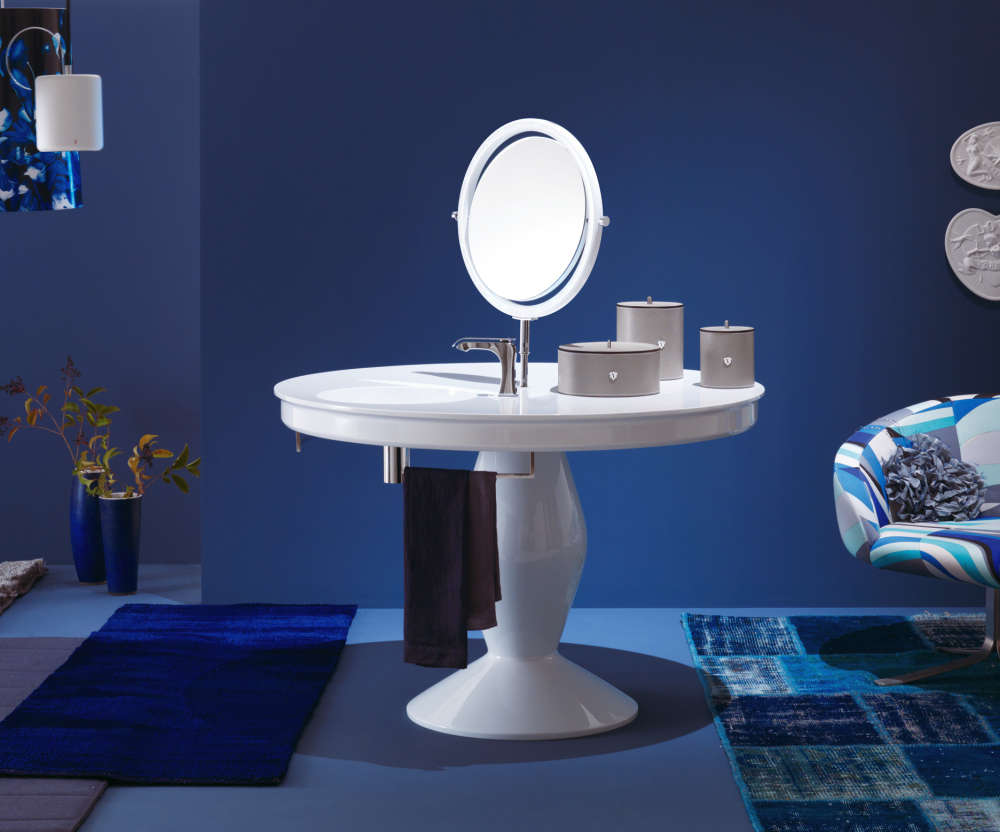 Called simply The Vanity, this bespoke piece of boudoir furniture by Ypsilon has it all – a sink (to go with your single-lever faucet of choice), rotating swivel mirror, towel rail and even power connection, depending on the option chosen. Also available are a set of 4 bon-ton boxes in different sizes and finishes for makeup or accessory storage. Made of LivingTec, a non-toxic, antibacterial, Hypoallergenic polyester acrylic resin, the table is 47.2" dia x 31.5" h. This will be a great addition to any dressing room or bathroom. Now if I can find the space…