Blame it on National Geographic and PBS's Nature program but I've always fantasized Africa as an ultimate destination in my bucket list. Some of our most fascinating exchanges were with Brits in the steamy jungles of Costa Rica who, in the 90's, regaled us with tales of their African safaris.
Finally in commemoration our 30th wedding anniversary, my husband and I decided to make the long trek to Africa. We wanted to see the fabled lemurs of Madagascar before their habitat is turned into firewood.We also hoped to catch the Great Wildebeest Migration of the Serengeti. I was glad to say that we saw all that and much more…
Obviously travel in Africa can be challenging, but the Dark Continent is a vast land and there are tour operators who cater to every whim for a variety of African nations (aside from conjuring up AC rooms in the middle of a desert!). After much research, we settled on Madagascar and Tanzania for our safari. We were able to find comfortable lodgings in both countries, though Tanzania has a much better developed tourism industry with plenty of luxury camp options.
Madagascar is an island off the SE coast of Africa. Most of the flora and fauna of this former French colony – most famously its lemurs – have evolved independently in isolation and are found nowhere else on earth.
Because of the country's large size, poor infrastructure, limited and highly unreliable air service, we decided to forego jaunts to the idyllic Ile Sainte Marie and focus on the parks and reserves to the east and south. After overnighting at the capital city of Tana (short for Antananarivo), we flew south to Fort Dauphin, gateway to the Berenty Private Reserve.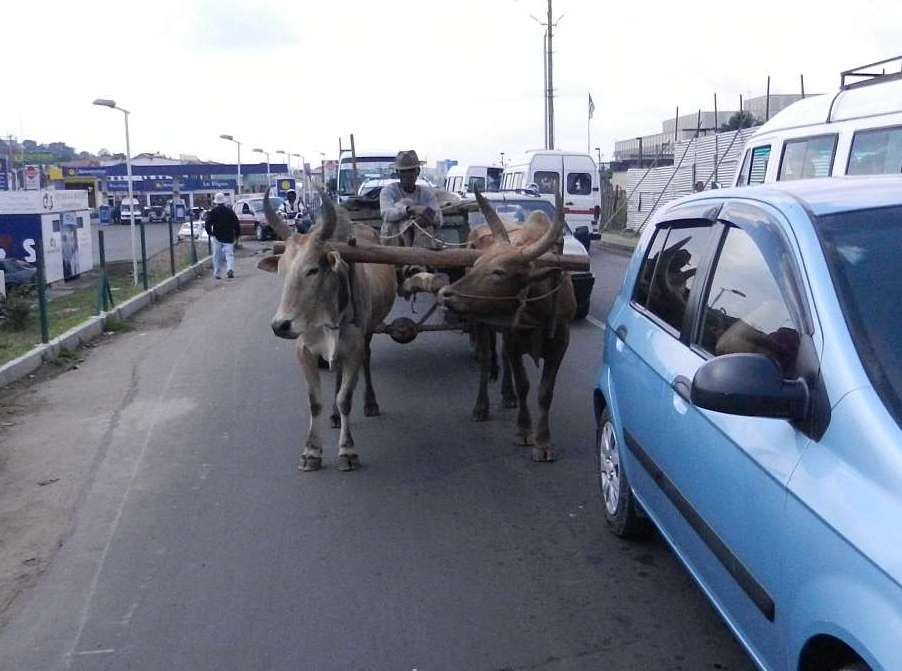 Zebu is a breed of humped cattle originating from SE Asia and is raised for meat, milk and work. It's an integral part of the tribal culture in Madagascar where wealth is measured by the size of one's zebu herd.
Getting to Berenty Reserve is an adventure unto itself. A bridge was washed out, so we had to queue up for the barge to cross the Mandrake River. Since trucks have priority, we didn't get on the first time. Our guide took the opportunity to buy some litchis from the fruit vendors.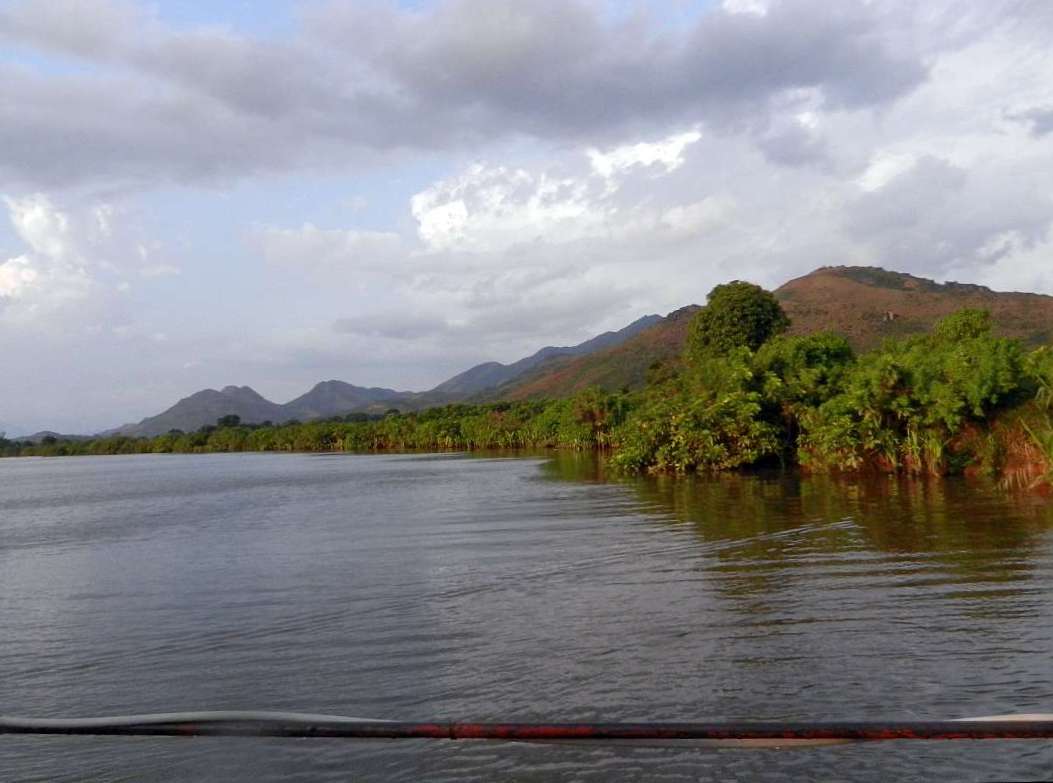 Despite being in a semi-arid region, the banks along the Mandrake River are lush with vegetation.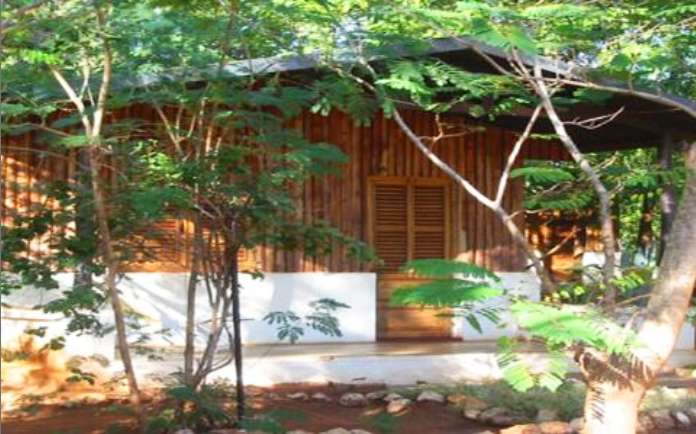 Berenty Lodge hosts both tourists and scientists from around the world. Like the Galapagos guides, Berenty's naturalist guides help in the some of the scientific studies.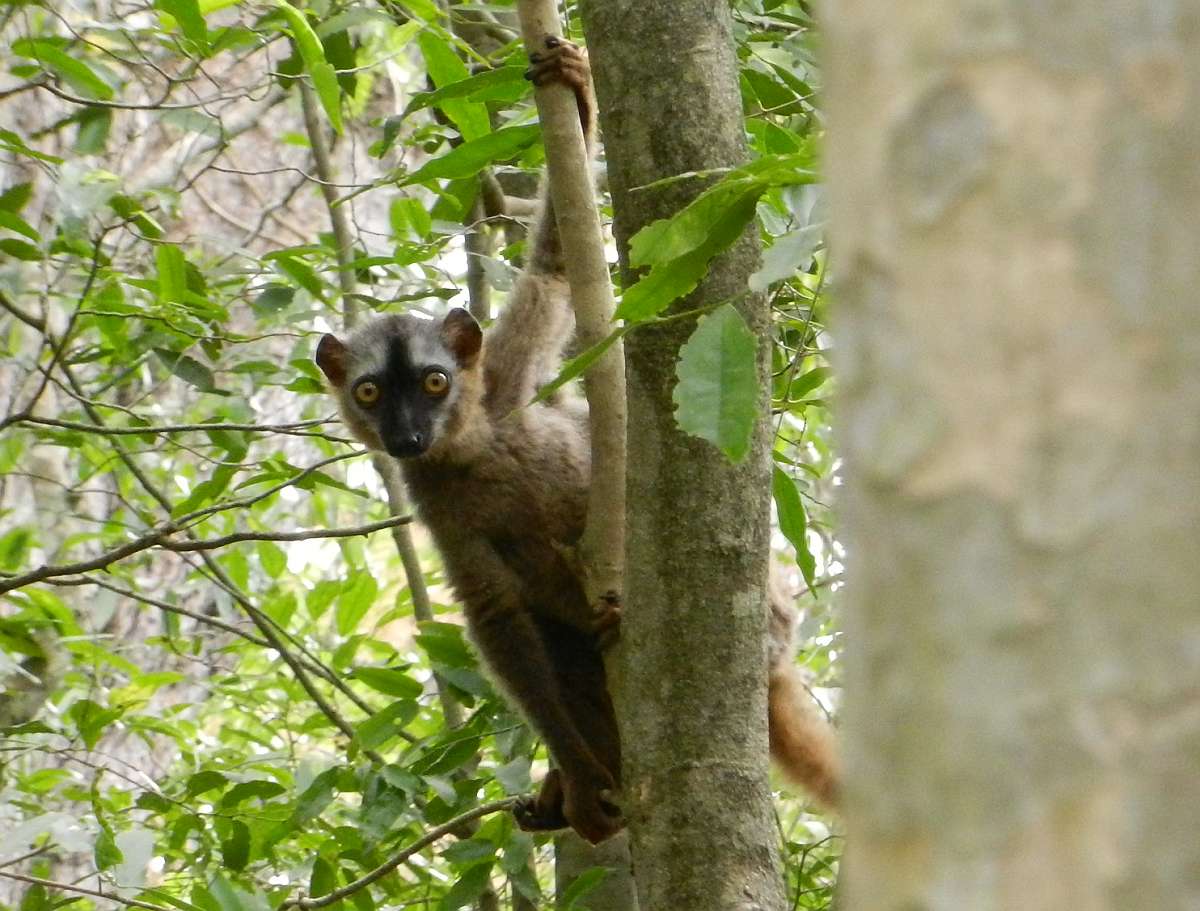 Love the inquisitive look of this brown lemur. Its apparent that lemurs in the Reserve aren't wary of people!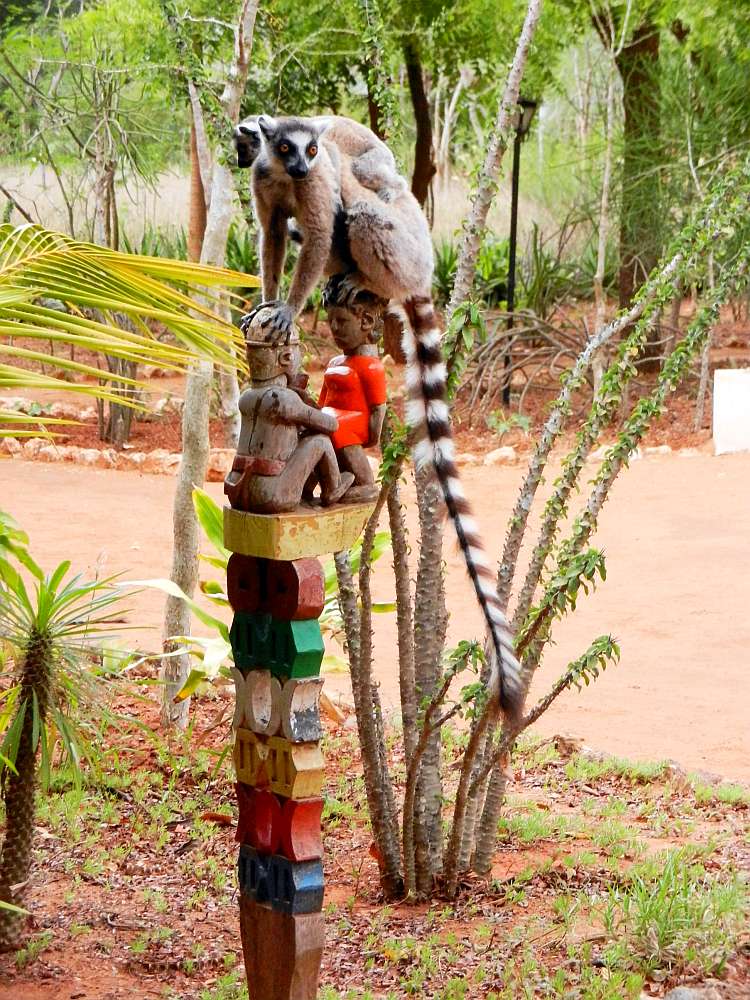 Wooden funerary totems called aloalo are part of the tribal culture in the south. These carvings sport elaborate geometric designs topped with human or animal figures to show something about the life of the deceased. I imagine the aloalo posts on the lodge grounds are reproductions for tourist consumption.
Ring-tailed lemurs spend more time on the ground than any other lemur species, so you often see them scampering around the walk ways.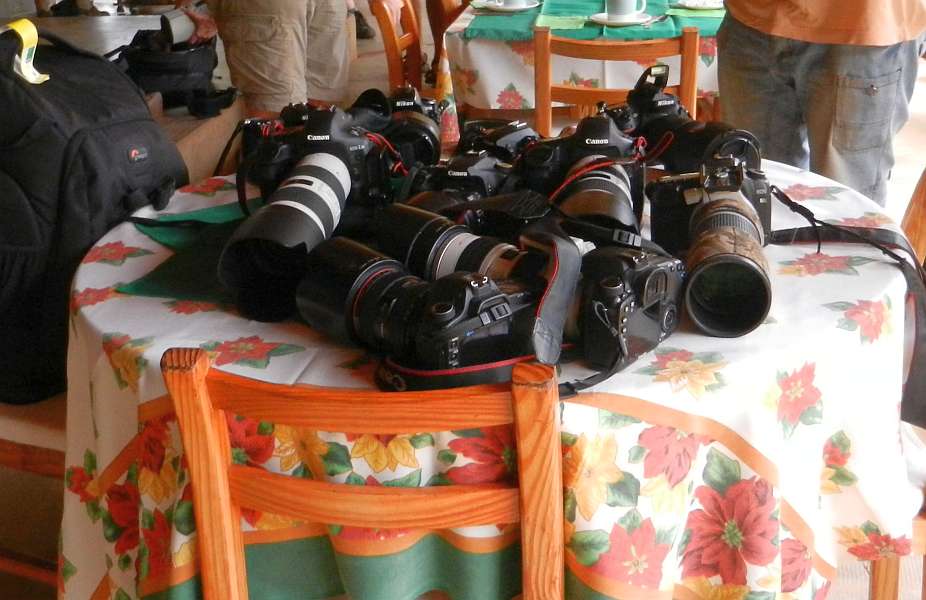 Our average flight delay with Air Madagascar (also nicknamed Air Maybe or Air Mad) was 4 hours so we had plenty of quality time with our fellow travelers. We kept running into this Czech photography group at airports and park lodges in Madagascar's rather predictable tourist circuit.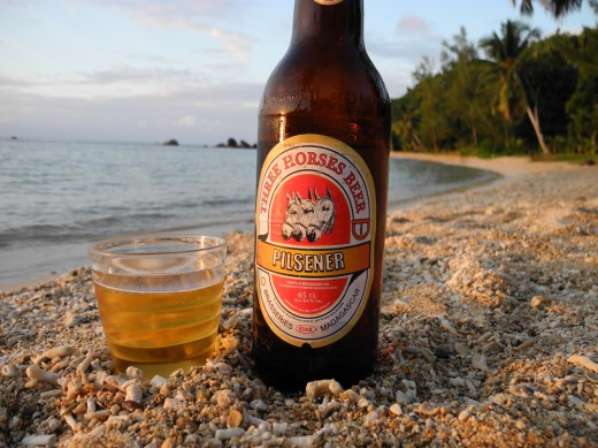 Madagascar is hot and rainy in November. It's a good reason to sample a different local beer with every meal!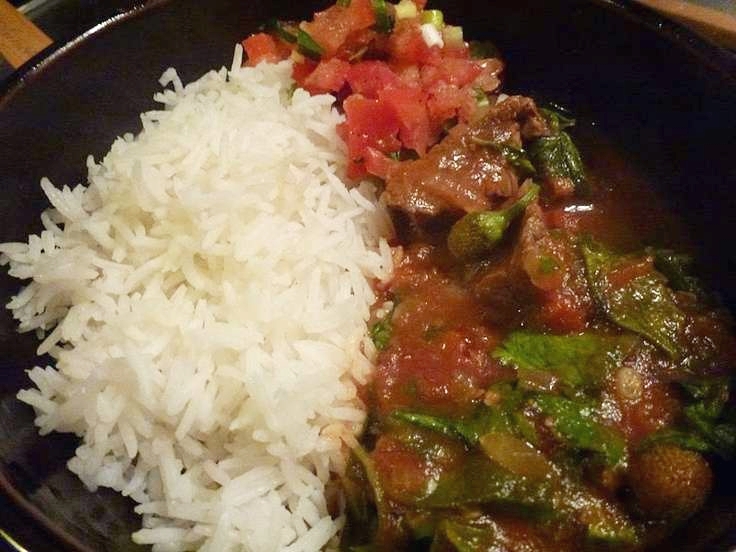 We had different versions of romazava throughout our stay in Madagascar but the quality of the dish varies daily, even at the same restaurant. Here's a video of a recipe for romazava.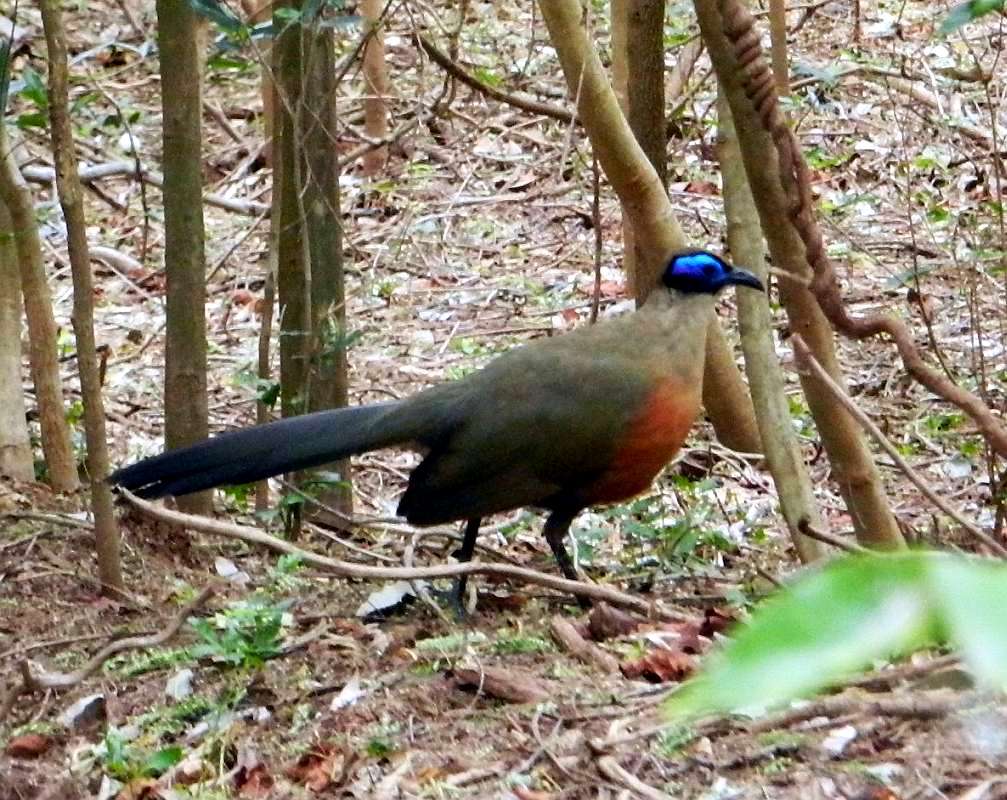 Our daily ritual at Berenty started with a birding/wildlife walk at the ungodly hour of 5:30 or 6 am, followed by breakfast around 7:30. We came back one morning to find the open air restaurant overrun by a troupe of ringed-tail lemurs till the staff shooed them away!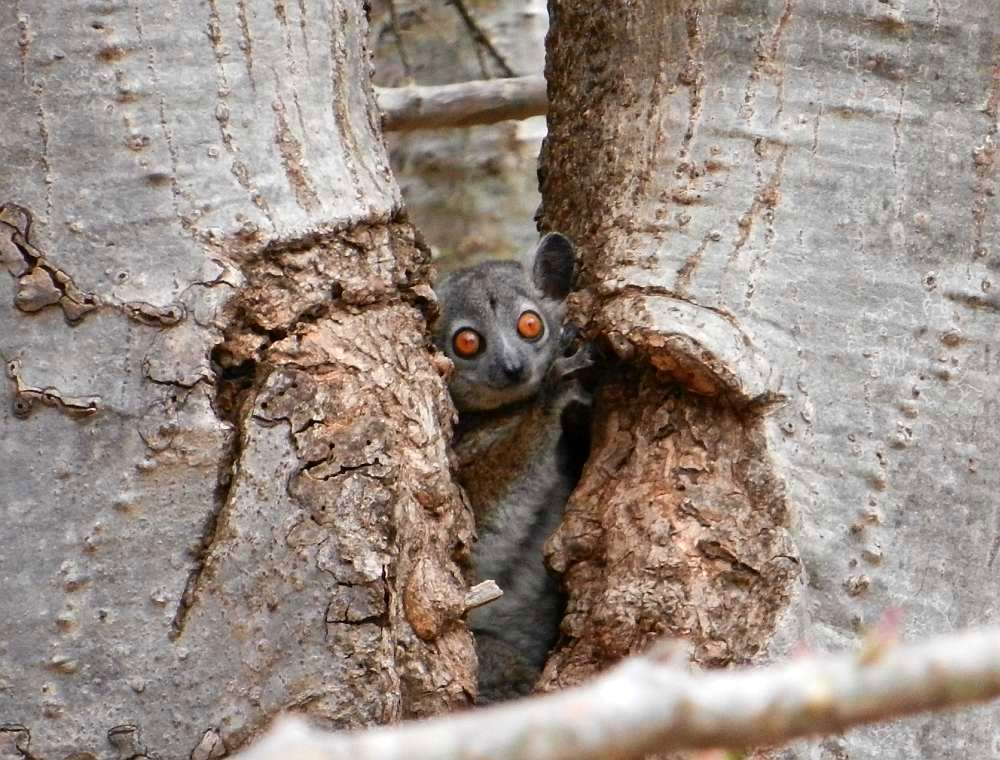 Lemurs, like birds, are less active and harder to spot as the temperature warms up by mid-morning. It made sighting this cute sportive lemur doubly surprising as it's a nocturnal animal. Maybe this lemur had insomnia…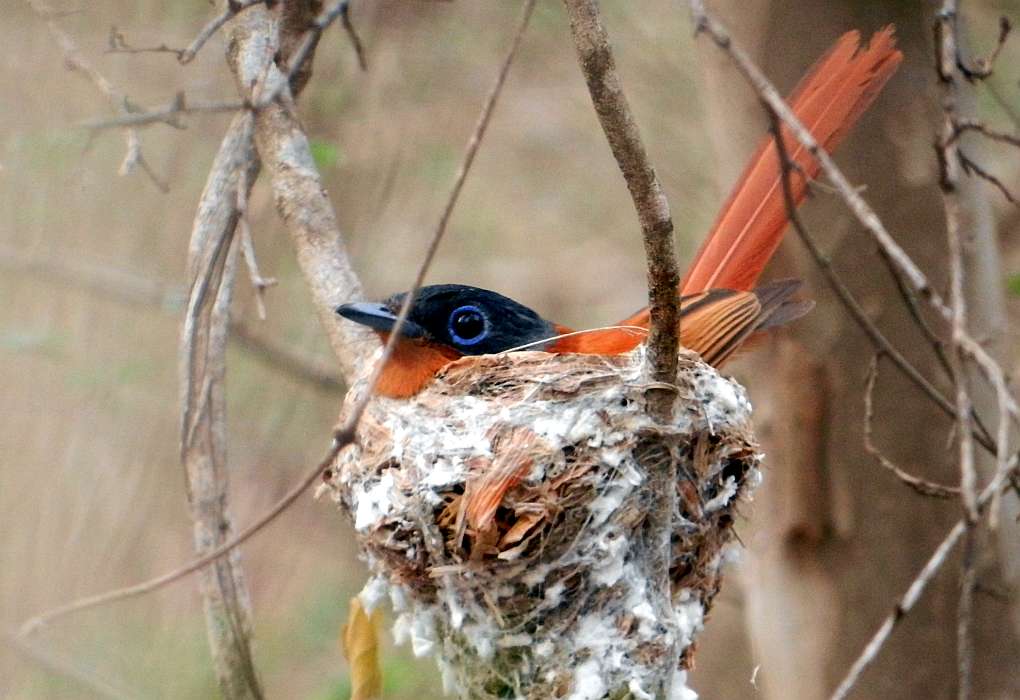 We found a couple of Malagasy paradise flycatchers brooding a few feet off the ground. One nest actually had 2 young chicks inside!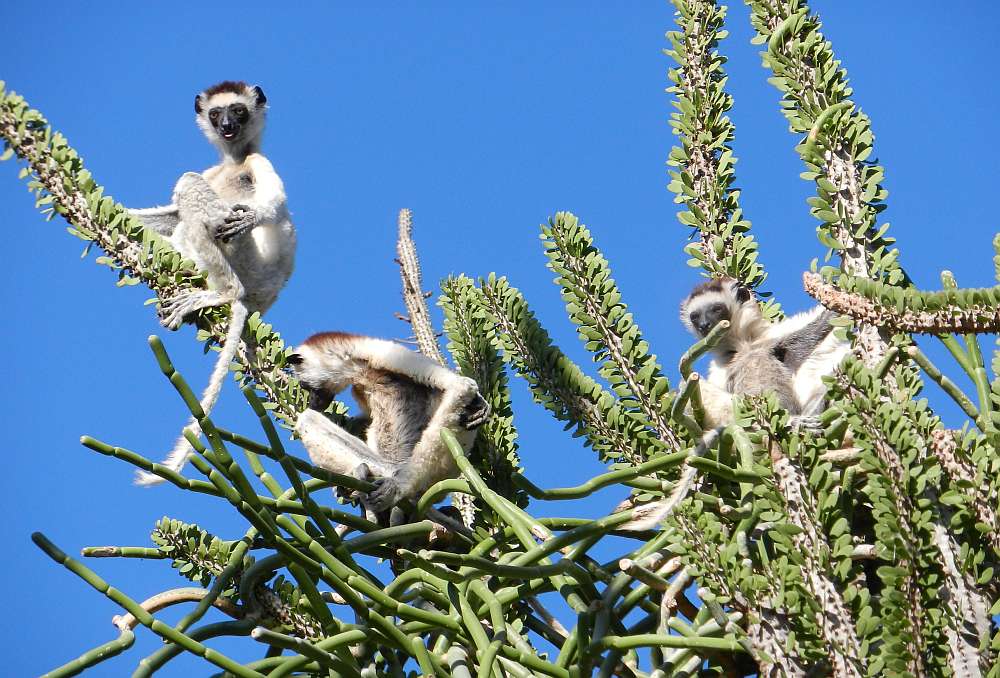 The name sifaka comes from the lemur's alarm call which sounds like 'shi-fahk'. It's amazing to see Verreaux's sifaka lounging in the octopus trees which are covered with inch-long spines. With their fast disappearing habitat, these graceful lemurs are increasingly endangered.
Powerful legs enable the sifakas to jump effortlessly between trees. That same leaping motion is what gives the sifakas their trademark 'dancing' gait on the ground. These lemurs are surprisingly quick – this video actually shows the sifakas prancing sideways across the forest floor in 'slow-mo' at quarter speed!
Next stop, Andasibe National Park, to hear the fabled singing lemurs!