Repurposed and upcycled products are no longer the homely and dreary hued goods of days gone by. You'll love the cool bars from repurposed aircraft engines, sculptural vases from upcycled leather scraps, or insta-worthy bioplastics and furnishings from agricultural as well as post-industrial waste! They've certainly made their mark to leave the world a better place…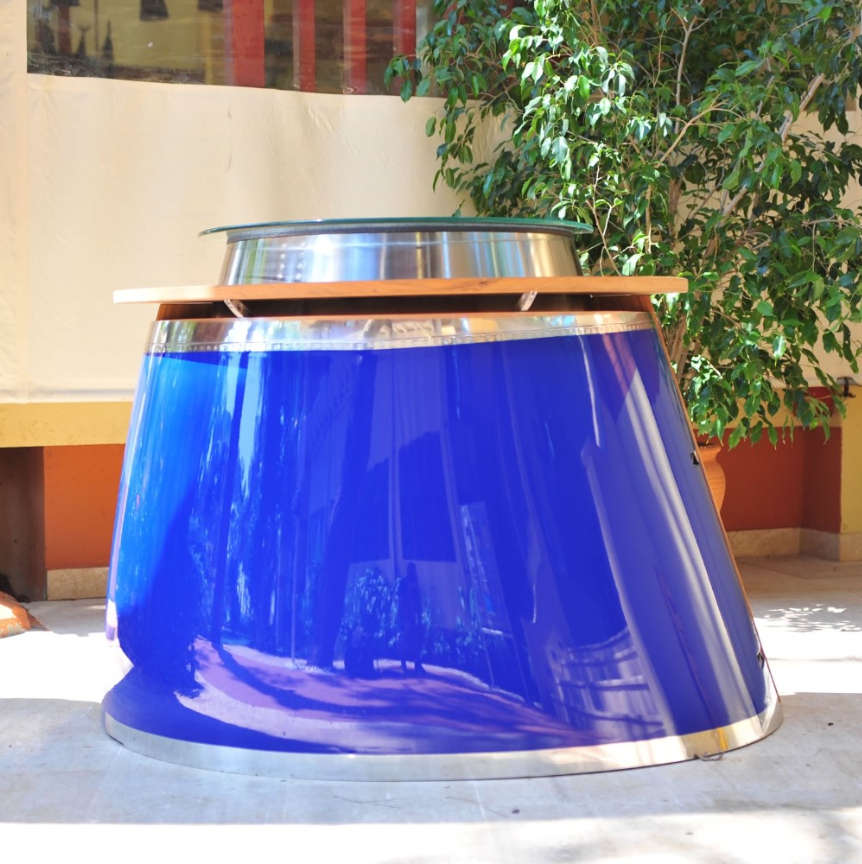 A showstopping bar to create buzz among your guests in more ways than one! Measuring 63" w x 27.6" d x 49" h, this recycled reverse thruster from a GE CF6 jet engine is a must-have for any aviation enthusiast. The thruster's metal body can be finished in gloss or matte paint. Alternatively, you can jazz it up with an airbrushed logo or custom design!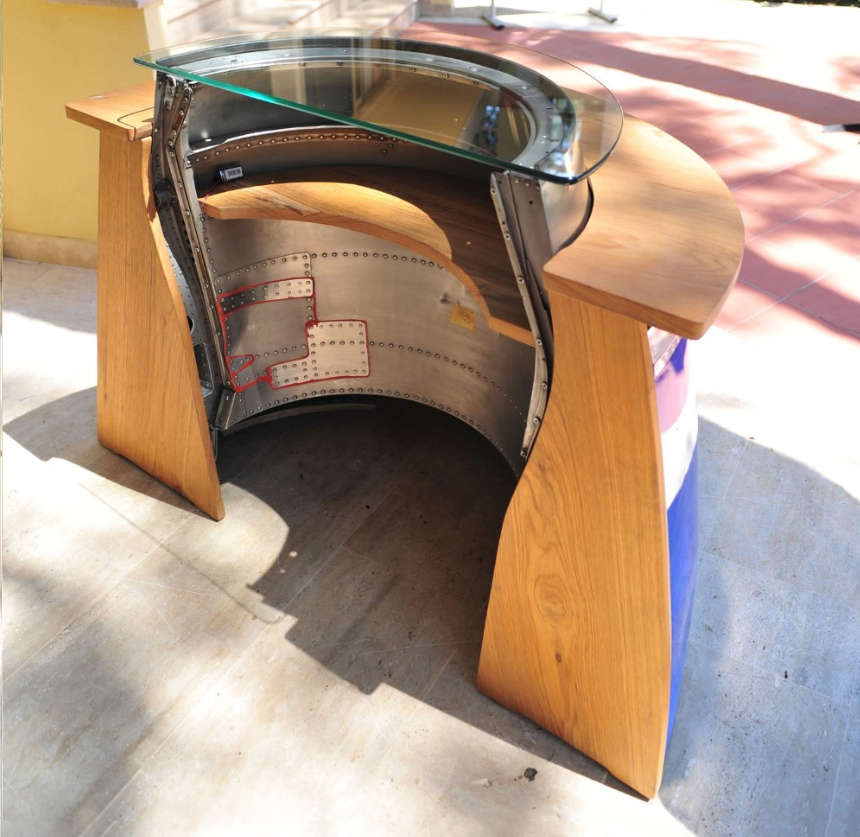 The compact bar service counter can be of wood, as shown, or glass, while the front counter is available in wood, glass or metal. Optional features include concealed casters and custom wiring, such as built-in outlets, for mixologist tools. The fabricator is SkyArt which specializes in repurposing aircraft parts into desks, seats, trolleys and more.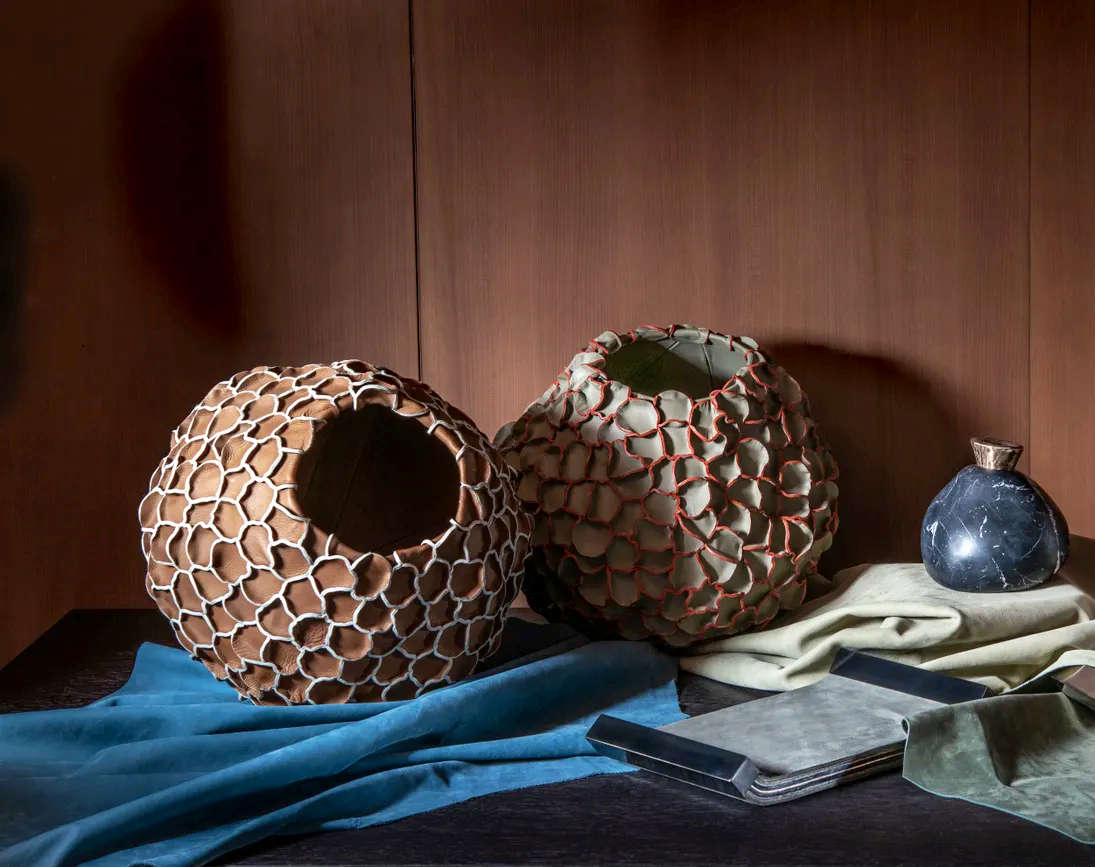 In collaboration with an haute couture workshop in France, interior design and lifestyle firm Liaigre explores creative reuse of production waste. Its Upcrafted series is based on remnants, fragments and offcuts from upscale materials such as leather, wood and bronze. These bespoke one-of-a-kind leather vases hail from humble beginnings: each consists of about 400 small leather scraps that are assembled by hand and pieced together with vegetable glue. The edges are then contrast-dyed and waxed to bring out the dimensional surface.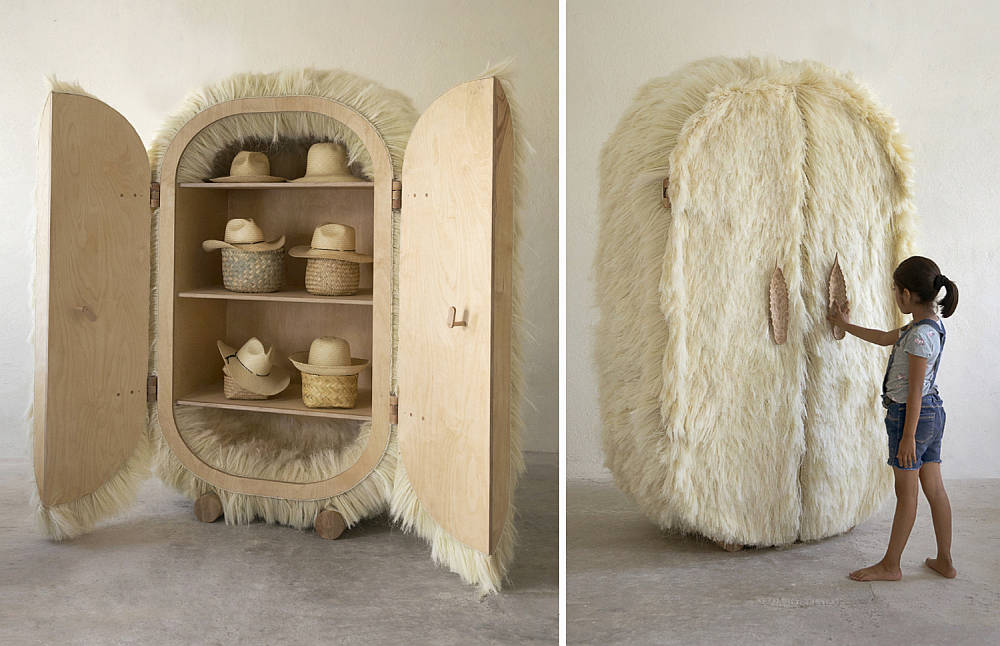 Fernando Laposse is no magician, but the talented industrial designer's ability to transform the mundane into the sublime seems to say otherwise. Born in Mexico and educated in the UK, Laposse draws upon his cultural roots to promote sustainable agriculture among the indigenous population and works with local artisans to turn their crops into high style furnishings. In his latest venture, agave leaves that are by-products of the Oaxacan mezcal industry are processed into long strands of fiber and used in the whimsical Agave Cabinet. The furry armoire measures 45 ¼" × 34 ¼"  76 ¾" h and is made of birch plywood, kiln-dried Canadian maple and metal mesh.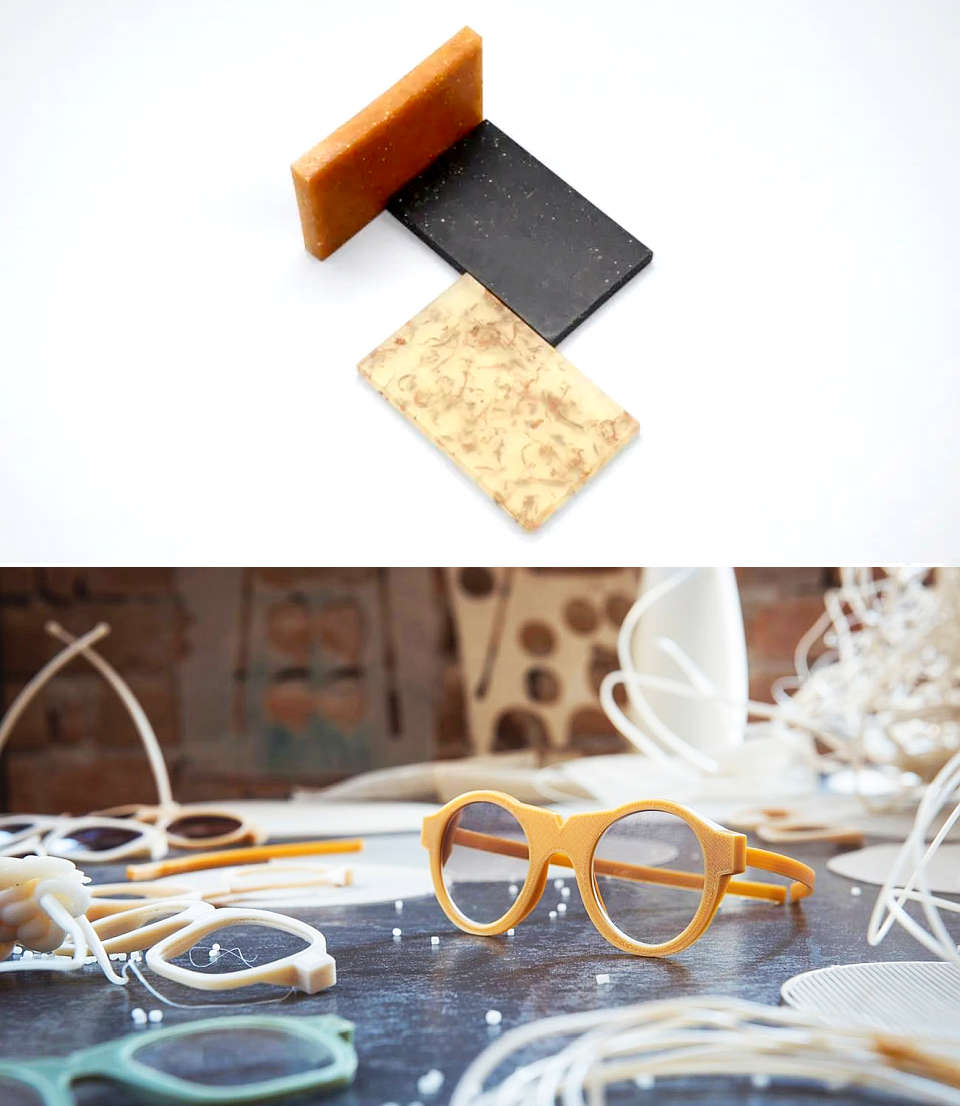 The dynamic duo Rob Nicoll and Rowan Minkley co-founded Chip[s] Board, an eco-conscious start up with the ingenious idea of converting food waste into biobased polymer. The result is Parblex, a thermoplastic made from non-food grade potato peelings that is biodegradable, recyclable, and contains no toxic chemicals. It can be tooled via injection molding, 3D printing, and standard industrial machining processes. The sheet goods can be translucent or fiber reinforced, with a range of finishes and durability to suit a variety of needs. Easily composted into fertilizer at end of life, Parblex is perfect for the eyewear, fashion accessory and furniture industries which tend to experience shorter life cycles.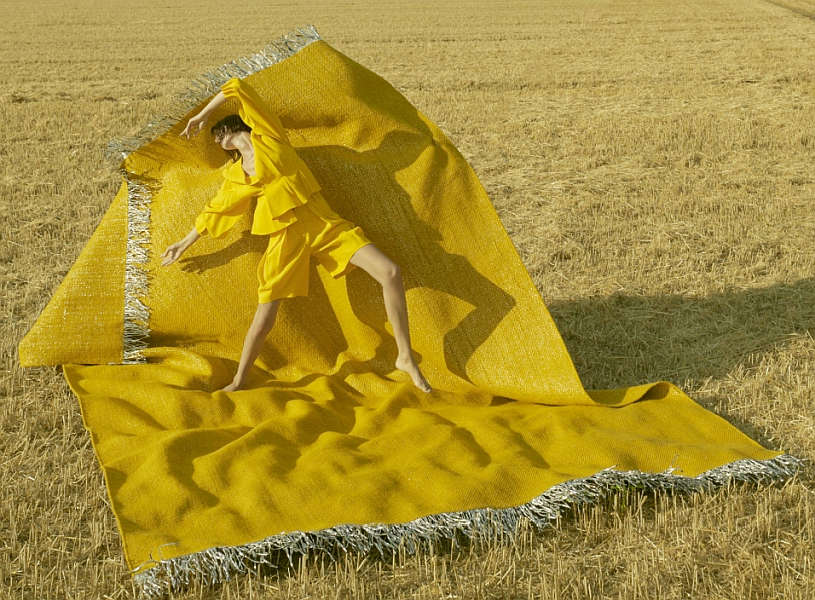 Jutta Werner, the creative director of Nomad, draws inspiration from the trash she encounters during her travels. Her vision is to create sophisticated, environmentally friendly products for the discerning consumer while preserving ancient time-honored handicrafts. With their origins in the Himalayas, Nomad's ethically sourced and socially responsible Candy Wrapper Rugs are made of 20% leftover wrappers from the candy packaging industry and 80% new wool. Expertly handwoven in India, each dhurry's unique look comes from the random blend of colored paper and wool as they are spun into yarns. It's available in 12 luscious colorways with Pantone colors on request, 5 sizes and 2 weights.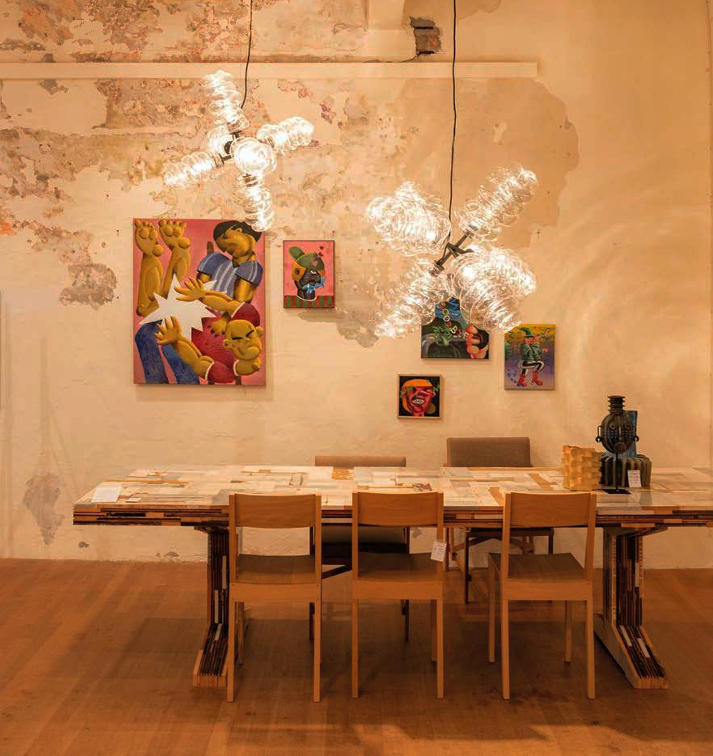 Dirk van der Kooij's mastery of the art as well as science of circularity is evident in his Bloown series of pendants and chandeliers. His journey towards sustainable design and manufacture started in the basement of his alma mater, the renowned Design Academy Eindhoven in 2009 and has never looked back. The pendant fixture of clear reclaimed plastic is made similar to blown glass. The molten plastic strand is extruded, blown, and turned at the same time to transform it into a transparent spiral that disperses and reflects light in a myriad of directions. Six of these crystalline cocoons, each harboring a 4.2 Watt LED bulb that's dimmable from cool to warm colors, are attached in pairs to a tubular frame to form the chandelier. It's available in 2 sizes: 20″ h x 20″ w x 20″ d and 28″ h x 28″ w x 28″ d with a 10-12 week delivery.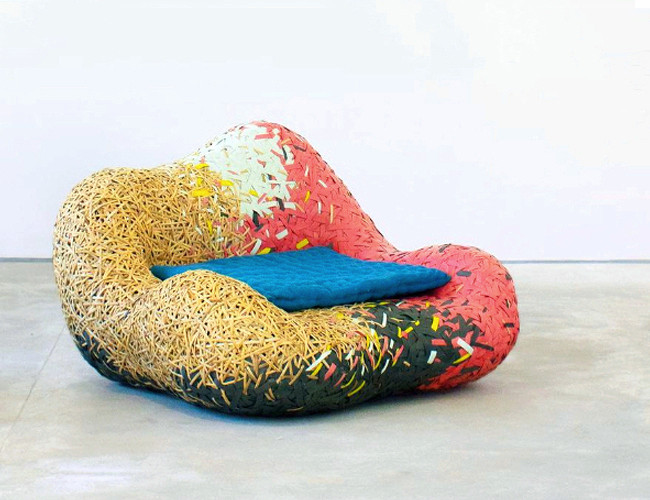 Daniel Mitchell of Space Available partnered with Balinese master craftsman Nano Uhero to fashion an ecofriendly meditation chair out of plastic discards. Using traditional techniques, the sumptuous organically shaped seating of 100% recycled post-industrial polypropylene strapping tape is intricately woven over a frame of salvaged wood and rattan. An indigo dyed cushion is included. Each chair's palette and shape are unique, with an approximate size of 38.2" d x 33.9" w x 22.4" h. It also comes with a repair and recycling plan to minimize waste, extend product life and keep the furniture out of landfill!