For those who are interested in sustainability and follow the mantra of Upcycle, Reclaim, and Repurpose, this post is for you! If you think green living means austere design, materials and colors, think again! Here you'll see discarded leather belts upcycled into elegant panels for doors and walls, vintage cars turned into opulent seating, biowaste magically converted into sumptuous fabrics, and airline service trolleys remade into swanky bar carts!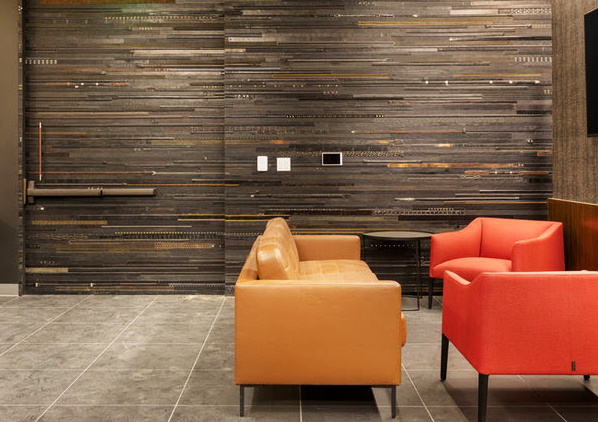 One of the stunning offerings from EcoDomo. Recognizing that leather tanning is an exceedingly water intensive and polluting process, the company focuses on the sustainable reuse and fabrication of leather in all its guises. The Phoenix Collection is made entirely from recycled leather belts. Available in black, brown or multi-color, these bespoke one of a kind panels can be applied to walls, doors and casegoods for an amazingly rich visual experience.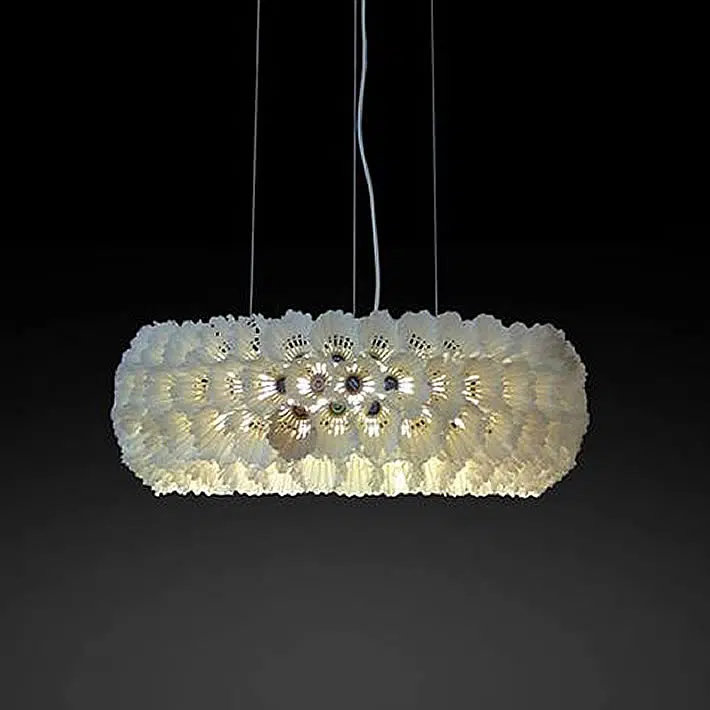 Badminton is a sport that produces lots of waste. Shuttlecocks whose feathers are damaged – which is fairly often – are discarded and end up in landfill. Austrian based UK designer Gary Sanders creates ethereal lighting out of reclaimed shuttlecocks. Flora is a stylish pendant suspension fixture 23.3" dia x 7.9" h.
The brainchild of Andrea Colombo and Linda Assandri, this Glamour Beetle Armchair is both decadent and whimsical. It is the perfect showcase for Andrea's interest in vintage cars and Linda's love of over-the-top bling. Repurposed from a real 1968 Volkswagen Beetle, the armchair features a plush seat, capitonné back studded with Swarovski crystals, and optional LED lighting. It measures 59.1" w x 27.6" d x 47.2" h with leather and faux leather as fabric options. Carved wood decorations can be finished in gold or silver leaf, although the real deal can be had for an upcharge!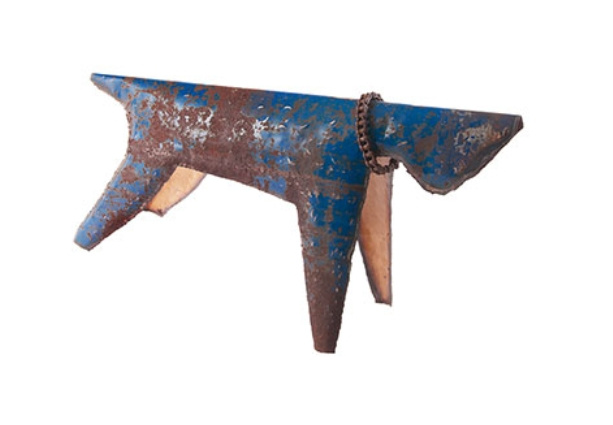 Looking for ways to give a second life to old oil drums? What about making sculptures with them? This salvaged oil drum dog sculpture is 35" d x 9" w x 18" h. The rustic finish adds to its charms, but the sculpture should probably be kept indoors to protect it from additional damage by the elements.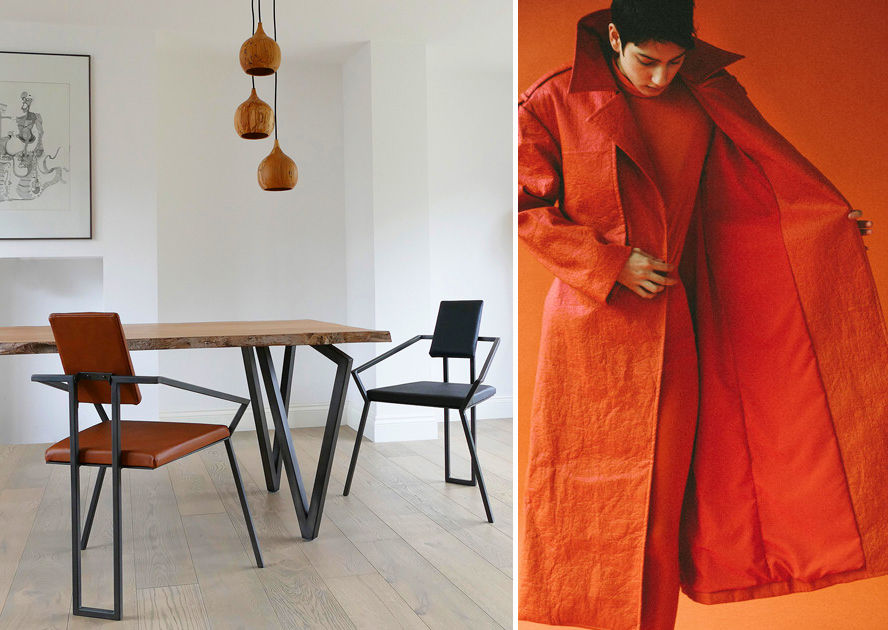 Piñatex is a vegan leather made from pineapple leaves, a by-product of the food industry. This luscious material has a wider grain than its animal counterpart and is gaining traction in furniture as well as fashion industries. Piñatex is showcased in the hand-patinated blackened steel framed Purton Chair by Tamasine Osher and paprika colored trench coat by fashion designer Mariam Al Sibai. The faux leather has even made its way into guest suites at Hilton Hotels & Resorts, shoes by Hugo Boss, and boater hats in the House of Chanel!
Sustainably harvested and processed in the Philippines by Ananas Anam, the pineapple leaves are first fed through a decortication machine to extract the tough fibers, which are cleaned and processed into a non-woven mesh. The rolls are then shipped to Spain for their final transformation into a supple but durable textile that has the hand and appearance of leather. Adhering to zero-waste philosophy, biomass left from decortication can be used as fertilizer or biofuel by the local community. To top it all, Piñatex is a closed loop product: made from natural fibers and polylactic acid (a plant-based thermoplastic), it is 100% biodegradable at end of life!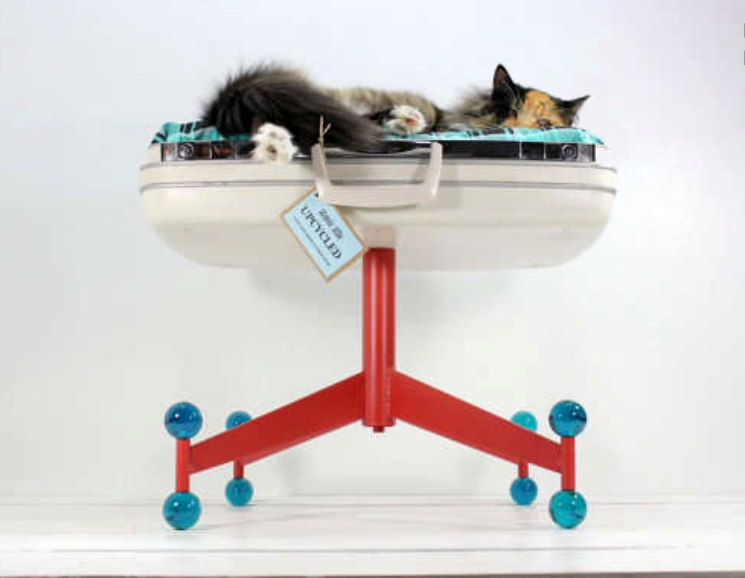 This cool cat lounger is made from repurposed vintage suitcases. The antique white Samsonite suitcase is set atop a brightly painted 4-star office chair base and cheerfully decorated with aqua colored balls. The color-coordinated cushion cover can be removed for easy maintenance.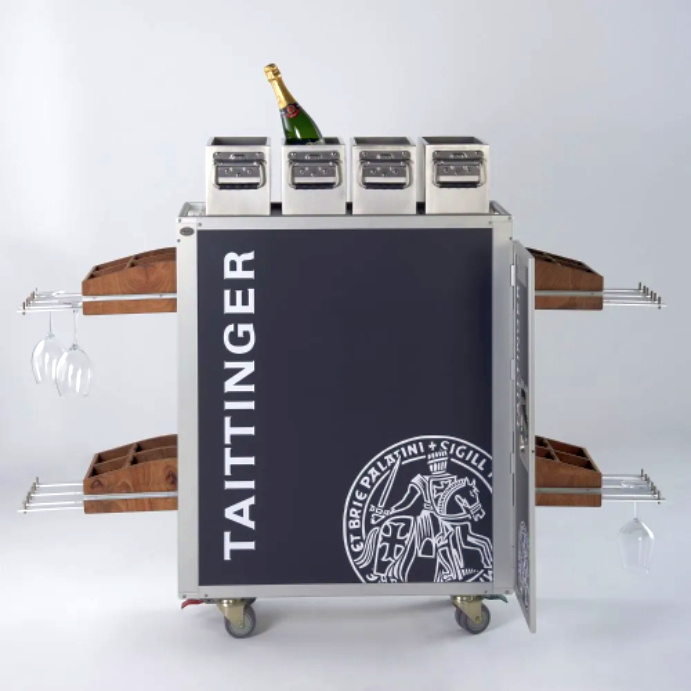 Skyart refurbishes airline service trolleys, offering customized inserts to suit all your entertainment needs. Measuring 12.2" w x 32.3" d x 40.6" h, this party-in-a-cart can be kitted out with wine and glass racks, bottle drawers, chopping boards and ice buckets. Logo and artwork can be printed onto the mobile bar for extra pizzazz!