To cap off our amazing Madagascar trip, we planned to go on a 10-day safari in Tanzania. Often called 'the greatest show on earth', catching the Great Wildebeest Migration is certainly a crapshoot. Since we were travelling in the short rainy season, the weather pattern is also rather erratic, but I was determined to try our luck. While most people go to the Serengeti to see The Big Five (elephant, rhino, lion, leopard and buffalo), I was bent on finding the graceful but elusive cheetahs.
We were supposed to fly from Antananarivo, aka Tana, the capital of Madagascar, via Nairobi (Kenya) to Kilimanjaro (Tanzania), transfer by car to overnight at Arusha and start our safari the following morning. But this is Africa, where travelling frequently tests one's fortitude, internal or otherwise.
Things went awry when Kenya Airways cancelled our flight to Nairobi. We were able to re-route the trip to accommodate the truncated itinerary but 'The Pride of Africa' again threatened to cancel our flight the next day. Luckily the near-rioting passengers persuaded the airline to dredge up a crew to fly us out of Madagascar.
Our safari finally got underway the next morning. Prosper, our driver/guide met us early as we had to make up for lost time. As Arusha and civilization fell away, the countryside was dotted with huts from different ethnic groups where the locals still wear their tribes' distinctive and colorful garbs. I was excited to see the Maasai up close and personal. They are one of the dominant tribes in the area and their compounds, called bomas, became a common sight.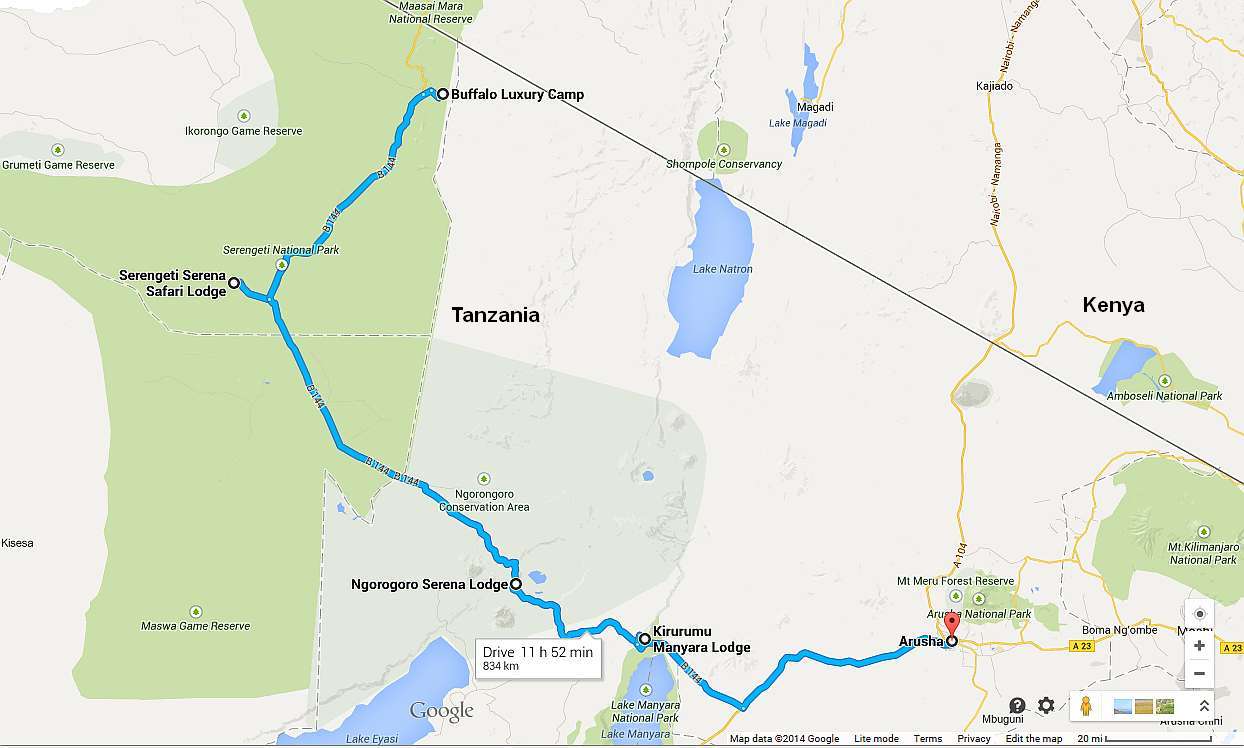 Originally our first stop was Tarangire National Park, famous for its elephant herds. Unfortunately we had to skip that and make a beeline for the Serengeti Serena Lodge so as to arrive Buffalo Luxury Camp on schedule. After a couple nights at Buffalo Camp, we will return to the Serengeti Serena, then head for the Ngorongoro Serena Lodge and Kirurumu Tented Lodge before ending our trip in Arusha.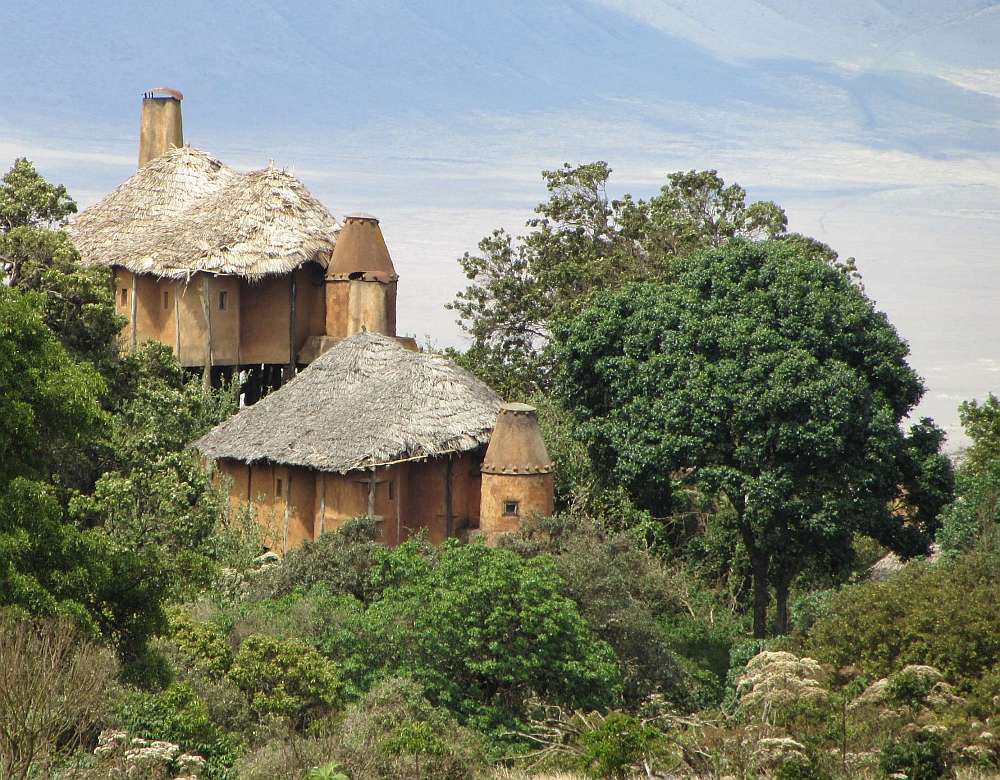 Unless in private preserves, tourists are not allowed to get off the safari vehicles except at designated rest stops. Prosper pointed out the luxe Ngorongoro Crater Lodge in the distance during our lunch. For purportedly a mere $1500/pp per night, you get a chandelier-adorned ensuite bathroom (with a deep soaking tub!), opulent velvet bedspread, elegant antiques and of course the obligatory private butler to draw your bath…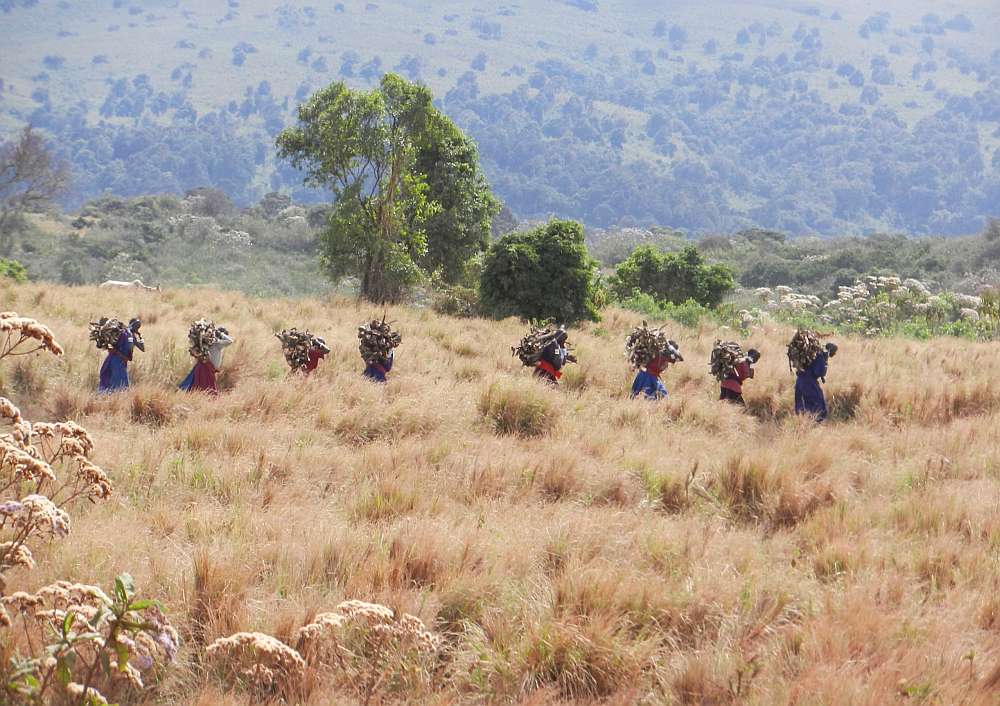 Traditionally Maasai women carry the water and wood. We drove by the brightly attired group after lunch. Reds, blues, plaids and checks are popular among the Maasai. The Maasai around the Serengeti area wear flowing robes made of several sheets that are wrapped around the body and draped over the shoulders.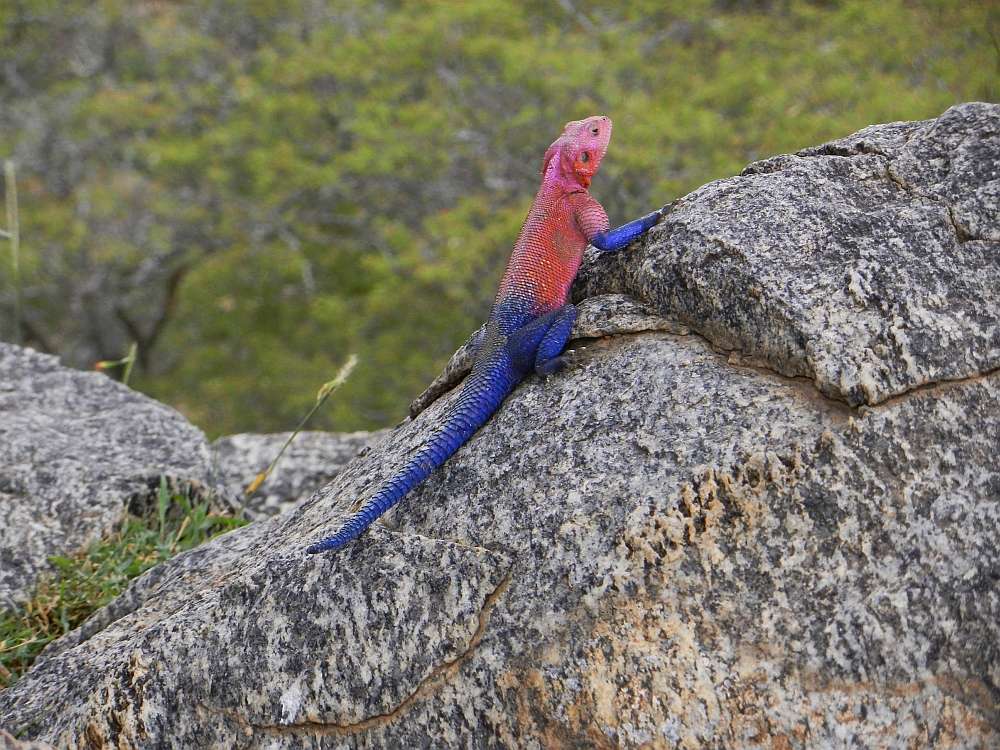 In our mad dash across the Serengeti to catch up with our itinerary, we made few stops. We saw the Agama lizards basking on the rocks when we stopped to pay entrance fees to the Serengeti National Park.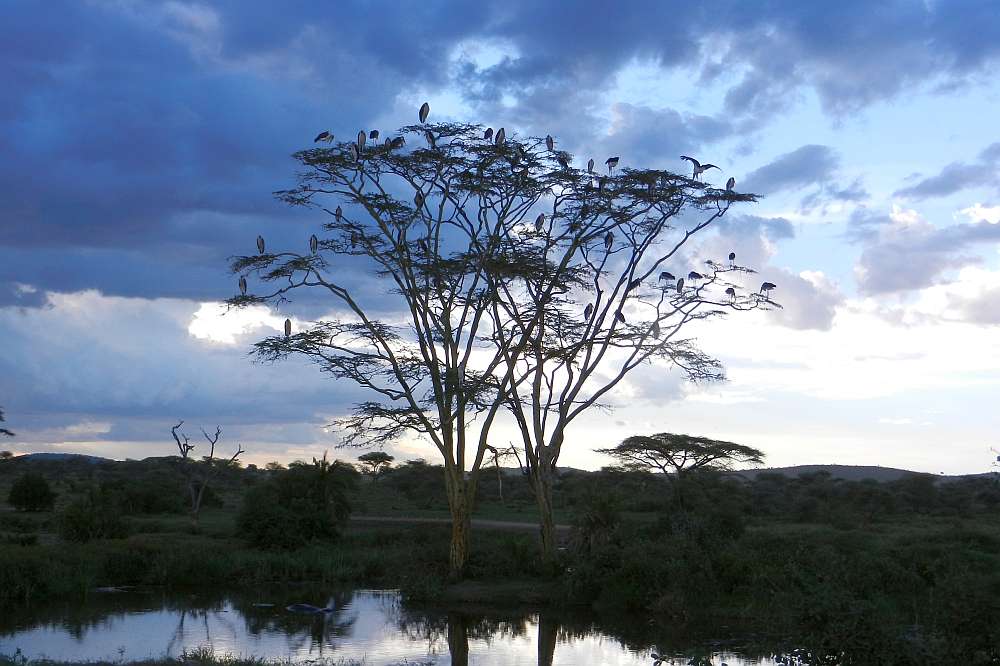 Inspired by the opening shot of BBC's Nature TV series, this picture is my tribute to George Page, the show's creator, host and long time narrator. My version is a stork laden acacia without the Technicolor sunset.
Shortly before reaching the lodge, we were surprised to see large herds of wildebeest. Plodding single file, the 3 columns of animals streamed up a hillock from different directions to shelter for the night. Their sheer numbers stirred up dust clouds that were visible for miles.
I had expected the wildebeest to be up by the Kenyan border and was pushing to reach Buffalo Luxury Camp ASAP, but the animals had already splintered into groups and headed south in search of fresh grass. Apparently Serena Lodge was the place to be if we wanted to see wildebeest herds. C'est la vie…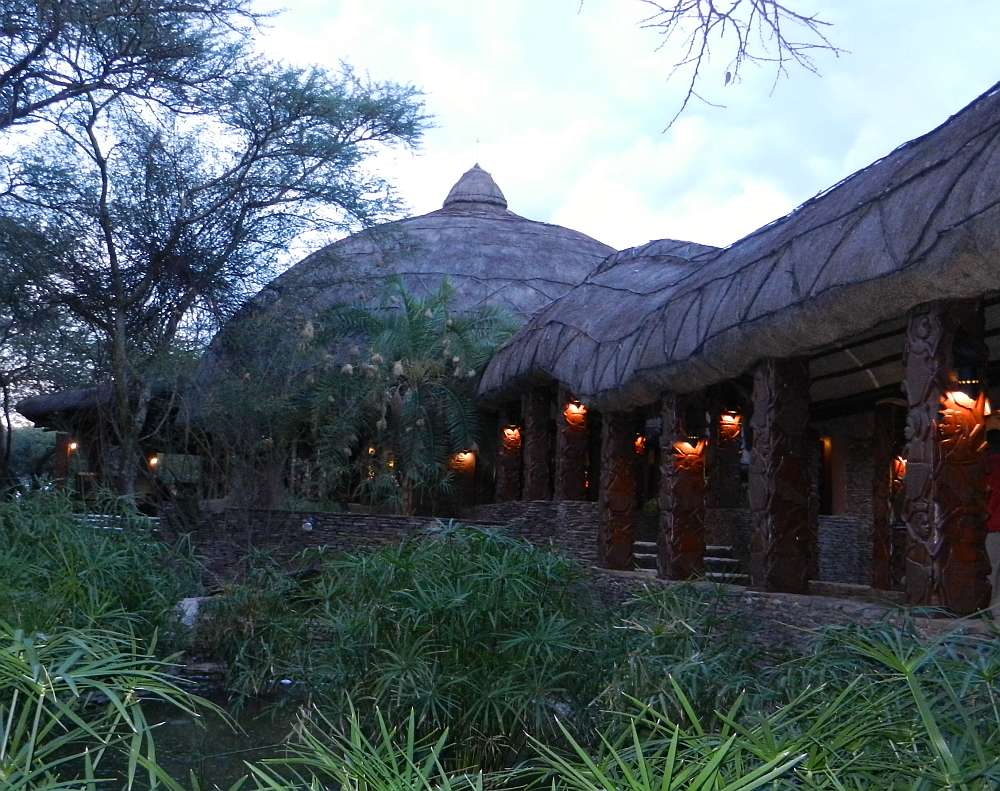 It took almost 9 hours, despite nominal rest stops, to reach the Serena lodge. We weren't able to spend much time on game drives but still saw gaggles of zebras, Thomsons' gazelles, Grant's gazelles, hyenas, giraffes, impalas, elephants and – at the end of the day – a lioness with a radio collar lying nonchalantly on the roadside!
The lodge is an oasis of civilized living in the midst of the Serengeti National Park – frameless showers, full featured plumbing, comfy beds – in traditional domed rondavels amidst stands of acacia trees. We were handed welcome drinks and wash cloths at the check in desk. Since wildlife from leopards to dik-diks roams around the lodge, all guests are required to call for an escort when leaving their rooms.
However while I appreciate the property's amenities, I found the food uninspired. The buffet lines serve up insipid American and Indian dishes (there were lots of Indian tourists) with a meager selection of local fare. Though you can pay for a 'bush dinner' – a private affair with table service, sundowners  and entrees cooked in the bush kitchen, I doubt the menu is any more authentic than what we got at the restaurant.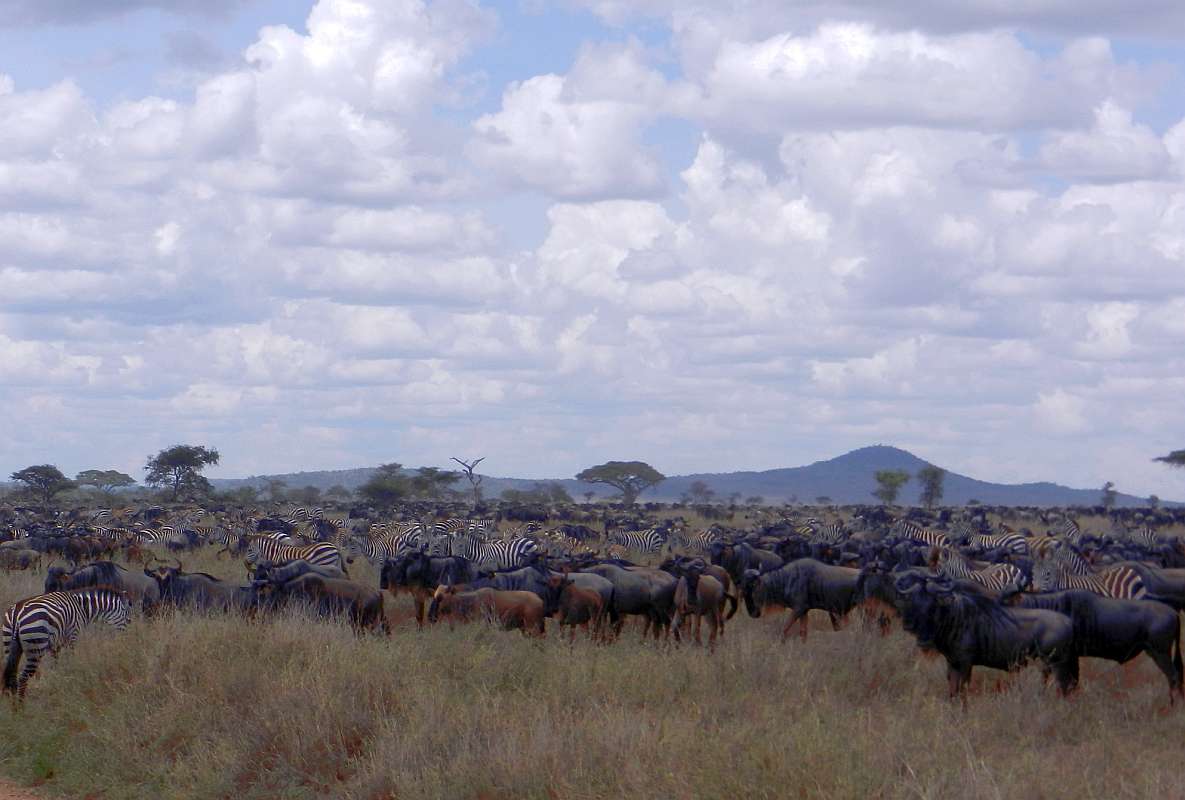 The next day was going to be another long drive, so we started out early. This mixed herd crossed in front of our Land Cruiser and extended as far as the eye can see. Though this isn't anywhere like being surrounded by a million animals, it's still impressive. Our guide said a great time to visit is February-March during the calving season when the southern plain is covered with mothers and babies.
As luck would have it, we spotted a family of 4 cheetahs lazing in the shade. They obligingly posed for some pix before moving on. We took this video as they were strolling around.
Knowing that the mother would be looking for a termite mound to better survey her vicinity, Prosper was able to track them down again a short while later.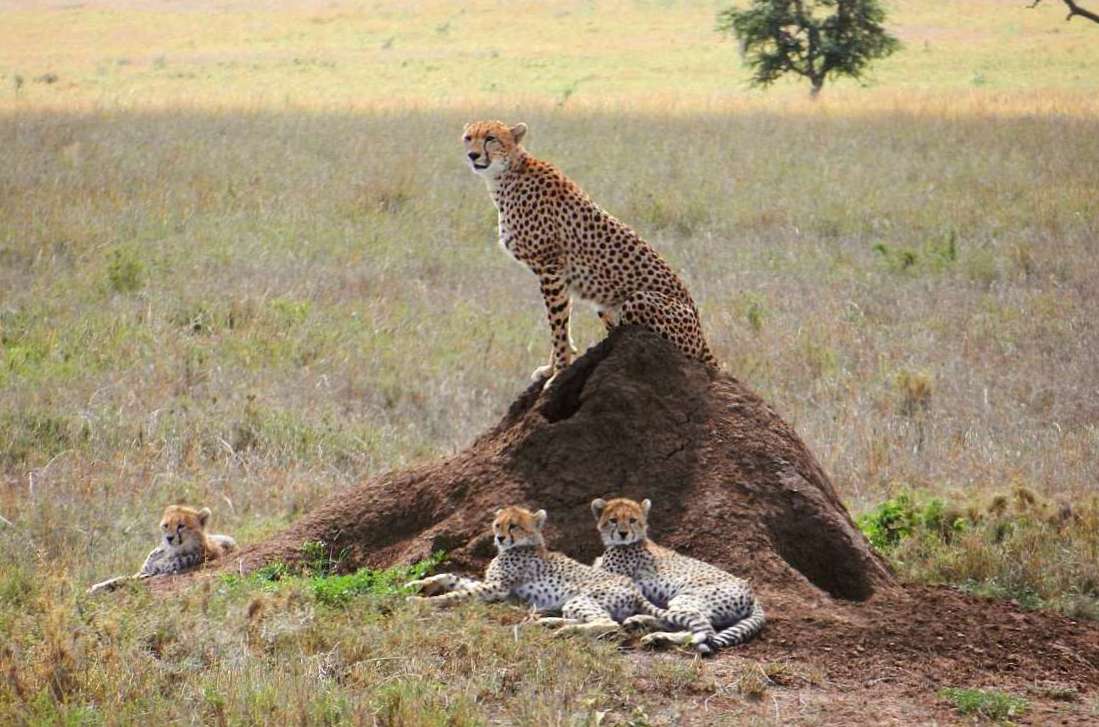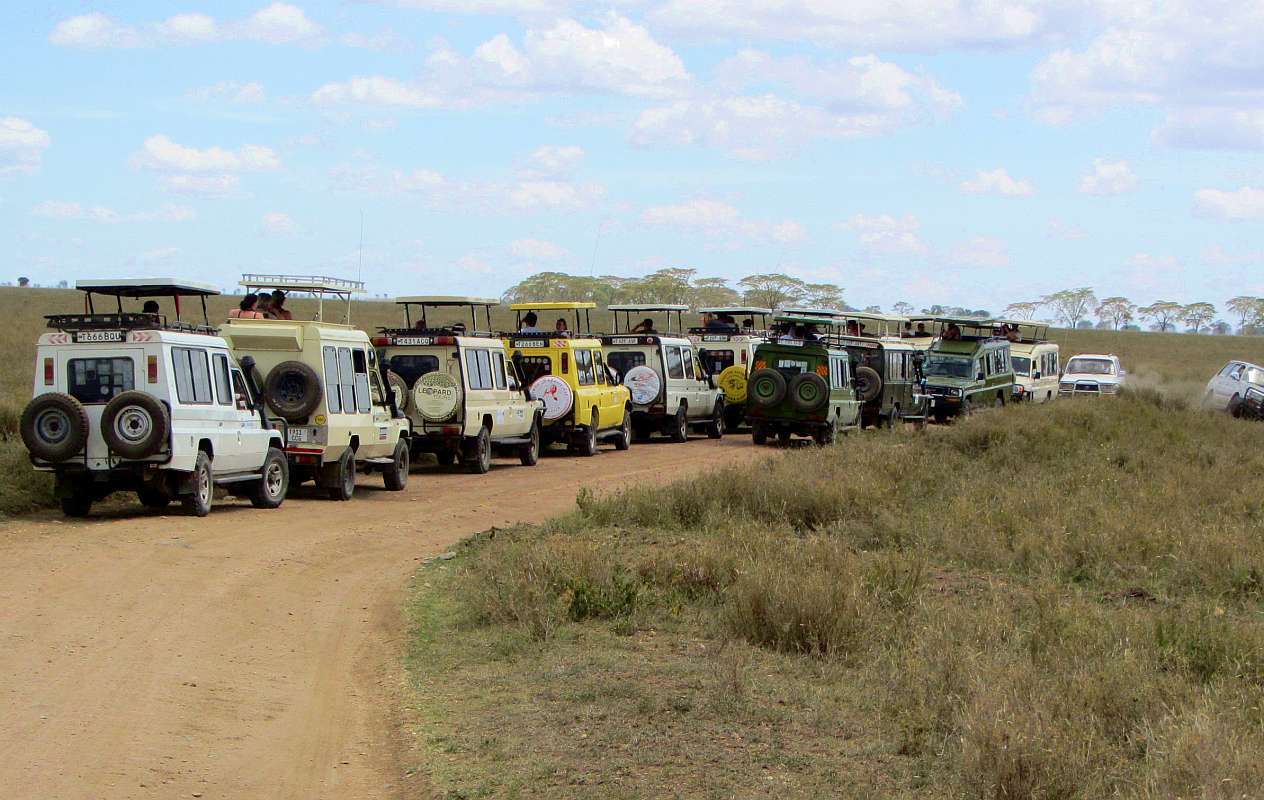 Similar to tourists in Yellowstone, cars from both sides of the road come to a dead stop when an animal is sighted. For a more dignified and serene game viewing experience, we usually set out a bit later and go on side roads for our gamer drives.
Pop top vehicles are essential in safaris because they allow you to see farther, get 360 degree views and not feel cooped up during the long drives. We really enjoyed having the Land Cruiser to the two of us so there was plenty of space to move around and stretch our legs. This is even more important when game is sighted since we can set up anywhere in the vehicle for the best camera angles.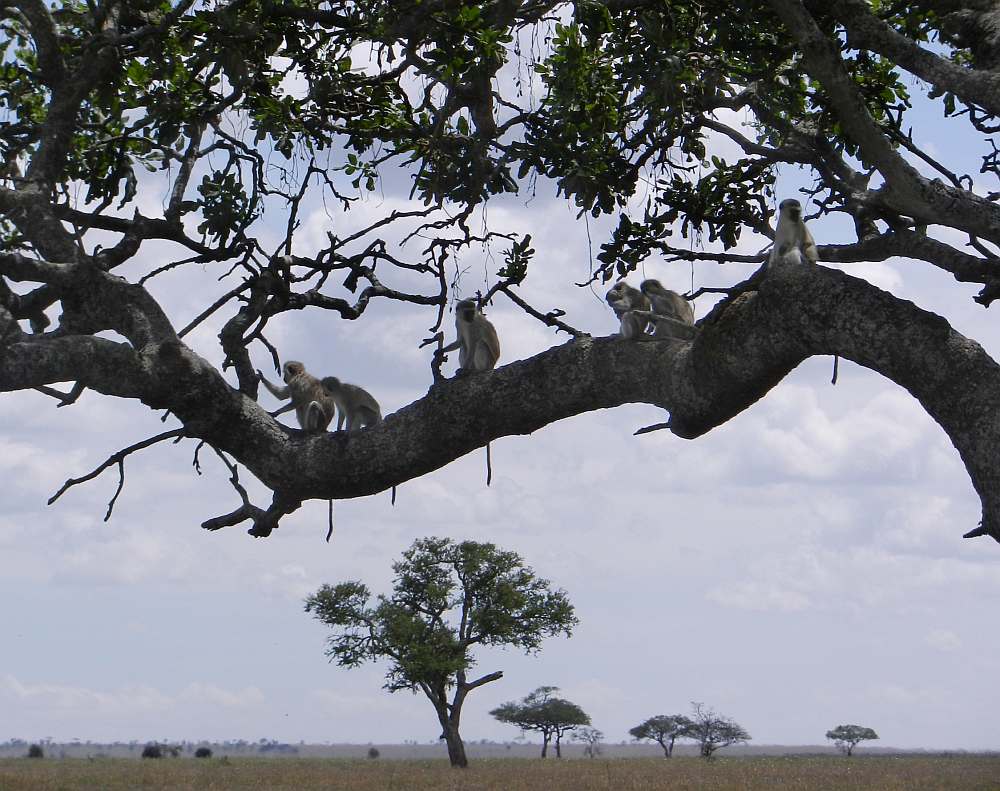 These black faced African monkeys live in social groups and any of the members may care for the babies. They can be found mostly among acacia in woodland, savanna and high bush areas.
This looks almost like an Instagram image! Mostly active in the morning and late afternoon, we found blue wildebeest resting among the dried grass. They are 4-5 ft high and weigh over 600 lbs with the evil looking horns up to 33″ long (which they need to fend off predators). The herd is on the move looking for fresh grass. Unfortunately not much has come up despite some spectacular thunderstorms during our stay.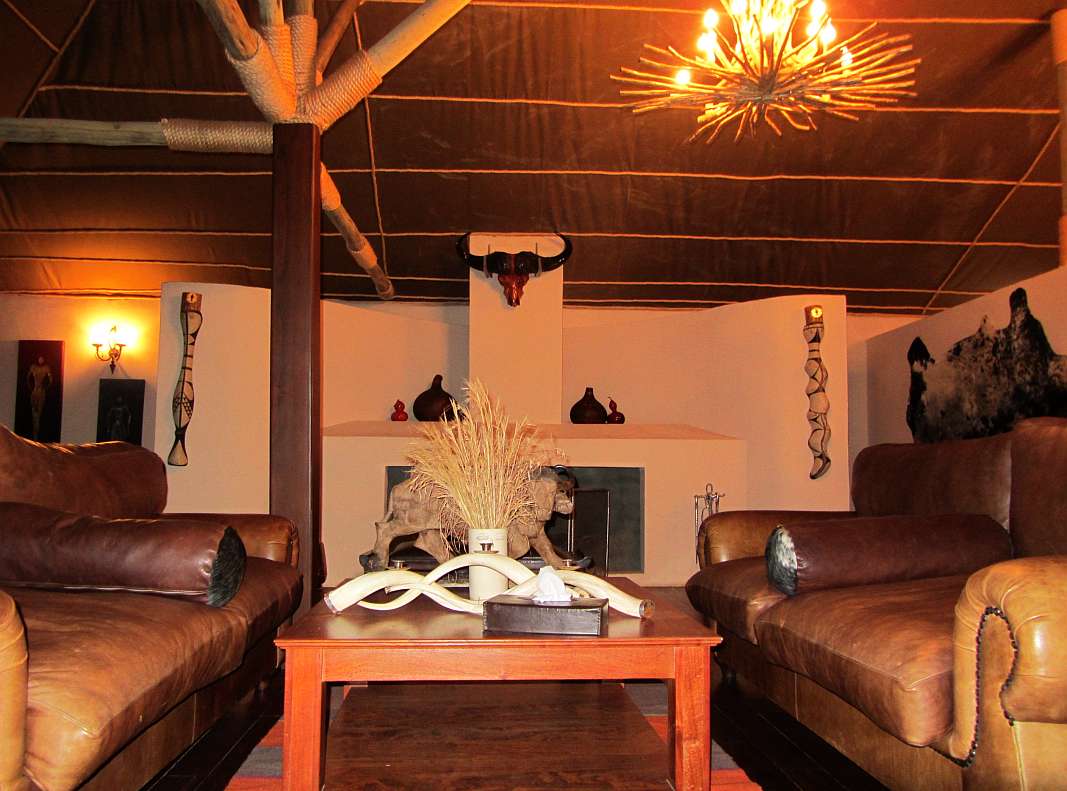 I opted for some tented camps in the itinerary because I want an updated 'Out of Africa' experience. The interiors and furnishings at Buffalo Camp were awesome. Given we're in the middle of nowhere, the lodge must have cost a fortune to build and maintain!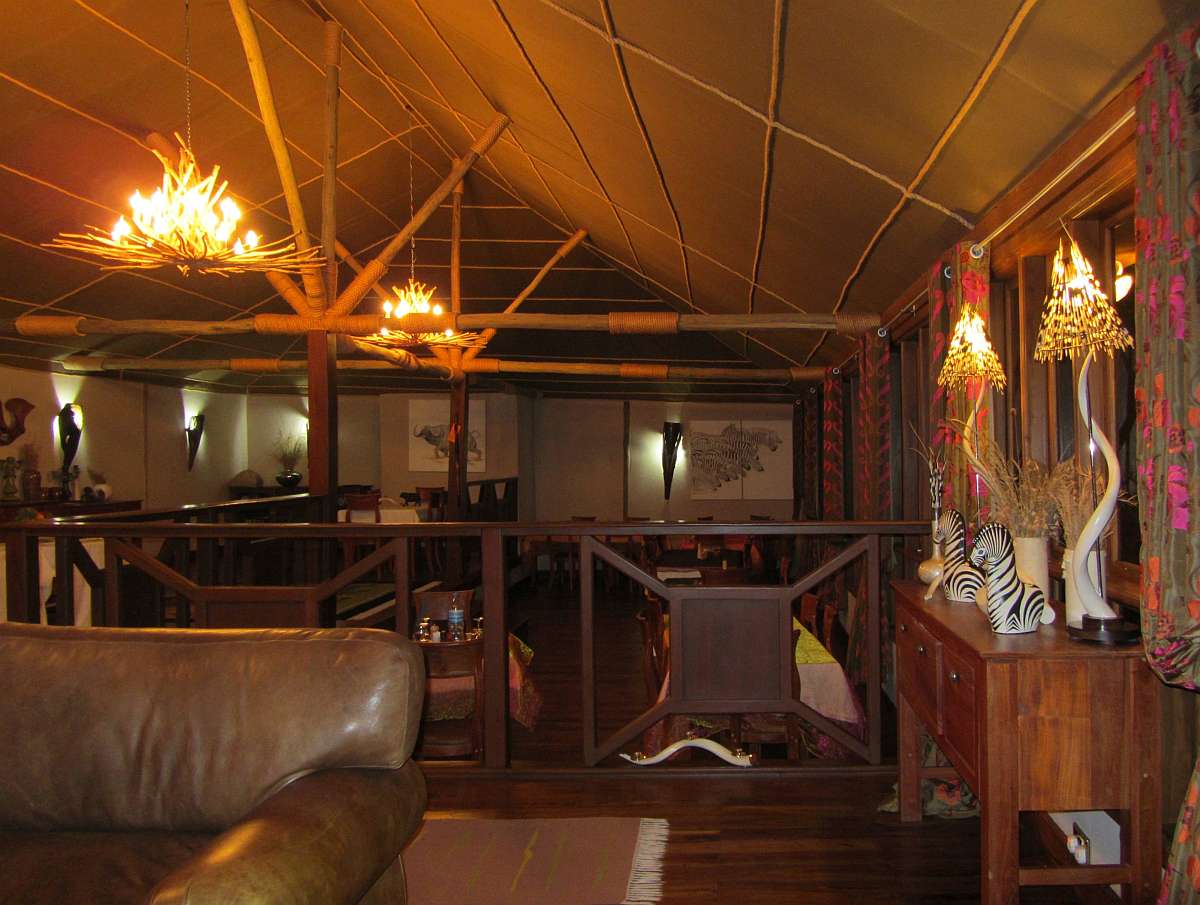 Crystal and silverware for dinner was a pleasant change. Since we were the only guests there, Prosper joined us for dinner while we discussed our activities for the following day.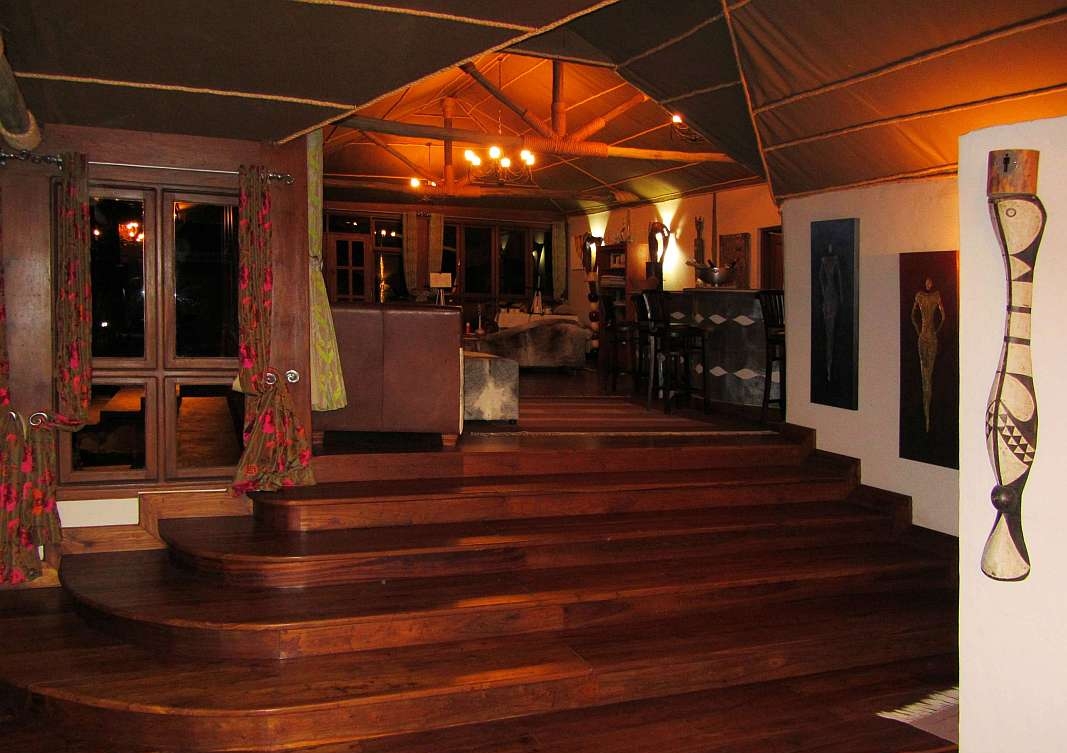 We walked around the lodge grounds a bit to work off our dinner, but since it was a bit nippy at night, I ordered a hot chocolate and cookies for my night cap from the bar. As we got ready to turn in, our butler magically showed up to walk us back to our tent.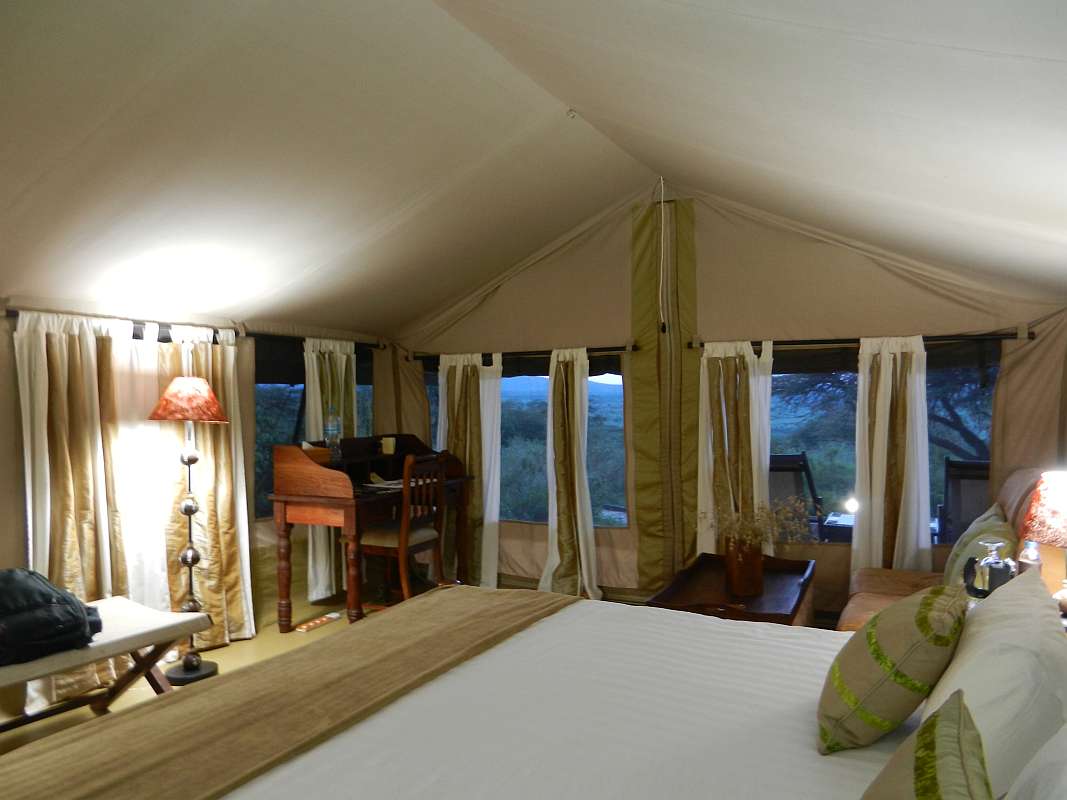 Our spacious tent had a safari writing desk (with a jar of cookies), cozy comforter with down pillows, as well as fluffy robes and slippers. Our butler unties the heavy canvas over our windows as part of the turn down service and rolls them up for stunning views of the Lobo Valley as we head out for breakfast each morning.
Here' a glimpse of the exciting line up of activities for the next day: walk in Kenya's Maasai Mara in the morning, start a fire in the afternoon, eat by campfire and hunt in the moonlight. See the details in my next post!