After Corfu, our ship headed down the Greek coast to the beach town of Katakolon, also known as the gateway to Olympia, where the first Olympic Games were held. Having visited Olympia on a prior cruise, I decided to just chill out at Katakolon.
Strolling around the beach front, I spotted the Beer Bike with a keg stationed by the bar tender/driver. Not sure if this bar relies on its 4 tires for mobility but each row of facing seats are attached to a bike pedal. So it might be the perfect way to drink and bike at the same time!
Straying from the waterfront where tourists nursed their beers in the shade, nothing stirred under the blazing sun. The only exceptions were a friendly Samoyed, which was probably melting in the heat, and this butterfly working hard for its lunch.
Built in early 18th century, the Palamidi Fort is reached by 999 steps. Compared to Castle of San Giovanni's 1,350 steps, this hike was a breeze! There are 8 bastions, a prison and a church on the grounds of this well preserved castle.
Nafplio is a picturesque town chock full of pedestrian-only streets and narrow bougainvillea-arcaded alleyways. Quaint buildings in the Old Town and Fisherman's District have been converted into boutiques, cafés and guest houses.
Our Crystal cruise ended in Athens. Since Venice is one of my favorite cities, I decided to head directly back to Venice for 3 nights on disembarkation. The next day dawned bright and sunny and we headed towards the Rialto Market. I was surprised to find an incredible amount of people heading towards Piazza San Marco (St. Mark's Square). Turned out April 25 is Festa della Liberazione, Italy's Liberation Day, a national holiday celebrating the end of Benito Mussolini's rule. But in Venice, it is also Festa di San Marco, in honor of Saint Mark, the city's patron saint. Though we missed the gondoliers' regatta, we joined the crowd to Saint Mark's. By the time we reached Piazza San Marco, the square was packed with locals both wearing and waving the Venetian flag while tourists enjoyed the spectacle from the comfort of their pricey perches in the outdoor cafés.
As part of the festivities, a mondo banner of St. Mark was unfurled and held for display by standard carriers. Meanwhile kids took the opportunity to play tag underneath the flag.
I eventually left St. Mark's Square to indulge in another favorite pastime: to wander aimlessly around the labyrinths of Venice. The gondoliers were doing brisk business on this busy day.  While 'traffic jams' are routine on the Grand Canal around the Ponte dei Sospiri (Bridge of Sighs), I was surprised to see this queue in an otherwise quiet waterway.
Unlike Lyon and Antibes where shop keepers have a propensity for elaborate shop signage, Venice is considerably more modest. However this shoe shop gives them a run for the money.
Not exactly. These boat slips are for the fire brigade, Vigili del Fuoco, of Venice. This main fire station on Rio di Ca' Focari provides similar fire services, except via bright red boats, as your run of the mill fire department – put out fires and rescuing humans and pets in distress.
The whimsical décor of this furnishings accessory store caught my eye.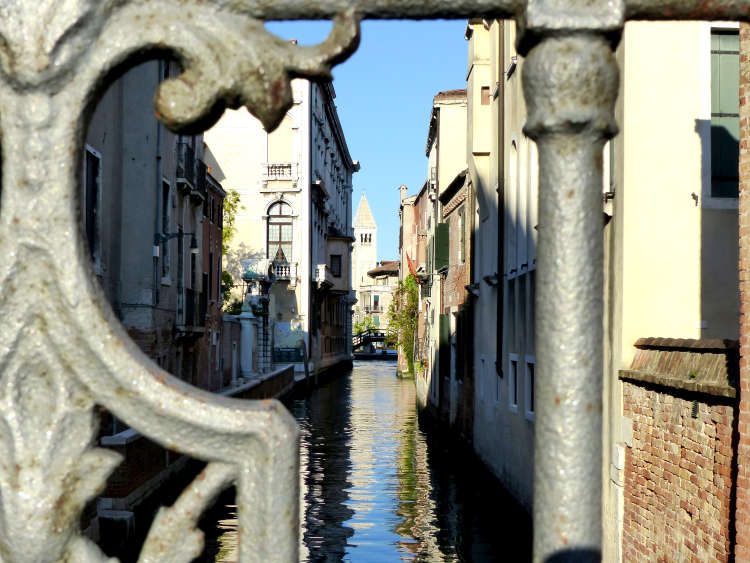 I'm totally smitten by the Venetian light which brings out the rich color, texture and aging charm of this timeless city vividly from dawn to dusk.
The Istituto Veneto di Scienze, Lettere ed Arti (Veneto Institute of Sciences, Letters and Arts) in the Palazzo Cavalli-Franchetti is an academic institute that hosts conferences and cultural events.
We made our way to the Basilica di Santa Maria della Salute towards the end of the afternoon. Situated across the Grand Canal from Piazza San Marco, its exuberant statuary and magnificent dome glistened in the last rays of the setting sun.
After dinner we drifted back towards the High Rent District, and came across this optical shop with some show stopping glasses with prices to match.
I love checking out the music at Piazza San Marco's various outdoor cafés. The price for even a cup of coffee is exorbitant but you get to rent a seat in 'The Drawing Room of Europe'. Caffè Florian, touted to be Europe's oldest café, had a 5-piece orchestra that night.
We decided to take a day trip to Padua – Padova in Italian – the next day. A hop skip away from Venice, our first stop was Palazzo della Ragione (Ragione Palace). The ground floor of this medieval fresco-filled town hall was converted into a food market. We had a quick bite there and found the cicchetti to be satisfying and the wine cheap.
The imposing Basilica di Sant'Antonio da Padova (Basilica of St. Anthony) with its bronze statue by Renaissance master Donatello is hard to miss. The multiple domes top massive brick structures in an eclectic mix of Romanesque, Byzantine and Gothic elements while the interiors are filled with Renaissance art and sculptures.
Prato della Valle is a 90,000 square meter elliptical square that was initially used for military exercises and eventually evolved into a market place for Padua. The lush green island in the center is surrounded by a double ring of statues and a small canal.
We were able to visit the Cappella degli Scrovegni (Scrovegni chapel), a masterpiece by Giotto with frescos covering all surfaces (walls and ceiling) of the interiors. There was just enough time to dash through the Palazzo Zuckermann before heading back for a dinner engagement in Venice.
We finished a great dinner of lovely food and free flowing wine among awesome company. All too soon, it was midnight and we had to say Ciao! to our hosts. Along the way I took one last pic for this memory-filled trip and knew I will be back.