Check out these fixtures for your lighting wish list: one honors a Greek deity, some are poetic exercises in pure geometry, while others are inspired by the natural world. Add a dash of whimsy and you get a must have collection of table and floor lamps, ceiling fixtures and wall sconces!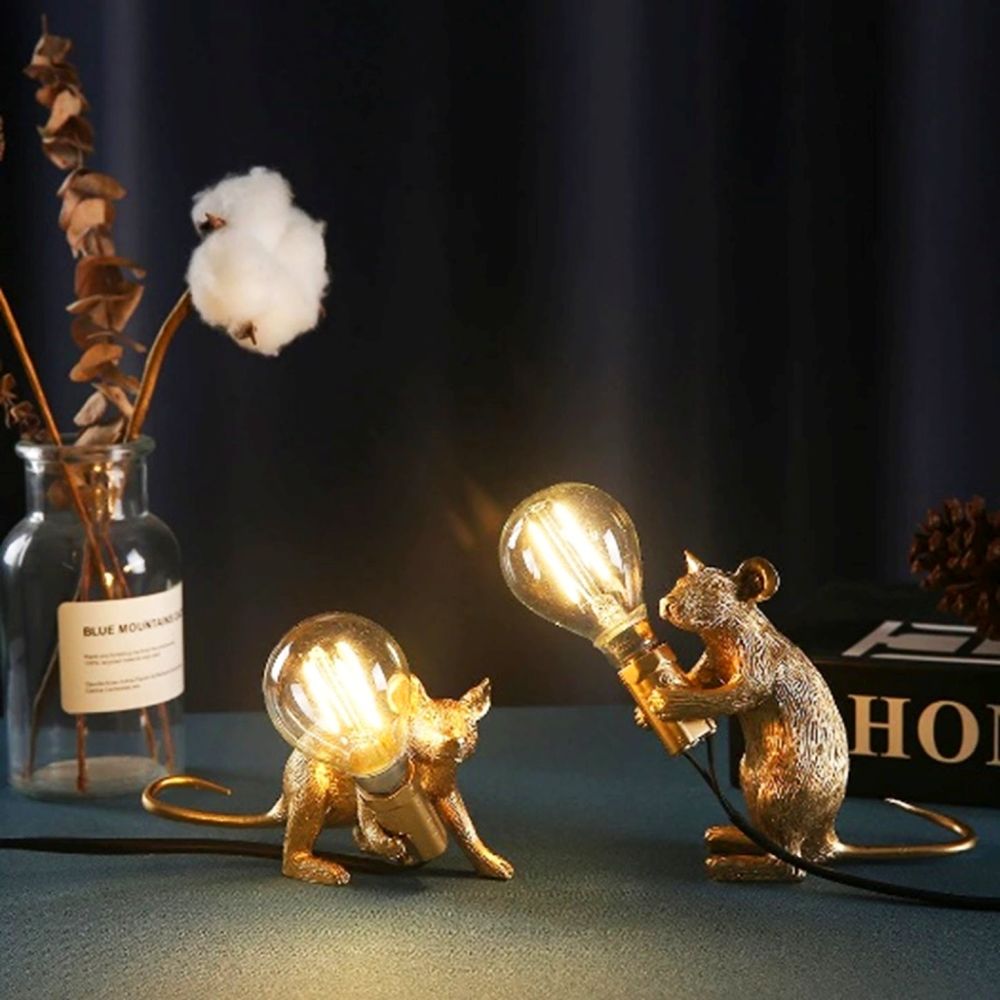 Designed for Seletti, an Italian brand with a penchant for treating furnishings as pop art, Marcantonio Raimondi Malerba's trio of mouse-themed table lamps are both fun and funky. The mice, named Mac, Lop, and Step, are depicted as sitting, lying, and standing respectively. One can even picture them scurrying mischievously around the house at night (maybe looking for midnight snacks?) using the light bulbs to show the way! The mice are of resin and come in matte white or grey. An upgraded gold finish is also available. Clear 1W E14 LEDs are provided, but red, yellow, and blue color options are available.
Pictured here are Mac and Lop. Mac measures 2.4" w x 3.2" l x 5.7" h, while Lop is 2.4" w x 8.3" l. 3.2" h. All come with a 3.2' cable. Small but versatile, these lamps can be perched on shelves to light up books or displays as need.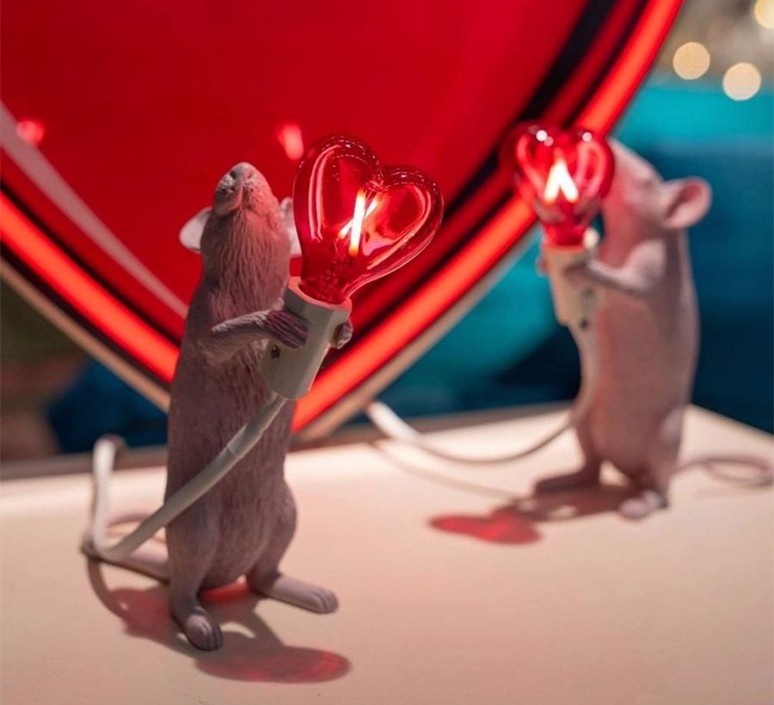 The Love Edition is a special version of Step for Valentine's Day. Decked out in matte pink and clutching a heart shaped red LED lamp, this mouse is sure to steal your loved one's heart! At 2.4" w x 3.2" l x 5.7" h, it is the tallest of all 3 models and comes in all other finishes.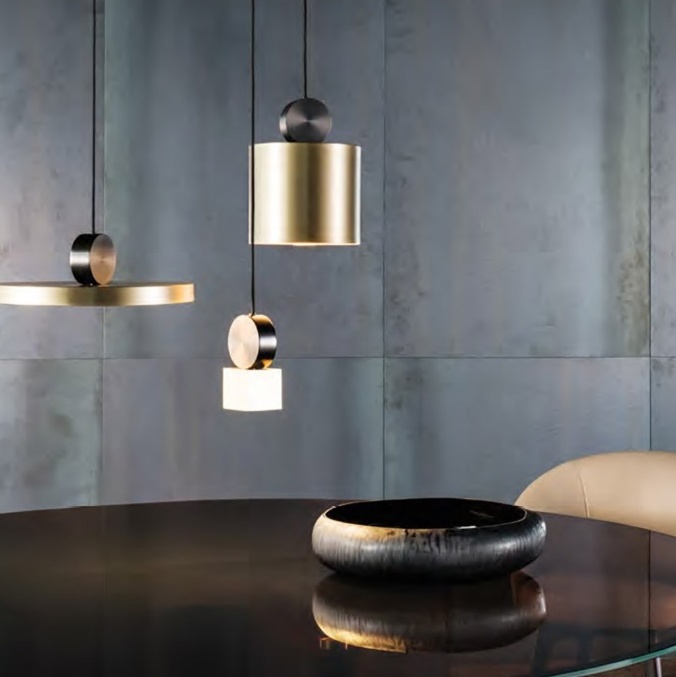 Calé(e) is a collaboration between POOL and French lighting manufacturer CVL. The artful juxtaposition of flat circular disks against the dimensional square or cylindrical housing is a celebration of pure geometric forms. The pendants are available in 500, 600, 840 and 1,500 lumens at 2700° K. The solid brass fixtures offer a choice of satin brass, satin graphite, satin nickel, or satin copper with black or gold textile cables and square or circular canopies.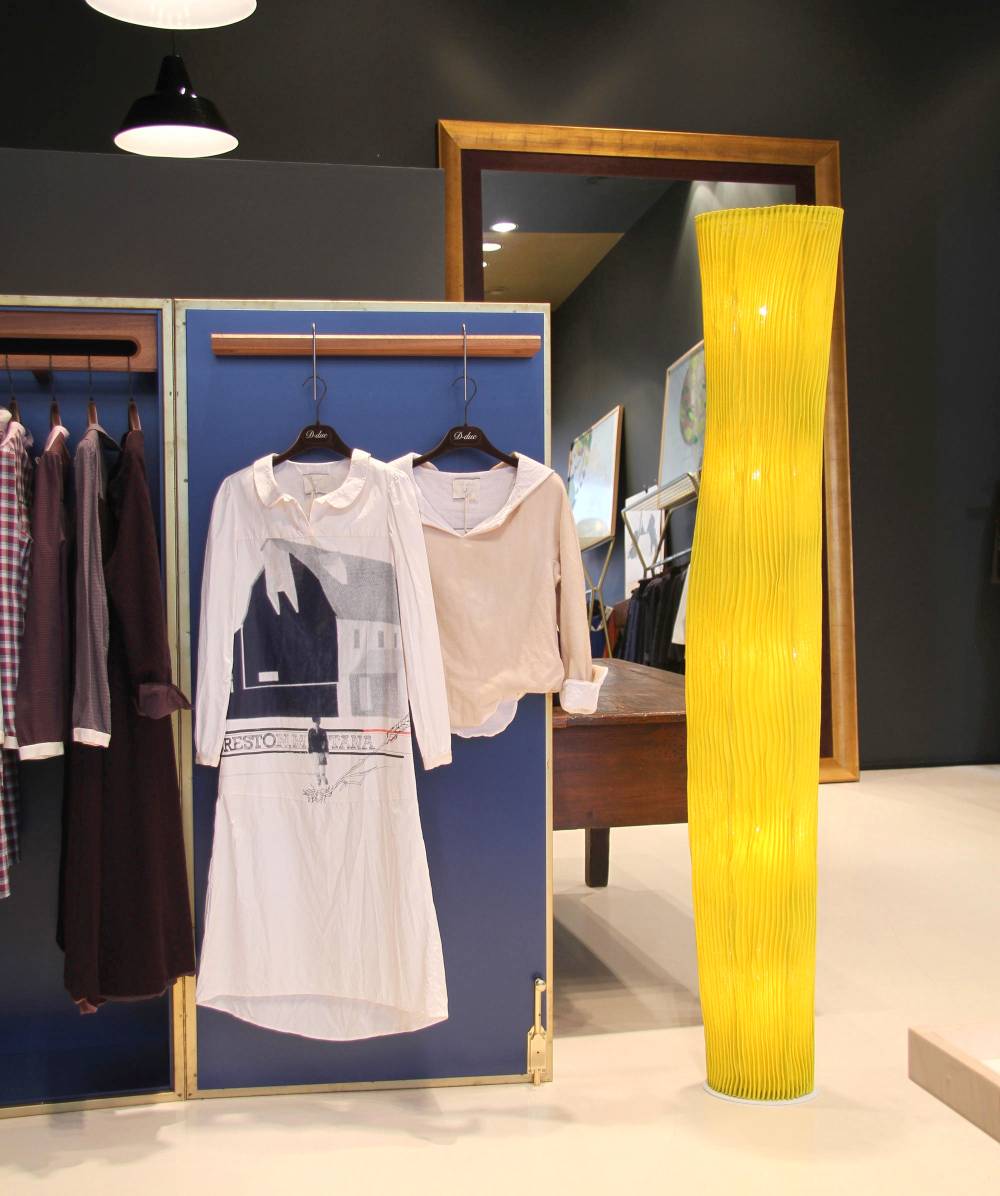 Arturo Álvarez's Gea floor lamp is part of an award winning collection that honors Mother Earth. Gea (also known as Gaea) is the deity who personified Earth in Greek mythology. Sheathed in a stainless steel mesh, the abstract curves of this slender sculptural fixture is reminiscent of a female figure. A key feature is the zipper that can be opened or closed to modulate the quality and quantity of light. The 11" dia x 70.9" h ribbed structure is handmade and uses five E-26 light bulbs. Paint finishes include white, beige, grey and taupe.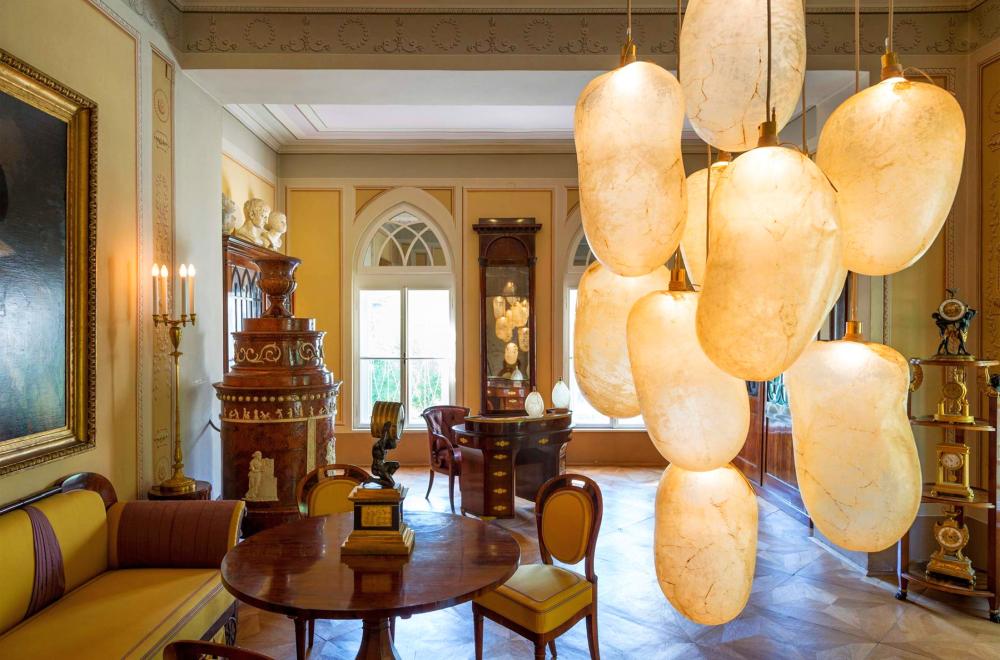 Hanging nonchalantly in Vienna's Museum of Applied Arts and Contemporary Art among ornate period Beidermeier furniture is this cluster of other-worldly pendants by Andrea Trimarchi and Simone Farresin. It's part of the Craftica collection commissioned by venerable couturier Fendi to explore the meaning and boundaries of 'craft'. Amazingly this ethereal, translucent lighting is made of cow bladders, typically used in Italian sausage casings. By cleverly replacing ground meat with LED lamps and kitting out the bovine organs with bike valves, the architects successfully serve up an inflatable light fixture that's a feast for the senses!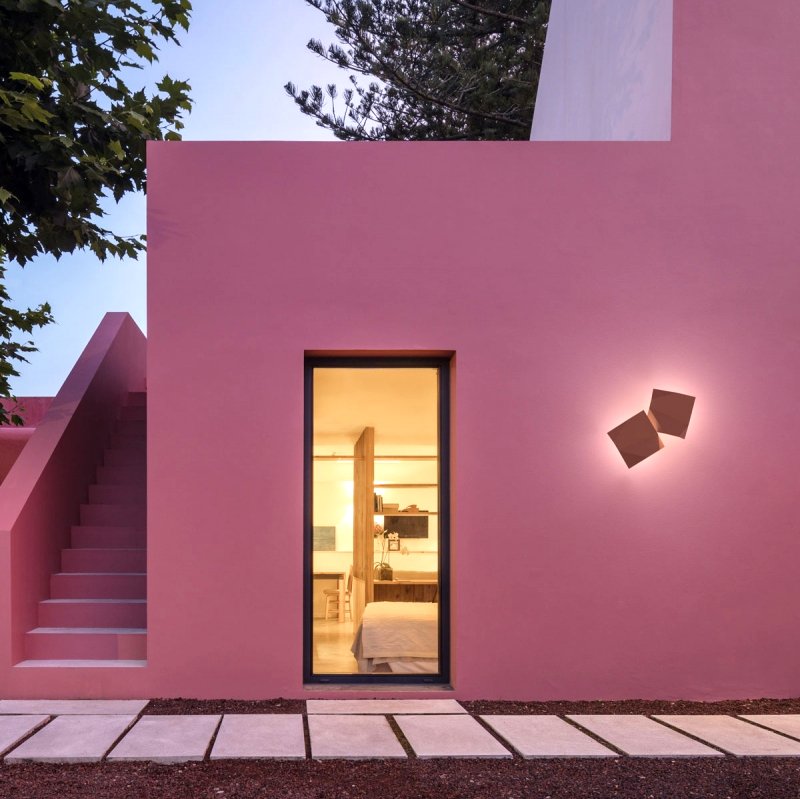 Created by Spanish designer Ramón Esteve for Vibia, the faceted surfaces of the Origami wall sconces dramatically highlight the interplay between light and shadow. The wall lamp comes in 2 models, and the new express clusters of 2-4 unit preset configurations provide extra convenience.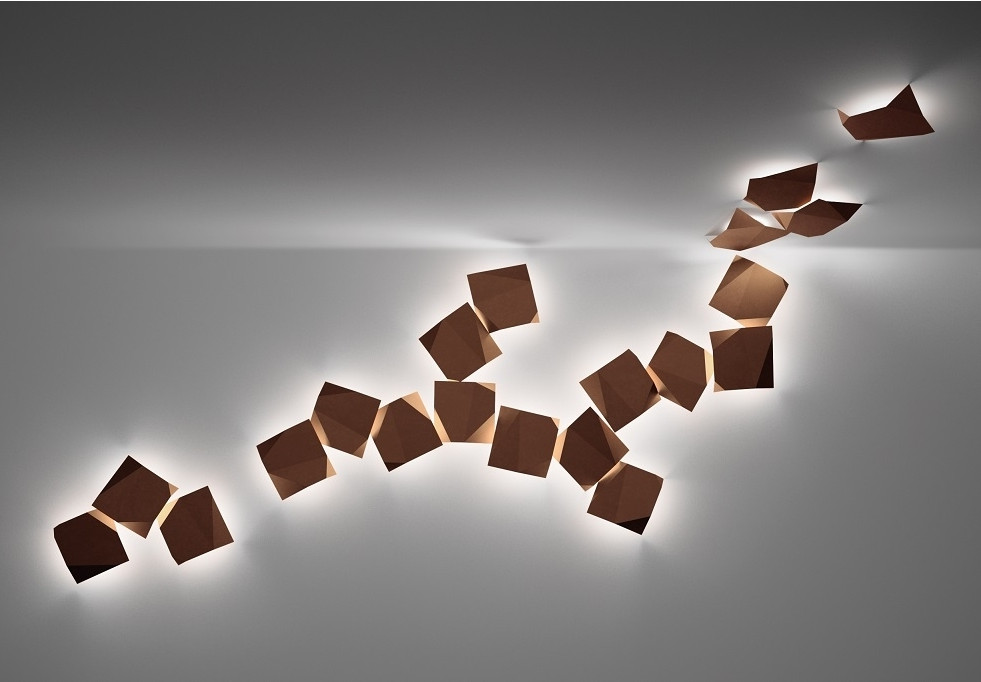 Thirty light fixtures can be powered by a single source and are suitable for indoor or outdoor use. Finishes are available in white, brown, terra dark, or green lacquer.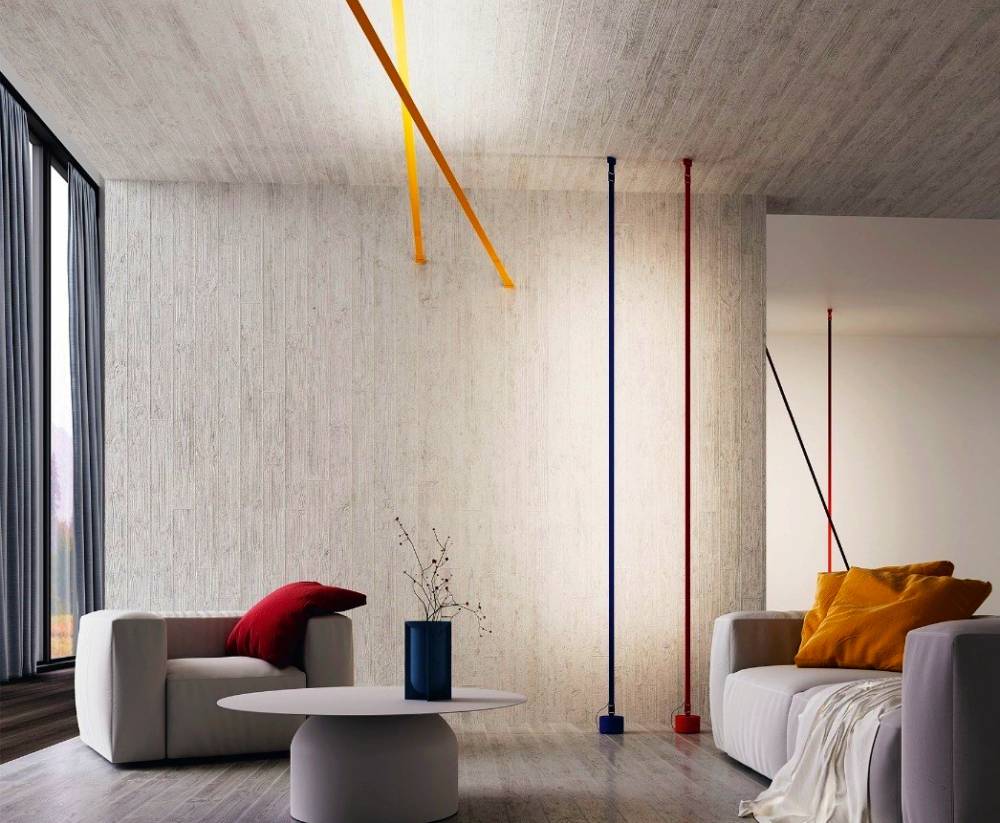 Elastica by Habits Design Studio is an amazing light fixture in the form of an elasticized ribbon. The unique properties of the material allow the lighting to be installed along the same plane or at an angle as a floor or ceiling lamp. Hung from the ceiling, the fixture is held in place by a round counterweight. Lighting control is intuitive – pulling the strip turns the fixture on or off while slow upward or downward strokes will increase or decrease the light level respectively. The 24V dimmable LED fixture can be powered by an electrical plug or ceiling canopy. Color options include red, yellow, grey, black and blue with matching painted metal bases.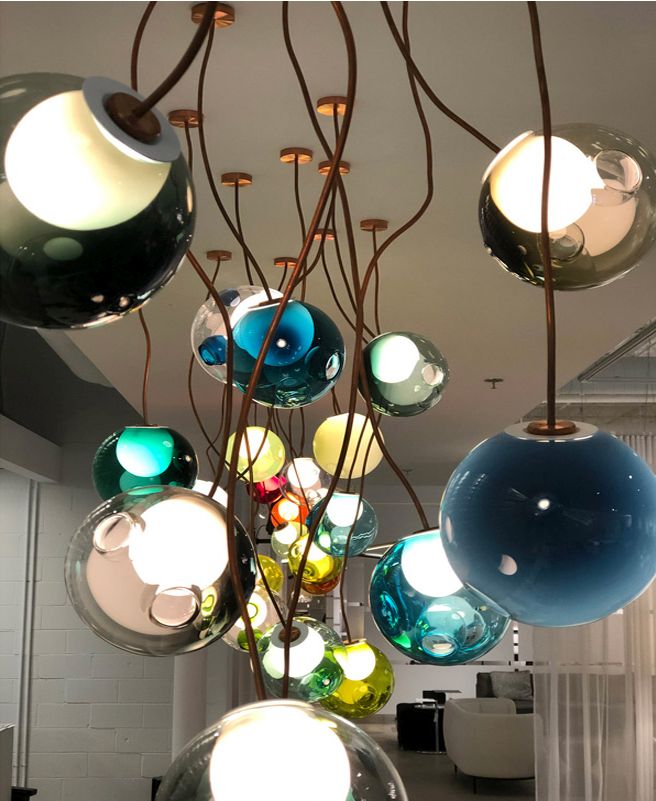 With the stunningly scuptural 28.3c Copper Suspension Light by Bocci, it's possible to create different looks and ambiences over time. The pendants' 6.5" off-round glass shades are made by a sophisticated multi-step process of blowing and extracting air from molten glass that's combined with occasional heating and rapid cooling of the orbs. Powered by a 6" white canopy, 28.3 features three Model 28 clear glass exteriors with milk glass diffusers inside, but custom sizes and colors are available. Lighting is dimmable and comes with 20 W Xenon or 1.5 W LED bulbs. Each pendant features a 10 – 30 ft max. copper tubing that's designed to patinate with time and can be shaped to aim the light at any direction.