Tired of the uninspired uniformity of kitchen furniture and appliances? Look no more! Whether it be playful supersized button-shaped vent hoods or futuristic techno driven kitchens, crystal-studded refrigerators or bespoke wheel-inspired faucets, there's plenty to amp up your kitchen to be the envy of the hood!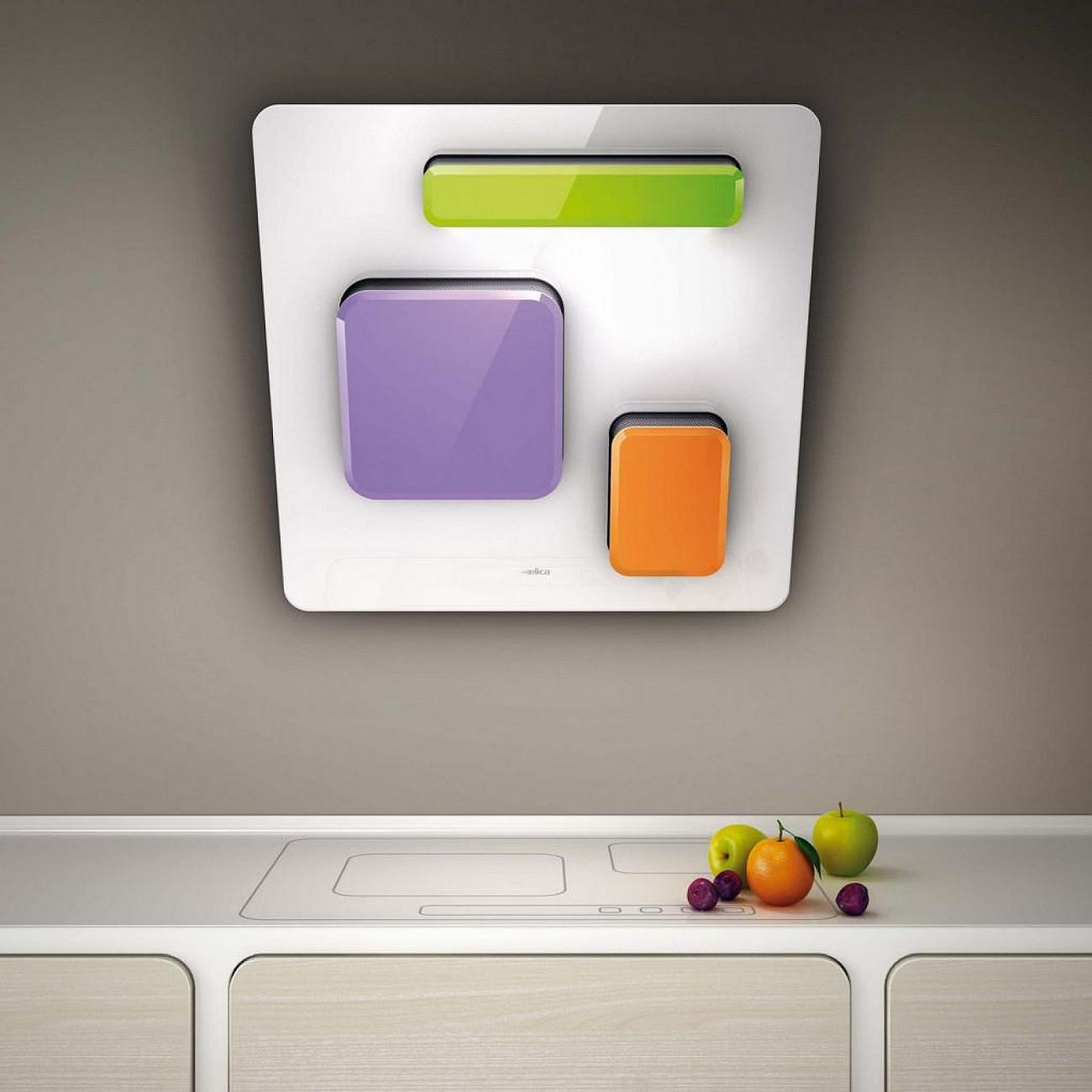 Aptly called Feel, Fabrizio Crisà's cooker hood for Elica engages the user by transforming the boringly practical touch controls into a prominent part of the product's design: pressing the fan and light panels will switch them on and off, turning their daily use into a more playful sensory experience. The green bar on top operates two 3.5 W LED lamps, while the size of the purple and orange squares correlates to their blower power, and can be used individually or together depending on venting needs. The gloss and satin glass hood is easy on maintenance and comes in 3 colorways: noir (black), absolute (white) and euphoria (green, purple, orange). The 31.5" w x 28.6" h hood is a scant 13. 2" d, which is great news for tall, accident-prone home chefs!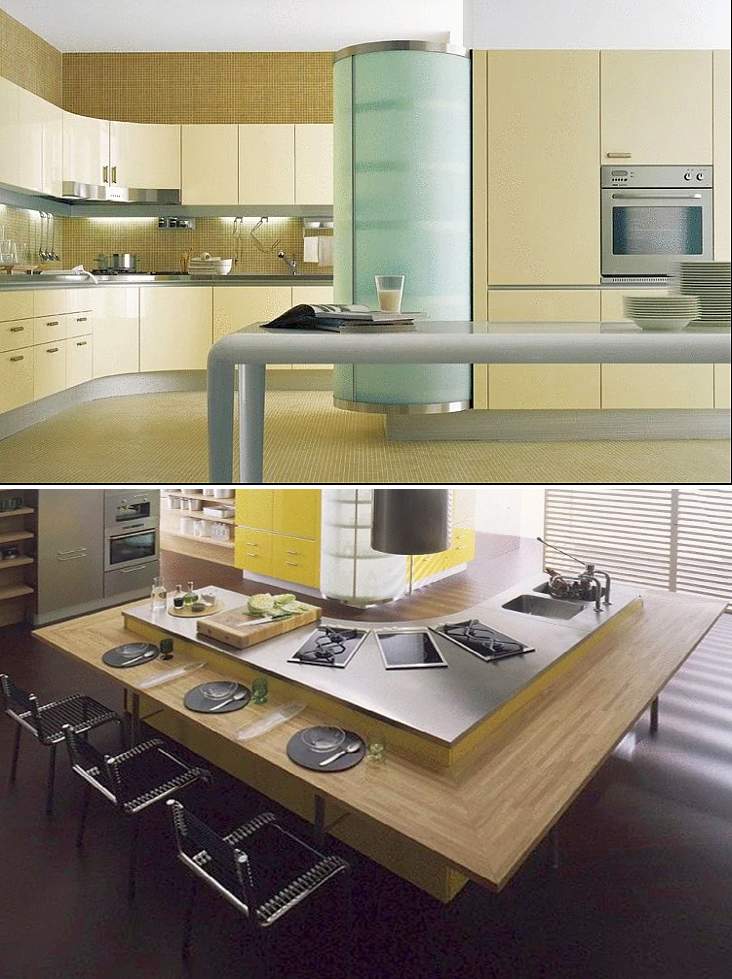 Italian kitchen brand Effeti has a solution for home cooks who want to entertain friends and family while whipping up the Main Event. Misura offers the best of both worlds – a semi-circular stainless steel work area fitted with cook tops and sinks for efficient meal prep while dropping to a rectilinear bar counter at dining height on the other side for efficient seating. It's a harmonious juxtaposition of angles and curves, with the arciform motif reinforced by concave under cabinet doors and translucent storage columns that provide not only functionality but a sense of lightness to the kitchen.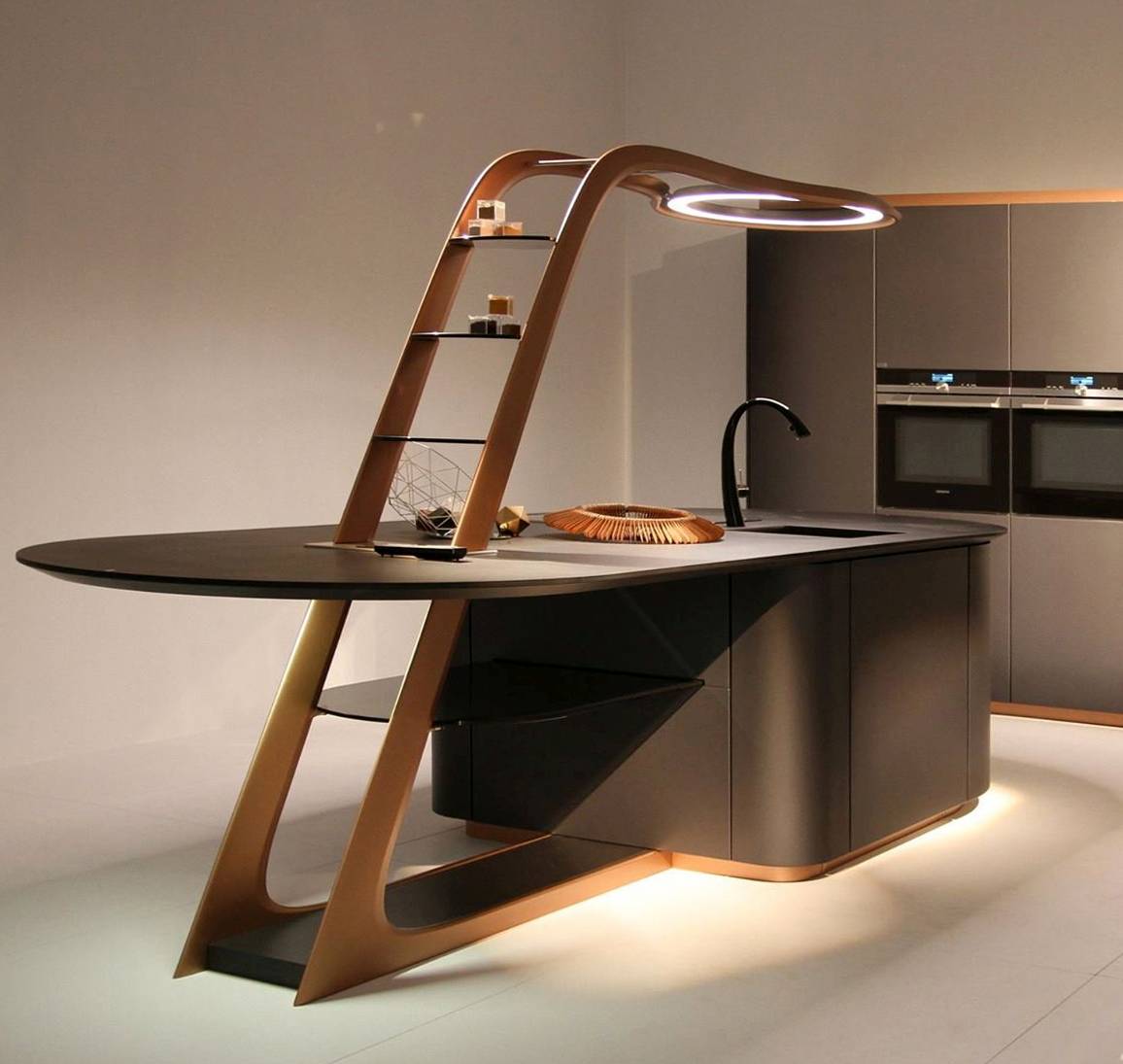 Drawing from automotive and nautical technologies, Aria by renowned industrial design powerhouse Pininfarina for Snaidero is cutting edge on multiple fronts. The prototype kitchen island's overarching structure is integrated with shelving for storage or display, and cleverly morphs into a tunable LED overhead fixture to provide task or mood lighting. The elegant sculptural element is made of lightweight but durable carbon fiber, and the quartz composite counter top is fabricated by a patented process that eliminates all visible seams, resulting in a truly monolithic look. To top it off, a copper infused nano-coating is applied on the doors to create a lustrous surface with a velvety hand that's resistant to scratches, fingerprints and dirt!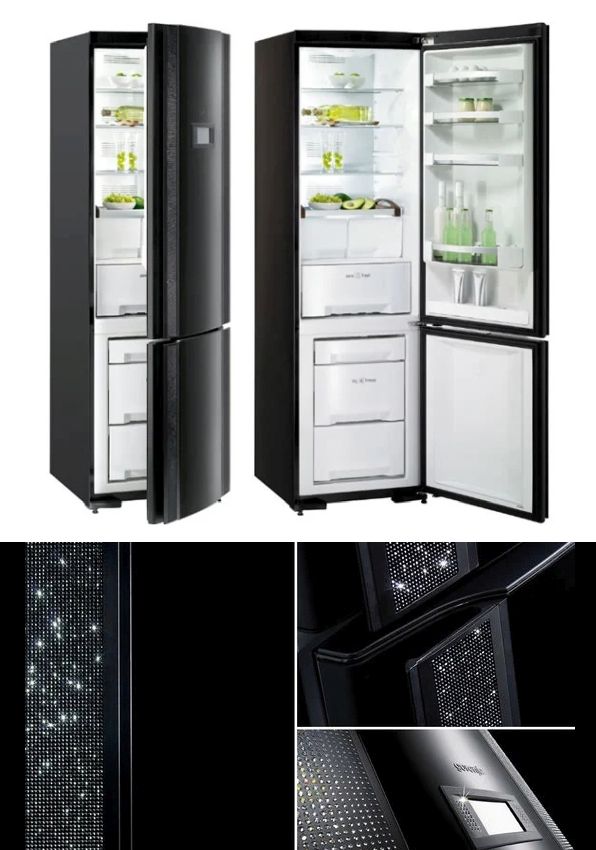 Ready for an appliance with pizzazz? Check out the Eye-catcher! This swanky refrigerator by Gorenje certainly stands out. Trimmed with a glittery stripe of 7,000 hand applied Swarovski crystals and limited to a total production run of 10, the fridge/freezer combo is more about bragging rights than serving a utilitarian need. Luckily for those with a more modest budget, there's another version in silver with a mere 3,500 crystals!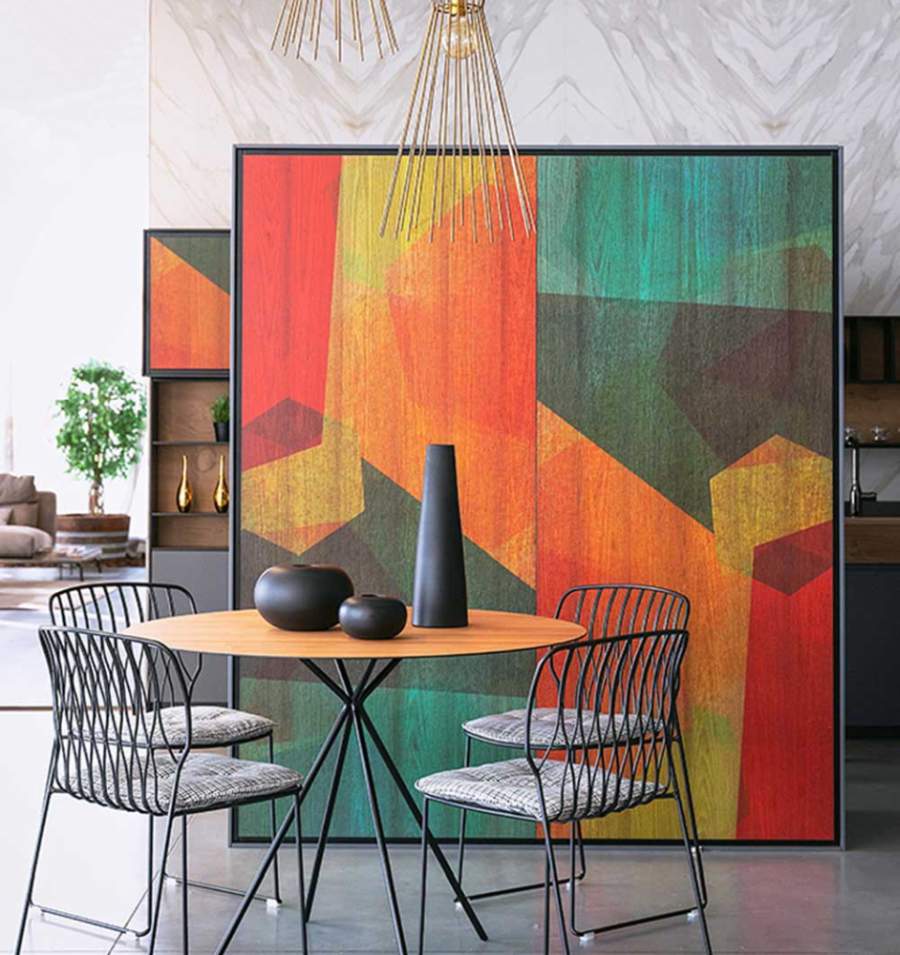 Fusion by Maiullari celebrates the merger of kitchen and living areas by providing graphical panels that can be used not only on cabinet doors but as facings of cabinet partitions between the two spaces. Neolith, a sintered composite of 100% natural materials is used on counters and back splashes. The material can be rendered to resemble wood, stone or cement. It's highly durable, non-porous, scratch, heat and UV-resistant, making it perfect for use in kitchens especially where there is direct sun exposure!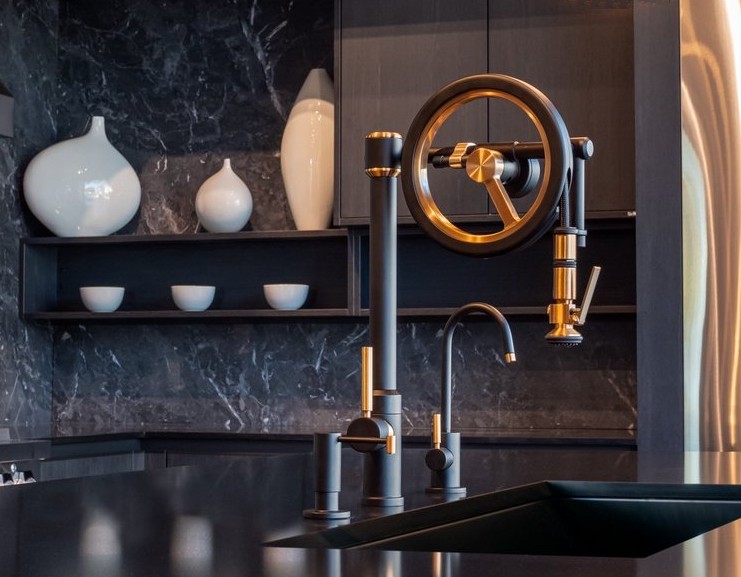 The Endeavor Pulldown Faucet with Lever Sprayer from from Waterstone sports a wheel inspired design that takes the kitchen sprayer to a new level! The spring-loaded spray arm and full rotation swivel spout are guaranteed to reach every corner of the sink, and a clever pulley braking system allows controlled retraction of the hose. The faucet comes with a lifetime warranty and is available in a staggering 31 finishes!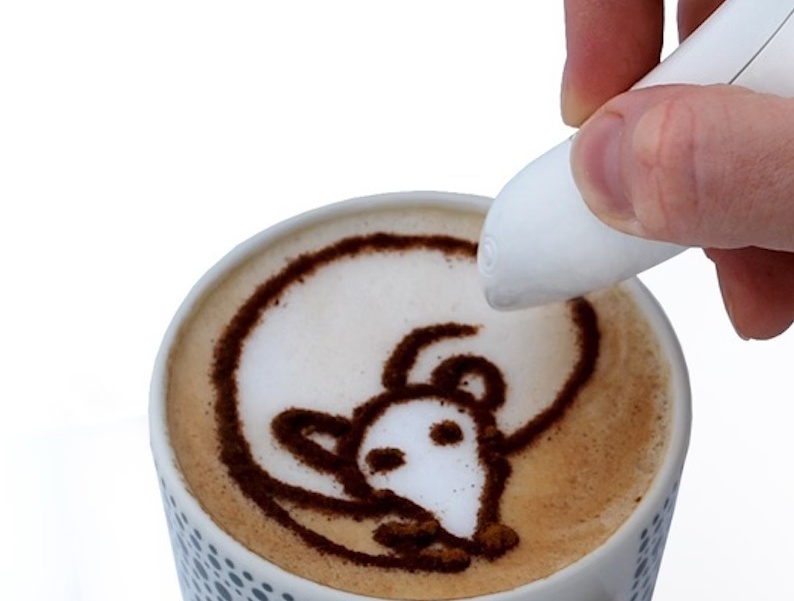 To round out the offerings is Cinnibird, a fun accessory to express your inner child when crafting daily java concoctions. Ground up pantry staples like cinnamon, cocoa powder, coffee, Hungarian paprika, pepper, parsley and sugar are dispensed from a pen-like device to create colorful artwork and personalized messages on food and drink!