Here are some furniture and fixtures that will bring some pizzazz to any kitchen and bathroom. Be it their seamless integration of technology or creative design solutions, they are sure to brighten up your home!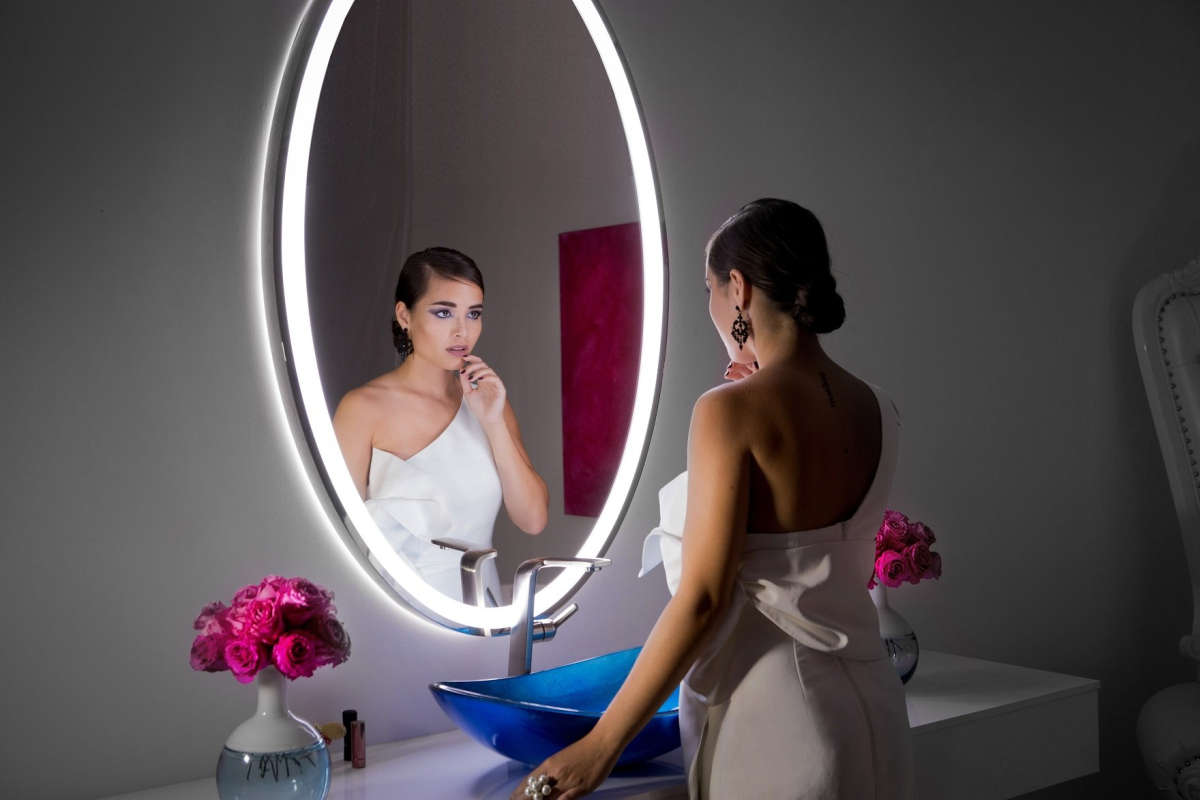 This simple but striking backlit oval mirror can be hung vertically or horizontally and is available in 30″ x 48″ x 2″ or a more modest 24″ x 36″ x 2″. The LED light is not only dimmable but tunable. Aside from the standard choices of warm incandescent or cool daylight (as shown), additional options provide the ability to adjust the light from warm to cool or, fancier still, changing the color around mirror to whatever suits the mood. So if you think peachy pink will turn you into the 'fairest one of them all', you have the technology!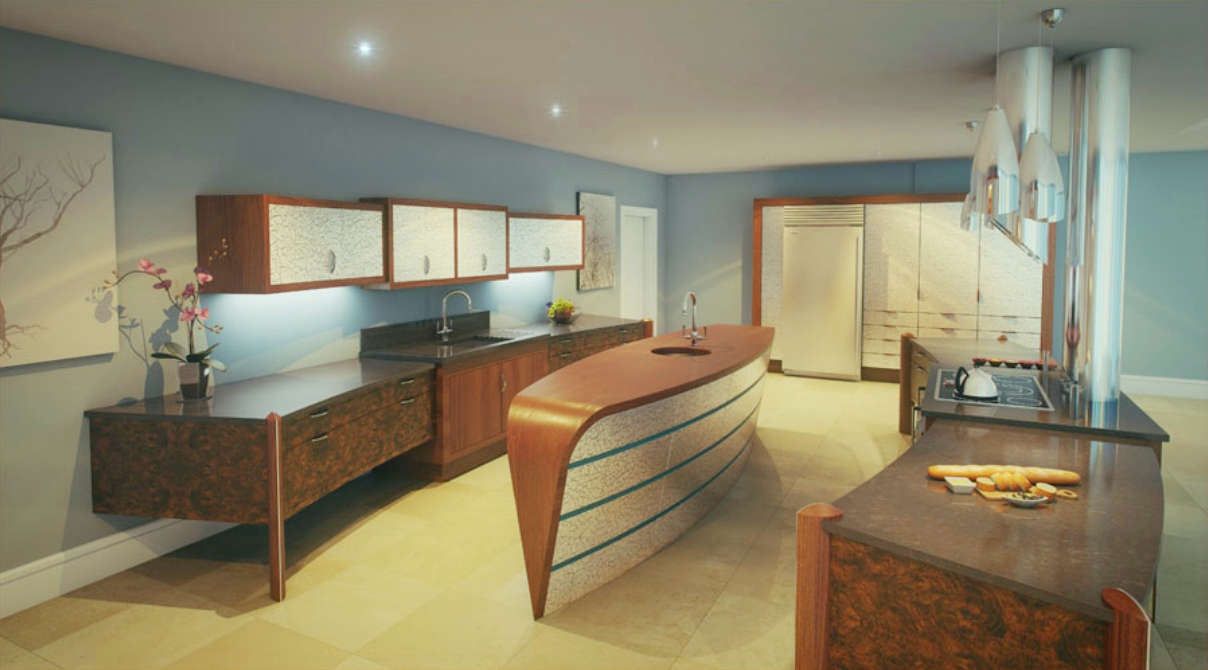 This kitchen's centerpiece is a teal & silver accented teak island with stylishly tapered ends, leaving barely a footprint on the kitchen floor. It provides a long sinuous work surface shaped to complement – and provide maximum space – for the curved cabinets on each side. Also hiding in plain sight is Splinterworks' clever solution to a client's very literal structural problem. A post encased in curvilinear mirror polished steel stands next to similarly shaped and finished vent hoods and pendant light fixtures.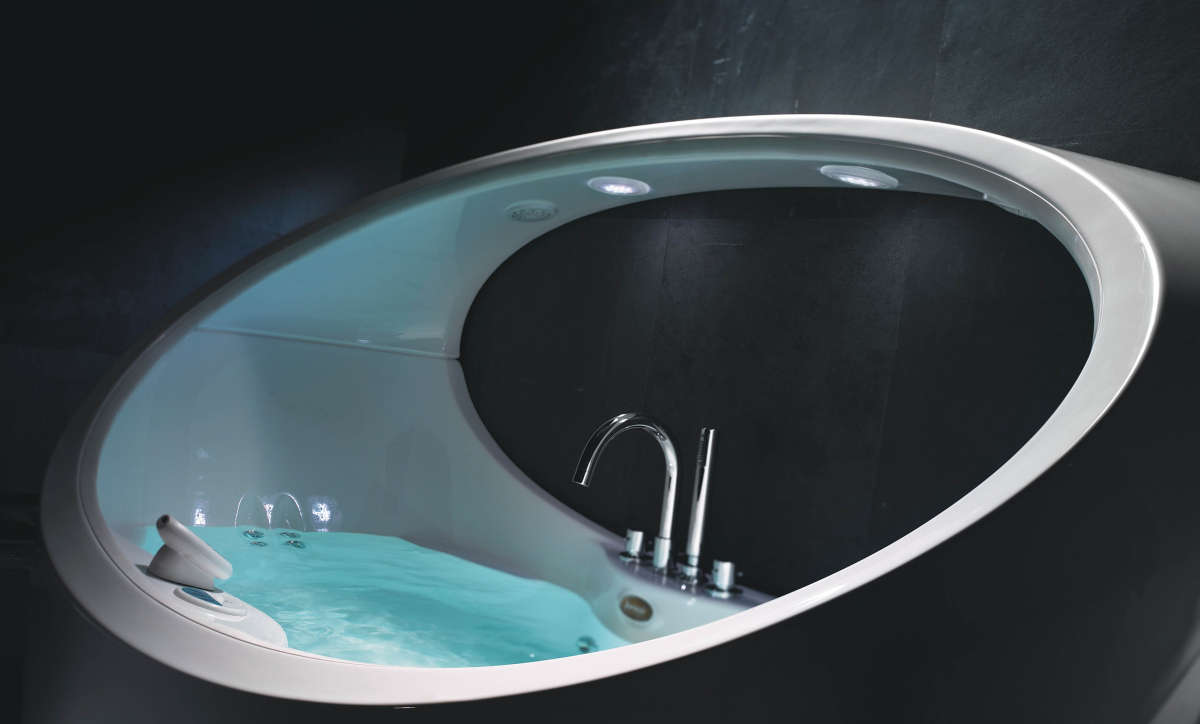 Pininfarina, the venerable Italian automotive design firm whose illustrious client roster includes the likes of Ferrari, Alfa Romeo, and Maserati, created this sleek whirlpool tub for Jacuzzi. Aside from the expected hydromassage and micro jets, the ovaloid unit offers high fidelity radio as well as Cromodream technology in 5 colors from above and below the water to create an immersive sensory experience geared for total relaxation or rejuvenation.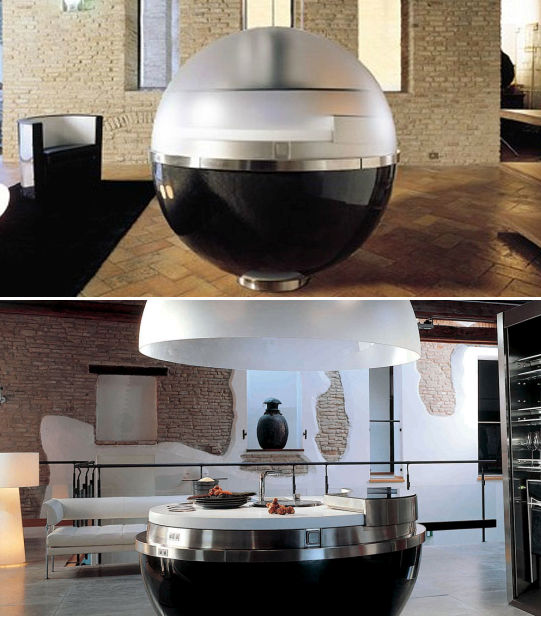 Perfect for the tiny-house, the Spherical Kitchen is a carbon fiber wonder that can be opened up into 2 halves. The top contains the vent hood and lighting which can be used for task or mood lighting as needed. It slides up with the press of a switch to reveal the working parts of the small but mighty kitchen – a double sink, 4 burners, 3 bottle coolers and a pull-out that can serve as additional prep or dining space. Ancillary units include a wall cabinet for appliances and storage, as well as 2 mobile units that can be docked to the Spherical Kitchen as a bar or storage pedestal. This certainly shows you don't need a McMansion to live large!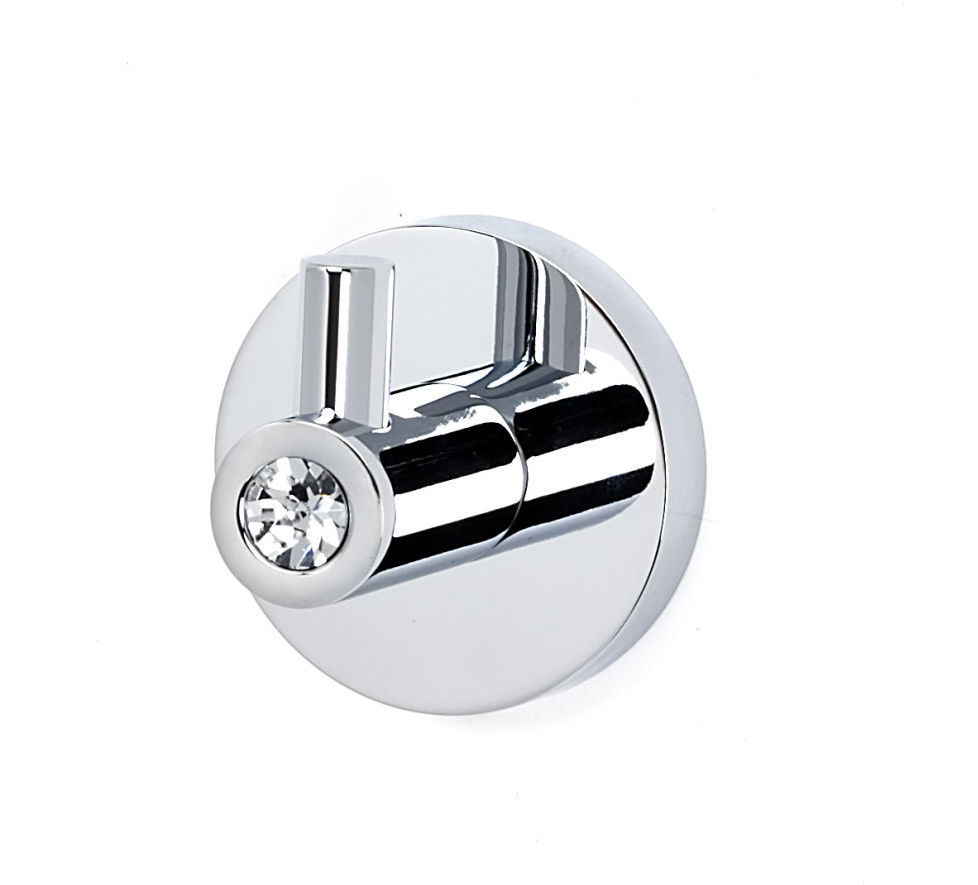 Robe hooks are often an afterthought, garnering little interest from both designers and consumers alike. In comes Alno Inc. with its Swarovski Crystal collection of contemporary towel/robe hooks to add some bling to the mix. This design is 1.75" deep and 2" in diameter, available in polished chrome or satin nickel. A larger square version is available in similar finishes. Of all the furnishings embellished with Swarovski Crystals, this is probably the most understated I've ever seen!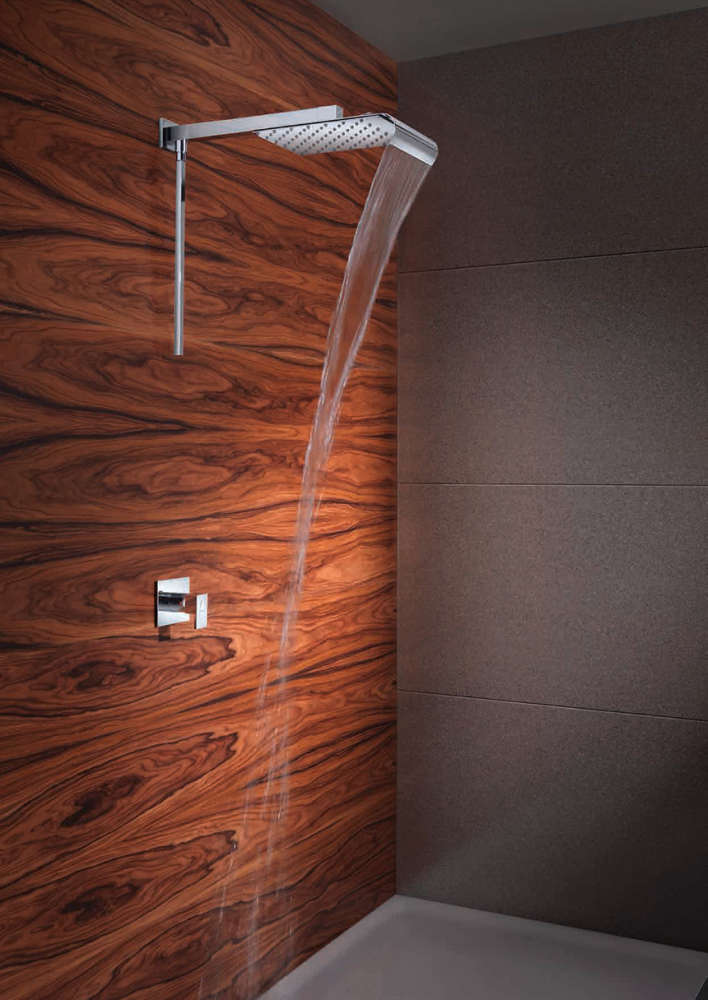 It hard to feel guilt-free using a rain shower, but Tender Rain has taken up that challenge with pioneering work in low flow waterfall and rain shower heads. While green tech is its forte, design is its passion. It was purportedly the first to manufacture the now ubiquitous thin shower heads. Viceversa not only offers a rain shower, but an innovative waterfall head that can be rotated 90 degrees to personalize the direction of water flow!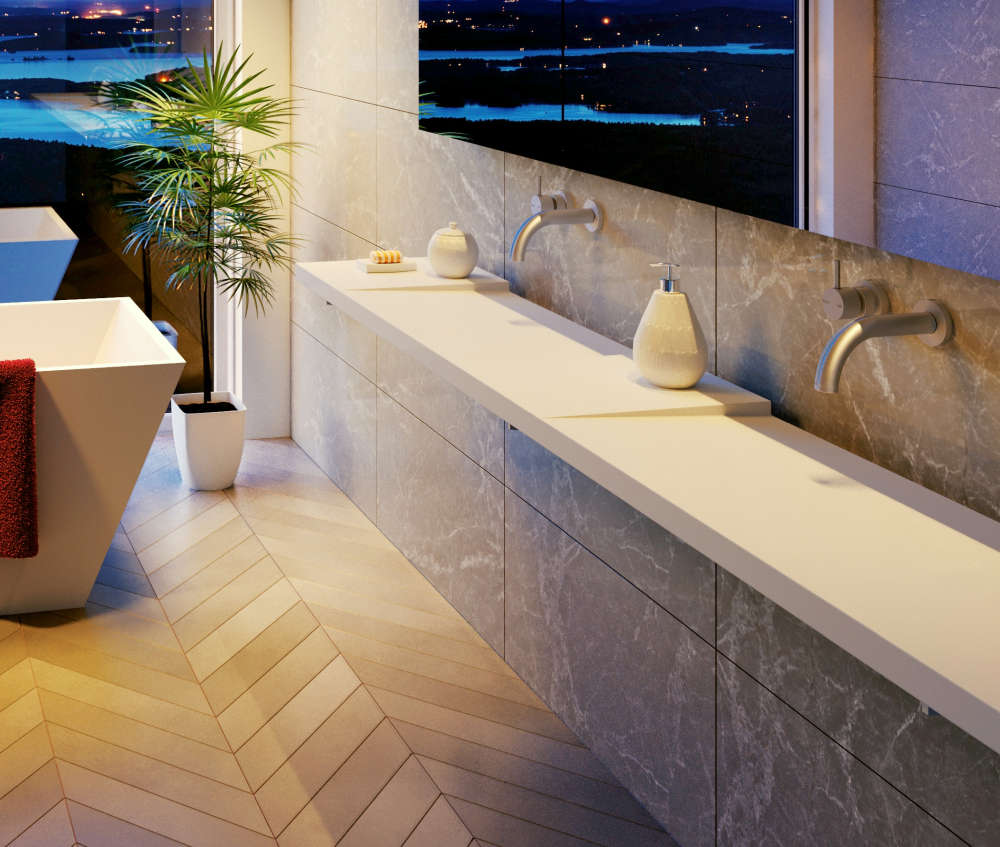 Omvio's Geo double Washplane's simple monolithic form blends perfectly into the space. In fact, the linear Washplane looks more counter than sink! Available as single or double units, triple sinks and natural stone are available on custom order. Made of Caesarstone, the Washplanes are nonporous, stain, heat, chemical, scratch and mold/mildew resistant, essentially virtually indestructible in a residential setting!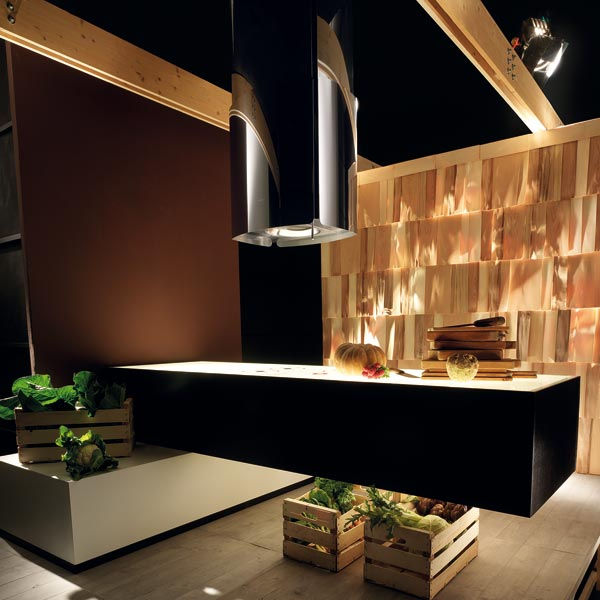 The Chrome extractor hood by Elica, is a quiet but powerful island hood. The 23" tubular extractor is clad in 4 panels of polished stainless steel with a telescopic chimney that extends 7'-9" to 9'-8". Elica's noise reduction technology allows the vent hood's 4-speed internal blower to operate from 195 CFM to 600 CFM at a whisper quiet .7 Sones to 4.8 Sones.
Chrome can be controlled by a remote or the Magic Wand, a small rod at the bottom of the hood. Tap the Wand's top to control the fan speed and its bottom for light intensity. Multi-colored LED lights give visual cue of hood functions.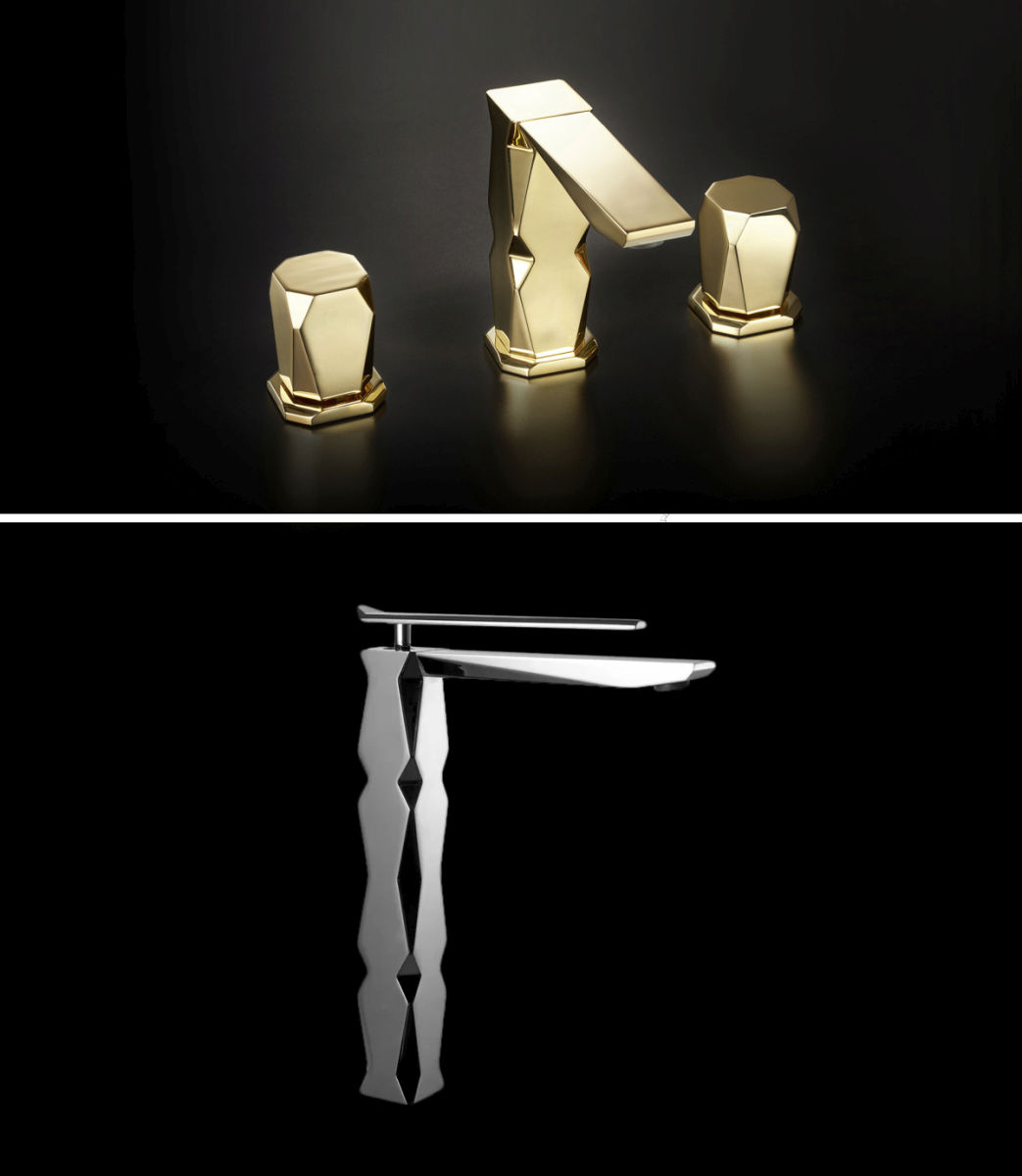 Ikon by Maier is a suite of elegant plumbing fixtures that conjures up images of faceted gems. While the 3-hole widespread bathroom faucet is unabashedly opulent, the vessel sink faucet gleams mesmerizingly like a string of diamonds. A myriad of finishes in Chrome, Gold, Rose Gold, Brushed Gold, Matte Brushed Copper, Matte Brushed Nickel, Matte White and Matte Black guarantee a perfect fit with any bathroom décor!