If you are in the mood for out of the box concepts for your kitchen, here's a collection of unusual kitchen furniture, plumbing fixtures and vent hoods that is sure to surprise and delight. You'll find artisanal tea tables stashed inside mirror steel crates, crayola colored kitchen faucets to make dishwashing fun (well almost) and sculptural range hoods that double as ceiling light fixtures. Check them out and let me know you favs!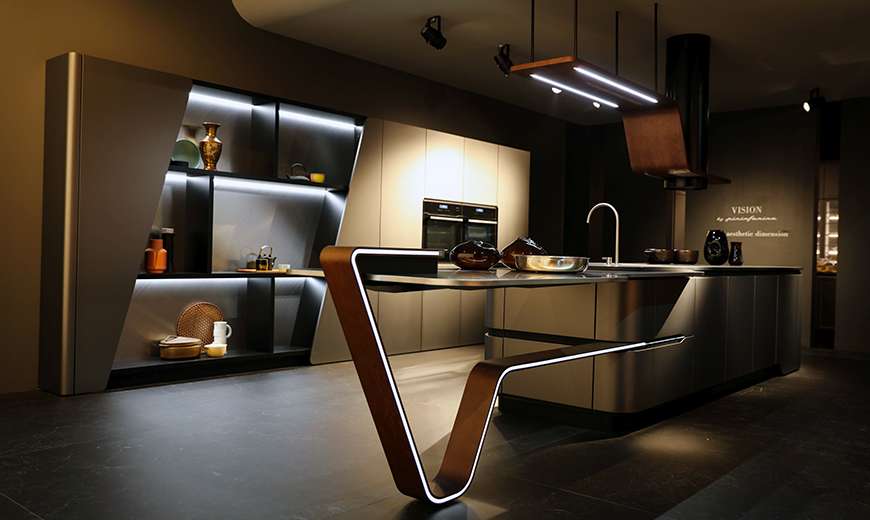 This kitchen is another award winning collaboration between Snaidero and Pininfarina, best known for its iconic designs for the renowned race car maker Ferrari. Vision is a masterpiece of flowing lines and geometric forms that is as functional as it is beautiful. The eye-catching kitchen island of stained ash is accentuated by a silicone LED light strip. Angular elements go beyond the lines of the wood vent hood, pantry door and open storage unit but extend to such bespoke details as 30° beveled edges on counters and doors. Vision is available in an innovative metalescent finish, a satin lacquer with the visual appeal of metals while offering the warmer 'hand' of a spray on coating system.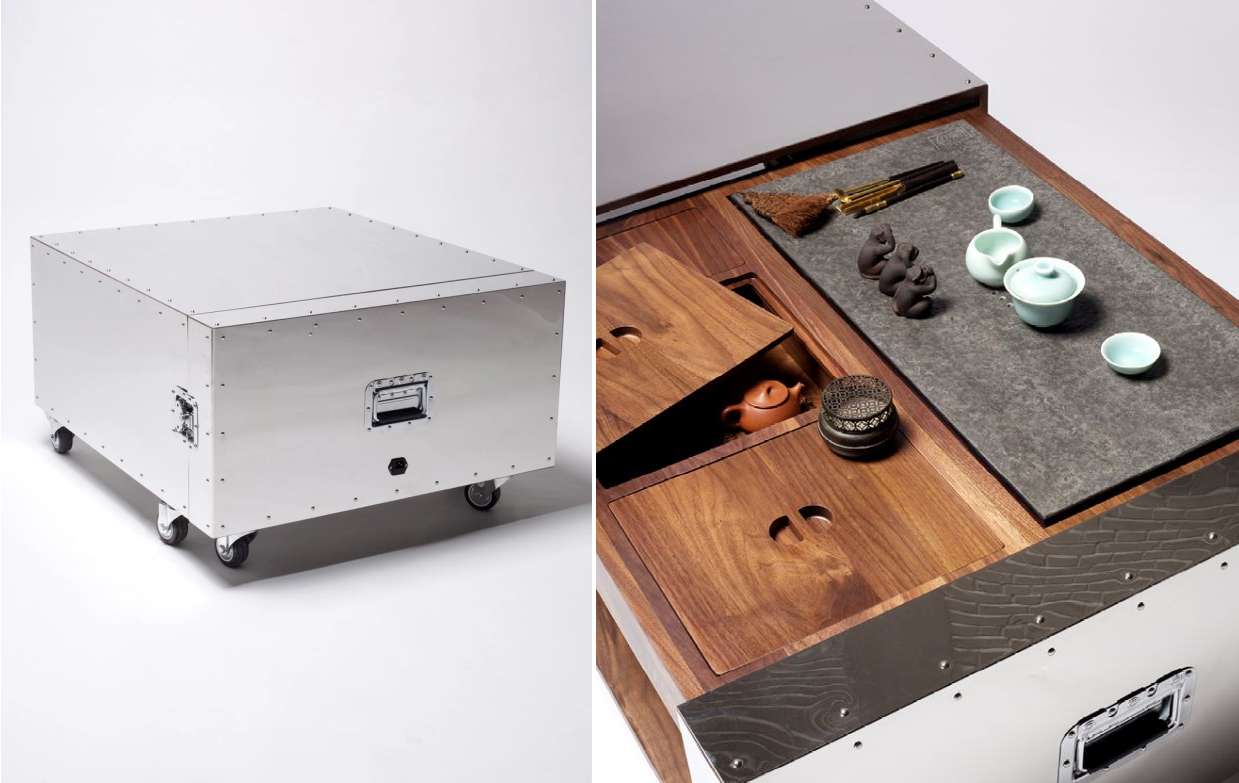 Inspired by the ephemeral nature of the metropolis' artist and industrial spaces, Beijing-based architect Naihan Li created a series of furniture which echoes that transitory ethos.
Tea drinking is a popular Chinese pursuit and this mobile tea table is the perfect solution for the modern nomad. This contemporary version of the steamer trunk on casters features a polished mirror steel exterior. At 35.4" L x 31.5" W x 19.7" H when closed, it turns into a coffee (or tea) table as needed. The case opens to reveal black walnut compartments for tea brewing paraphernalia and a work surface so one can enjoy tea on the run!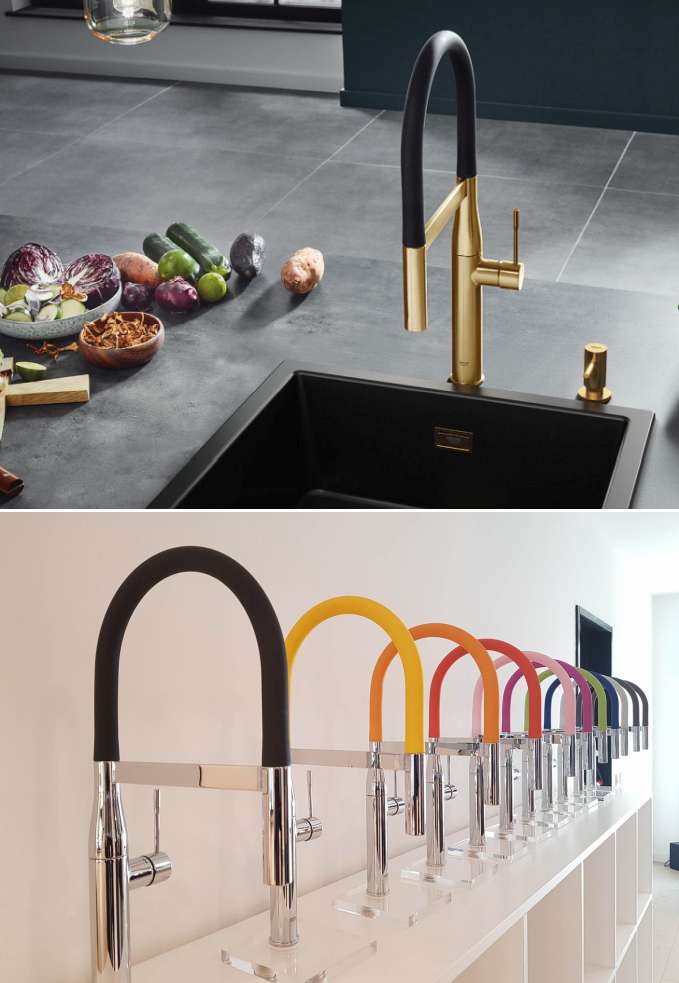 Looking for a sleek but punchy kitchen faucet? Grohe's new Essence Semi-Pro Faucet boasts a svelte 28mm cartridge that is a welcome change from the clunky kitchen faucet bodies that have proliferated the market. Best of all are the optional rainbow hued flex hose spouts. They can be swapped out easily, so changing the accent color of your kitchen will be a cinch!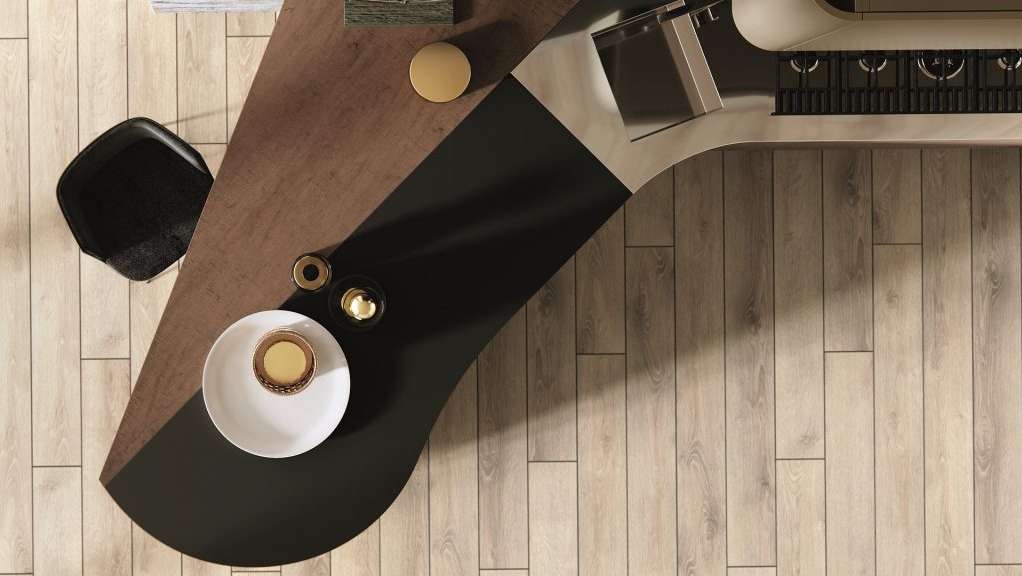 Lorenzo Granocchia of his namesake studio has successfully put a new spin on Aster Cucine's Domina line of kitchen cabinets. Through Domina, the architect explores the juxtaposition of sensuous curves against angular lines and bright lacquers with refined woods. The surprising result is a keenly contemporary kitchen with a retro vibe.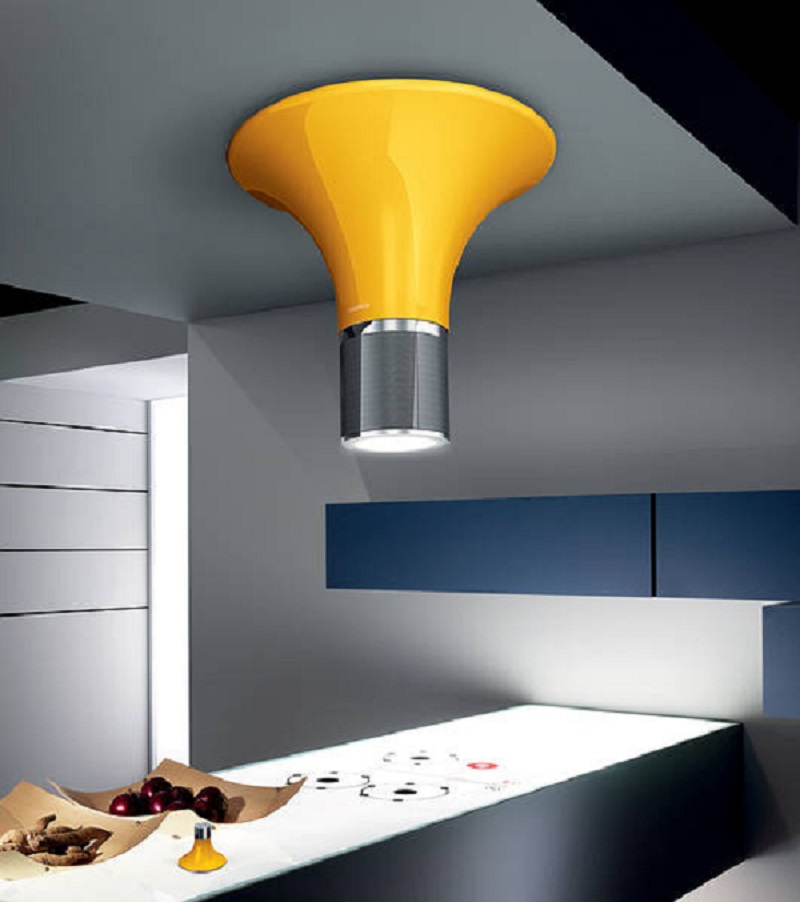 The multitasking Olympus vent hood from Elica pulls double duty as an exhaust fan and a light fixture. Available in black, white, silver or yellow, the striking extraction hood is a showpiece, especially after the telescoping metal collar and mesh filter are retracted, leaving the colored base as the focal point in the kitchen. Equipped with five 20W halogen lamps, it is also a great light source for the home chef.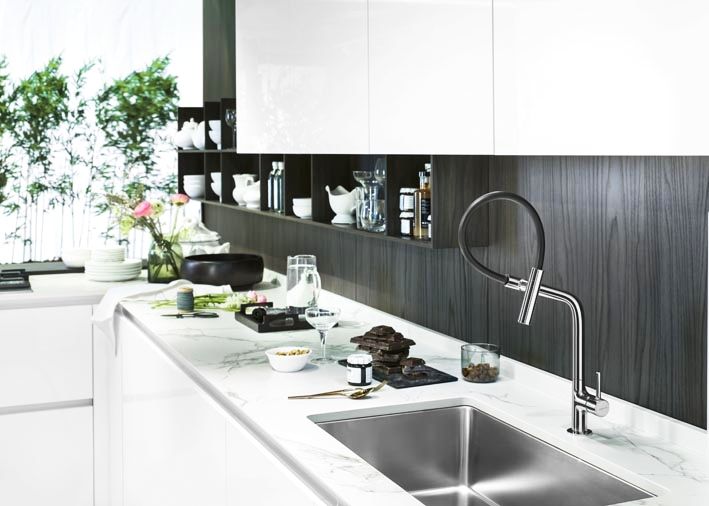 Award winning product design firm Meneghello Paolelli created this stylish faucet for Nobili Rubinetterie. Aptly named Lamp, the mixer tap is a witty riff off the gooseneck lamp. The body rotates 360° and the clever design of the black hose provides a reach of almost 24″ while snapping smartly back into place with a magnetic catch. The 2 step cartridge conserves water and carries an impressive 20 year warranty. Available in Chrome, Stainless Steel, Velvet Black and PVD Diamond Smoke.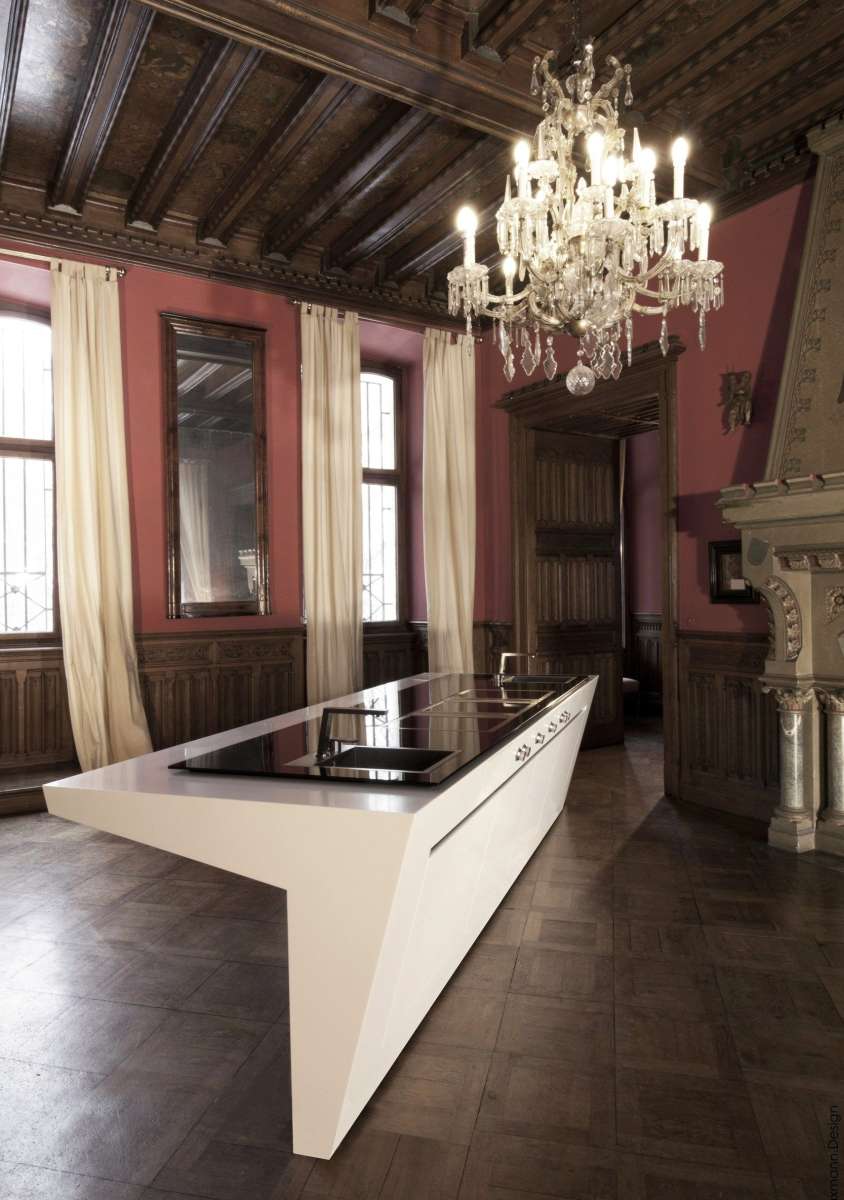 Designed by Cornelius Paxmann and fabricated by Rosskopf + Partner, this gravity-defying kitchen island is made entirely of HI-MACS solid surface material. With the help of steel beams, Paxmann's 11.8′ x 35.8″ counter is securely anchored to the floor on a mere 5.5″ wide base.