If you're looking to spice up your bathroom, here are some show-stopping plumbing fixtures that are packed with glam and style. Check out the bejeweled bathtub that's the price of several Teslas, be beguiled by the whimsical equine themed loo and bidet hand crafted in Italy, or marvel at the flowing serpentine bathware by the inimitable Queen of the Curve, there's something for everyone. Enjoy!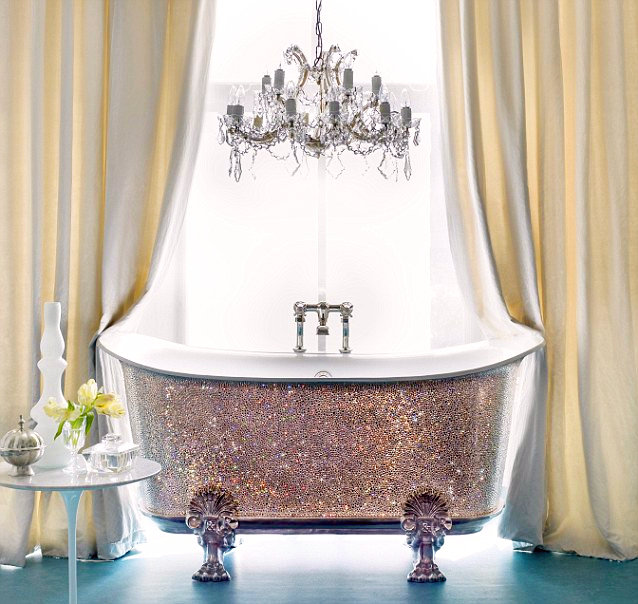 Want to live like the Kardashians? UK bathroom company Catchpole & Rye have you covered! Guaranteed to incite bling envy, the cast metal clawfooted bathtub of enameled interior is lavishly encrusted with Swarovski crystals in various sizes to accentuate its glittery profile. The Crystal Bateau costs $173,000, takes 200 hours and 22,000 Swarovski crystals to make. It's highly customizable, with colors available in white, pink, blue, green and gold. The company can even spell out names or create crests and logos in different colored crystals to suite your pleasure. Here is the Baby Bateau bath, a slightly smaller version sized for Junior at a mere $138,000!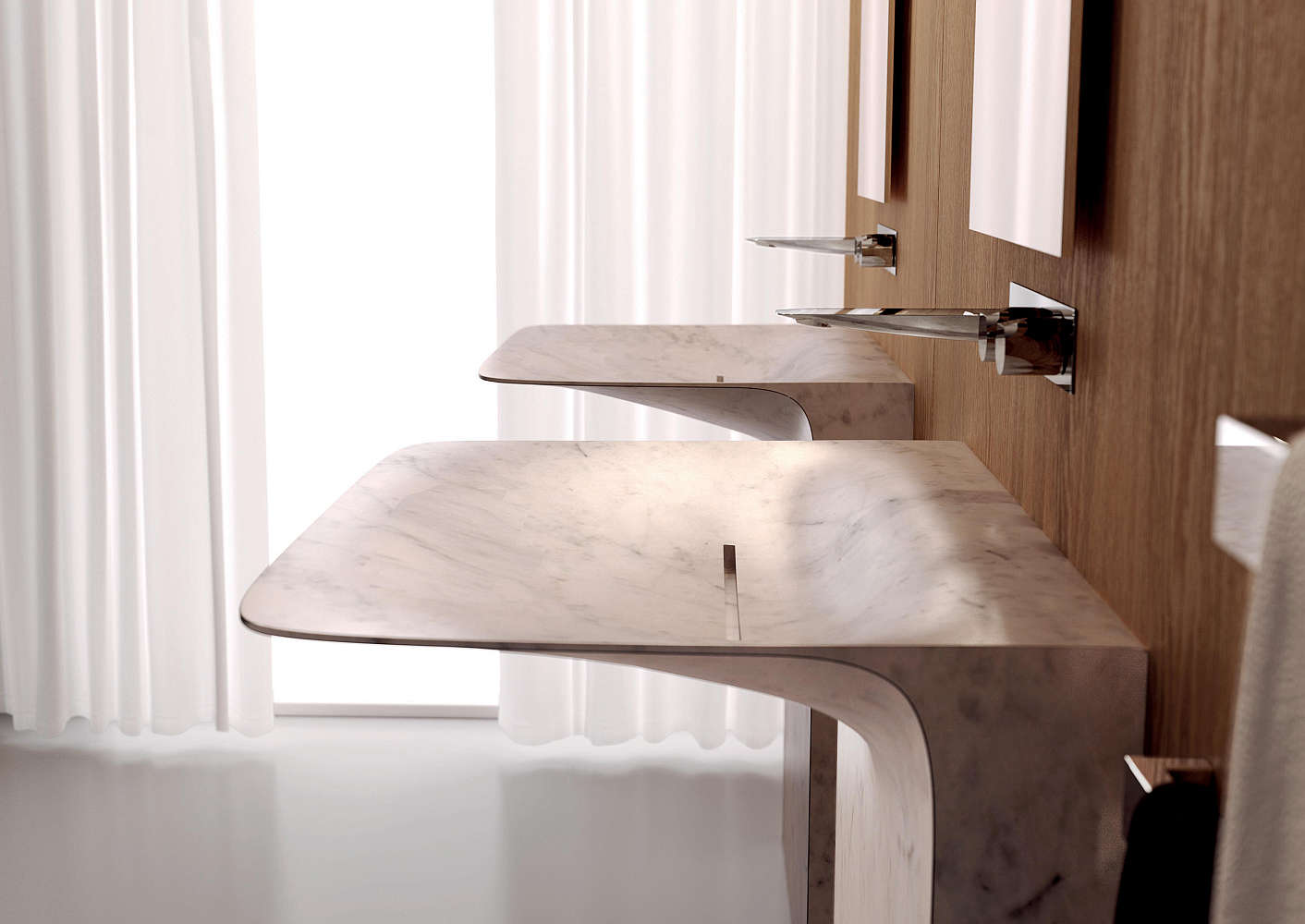 Acclaimed architect Carlo Colombo created this sleek pedestal washbasin for Italian brand Teuco. The minimalist ultra low profile sink features a slim tapered front edge with a slit drain. It's available in Carrara marble, grey marble or Duralite, Teuco's proprietary acrylic-based composite in white, red, or black lacquer. Faucet finish options are chrome or gold.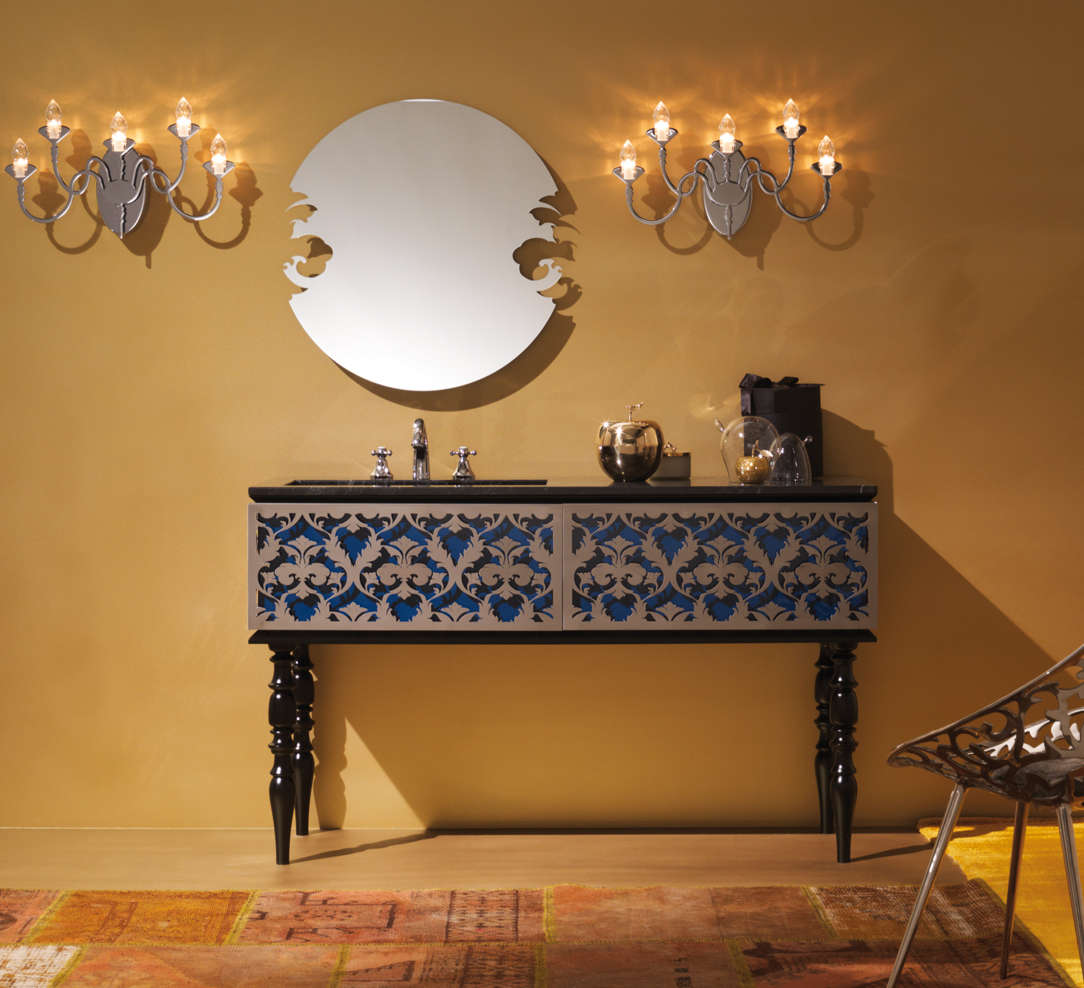 Created by Italian product design firm Meneghello Paolelli Associati, Doll is a contemporary spin on traditional bathroom furniture. The console draws on such classical architectural elements as the architrave and its supporting columns, and reincarnates them as a rectilinear vanity resting on graceful wood turned legs. The vanity is suitable for vessel, drop in, and undermount sinks, with choice of countertop materials in glass, marble, or resin. Doll is offered in a range of sizes, from 39.4" to 70.9" long by 19.7" deep, and 2 heights: 30.3" for vessel sinks or 34.3" for undermounts.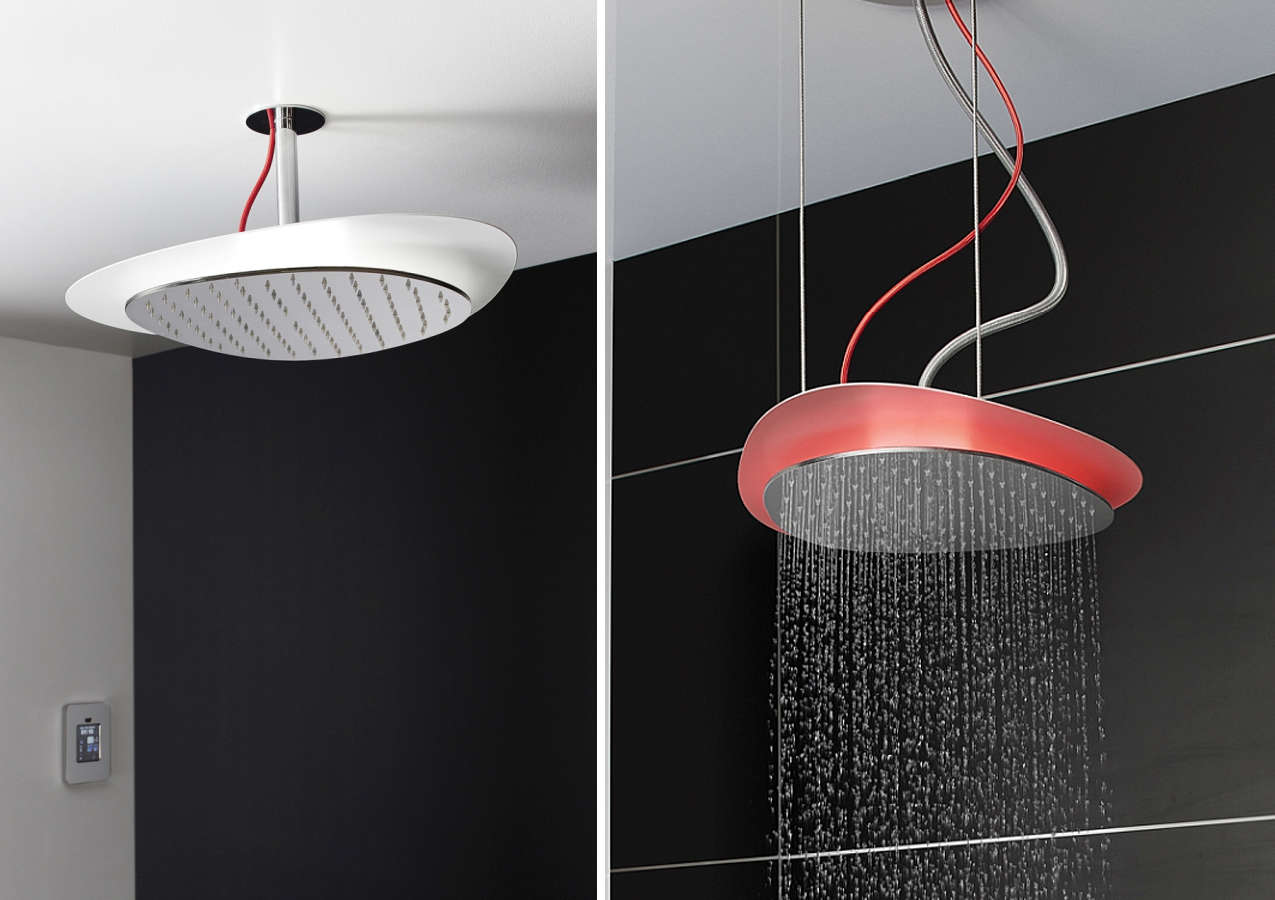 From Fima Carlo Frattini comes Cloud, an award-winning rain shower that's the epitomy of the design dictum Less is More. It simply consists of 2 thin plates: an irregular oval shaped stainless steel rain jet topped by a bigger triangular chrome plate with softly rounded corners that acts as a reflector. For chromotherapy, LEDs on the rain jets' top surface project colored lights onto the polished chrome, which then deflects the lighting and bathes the shower in soothing colors. Alternative chrome finishes include white and matt black. The showerhead is available as wall, stem, or cable mount.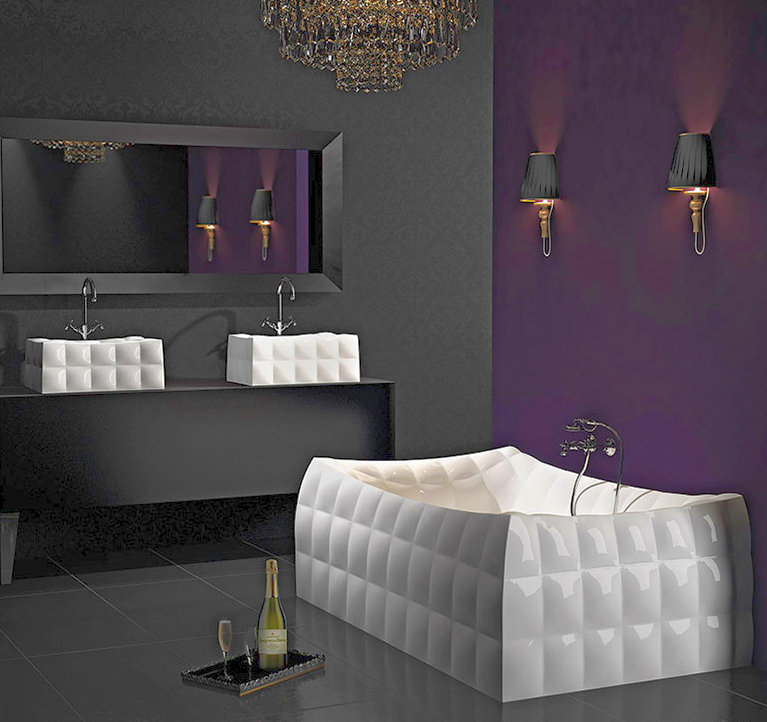 Marmorin commissioned Polish fashion designer Eva Minge to create bathware for the company. The result is a pair of inviting, pillowy bathtub and sink that manages to look both angular and soft at the same time, a perfect translation of her vision from the runway to the bathroom.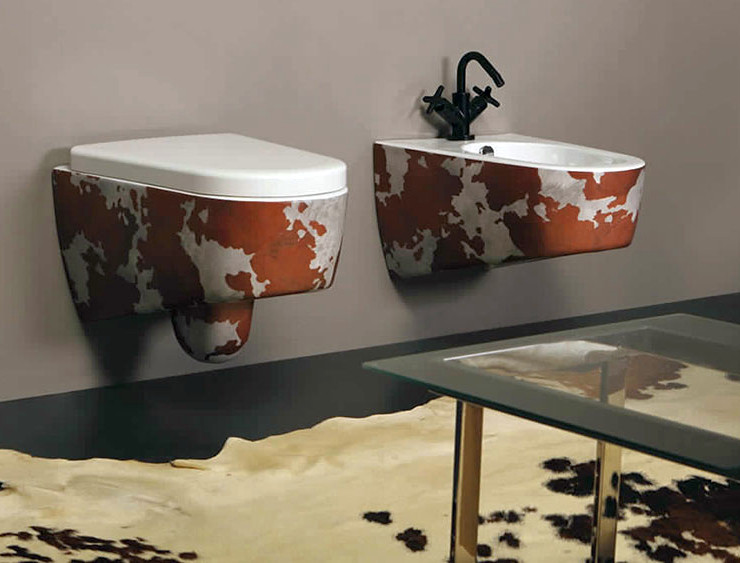 Bored with the sterile and predictable shiny white porcelain in your throne room? Vitruvit is galloping to the rescue! Aptly called Cavallino, the wall hung toilet and bidet's design is inspired by piebald ponies. Both fixtures are 20.87" d x 15.36" w x 11.61" h. Being all handmade, slight variations in the splotches are to be expected.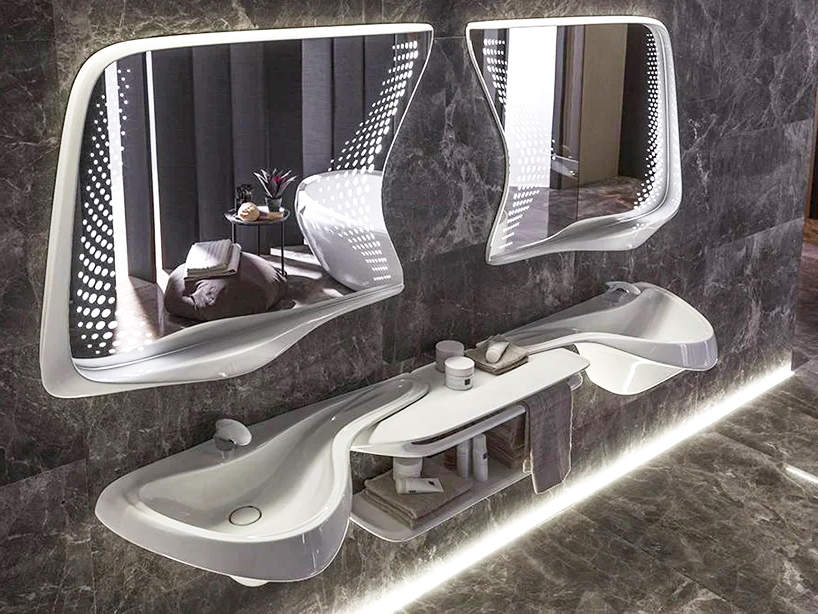 If one were to ask 'Which is the snazziest mirror of them all?', then no doubt it's the one from the Vitae collection by Zaha Hadid Architects for Noken. The legacy project stayed true to the avant garde architect's distinctive style. Since 'vitae' means 'life' in Latin and water, the key to all life, is an essential element of the bathroom, it's appropriate that the celebration of organic, flowing lines and curves be integral to the bathroom fixtures. But more importantly, Vitae is also functional and eco-conscious. The sculptural frame camouflages a contoured shelf at the bottom while its anti-bacterial and non-hygroscopic polymer construction keep the surfaces hygienic and clean. Energy efficient LEDs from the 2 sides provide targeted lighting to facilitate daily rituals. The sinks and shelves are made of highly stain, scratch and impact resistant Noken Ceramic while the aerator of the low flow faucet is Watersense certified.