Here's an eclectic collection of furniture that is inspired by pop culture, historical references or just objects of everyday life. With nods to the Transformers, Memphis, Mad Men, and the Royals, these tables, chairs, and storage units are sure to tease and please!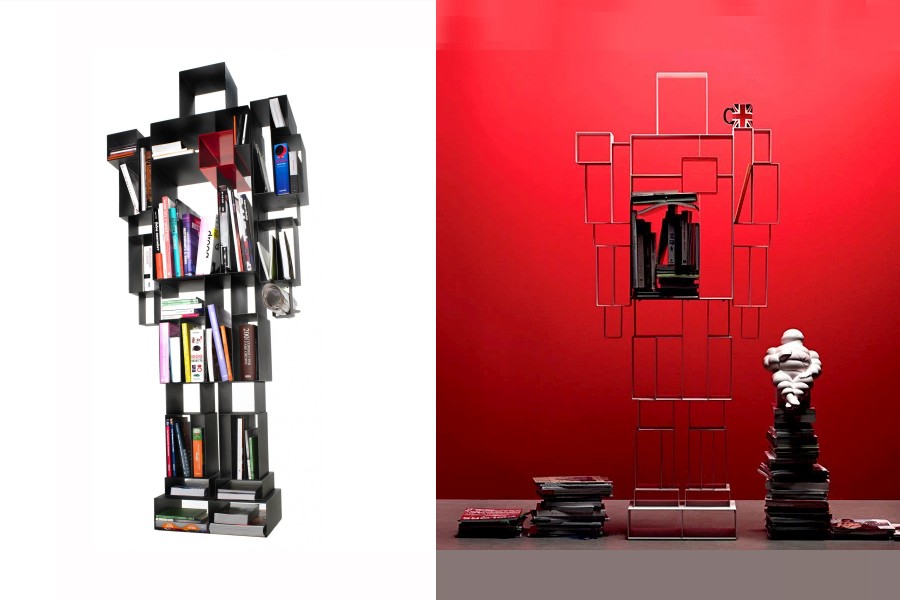 Vaguely reminiscent of the Transformers toy robots, Roblox is the creation of Fabio Novembre, an Italian architect known for his anthropomorphic designs. At 31.8" w x 11.8" d x 72.4 h", the bookcase matches the designer's height and sports its own heart as a red square in an anatomically correct location. The open backed, embossed metal bookcase can double as a room divider and is available from furniture manufacturer Casamania. Colors include dark gray, white, and a limited edition multi-color option.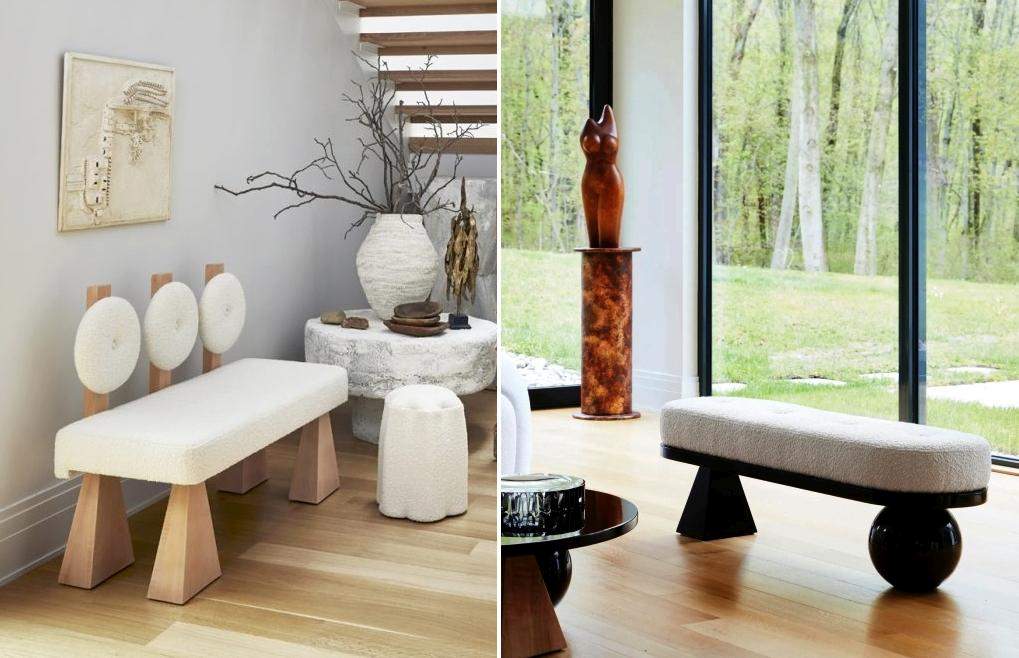 Iconoclastic fashion designer Christian Siriano unveiled a postmodern-esque furniture collection that's an embodiment of his work: flamboyant and fun. The Lola Settee in natural maple with round back cushions, cream bouclé seat and chunky triangular legs packs a visual punch, but the backless bouclé and black lacquered wood settee is no style backbencher either.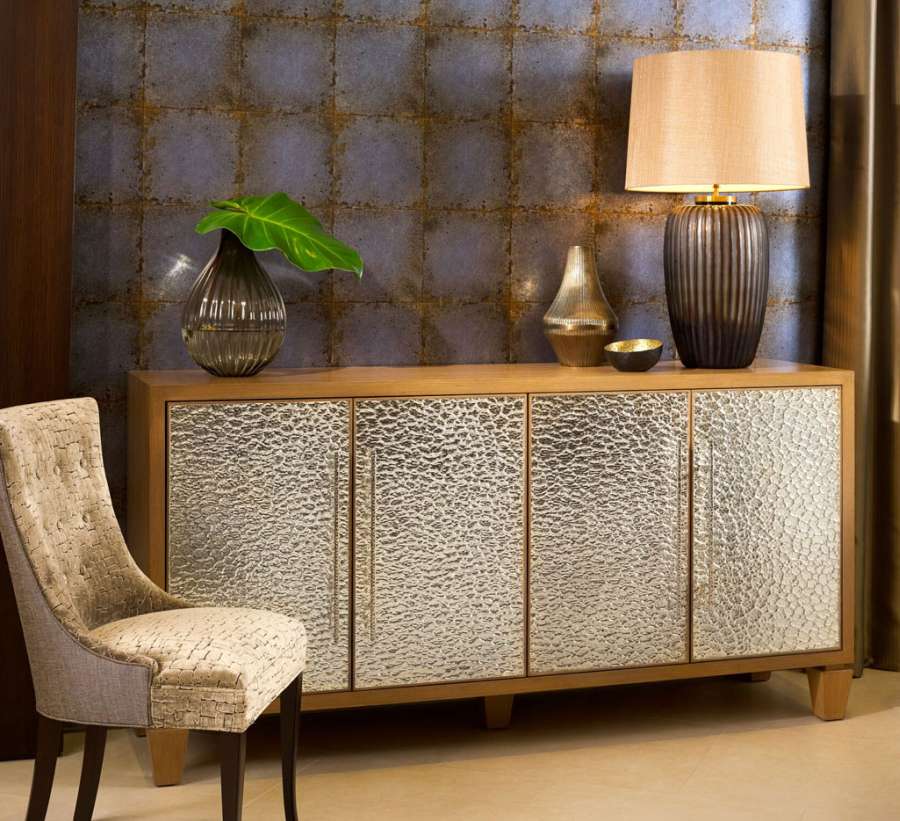 On the other hand, if you're looking for opulent elegance, check out Erinn V's Mont Blanc Cabinet. This oak cabinet in Driftwood finish amps up the glam factor with Shell Mirror doors and Hand Hammered Polished Nickel pulls. The 74″ w x 20″ d x 37″ h storage unit also offers Walnut, Hand Hammered Satin Brass Hardware and a range of mirror finishes for a fully customized experience.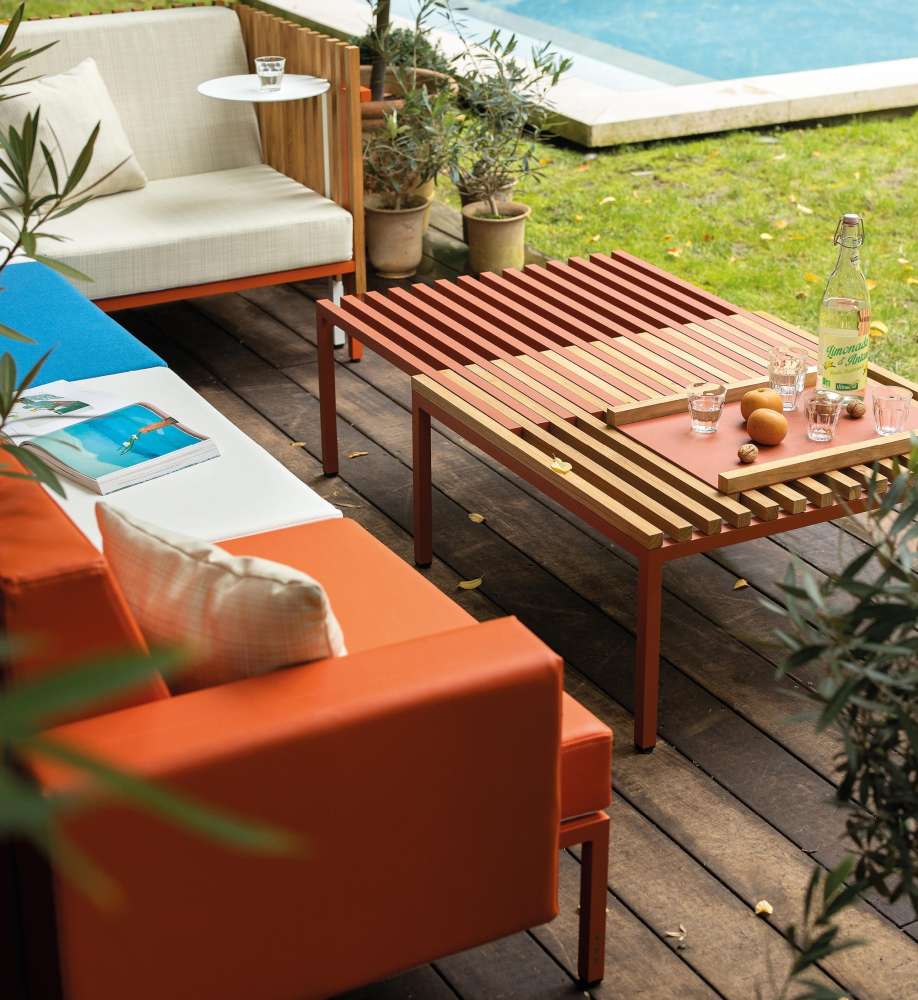 Charged by EGO Paris to update its Kama collection, Studio 5.5 delivered the seemingly inevitable Sutra. The design concept is based on beach restoration sand fencing. This extendable coffee table is cleverly made of two interlaced halves, one with teak wood and the other powder-coated aluminum slats on the top. The two sections can be either pulled out or nested together as needed. For a more festive look, the metal frame and slat colors can be separately specified and are available in either semi-gloss or fine textured lacquer.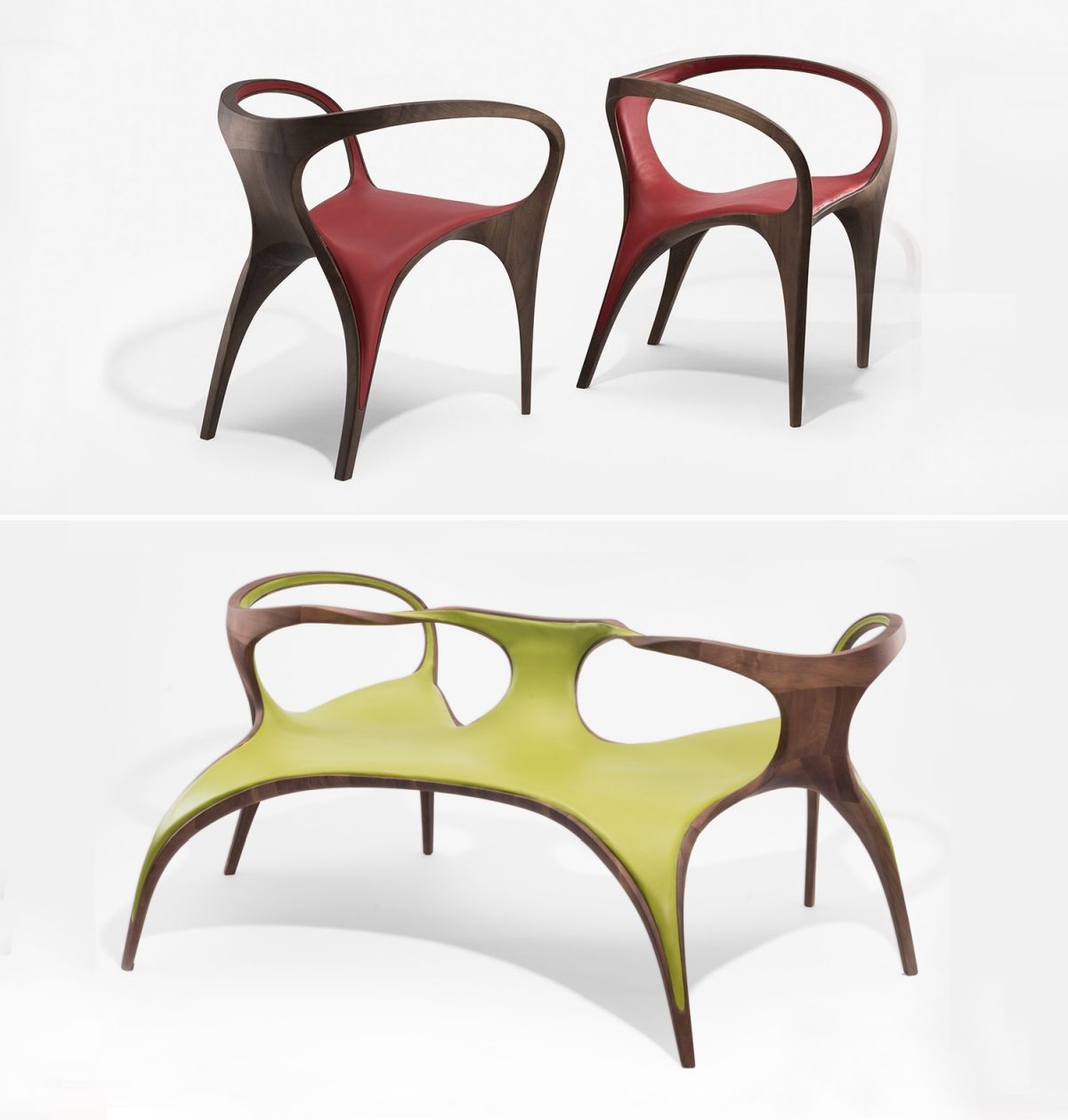 The UltraStellar Collection by Zaha Hadid, the late Queen of the Curve, for David Gill Gallery is an exuberant celebration of the curved form. Her last project was masterfully executed in wood, a departure from her preferred medium of resin and carbon fiber. Touted as Mid-century Modern inspired, I find the sinuous silhouettes more Art Nouveau than Mad Men, with the walnut seating's ribbon-like arms and legs flowing gracefully with the contour-hugging leather inset. Dimensions for the Dining Chair and 3 Seat Bench are 25.59" w x 22.04" d x 27.16 h and 64.96″ w x 43.7″ d x 27.17″ h respectively. There's even a sensuous 2 Seat Bench for those interested in tête-à-têtes!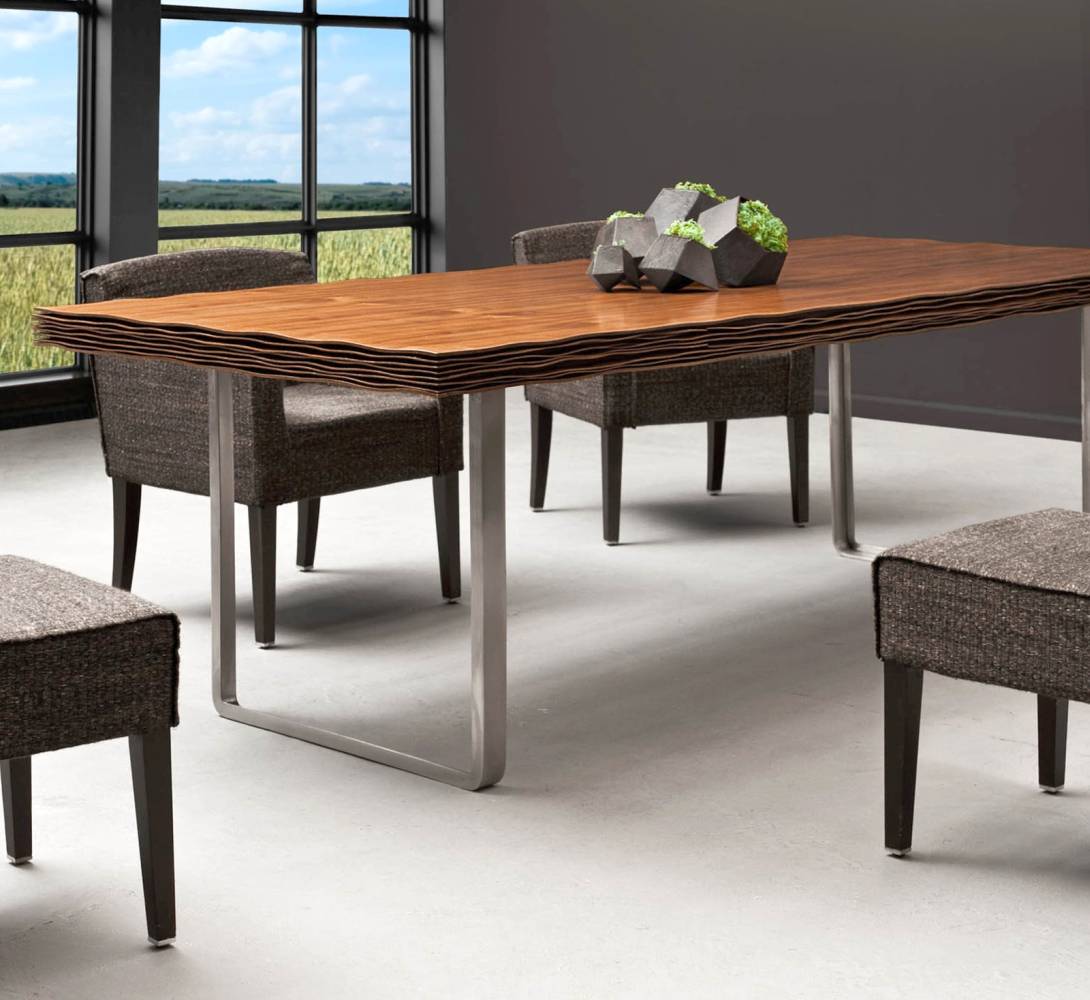 Filipino furniture designer Kenneth Cobonpue revels in working with natural materials, be it wood, leather, rattan, bamboo or palm, either in substance or in form. With the Parchment dining table, he sought to replicate the look and feel of parchment paper in an old manuscript by warping thin layers of wood and binding them together to create a striking rippled table surface. Finishes come in natural oak, natural walnut or dark brown and stainless steel.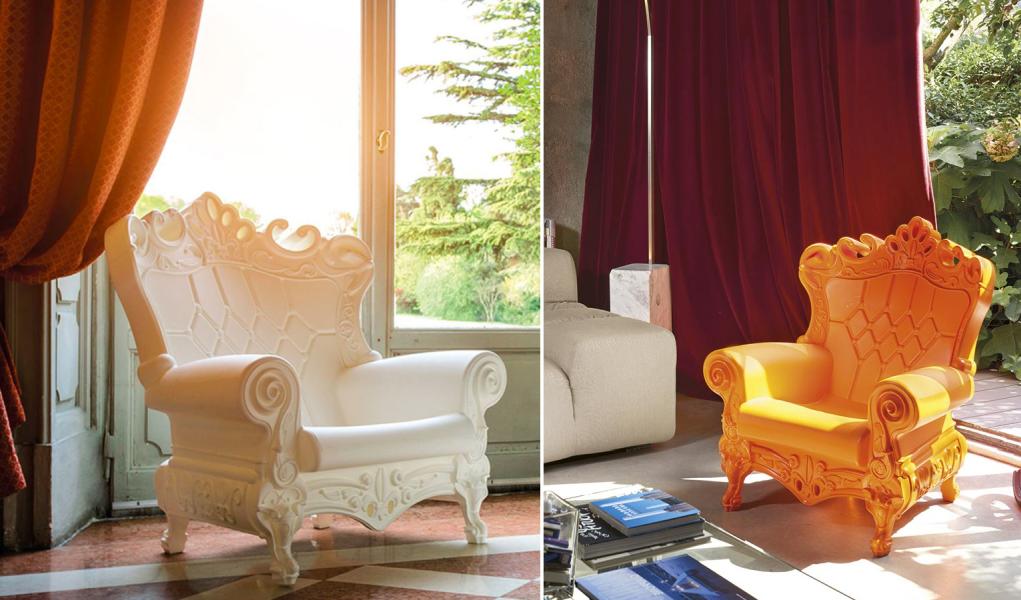 These whimsical armchairs from Slide Design are the brainchild(ren) of designers Graziano Moro and Renato Pigatti. They took artistic license to borrow baroque elements liberally for the armchair and updated it with a colorful contemporary aesthetic. The reincarnated seating is called Queen of Love with a scaled down version called Little Queen of Love for children's rooms or tight spaces. There's also a wittily named Little Prince of Love Pouf to prop up the Royal feet as needed! Suitable for indoor or outdoor use, the seating is made of polyethylene in 13 standard and 8 lacquer color finishes.