If you are looking for lighting fixtures that are imaginative, fun, or a celebration of artisanal craftsmanship, look no more! This collection of ceiling, wall, table and floor lamps has it all. Movie fans will love the tribute to Hollywood's legendary sex symbol, nature lovers will want the whimsical rendition of a life size zoo animal in your own home (or garden), and history buffs will appreciate the clever riff off a revolutionary invention, to name a few… Browse, enjoy and let me know your fav(s)!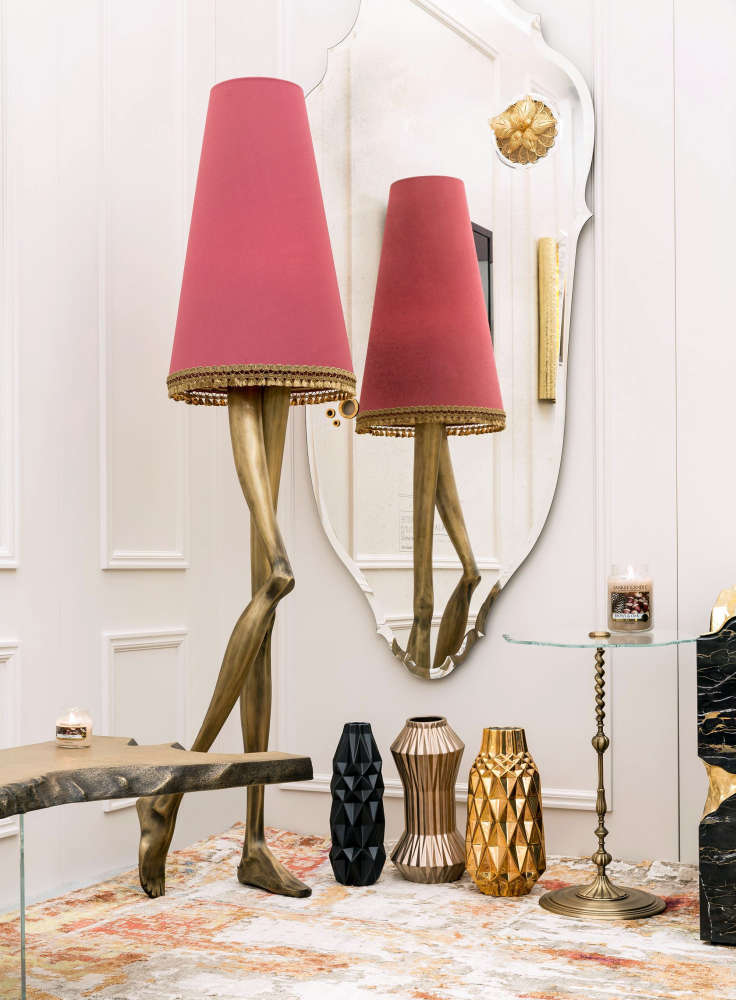 The Marilyn Monroe lamp by Bessa Design is inspired by the namesake actress, whose iconic photo with her white cocktail dress from The Seven Year Itch was forever etched into film history. In a much more austere rendition of the fabled skirt, the lampshade is embellished by a gold tassel fringe, a decorative trim in vogue during the 50s and 60s. At 68.9" tall, this statuesque polished brass fixture is as witty as it is sensuous.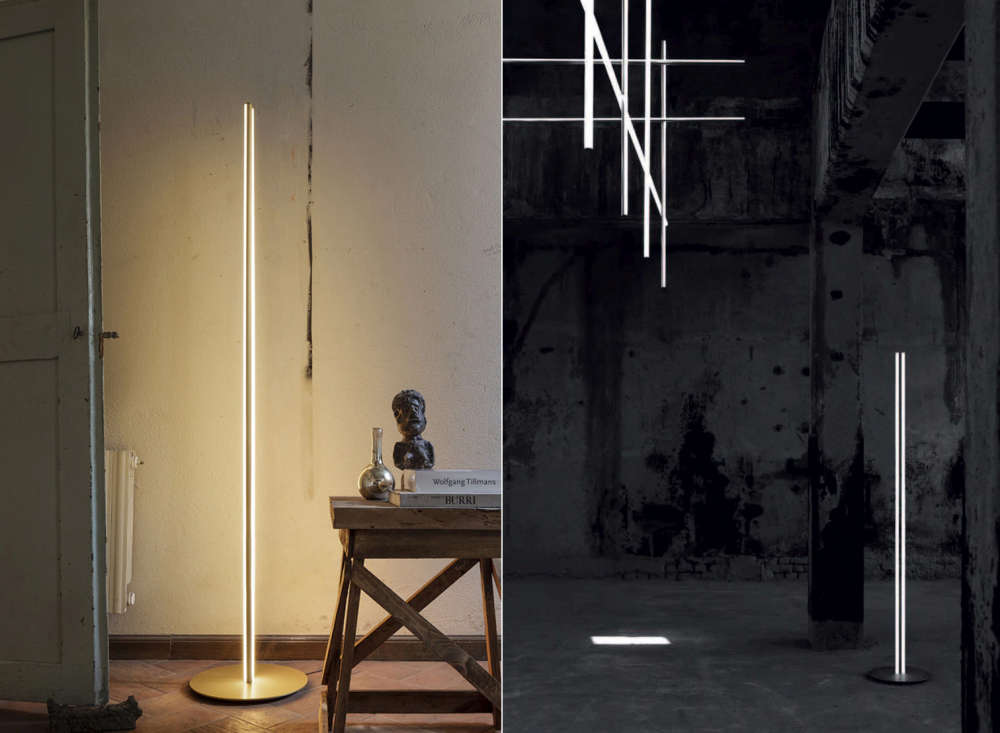 Initially created by award winning lighting designer Michael Anastassiades for New York City's venerable Four Seasons restaurant, Coordinates for Flos encompass a series of light strips that can be installed either horizontally or vertically and customized for large spaces. Each fixture is powered and supported by an invisible electrical and mechanical connection which allows the lighting components to be configured as desired.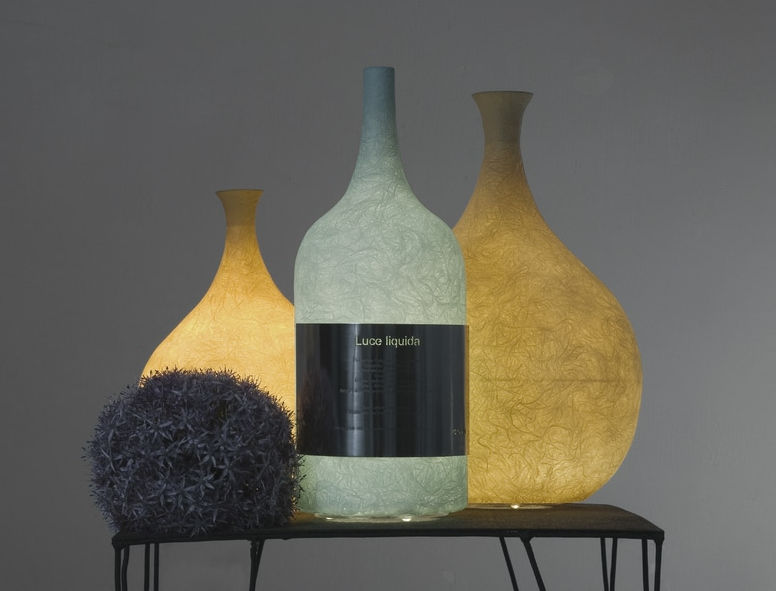 The Luna Luce Liquida is veritably Moonshine of the Third Kind. Brought to you by Italian lighting design firm In-es.artdesign, these vase shaped table lamps are made of Nebulite, an innovative composite of resin and fiber that produces a luminous light quality reminiscent of moonglow.
These light fixtures come in 3 sizes, 5″ x 13.8″ h, 7″ x 10.2″ h or 9″ x 13.8″ h, and a range of colors including white, red, orange, turquoise, blue and magenta. Electronic dimmers are available for the 6 to 8 W LED lamps.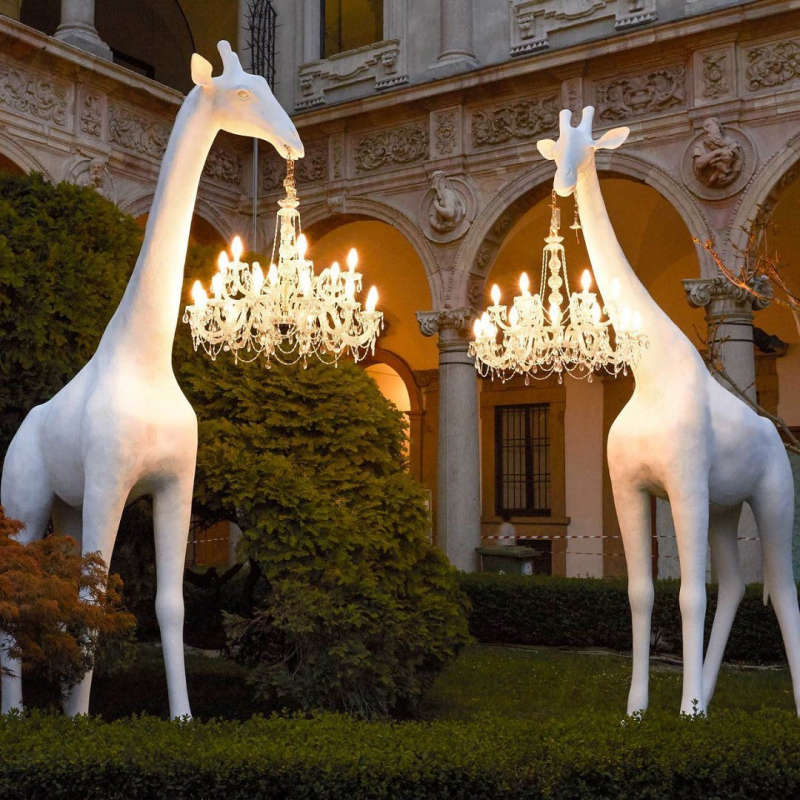 This quirky chandelier by Marcantonio Raimondi Malerba is sure to create buzz. Available in white or black, Giraffe in Love, has models for both indoor and outdoor applications – with the latter being wind and water resistant – so you can share your Love in any setting.
This monumental fiberglass fixture is an imposing 157.5″ h with the Maria Theresa chandelier hanging 86.6″ from the ground. Of course you must really be smitten with this giraffe to shell out $39,000 to park it in your living room! Good news is the lighting also comes in 2 smaller sizes, with the XS at 39.5″ h to fit into more intimate spaces or modest budgets.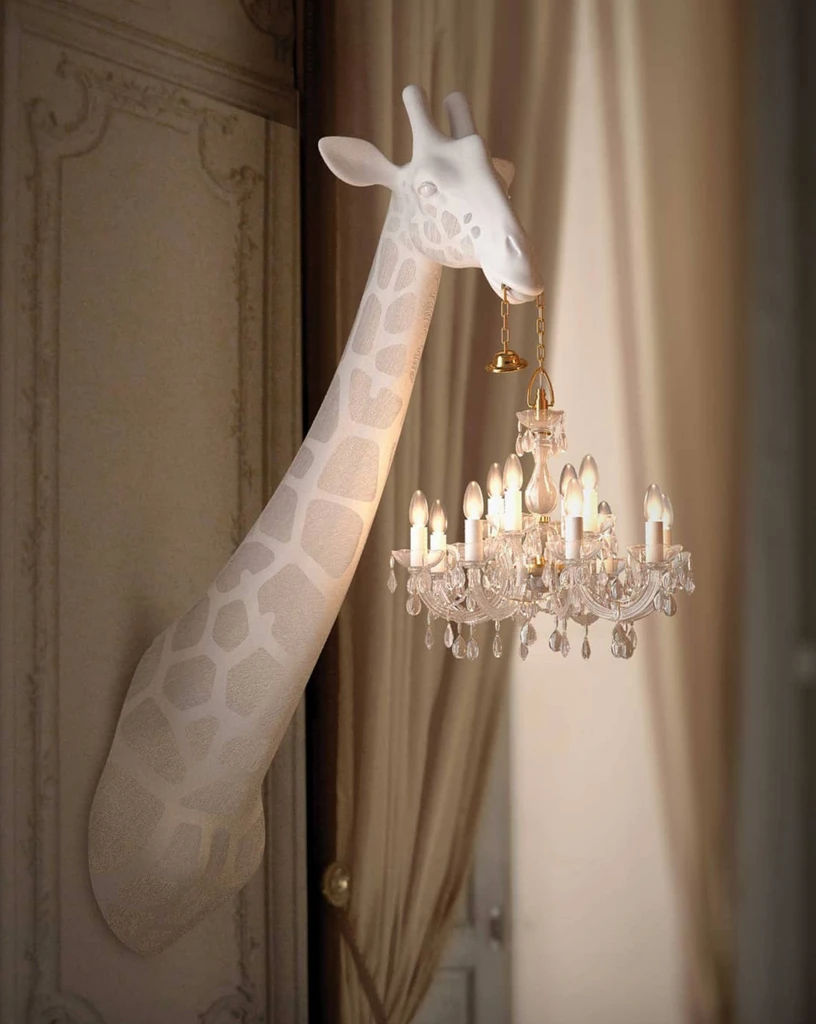 Want a sconce? The design is adapted for wall installations by focusing on the essentials: the giraffe's head and neck with the chandelier.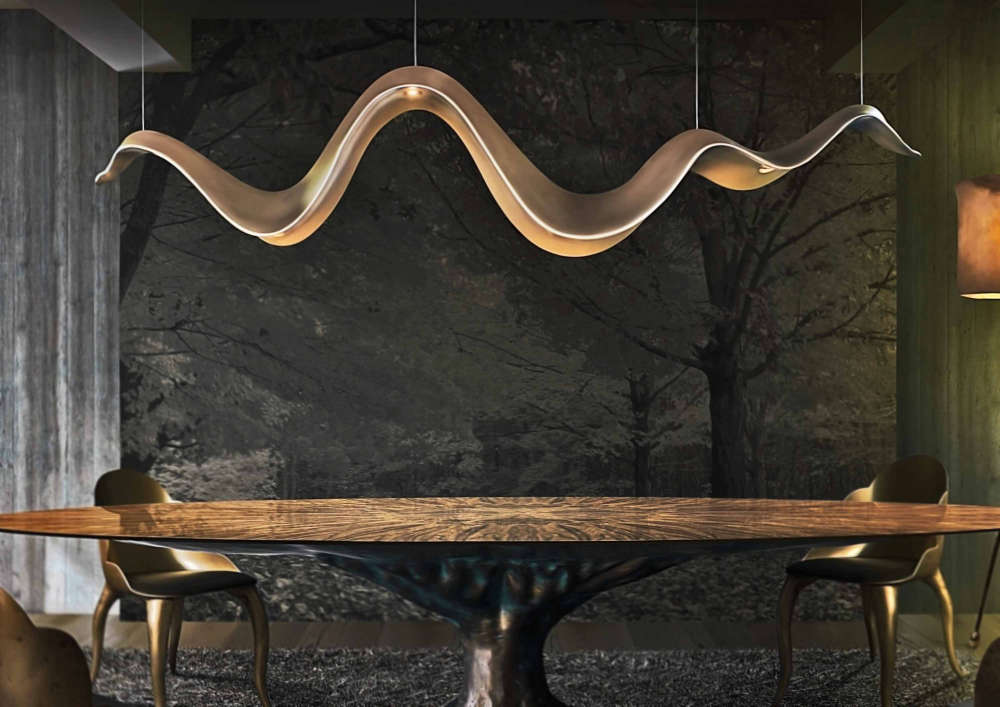 The brainchild of furniture manufacturer KARPA, at over 9 ft long, Aura is suspension fixture on a grand scale. Although it measures 112.2″ l x 14.2″ d x 23.6″ h, the sinuous lighting only weighs 37.5 lbs thanks to its reinforced fiberglass construction. The fixture is handmade in Portugal and comes with 4 embedded 2.5W LED spot lights. Pale gold is the standard finish with white on request.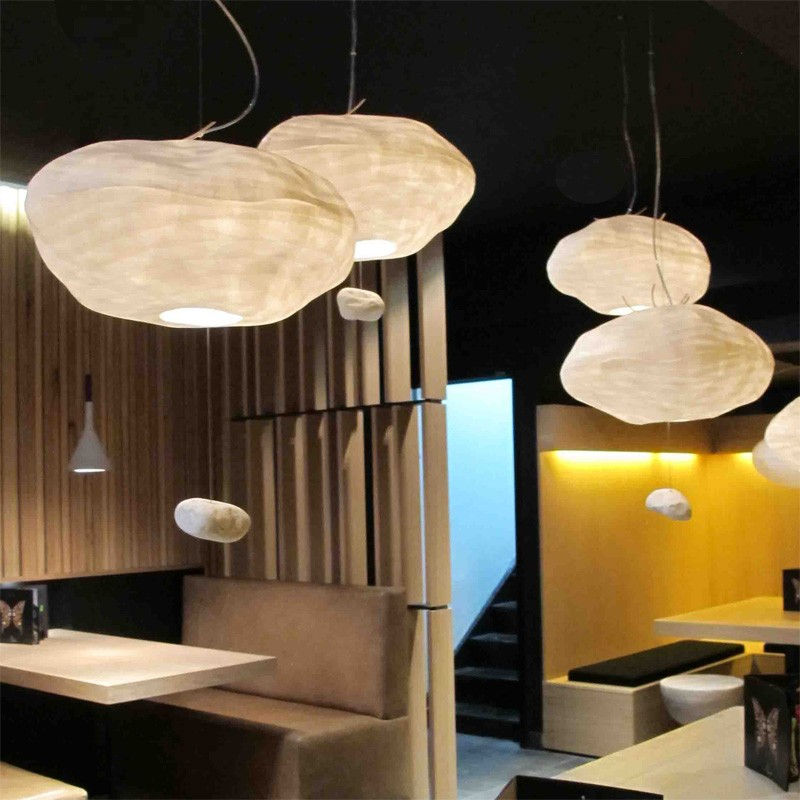 The ethereal light fixtures from the atelier of French designer Céline Wright bear testament to the multicultural influences of her life. Born of English and Franco-Algerian parents with her formative years in Japan, a Zen-like aesthetic permeates Céline's art. Most of her creations are made from washi, a strong but flexible paper despite its delicate appearance, that is used in shoji screens for traditional Japanese windows and doors. The soft organic shapes of the lighting are nature inspired, and painstakingly fabricated by hand using time-honored techniques.
The cloud-like Giboulée is 19.7″ x 13.8″ x 7.5″ h. A white marble stone acts as a counter weight and the height can be adjusted by sliding up or down the 6' 6.7" steel cable. Choice of paper ceiling connector box or painted metal case with brushed stainless steel plate is available.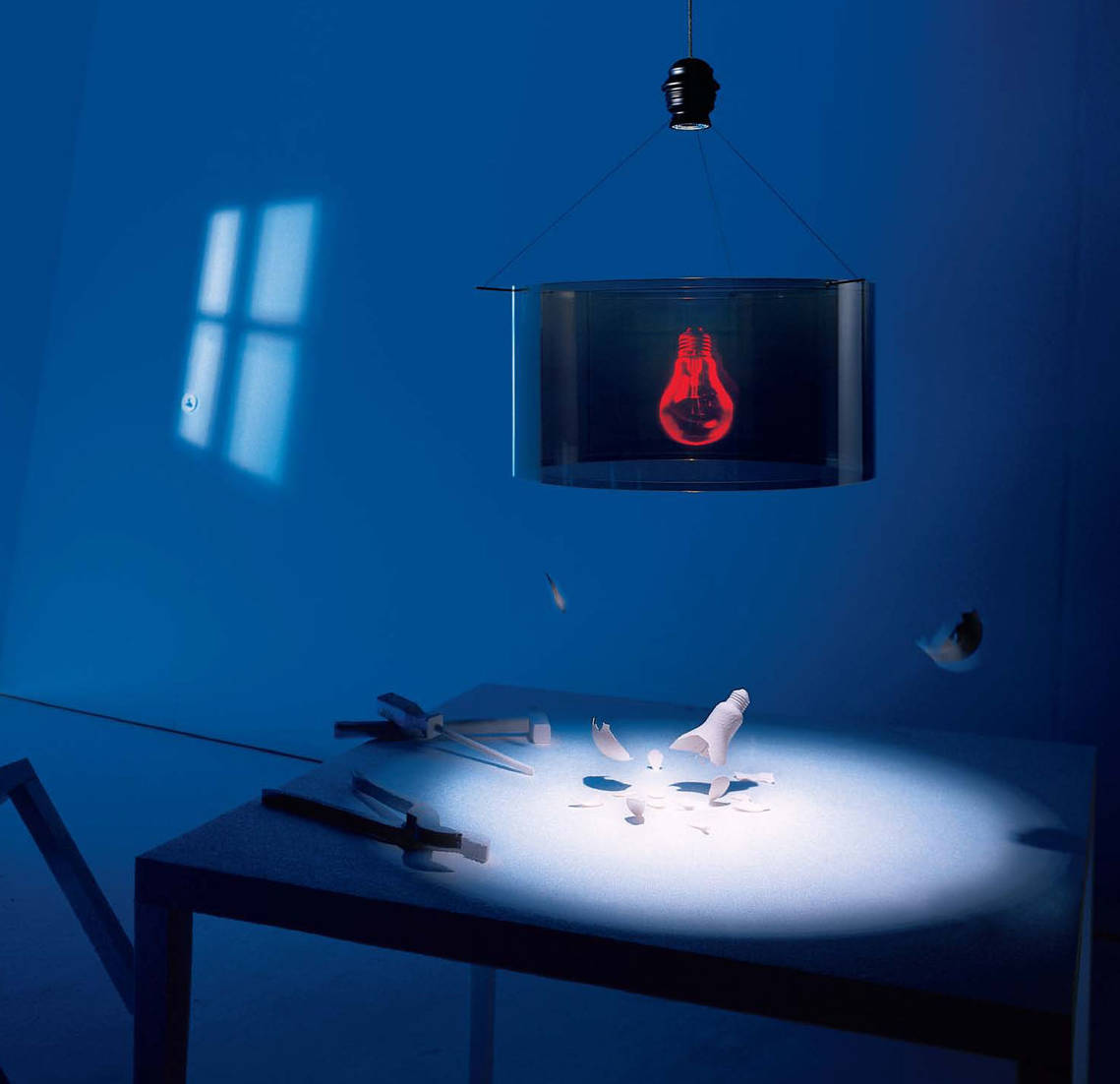 Eddie's Son is a futuristic pendant fixture by Ingo Maurer, one of the most creative and influential lighting designers of our time. What looks like a garden variety screw-based incandescent bulb inside the pendant turns out to be an optical illusion. The cylindrical 'lamp shade' of Eddie's Son is in reality the light screen for a holographic projection. When the illuminant is on, a colorful 360° projection of the light bulb materializes in the middle of the hanging lamp.
Understandably Eddie's Son is a rather delicate device – UV light can damage the film and degrade its holographic image, while excess humidity or cigarette smoke can shorten fixture life. At least maintenance is pretty straight forward: just wipe the light screen with antistatic cloth and avoid contact with all liquids…