Here's a collection of furnishings that showcase creative, leading edge designs, with some pushing the boundaries of materials and processes, while others elevate craftsmanship to a high art. Whatever is your fancy, from chairs to consoles, they will not disappoint!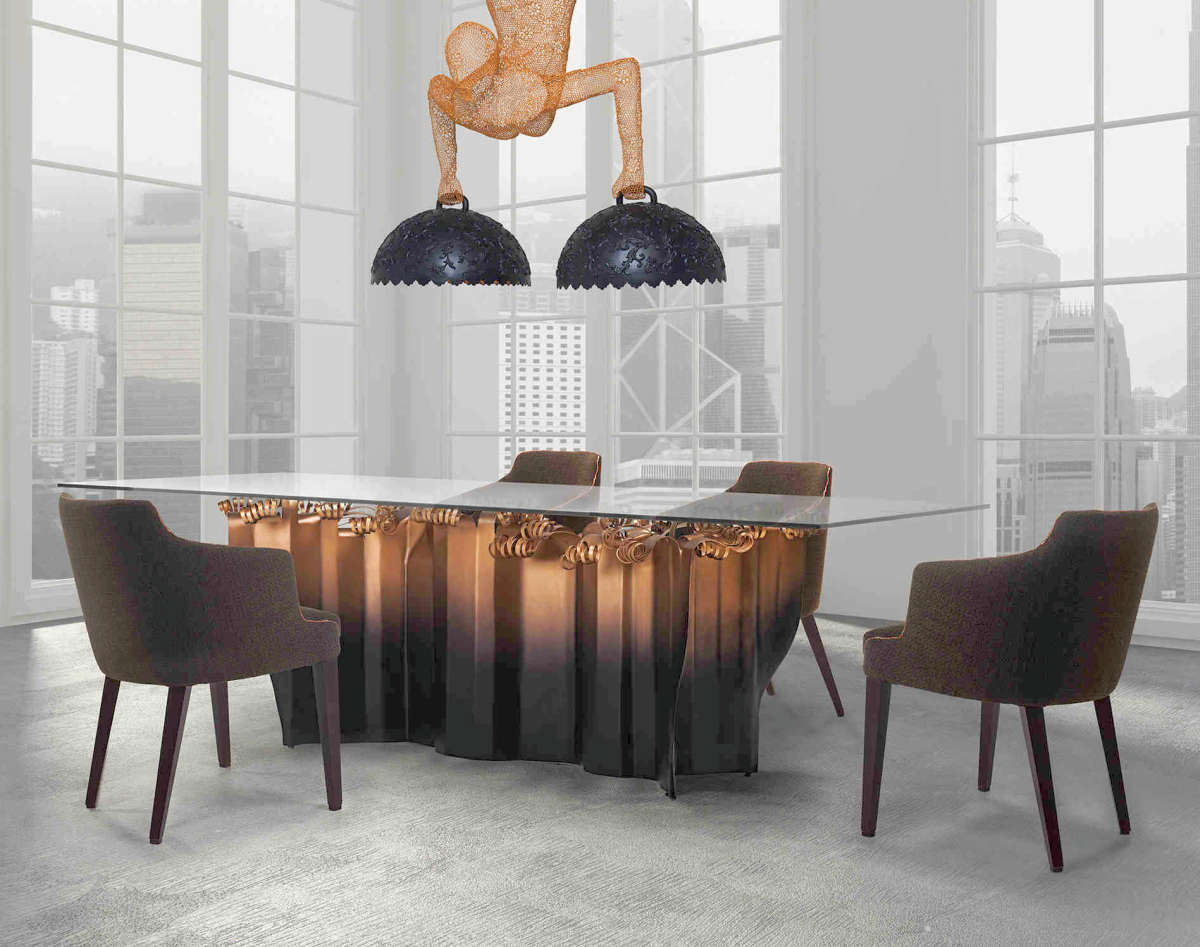 Copper sheets are hand pleated into a stunning forest of angular metal columns topped by an array of free form coils. With the base resplendent in a distinctive antique gradient finish, Kenneth Cobonpue's Vivo Dining Table exudes a cool vibe. The nominal 30.5″ x 68.5″ base is topped by .5″ beveled glass measuring 43.25″ x 94.5″ so dinner guests can admire the exquisite workmanship up close and personal!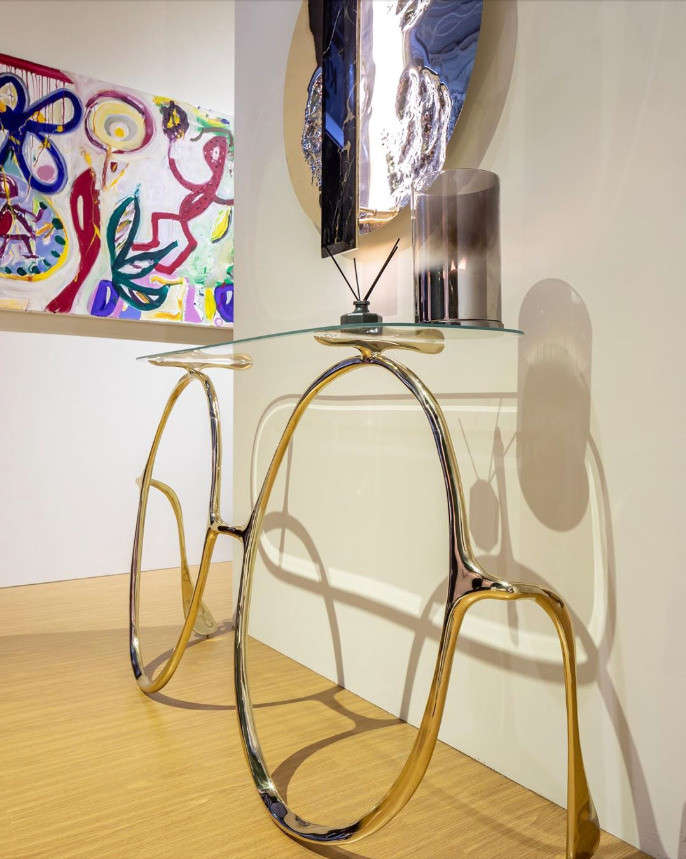 Bessa Design launched this console table as a homage to John Lennon, whose music is still embraced by millions of fans. The console is an artsy interpretation of his signature round glasses – which he purportedly owned many, most being flea market finds despite his fame and fortune. Made of polished brass and extra clear tempered glass, the table measures 59.4″ w x 33.8″ h x 14.9″ d.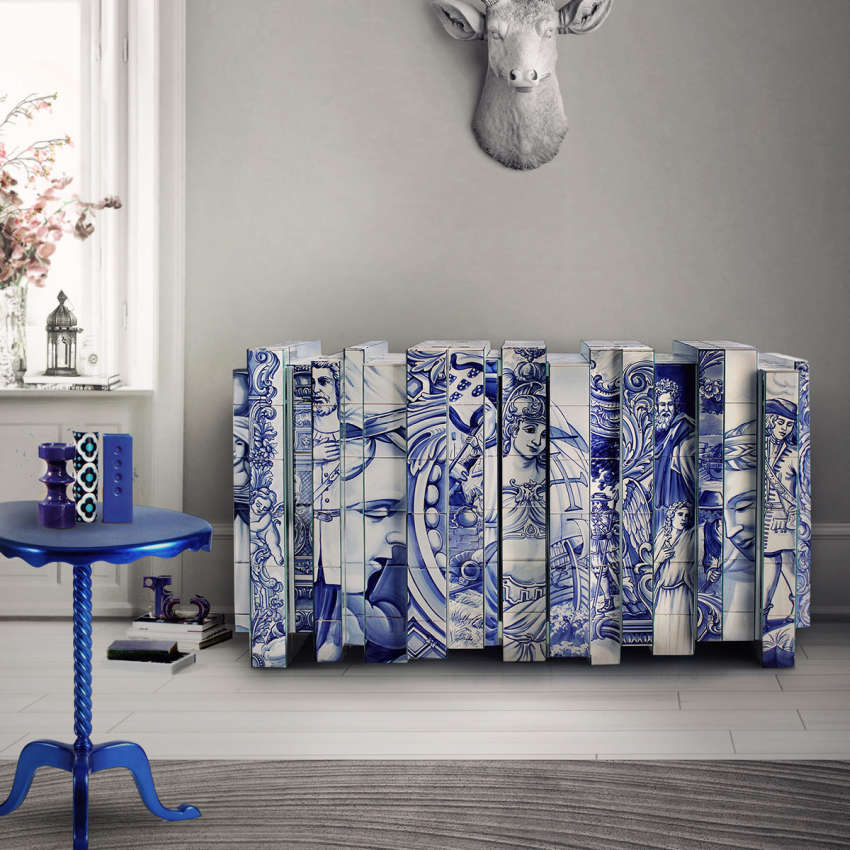 Portuguese artisanal atelier Boca Do Lobo released a limited edition sideboard to celebrate its cultural heritage. The iconic blue Azulejos tiles that grace the country's architecture and monuments were chosen to cover the exterior of the sideboard. The handpainted tiles were designed to depict different periods in history, both religious and secular, including its past as a maritime power. To match the grandeur of the exterior, the interior door and drawers are all gold leafed, while the shelves are of bronze glass. A sepia tile version is also available.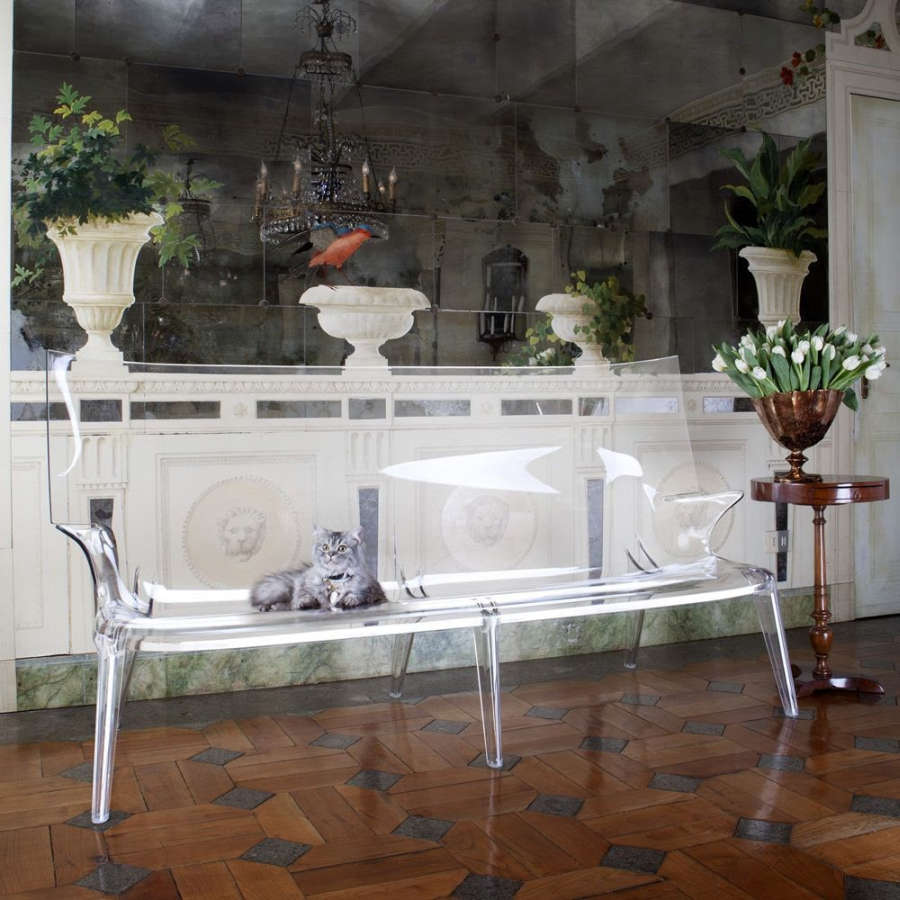 Created by celeb designer Philippe Starck  and fabricated by Kartell, this 2-seater is apparently a technological triumph for the manufacturer. Produced in a single mold via injection molding, the Uncle Jack Sofa is 74.8″ long and weights 66 lbs. Suitable for indoors or outdoors, the polycarbonate seating is available clear in transparent (as shown) or smoke finish, as well as opaque in white or black.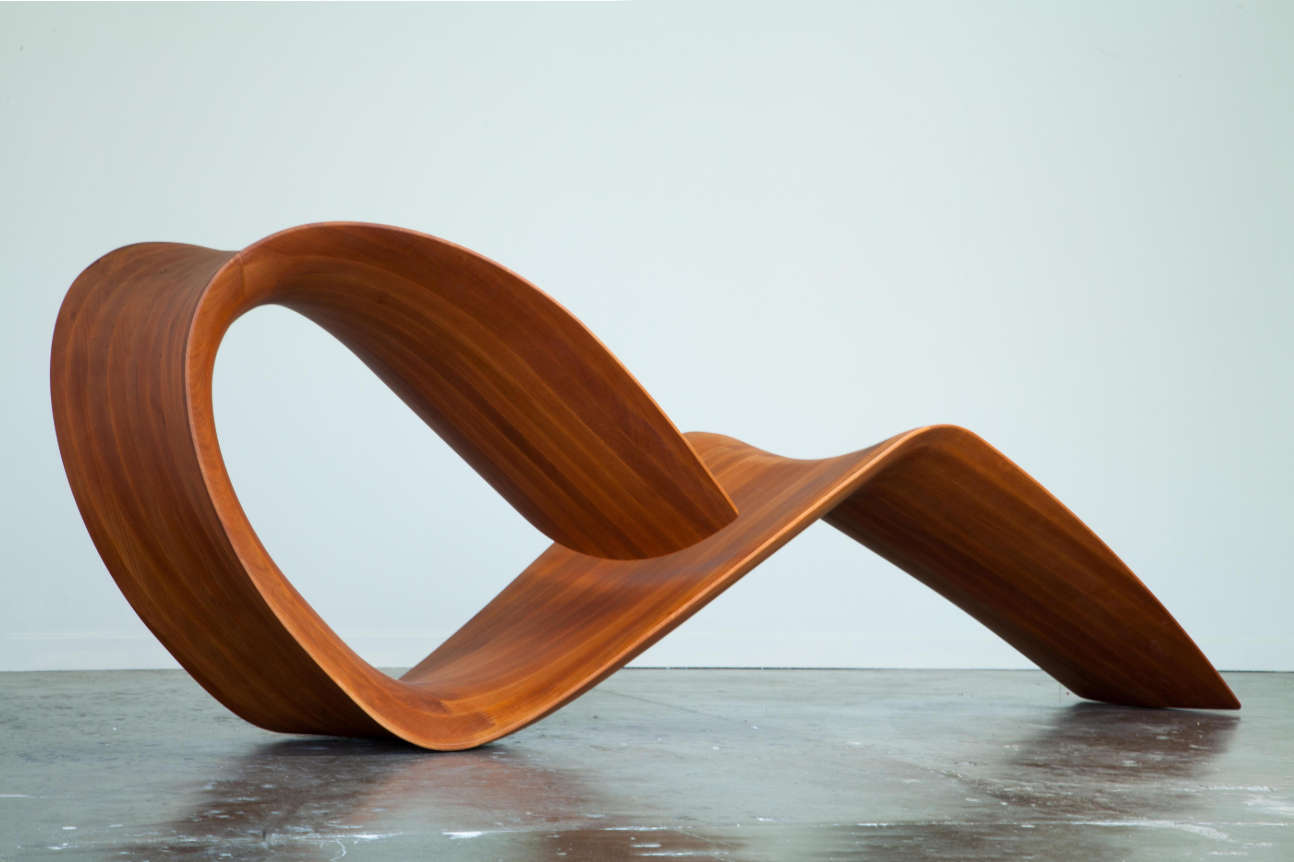 Made of Jequitibá, a wood native to South America, the curvilinear chaise by Brazilian designer Guto Índio da Costa is an exercise in minimalism. Distilled to its essence, this lounger is a single sinuous ribbon of wood sculpted with hand and digital tools by high end furniture manufacturer San German. Aside from Whisky, other finishes available include Natural, Nogueira, Dark Walnut and Black Paint.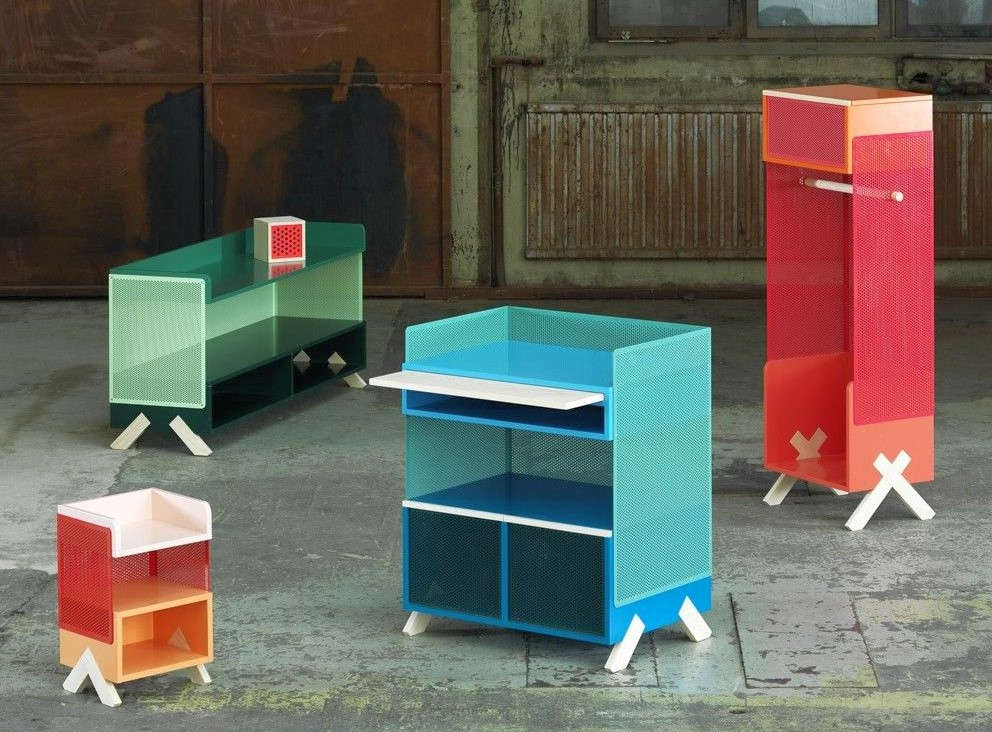 Considering Note Design Studio is based in Stockholm, which gets less than 5.75 hrs of sun in the dead of winter, the product design firm's quest to bring more light into cavernous office spaces is certainly understandable. Their solution is to create storage units, aptly named Peep, with custom perforated aluminum panels to allow sunlight filter through the otherwise solid cabinets. These see through panels are attached to wood bases and shelves for structural support. Accessories include pullout shelves, clothes rods and sliding perforated doors. In lieu of fixed shelving, Note has a line of companion modular storage boxes called Keep that stack and/or nest inside Peep.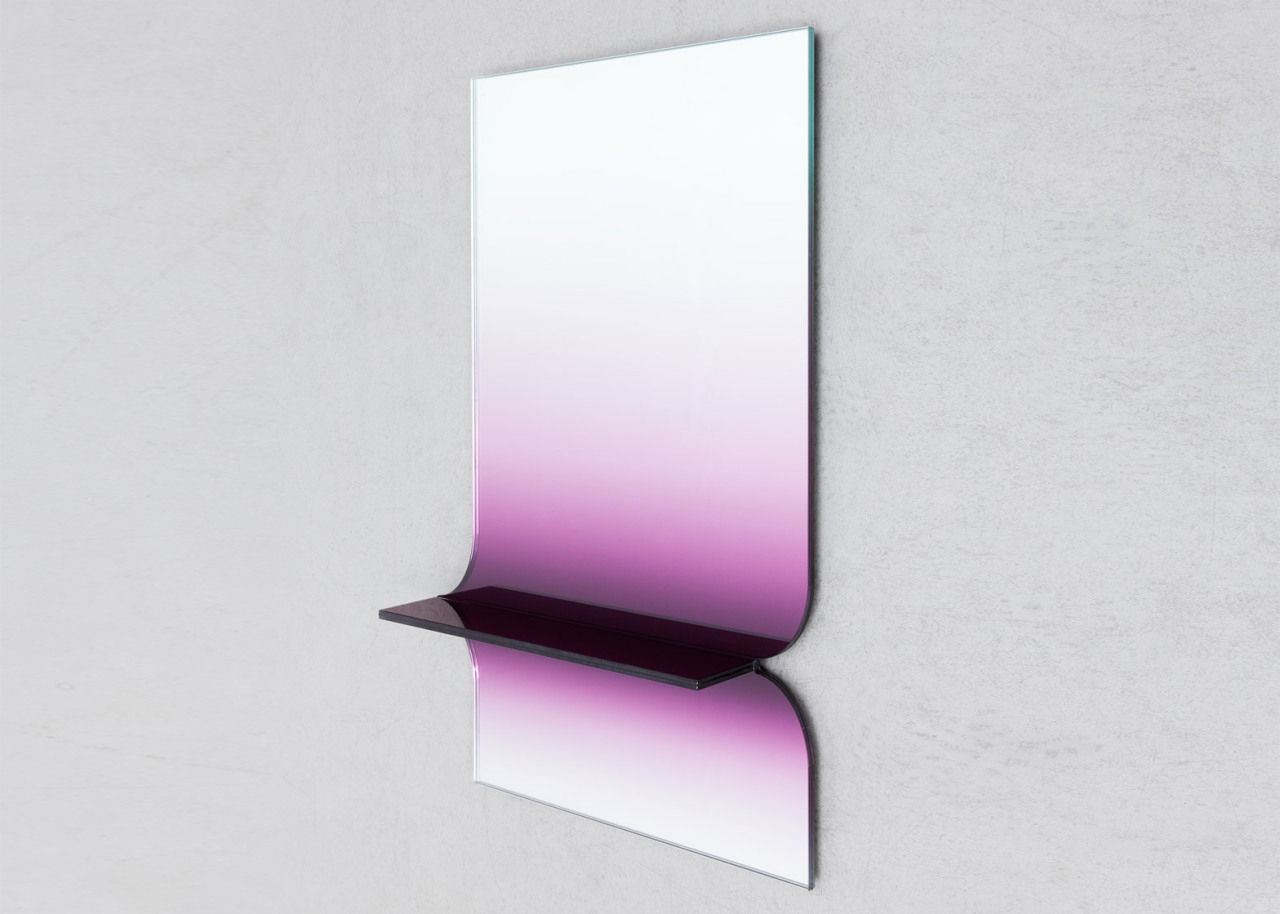 To Latvian designer Germans Ermičs, he creates ethereal objets d'art from glass that happens to be furnishings, and not the other way around. With later works in his Shaping Color series, the artist pursued minimalism in both form and chroma to push the boundaries of his passion. In this case, Ermičs grounded the shelf visually with a deep, rich purple and then faded the color away in the curved mirrors like a graduated color wash – except the medium here is glass instead of watercolor paper…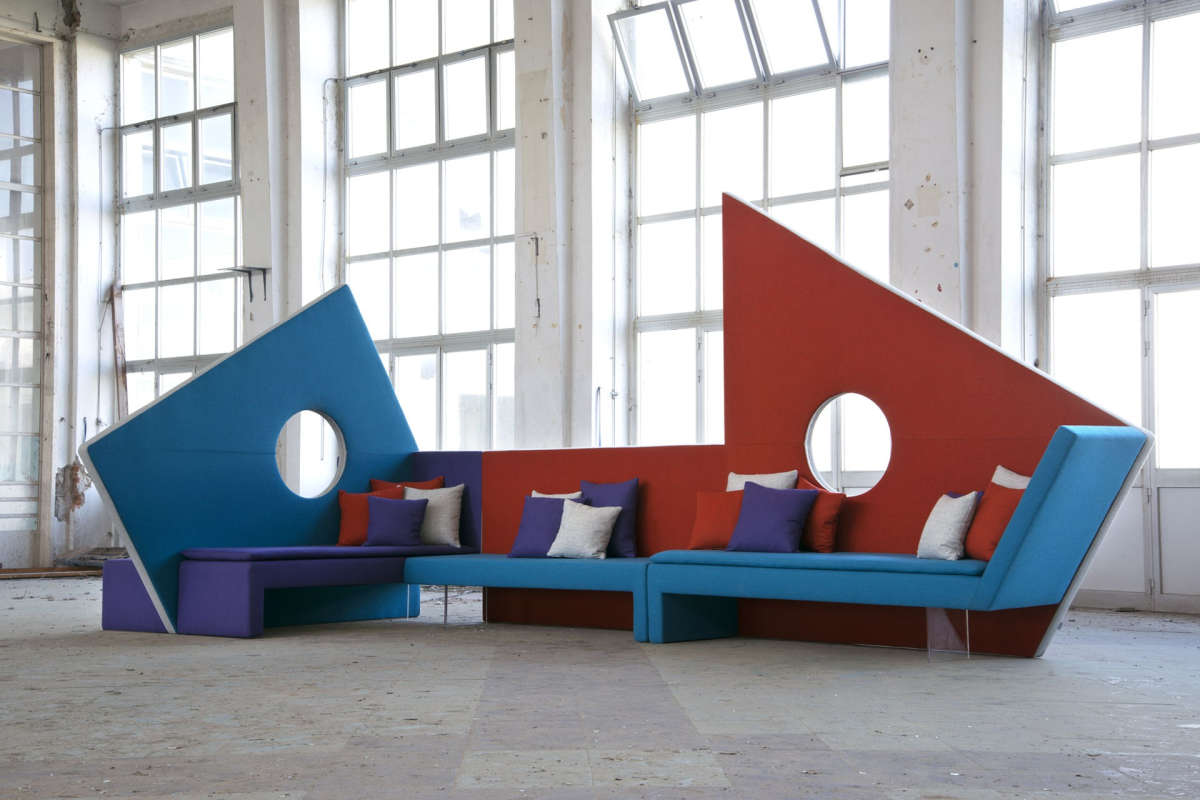 Micromega is a suite of contemporary modular sectional seating designed by Roberto Romanello for Adrenalina. Designed for commercial buildings (or homes with high ceilings), the base units come with a variety of options that allow them to scale well in large spaces. Romanello credited inspiration for the design's circular and square elements to the Vitruvian Man by Leonardo Da Vinci. The punchy colored furniture is made of multicolor felt or plain color velvet stretched over high resiliency polyurethane foam and plywood structure. Strategically placed plexiglass or steel feet amongst the upholstered paneled supports add a whimsical touch.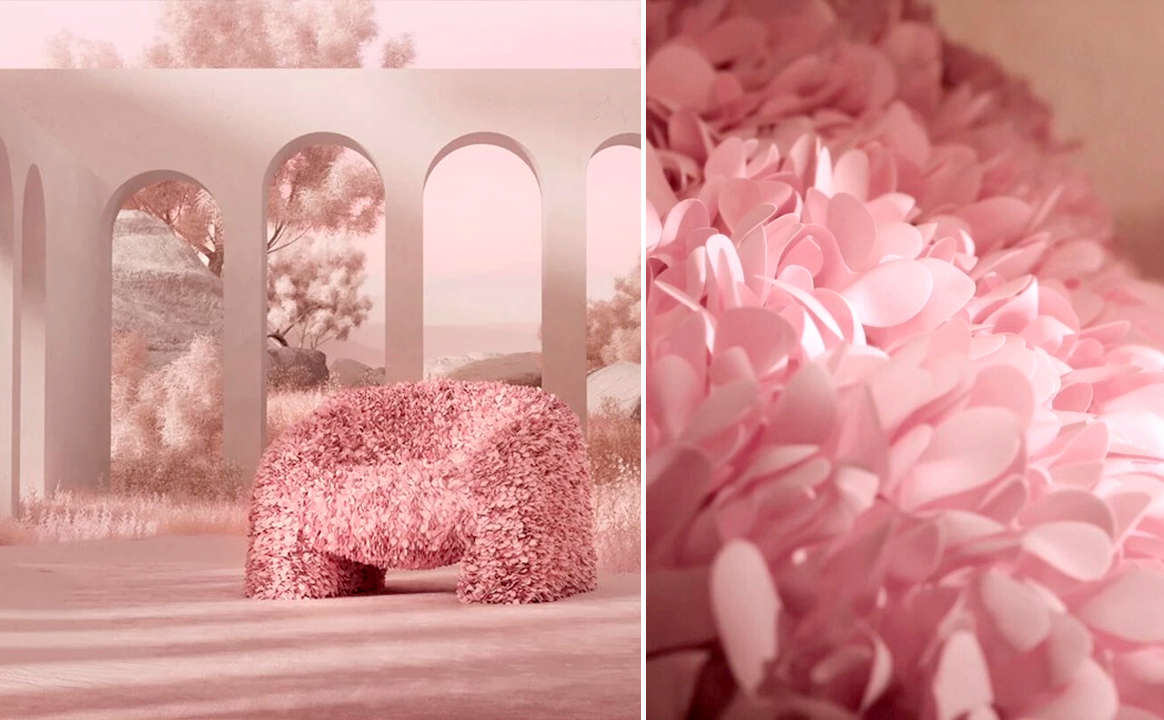 There's a good chance meditating in this chair can help one reach nirvana. Called Hortensia (aka hydrangea), the armchair started life as a 3D rendering. After his drawing went viral on social media, graphic artist Andres Reisinger decided to make the chair a reality with the help of product designer Júlia Esqué. The result is a chair with 20,000 laser cut polyester 'petals' made to capture the namesake flower's appearance and evoke the heavenly cloudlike experience of sitting in a floral pouf!