Hankering for lighting with character or fixtures to reflect your personal style? This collection of artisanal light fixtures celebrates inspired metalcraft, bespoke cobblery, awesome glasswork and intricate basketry. I hope you too will see the light. Enjoy!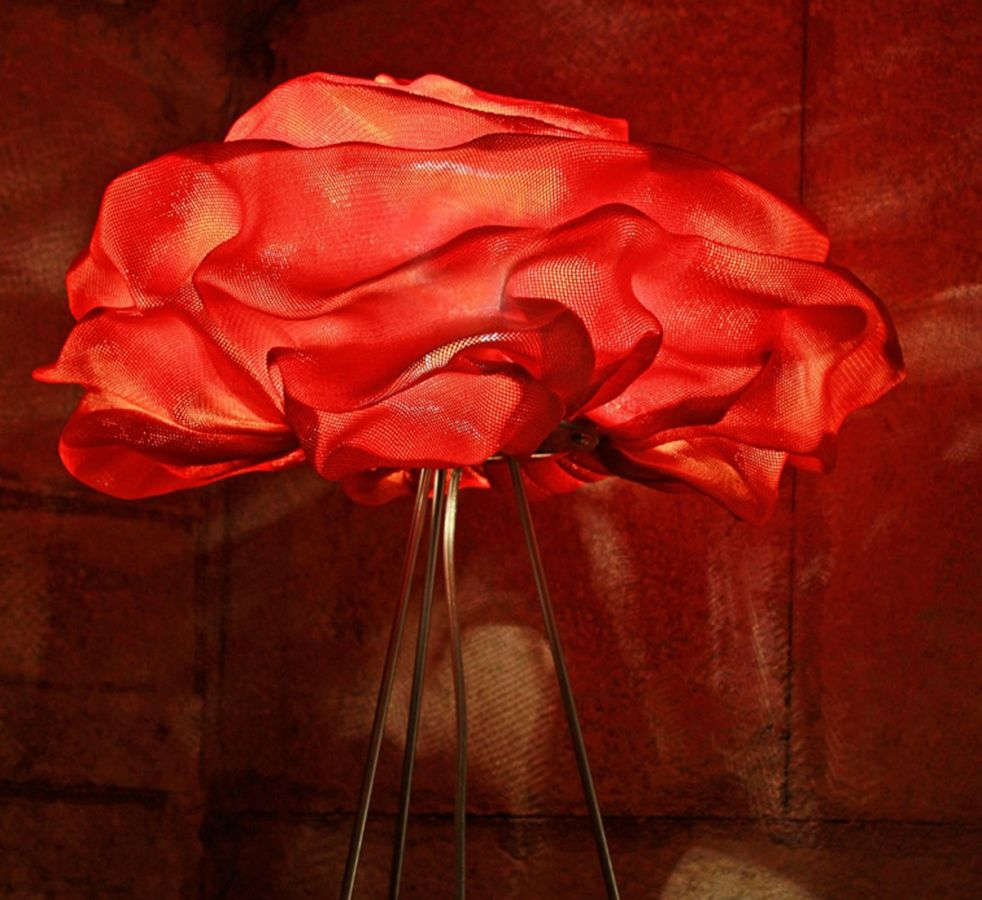 Resembling a blooming red rose, Nevo by Arturo Alvarez is actually a table light fixture of hand-scrumpled painted steel mesh, the form of which changes depending on one's vantage point. Elevated on tripod-like legs, the Medium Table Lamp is 14.2" diameter with shade height of 7.9" and overall height of 27.6".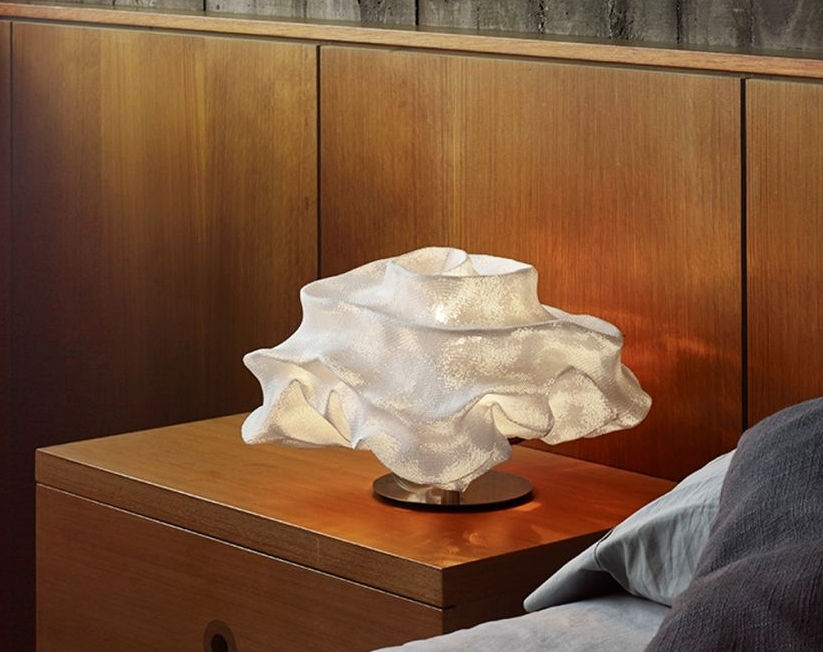 Handmade by a-emotional light in Spain, each one of these table lamps' organic shades is unique. Supported by a single post base, the Nevo Small Table Lamp is 12.2" diameter, with shade height of 6.7" and overall height of 8.7".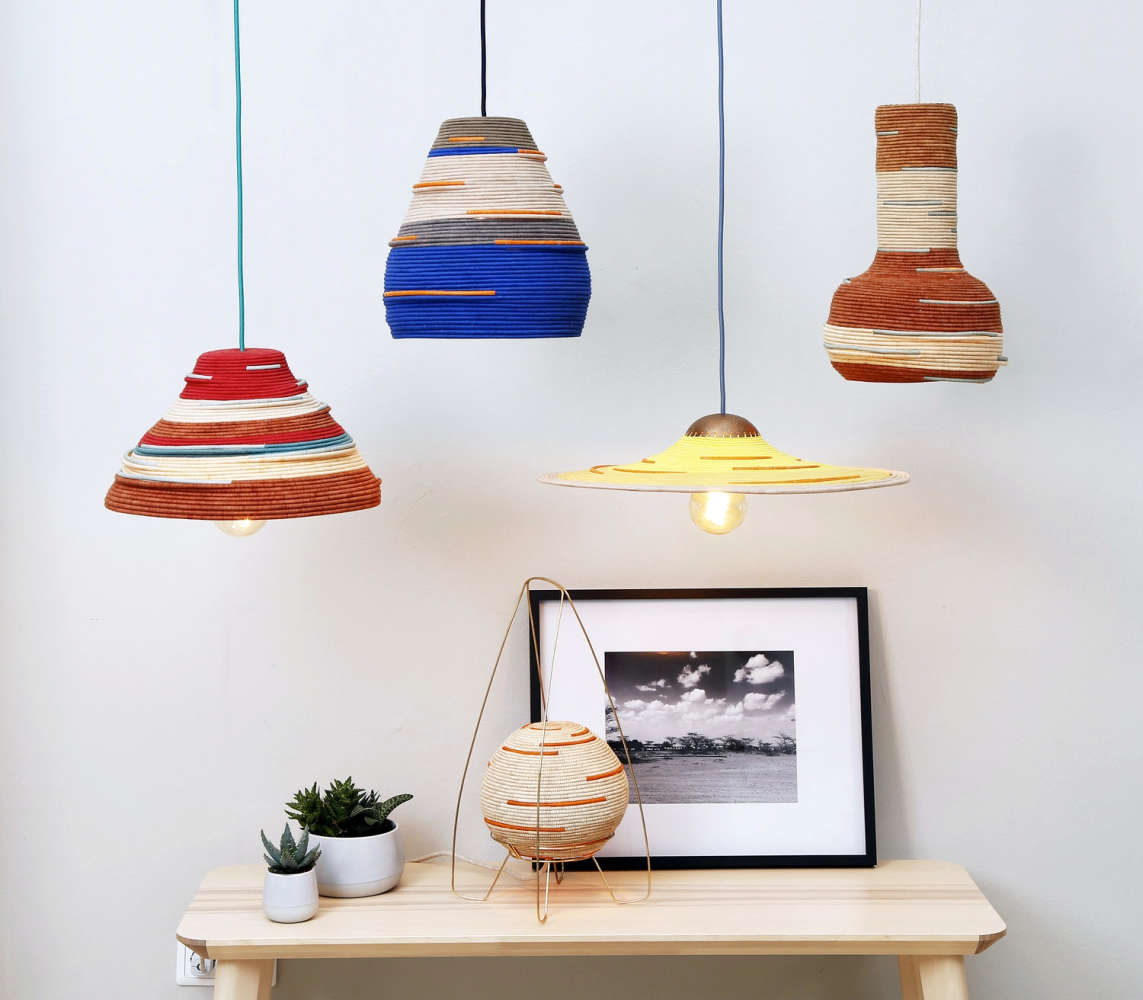 Ghanaian fashion designer Akosua Afriyie-Kumi shifted her talents from designing handbags to pendant lights made of colorful organically dyed cotton yarn and natural straw to help refugees in neighboring Burkina Faso. These 10″-21″ suspension fixtures honor the traditional weaving techniques as well as designs of the Tuareg and Fulani people. Ihaya sports a large, flat rimmed shade to reflect the nomadic lifestyle of the Tuareg, and is topped by a hand hammered bronze cap in a pattern unique to the artisan. Other styles, like Oude and Bella, are inspired by the food platter lids of these West African cultures.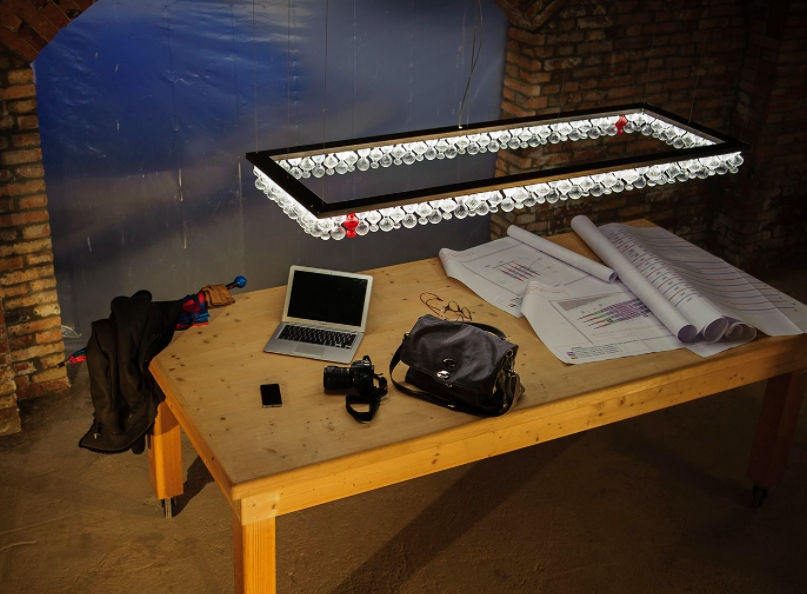 The Rea collection by Murano lighting manufacturer Andromeda comes in a plethora of shapes and sizes to satisfy any space. This rectilinear version sports 2 red lamps in an otherwise field of clear glass bulbs to add some pizzazz. The linear LED fixtures are 4.7" h x 2.4" d and come in 3 lengths ranging from 48" to 70.9". Circular pendants are available 4.7" h, in either 47.2" or 70.9" diameter, while the rectangular suspension lights come in 4 sizes, starting at 4.7" h x 70.9" w x 23.6" d to an impressive 4.7" h x 141.7" w x 47.2" d. The hand crafted fixtures are fully customizable, so the chandelier size and shade color can be changed to meet specific needs.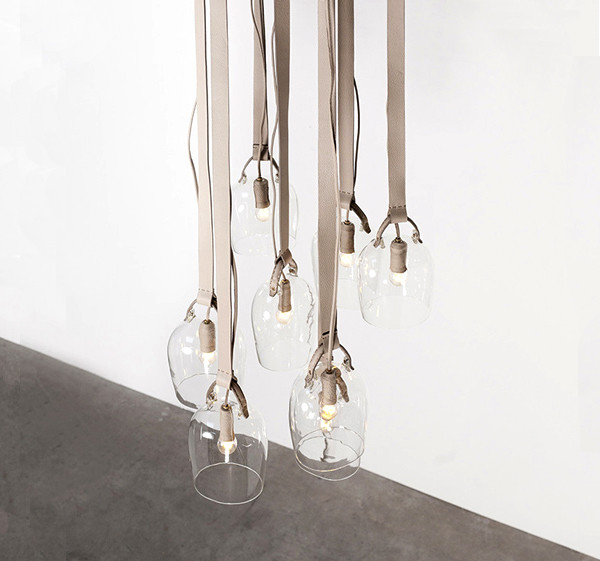 Invited by Fendi to push the boundaries and explore how discards from its manufacturing process can be upcycled into objects of desire, Formafantasma's designers Andrea Trimarchi and Simone Farresin masterfully showcased the craftsmanship of the couturier's exquisite leather goods in the Fendi Bell Light Suspension. The glass pendants are based on trashed Fendi leather belts with more of the material being skillfully used to wrap the fixtures' hooks and wiring. The final result is a series of pendants that highlight the beauty of leather in totally unexpected ways.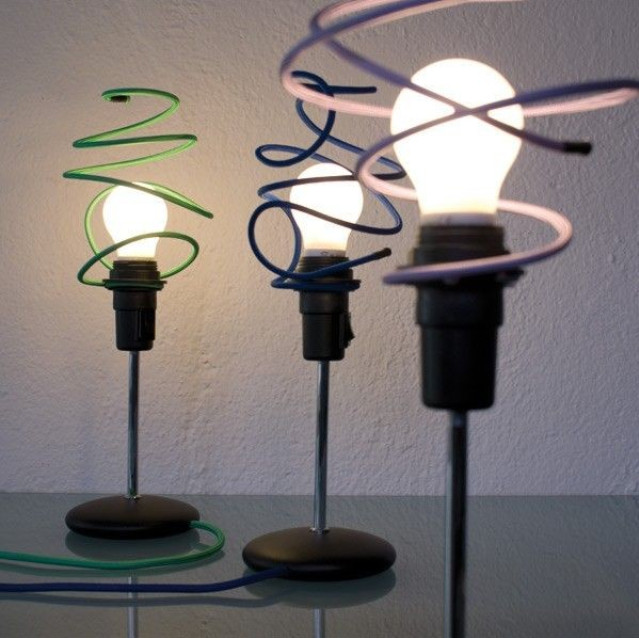 Garabato, which roughly translates into 'Doodle', was created by Stéphanie Maurey, David Tamame and Alejandro Delgado of enPieza eStudio. The minimalist fixture of carbon steel is hand shaped to resemble a squiggle and covered in nylon coating. The design is available as a table lamp or ceiling pendant and comes in various sizes and colors.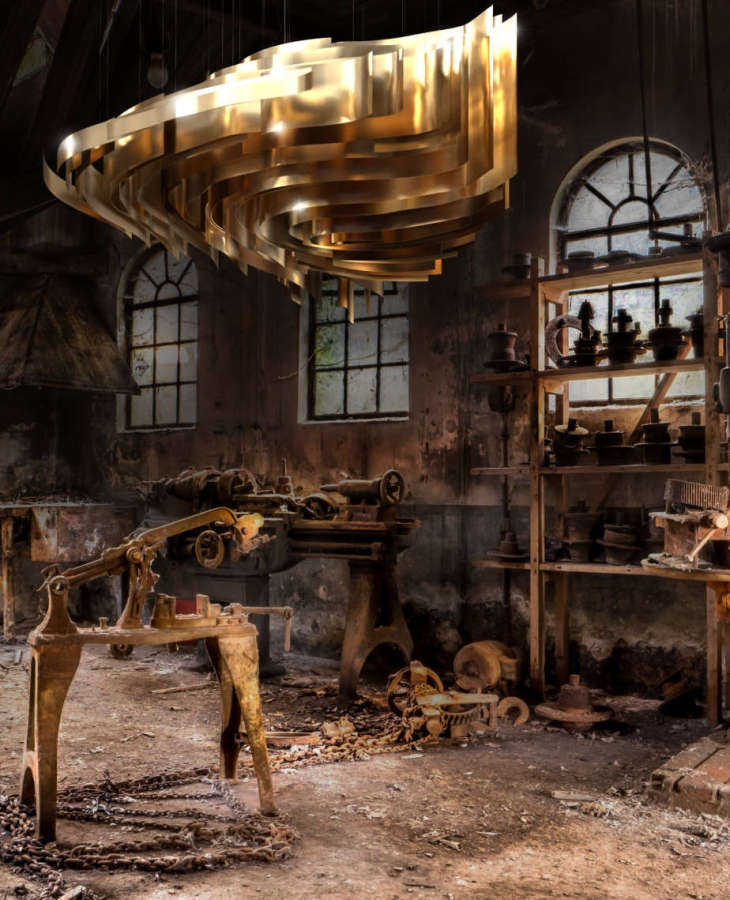 Yellow Goat Design (aka YGD) is an award-winning firm that designs and fabricates custom lighting and other statement pieces for projects worldwide. While I'm not seeing much of its touted biopunk provenance, there's little dispute about the stunning looks of the chandelier which measures an imposing 6'-6" in diameter and 2'-3" h. Rolled sheets of anodized aluminum are used to create the concentric swirls and glittering reflections from strategically placed LED downlights amp up the visual punch.