Today I'm going to share some amazing pendant fixtures with you. As some of the most versatile and functional lighting products, they can be placed in the middle of a room to create focus, or provide much needed illumination in a dark, cavernous space, and the height can often be adjusted to meet changing needs. From glitzy Swarovski crystals to diaphanous loomed silk, industrial birch ply to brutalist nickel cable, the suspension fixtures shown here in a diverse range of materials are guaranteed to perk up any space!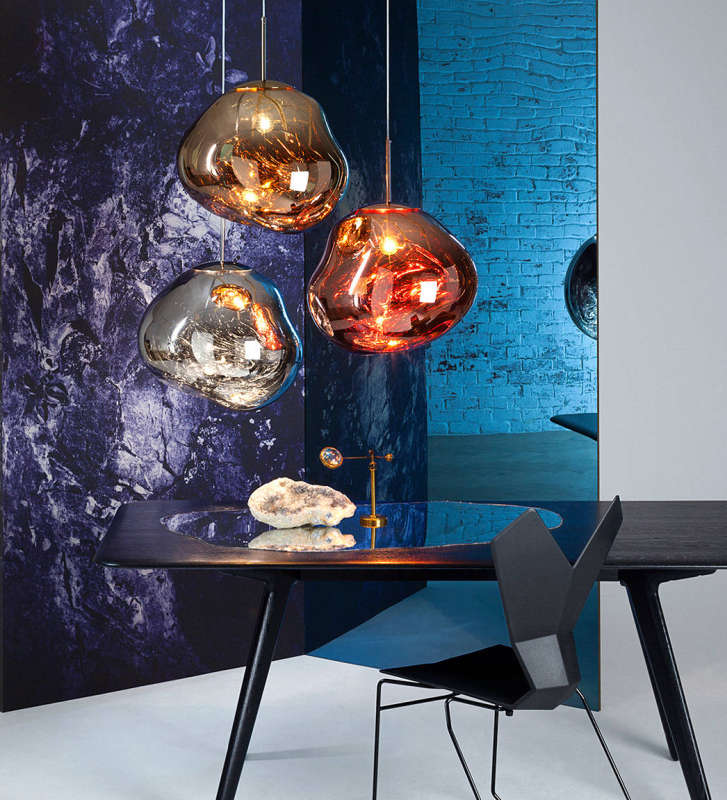 Tom Dixon partnered with Front Studio, a Swedish product design firm, to create a lighting line that is an amazing celebration of both Japanese wabi-sabi aesthetic and German precision engineering.
The bulbous, organic Melt Light is delightfully amorphous with a high degree of transparency and reflectivity. The light fixtures are produced by blowing melted plastic polymers under high pressure into molds and cooled into shape. Copper foil is then vaporized inside the polymer casing to produce the exquisitely spectral finish. Thanks to the process, every fixture is unique!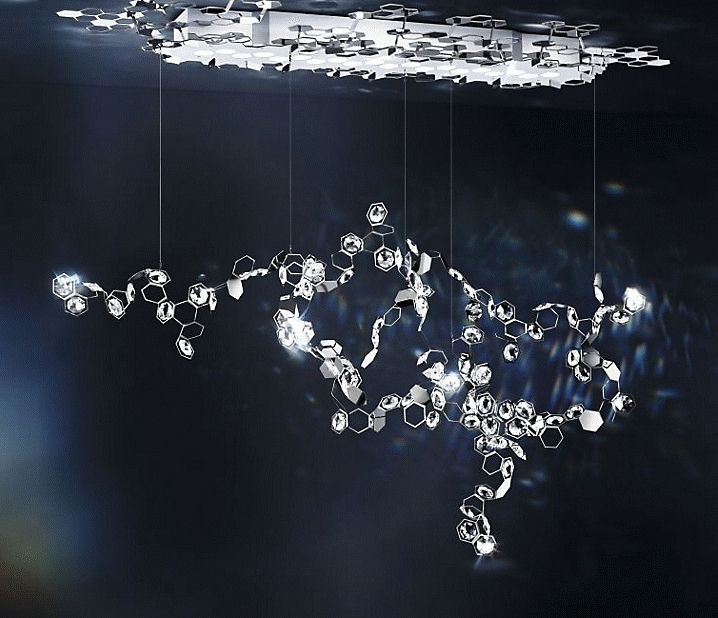 Hanging from geometric diffusers, sparkly crystals from the Swarovski Crystalon LED pendants are delicately suspended in a sculptural metal structure that is composed of small hexagonal frames. Crystals interspersed in the otherwise empty frames add dynamic tension and a touch of glamour to the contemporary chandelier.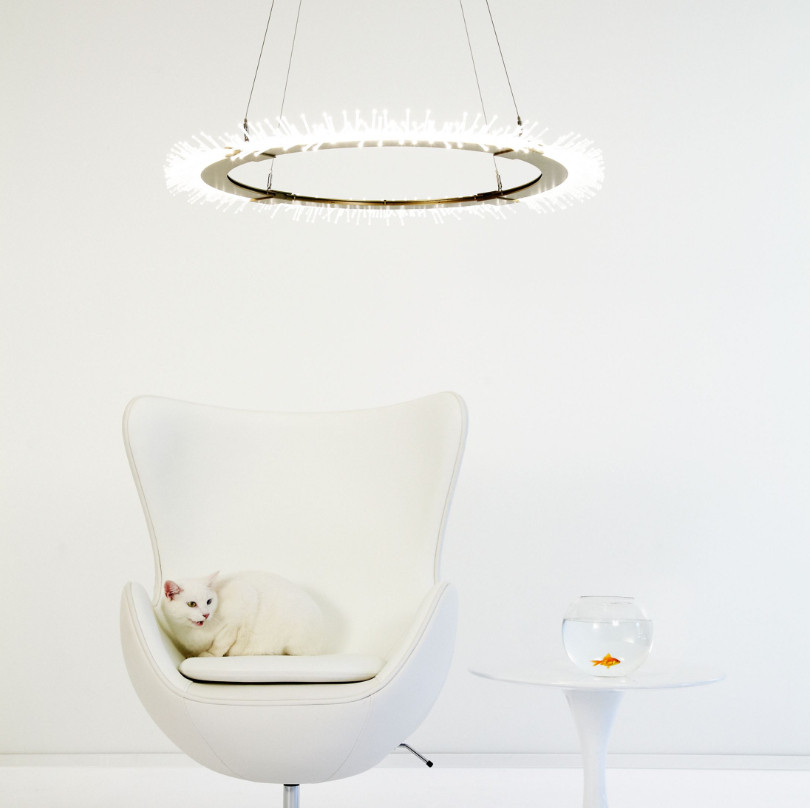 In this case of nature inspired lighting, the Anemone Circular LED Pendant by Hubbardton Forge features a 36.9" circular guide which lights up the acrylic 'tentacles' in the perimeter with a dimmable 48 W lamp. The cable-supported fixture can be installed between 18" to 85", and in sloped ceilings of up to 45 degrees. A plethora of finishes are available to match any color palette: Gold, Black, Silver, Satin Red, Satin Aqua, and Satin White.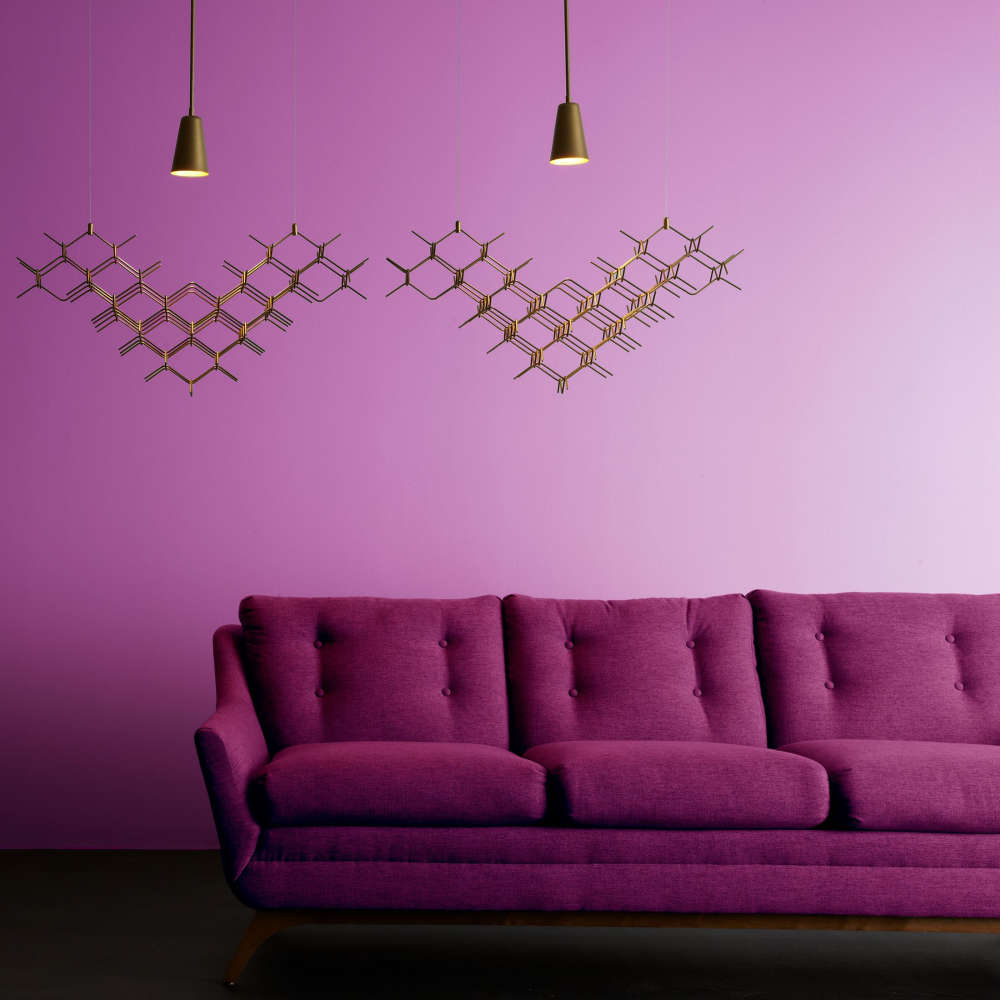 The Hive Pendant from Vermont Modern is a ceiling light fixture with a retro feel. The quirky two-part design definitely encourages hands on tinkering to satisfy one's creative urges – although the decorative 3-dimensional steel element must be installed at one of three fixed distances from the light source, the overall height of the assembly can be field adjusted. Also, the steel accent and light fixture can be separately specified in a wide range of finishes to allow further customization.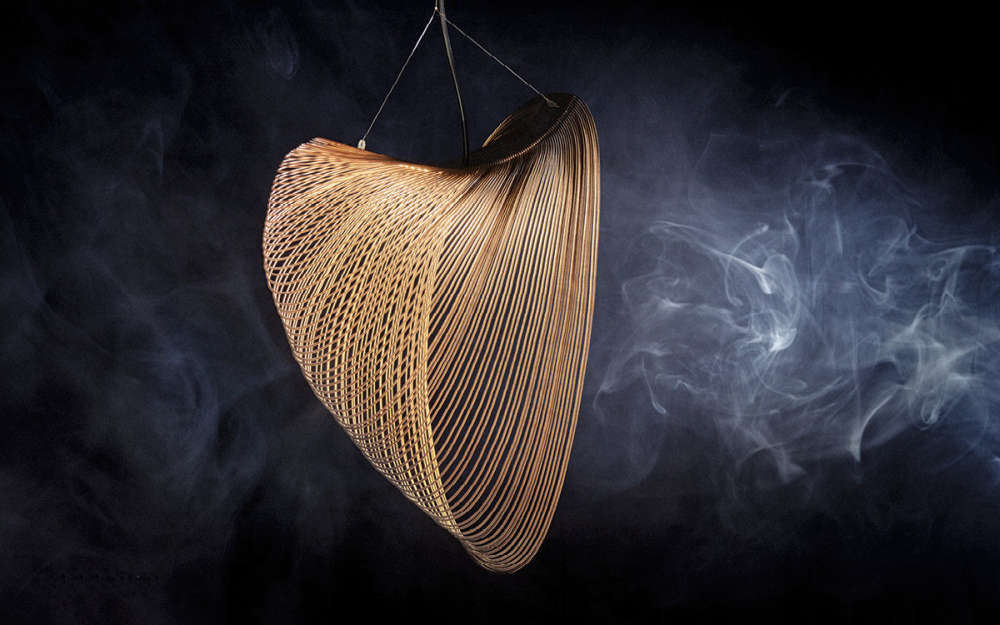 Hungarian designer Zsuzsanna Hovarth has created a suspension light fixture by slicing thin, flat sheets of birch ply with laser, illuminated by a barely discernible sliver of OLED. The result is an ethereal, undulating pendant, whose light shines on gossamer rings that ripple to the slightest air movement. Befittingly, the Luceplan fixture is called Illan. In Hungarian, this means a fleeting experience, an invitation to saveur the moment before it is too late…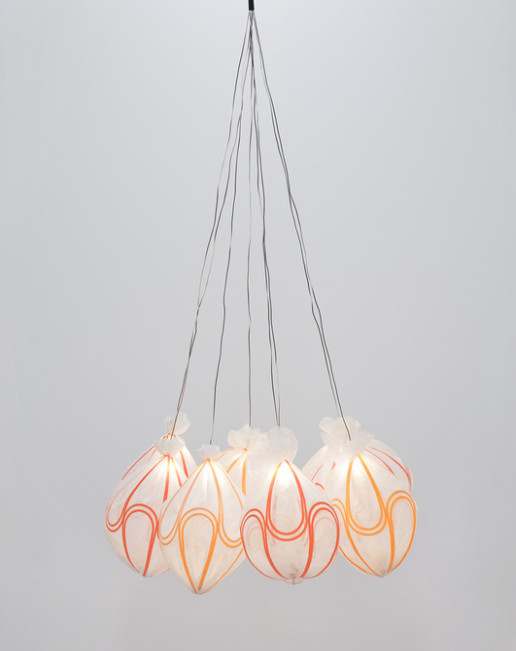 Design researcher Michelle Baggerman, worked at KYOTO Design Lab to find ways to showcase traditionally produced silk in new sustainable ways. She was able to preserve silk's unique visual and tactile properties in her Woven Light pendants by reinforcing the 14-dernier fabric with 3D printed polylactic acid (PLA), a thermoplastic polyester that is both bio-based and biodegradable.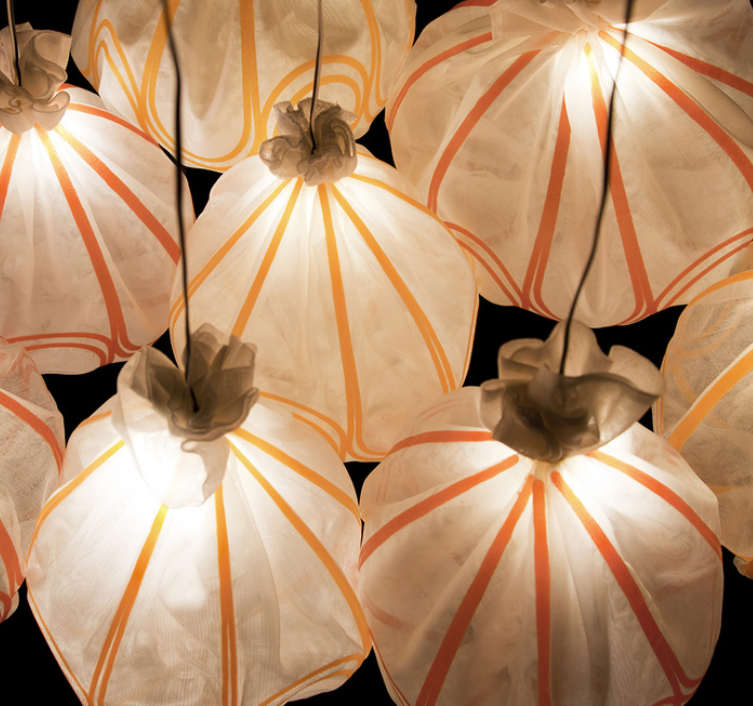 By using a full width of material, Michelle eliminates cutting wastage, and 3D printing of the plastic parts will leave no production waste.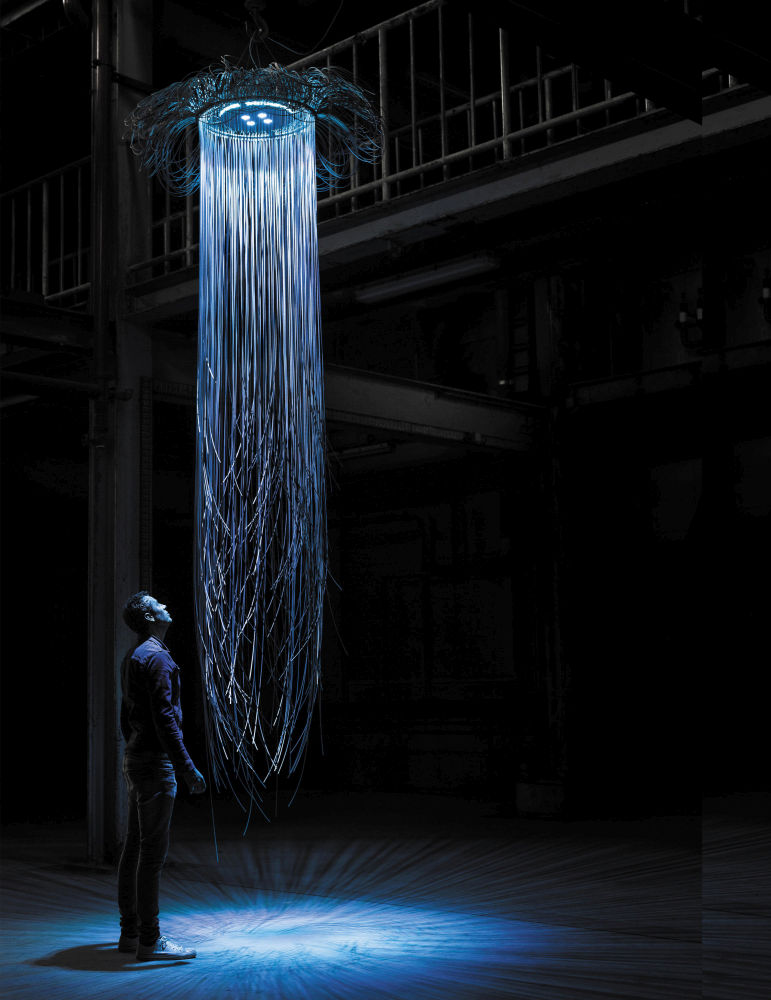 This mesmerizing suspension lamp is by Dutch designer Ralf Frickel for Quasar Holland. It is Ralph's assertion that 'A lighting object has to be alive all day long. Whether it's lighted by natural light during the day or by artificial light during the night… It's this continuous interplay of light and shadow that creates a living object.' Inspired by a glow-in-the-dark jellyfish called Pelagia Noctiluca, the Pelagia Pendant certainly lives up to his vision. The LED fixture is hand made from hundreds of yards of nickel wire cable which shimmers in the daylight, while throwing off intriguing shadows at night.
Suitable for any soaring space, the heroic chandelier comes in 2 standard heights: 16.4' and 23', with diameters of 43.3", 59" and 71". While one may not be inclined to do so, it's a safe bet there is enough wire rope to reach a real life Rapunzel!