Honestly, I wasn't sure what to expect, but was pleasantly surprised by these innovative radiators when researching for this blog. There are rainbow-colored radiators for kids and the kids at heart, micro-thin heaters that defy the traditional clunky heater stereotype, and sustainable radiators that are 100% recyclable. With loads of creativity and a healthy dose of technology, these radiators will help chase away your winter blues!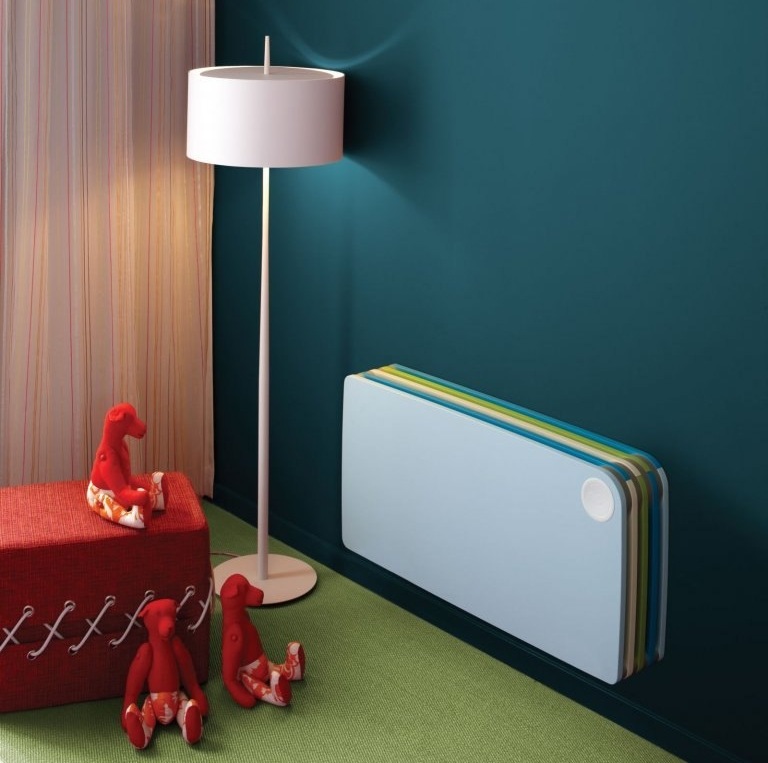 Jaga's aptly named Play radiator is perfect for a child's bedroom because it's cool in more ways than one. Most obvious is the wide range of color options available. Play4Boy comes with a powder blue cover with mix of cream, bright blue and green panels stacked behind; Play4Girl has a pink front with red, cream and powder blue shades; and Piano is a black front alternating with white in a keyboard arrangement. Simple neutrals in all black or all white are also offered. The heater comes in 2 widths – 31.5″ w x 19.7″ h and 47.2″ w x 19.7″ h.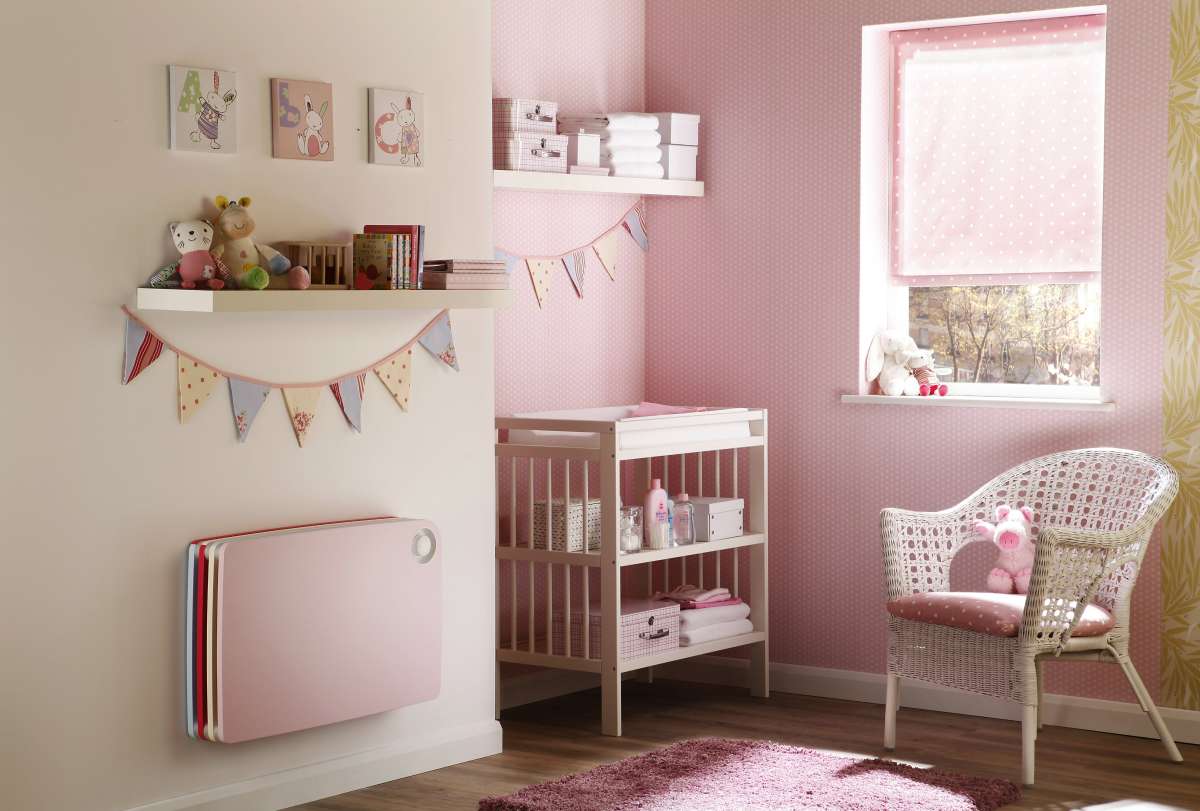 A plethora of child safety features are built into the heater. The MDF casing of lacquered polyurethane paint has rounded corners, side panels and metal grille are pencil-proof against busy fingers, heating elements are hidden with lockable temperature controls, and most importantly the heater surface never gets too hot.
On the green front, the Belgian manufacturer's LowH2O technology uses about a tenth of the water needed in traditional radiators, dramatically reducing water consumption but touts to be 10% more energy efficient while providing faster and more even heating. To top it all, the pure copper and aluminum heat exchanger comes with a whopping 30 year guarantee!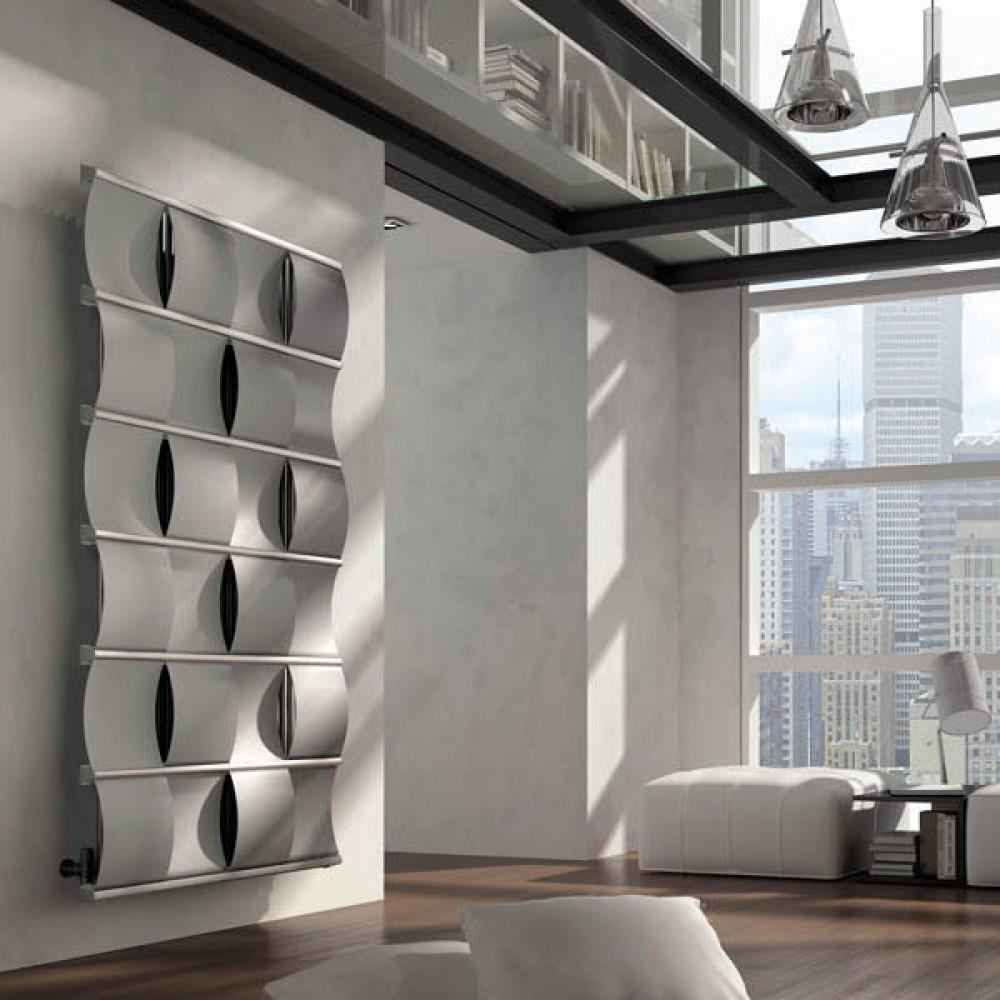 Designed by Marcello Maniscalchi and Jessica Chon as a result of collaboration between IRSAP and the prestigious Politecnico di Milano (Polytechnic University of Milan), the Curval heater is a statement piece on the wall. Finished in Metallic Aluminium Grey, the offsetting sinuous waves transform the radiator into a monolithic piece of functional art for contemporary homes. The heater is available in 2 heights, 29.9″ and 71.7″ and 4 widths, ranging from 20.0″ to 48.4″, with 4 thermal outputs from 600 to 1450 Watt.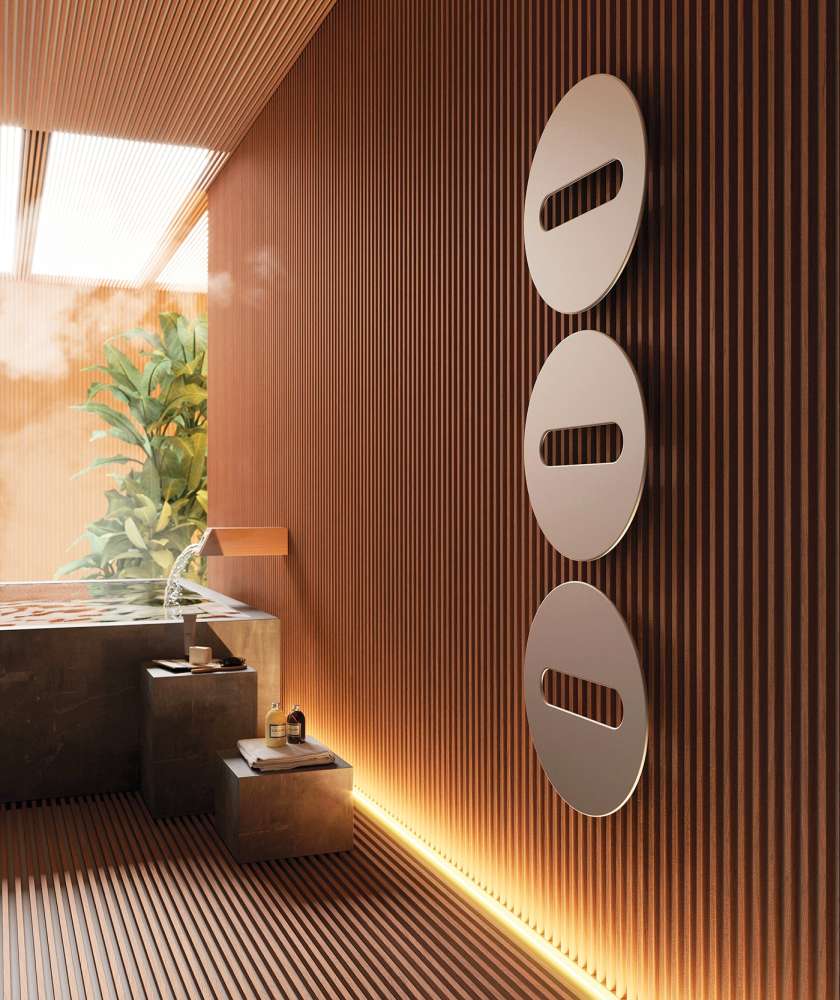 Cordivari's award-winning Sfere was the brainchild of Italian architect Simone Micheli. With use of the manufacturer's advanced ExtraSlim technology and remote radiator valves, Simone was free to push the boundaries of heater design. At a mere 7 mm (.28″) thickness, the carbon steel heater is the epitome of simplicity and elegance. The minimalist circle of Sfere symbolizes the earth in 2D with the slot in its 'equator' intended as a towel holder. However, the versatile wall mounted heater can be deployed singly, as a trio, or installed as be part of a central heating system. The radiator is 19.5″ dia, and 2.76″ to 3.15″ deep. Finishes come in 80 colors, including glossy and matte. Valves can be standard or wall fit for a cleaner look.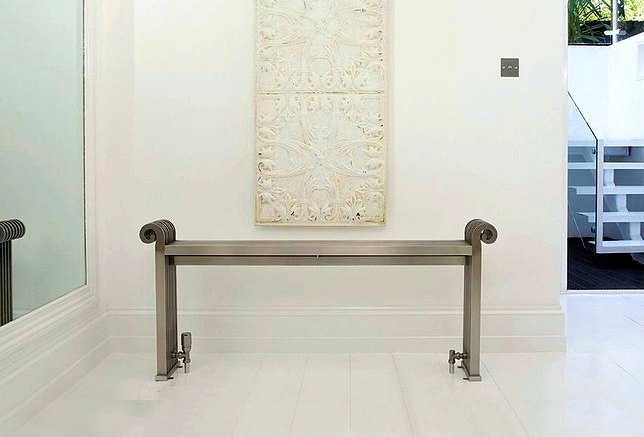 Who can resist the welcoming sight of a heated seat on a cold, blustery day? This elegant bench radiator will sit equally comfortably in your bathroom or anywhere in the house. Square tubes create a nice counterpoint to the graceful curves of the arms while preserving the classic lines. The Grandeur radiator seat from Aeon is 26″ h x 8.3″ d and comes in 5 lengths from 38″ to a spacious 79.9″. The stainless steel heater is available in brushed or polished stainless steel.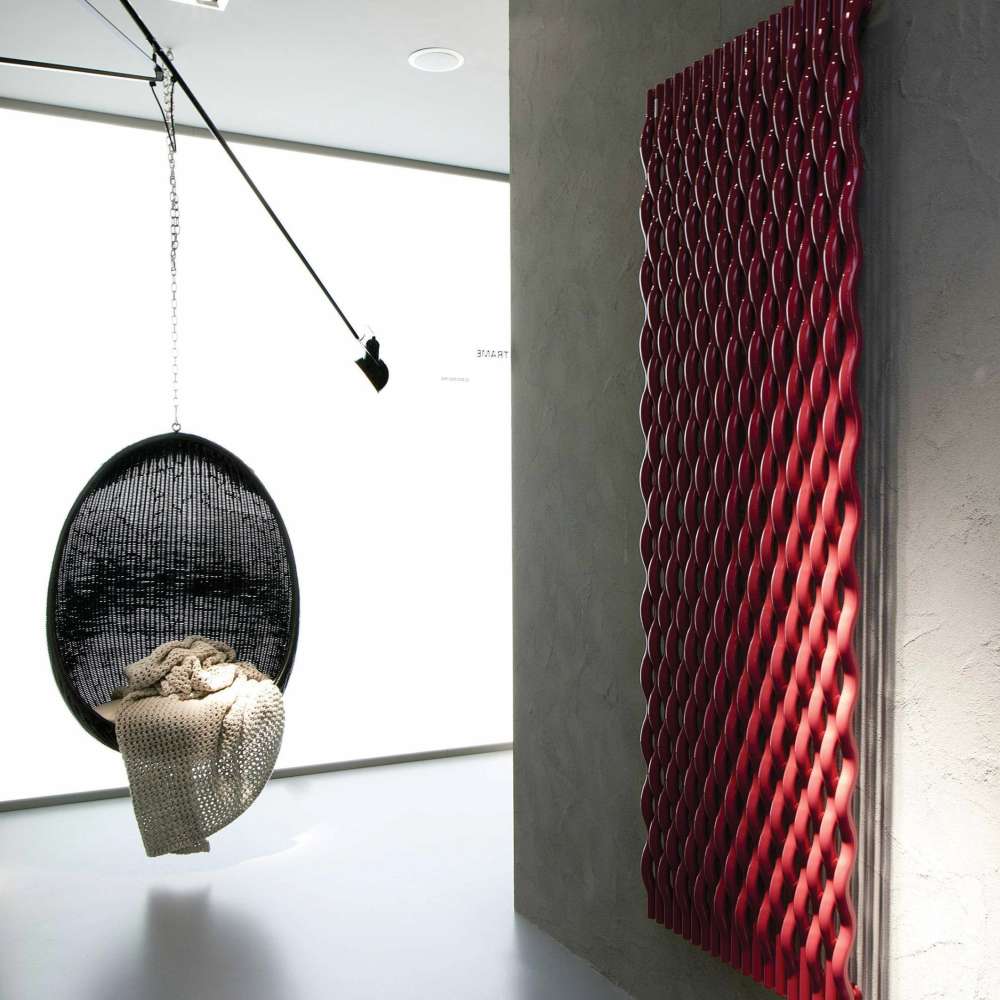 Trame by acclaimed industrial designer Stefano Giovannoni for Tubes Radiatori is an experiment in form, texture, and color that blurs the distinction between radiator design and wall sculpture. The steel heating elements criss-cross like the warp and weft of a woven fabric, creating drama through the interplay of light and shadows in the space.
The heater has a choice of 2 patterns: Vertical and Horizontal. The Vertical weave (as shown) comes in 0.8″ and 1.1″ diameter tubes while the Horizontal weave offers an additional 0.6″ tubing. Trame is available in a mind-boggling array of sizes, with the Vertical weave ranging from 37.8″ to 77.8″ h x 10.6″ to 47.9″ w x 4.4″ to 4.7″ d, and the Horizontal version available in 15.8″ to 76.5″ h x 20.7″ to 77.8″ w x 4.2″ to 4.7″ d. With over 100 colors to choose from, it's sure to deliver a visual punch!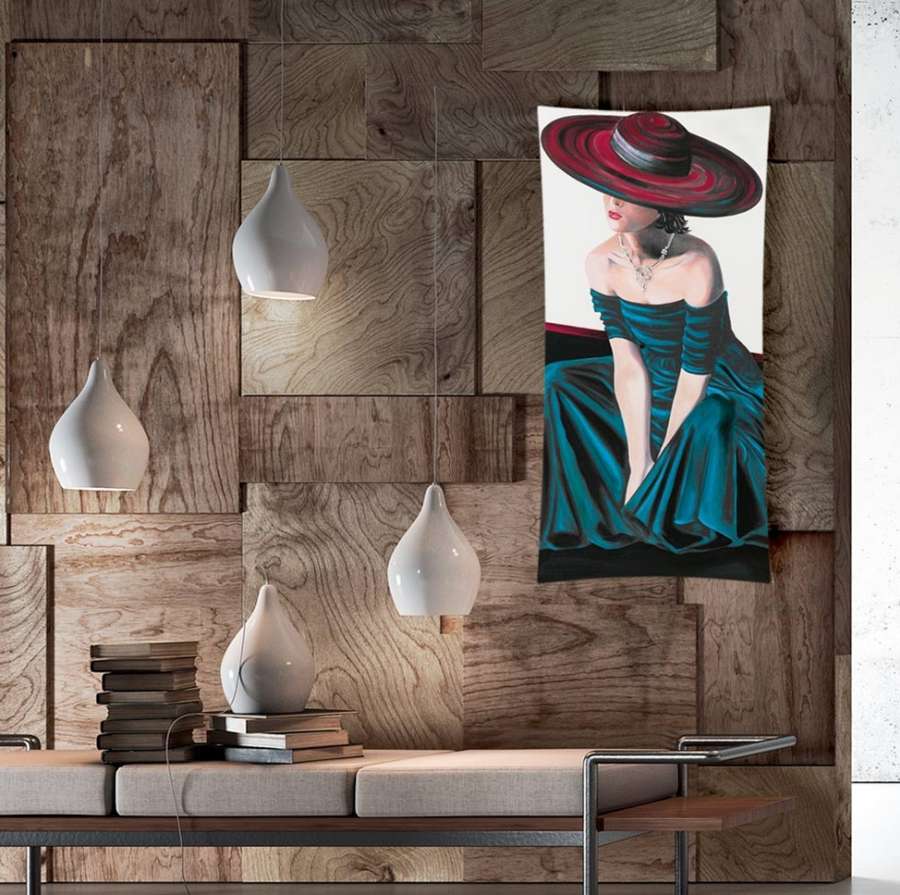 Barry by Alessandro Tesolin and Dario Scattone makes it easy to customize your wall heater in style. Any picture you like can be imprinted onto the radiator, which is comprised of a heating element encased between 2 layers of 4 mm (0.2″) tempered glass. It's a clever way to hide your radiator in plain sight!
It features a touch screen and remote control to program the thermostat in addition to 3 preset temperature modes for maximum flexibility. Barry is 0.4″ thick and comes in 3 models: 41.9″ h x 21″ w at 700W, 51.2″ h x 25.6″ w at 1000W, and 63″ h x 26.4″ w at 1500W.