After leaving the Peruvian Amazon, we're looking forward to some urban adventures in Lima – a gritty metropolis that is amazingly diverse in its world-class food scene. During our stay, we experienced a heady mix of Colonial culture, vibrant streetscape, delightful parks and of course culinary nirvana in the Gastronomy Capital of the Americas!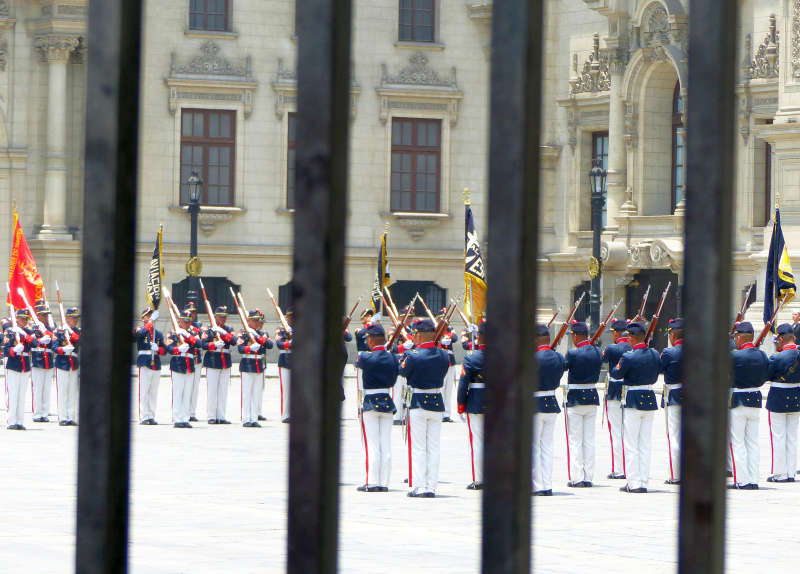 A popular tourist attraction is the daily Changing of the Guard ceremony on the grounds of the Palacio de Gobierno (Government Palace), on one side of Plaza de Armas (aka Plaza Mayor), Lima's historical town square. No tickets are required so we just strolled up to the Palace gates 15 minutes prior to secure a decent spot.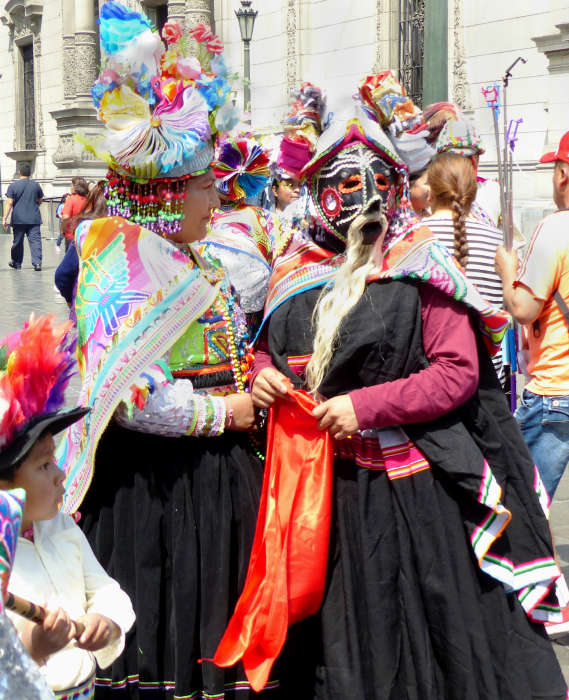 It so happened Lima was celebrating the 476th anniversary of the founding of the City of Moquegua, and groups of dancers and musicians in colorful indigenous attire were congregating outside the Palace. Once the official ceremony on the grounds was over, the festive procession headed out into the streets of Lima.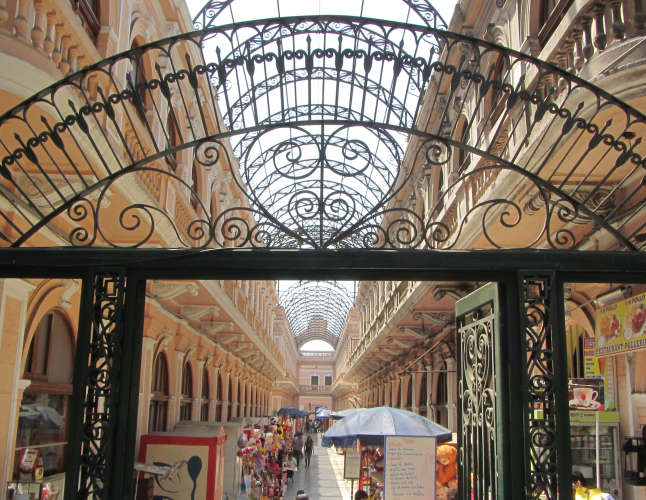 This quiet ornately gated shopping street was a pleasant find. Called Pasaje del Amor, it tees off from Jirón de la Unión (Union Street), a major pedestrian street bordering Plaza de Armas.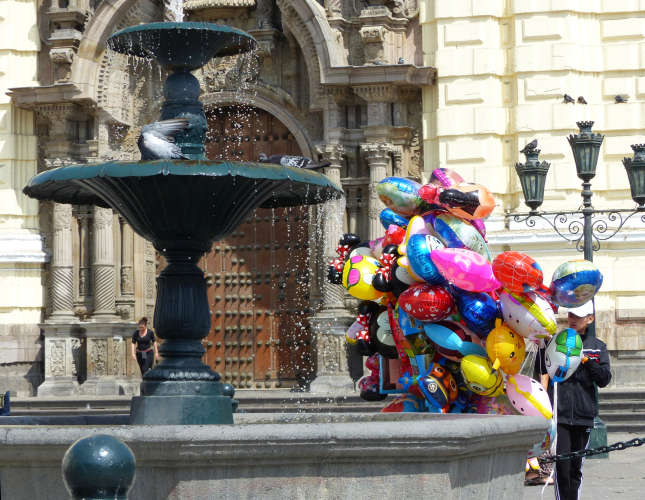 Steps away from the town square is the baroque Basílica y Convento de San Francisco (Church and Monastery of St. Francis), one of the finest examples of Spanish Colonial architecture. On that lazy Saturday afternoon, fluttering pigeons and balloons outnumbered the passersby.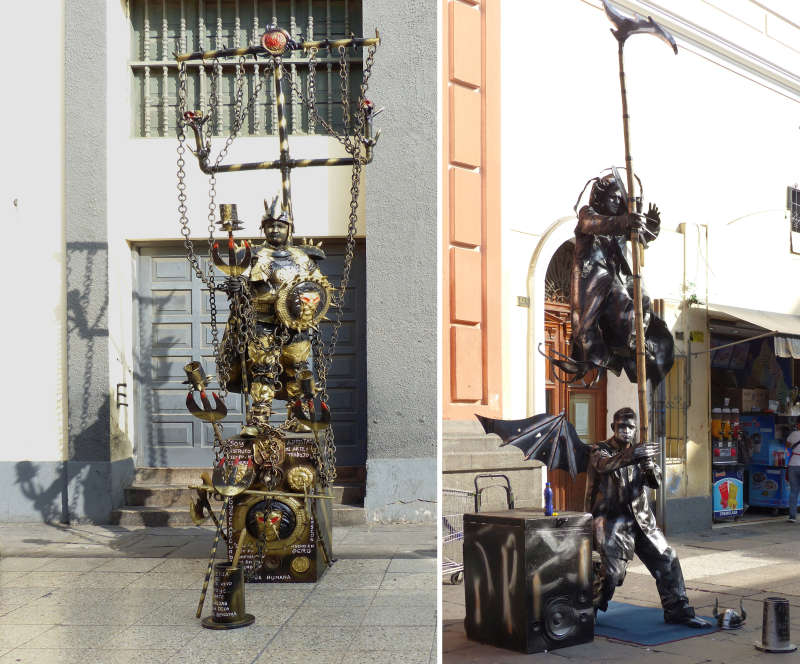 Elaborately costumed living statue performers line the once upper crust Jirón de la Unión, which also make it a magnet for pickpockets and petty thieves.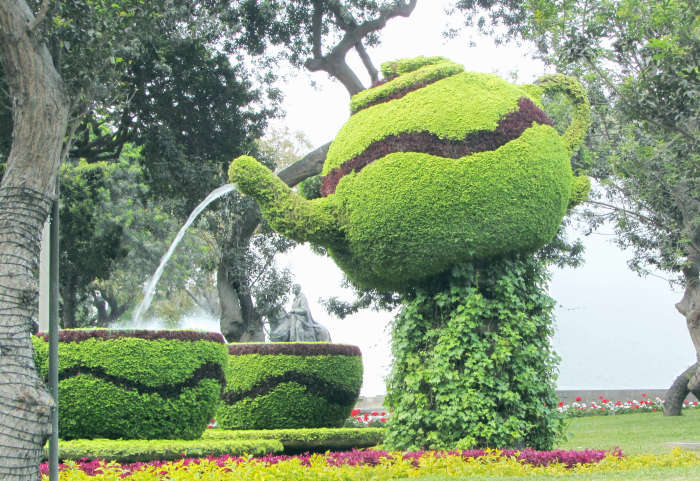 Parque de la Reserva, a 19 acre park named in honor of the soldiers who fought in the War of the Pacific, is site of El Circuito Mágico del Agua (Magic Water Circuit), touted to be the world's largest fountain complex. There are 13 fountains in the Circuit, some of which are interactive (ie you can get soaking wet) so we wore footgear appropriate for the occasion. The topiary teapot and cups fit in nicely with the water themed park.
El Circuito Mágico del Agua puts on a spectacular music, light and laser show at the Fuente de la Fantasía (Fantasia Fountain) 3 times a night. Woven into the multi-media extravaganza are highlights of the country's rich cultural heritage and biodiversity. From the soaring condors over Machu Picchu, to the Uros people on the Floating Islands at Lake Titicaca, the elusive jaguars and pink dolphins in the Amazon rainforest to the morochucos cowboys on the plains of the Peruvian Andes, this show got them all covered!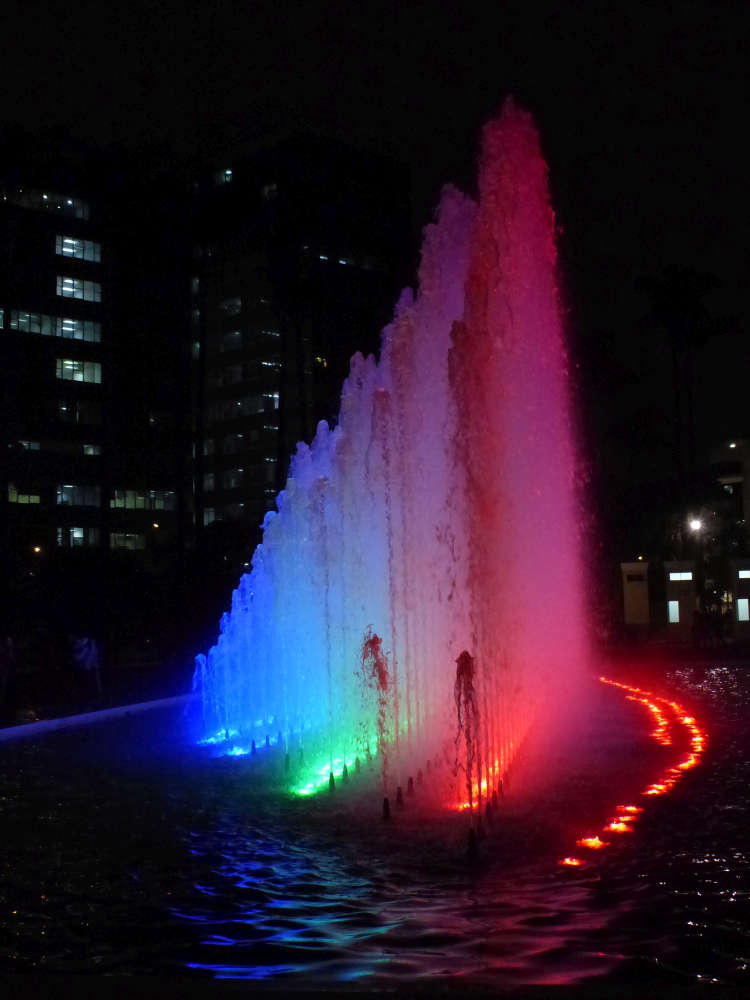 It was pitch dark after the laser light show, which made for a great time to take pix of the dazzlingly illuminated fountains. Fuente del Arco Iris (Rainbow Fountain) is a multi-tiered one that has water jets synchronized to colored lights.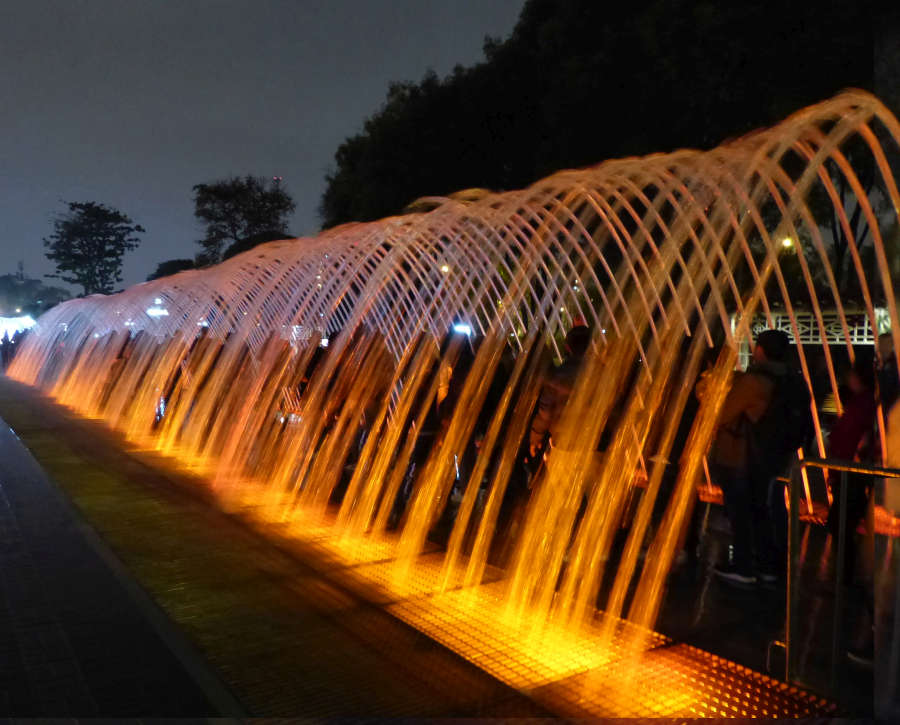 Túnel de las Sorpresas (Tunnel of Surprises) was one of my (and seems like everyone else's) favs. An endless line of visitors walk under an archway of water jets that always shoot up and land in exact spots so one can stay reasonably dry walking through the tunnel.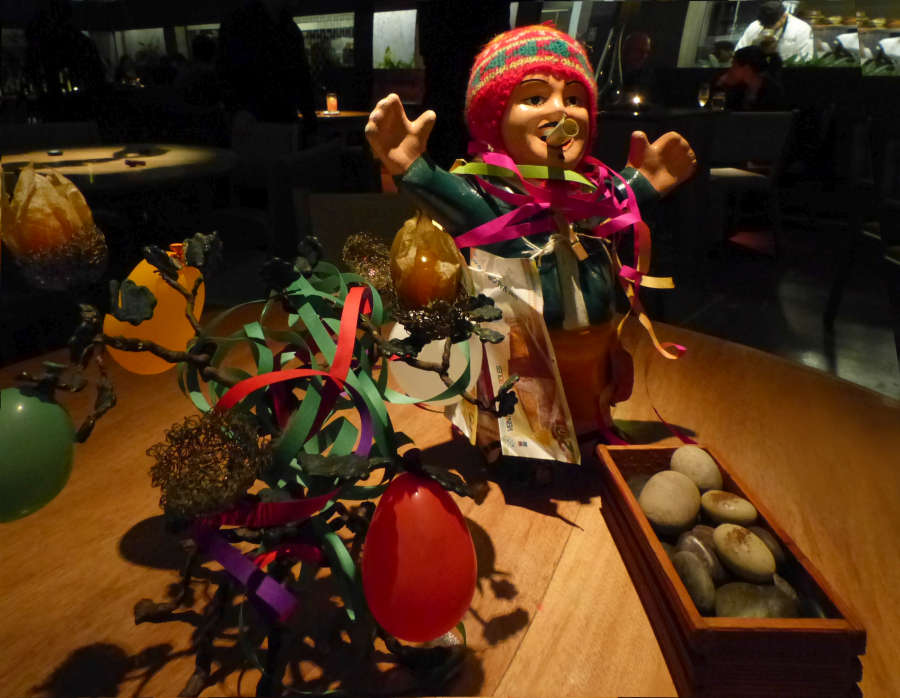 It was good that Peruvians dine late, as by the time we left the park, it was after 8:30 pm. We went to IK Restaurante and found the elegantly presented food to be innovative and its ambience restorative after our hectic day. At the end of the meal, our waiter brought us the most elaborately presented dinner tab and mignardises we've ever seen.
The doll, decked out in Peruvian paper currency, was Ekeko the god of prosperity and the traditional cigarette in his mouth was replaced with our bill. The festive 'tree' was covered with paper ribbons, balloons and sweets stashed in cape gooseberry husks, while the wooden tray had 2 chocolate 'pebbles' mixed in with a pile of real ones. It was a befitting ending to a memorable evening!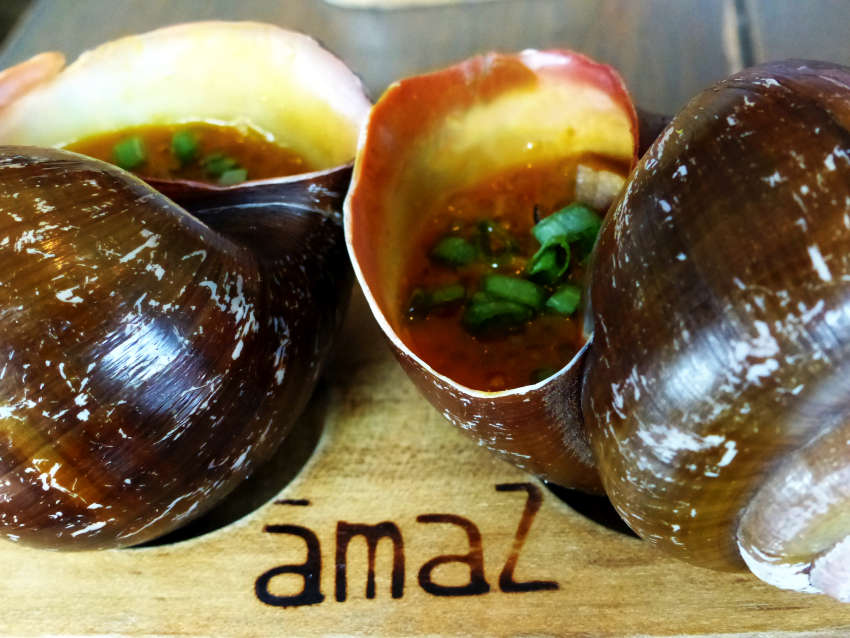 Anthony Bourdain put ámaZ on the map for armchair foodies through his award winning TV series Parts Unknown. ámaZ is synonymous with creative contemporary cuisine using ingredients sourced from the Amazon jungle. Despite booking months ahead, we were only able to snag a 2 pm lunch reservation on Sunday. The crowded restaurant was buzzing and it still took a while to get seated. The dishes while exotic and unique, didn't all pan out, but a standout was the Churros Pishpirones, wild giant Amazonian snails stewed with turmeric chorizo and spicy chili peppers. It was umami-licious!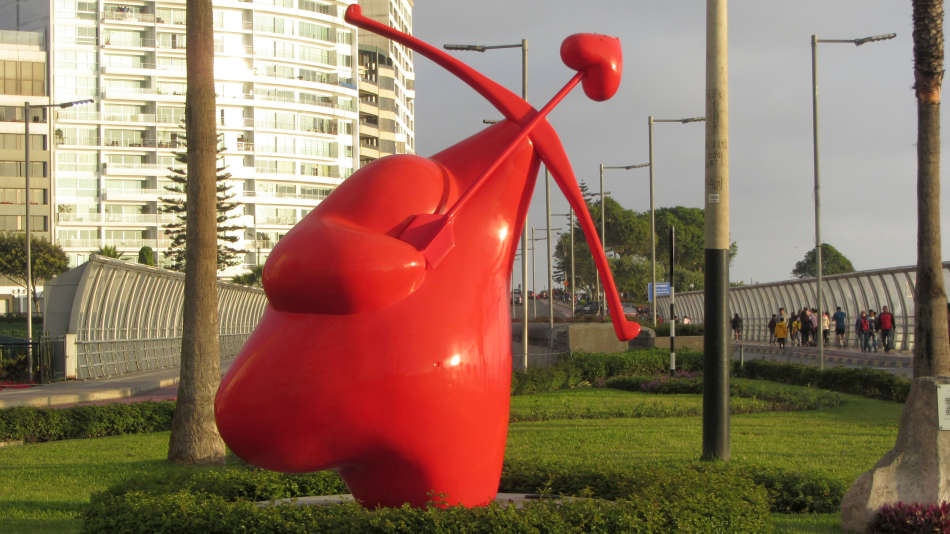 Cupido, the Cupid's Heart Sculpture stands poised to shoot its heart-tipped arrows across the street into El Parque del Amor (Park of Love).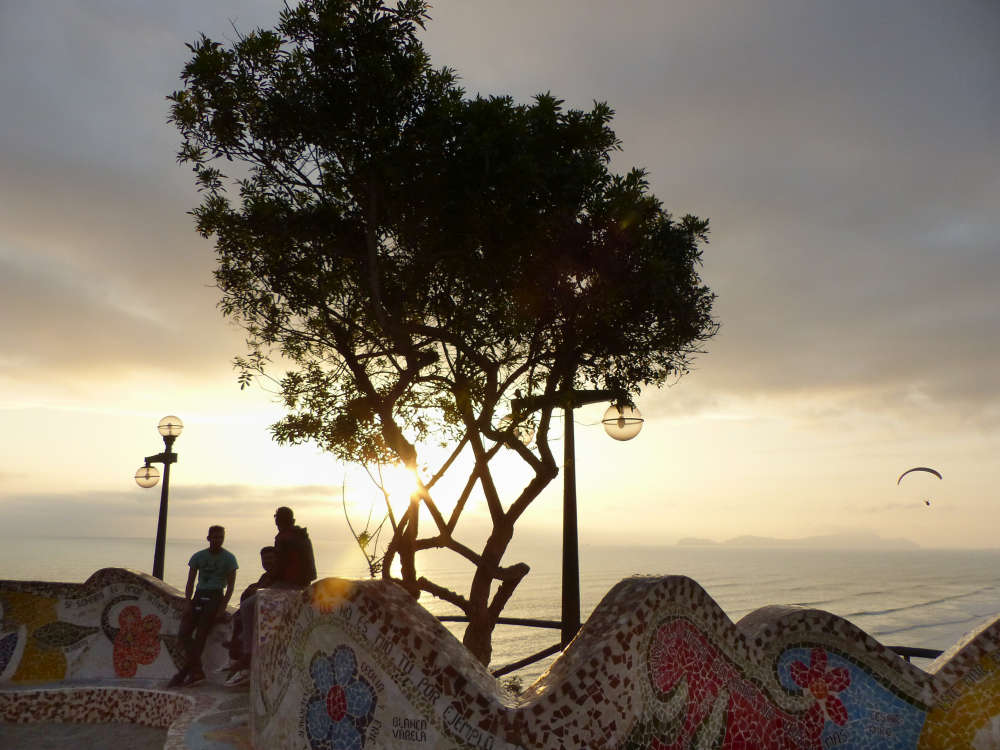 Locals and tourists alike flock to El Parque del Amor to watch the sun sink into the horizon over the Pacific Ocean. The park also features undulating walls and benches covered in mosaics inspired by Antoni Gaudí's broken tile technique called trencadís.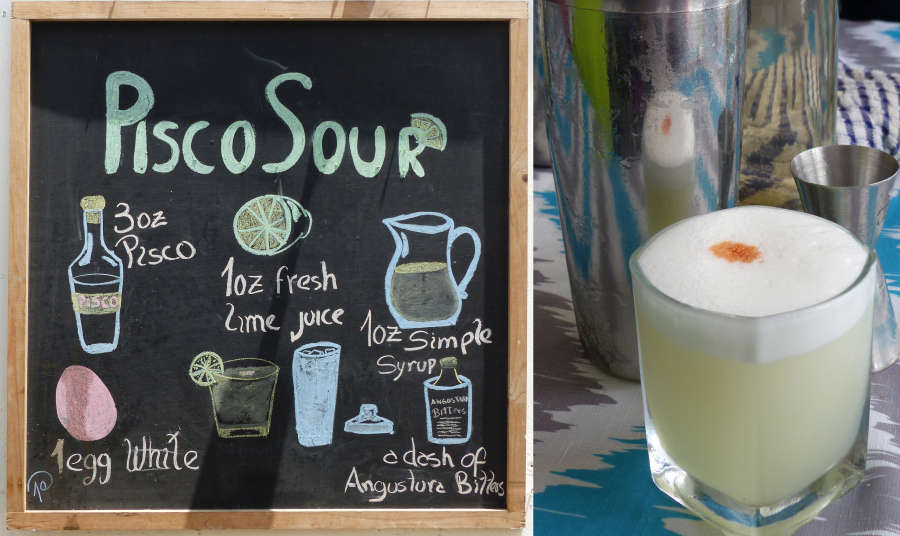 Always on the lookout for an interesting cooking class, we learnt to prepare alpaca 3 ways on our last visit. This time we went with Peruvian Cooking Class for a seafood centric menu. After the hotel pickup and requisite market tour, we arrived at the home of Chef Hector, who was Creative Head Chef at Maido, one of the best restaurants in Lima. We were promptly taught how to make Pisco Sour so we could enjoy the fruits of our own labor.
Causas are mashed potato terrines filled with, in this case, shrimps and homemade mayonnaise. The bright color comes from Aji Amarillo, an orange yellow chili pepper ubiquitous in Peruvian cooking.
The lunch class included ceviche, shrimp causa rellena, grilled scallops with parmesan, 2 drinks – Pisco & Passionfruit Sours – and a dessert platter of Peruvian fruits. We decided to walk off all the food by doing some shopping on our last day. We lucked out at Sol in the tony Larcomar shopping center where some of its silky soft alpaca sweaters were on deep discount. It was a nice finale to our travels in the Land of the Incas. Despite the 3.5-week long trip, we've barely scratched the surface. Of course it means there'll be more to see and do next time!