After our bucket list trek of Machu Picchu and a well deserved R & R at Ollantaytambo, it's finally time to head for the Peruvian Amazon!! Having grown up watching National Geographic on TV, I jumped at the chance to sign up for its Amazon cruise. Turns out National Geographic partners with Lindblad Expeditions to operate all its expedition cruises, including our 10 day Upper Amazon cruise on the 28 passenger Delfin II. I was excited about our particular sailing as it had a National Geographic Expert onboard. A consultant to National Geographic magazine, Kitty Coley is an avid birder, naturalist and geologist, which dovetails with our interests marvelously. Lindblad also had a Certified Photo Instructor and naturalist, José Calvo, on the ship to help passengers improve their photographic skills – perfect for exploring the Peruvian Amazon!
We left Ollie for Cusco to catch our flight to Lima for Day 1 of our cruise. Transfer times were tight, but everything worked out as planned. The itinerary included a night's stay at the Wyndham Costa del sol Lima Airport so all passengers could meet up next morning.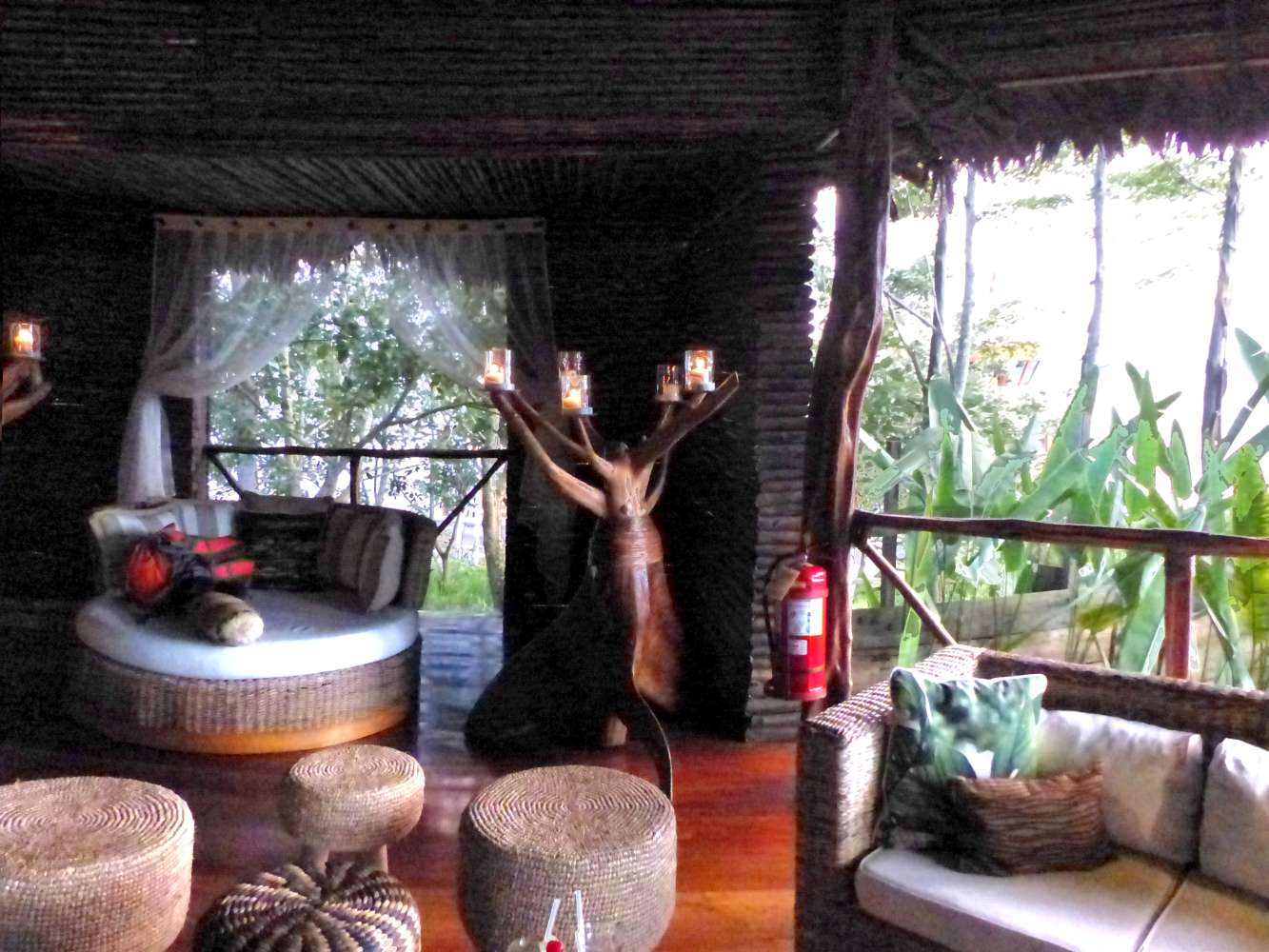 After a tour of Lima, our group flew to Iquitos, gateway to the Peruvian Amazon. After a lunch at the posh Embarcadero Restaurante Al Frío y al Fuego, which can only be reached by skiff, it was a 60 mile ride to the village of Nauta on the north bank of the Marañón River, a major tributary of the Upper Amazon. We were served a welcome drink in the eco-chic lounge by the dock before boarding Delphin II, our floating digs for the next week or so.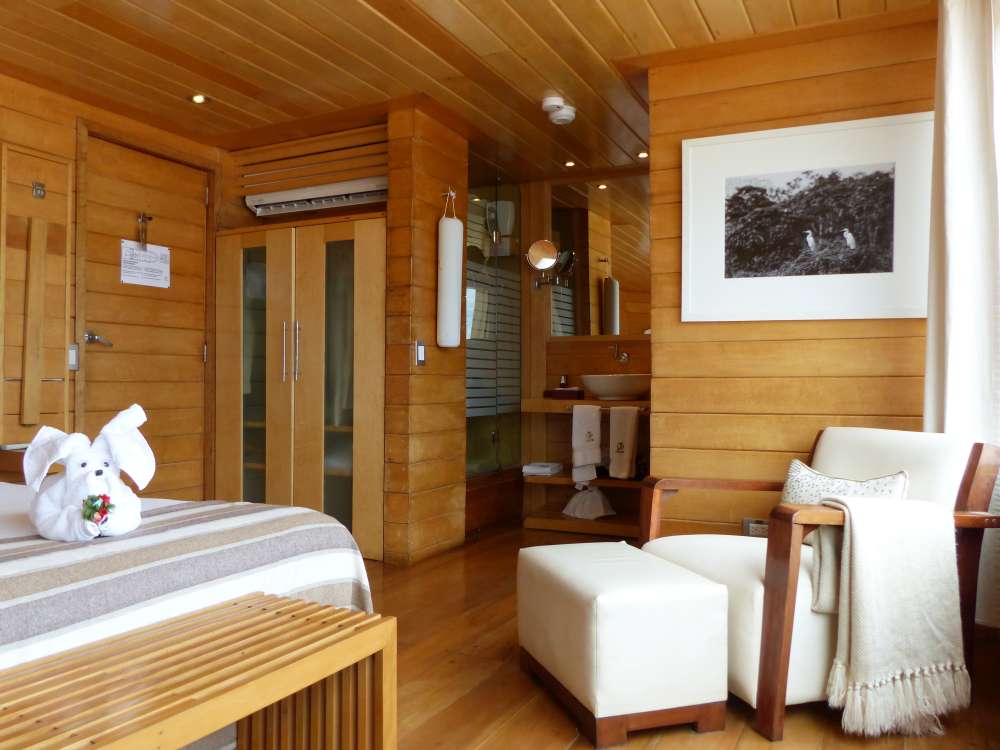 Our contemporary abode was spacious and well appointed, livened up daily with whimsical towel art by the cabin steward.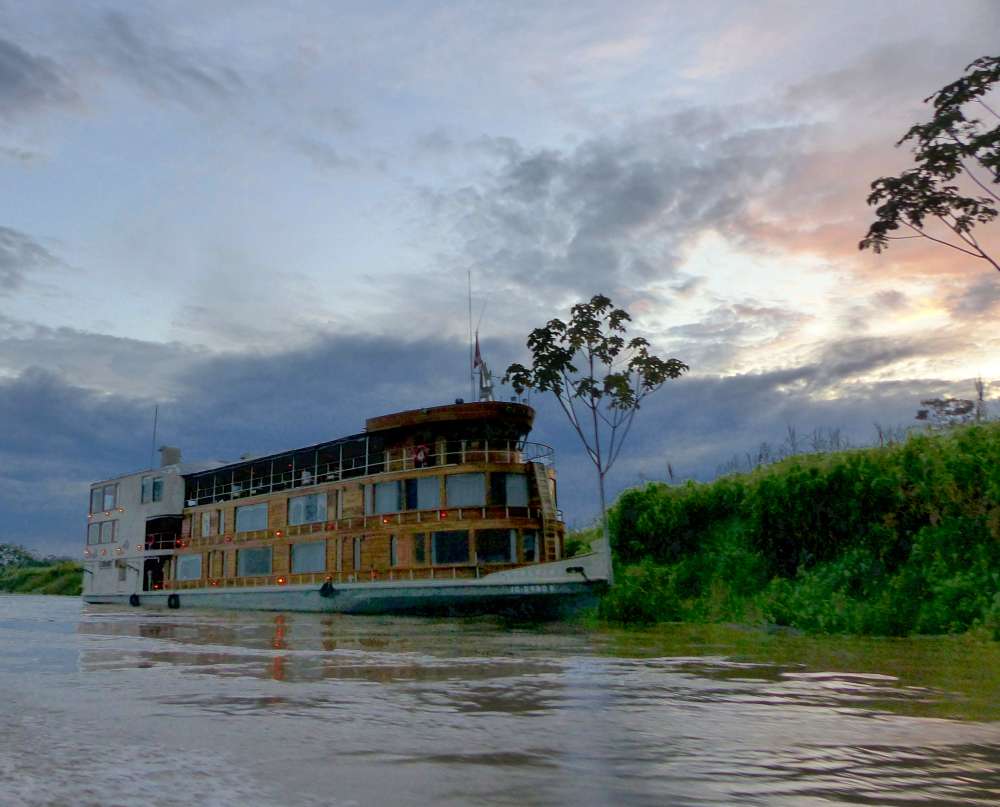 There was no sleeping in for this cruise. On the first full day of our expedition, we were roused at 5 am and out on one of the ship's 3 skiffs by 5:30 am. I looked back and snapped a pic of the ship silhouetted against a languorous sky at the crack of dawn.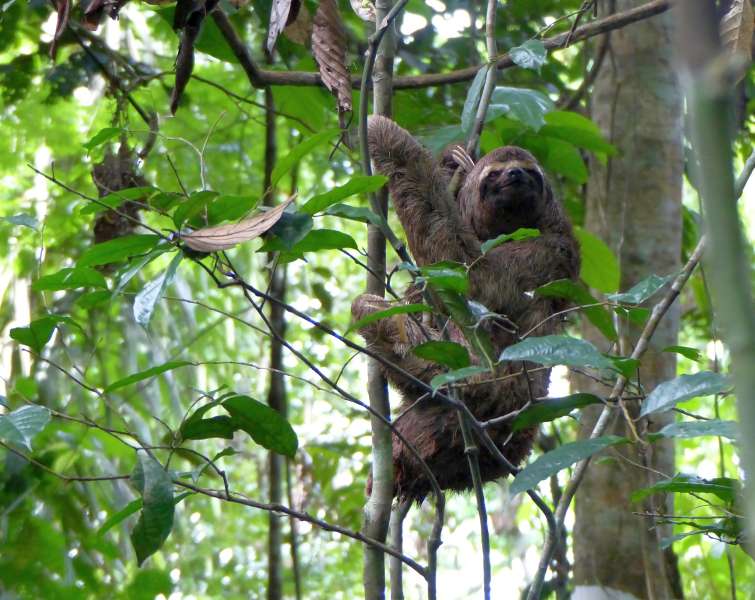 For a chance to be up close and personal with the endemic flora and fauna, we joined a late morning hike with one of the naturalist guides. Ubiquitous in Central and South America, the brown-throated three-toed sloth is easy to spot as its name says it all. Given its tortoise-like speed, the long razor-sharp claws are essential to defend against predators.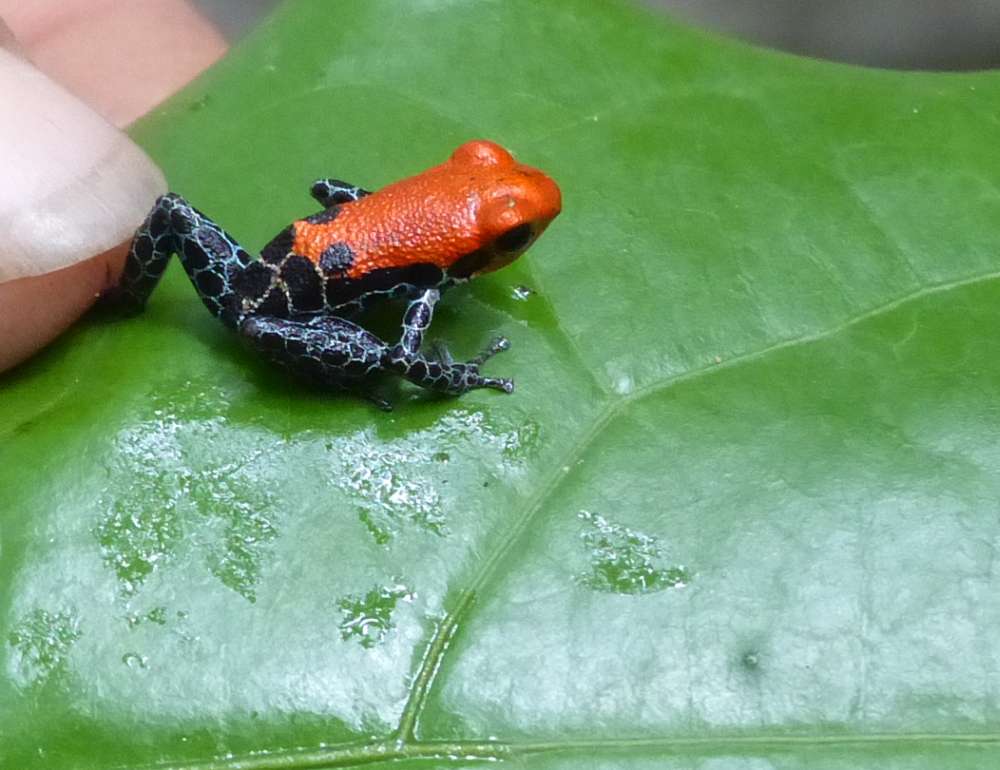 Another favorite past time in the jungles is to find poison dart frogs. Most poisonous frogs are brilliantly colored as a warning to discourage potential attackers. This red-backed poison frog is toxic enough to kill small animals, so we left the handling to the professionals…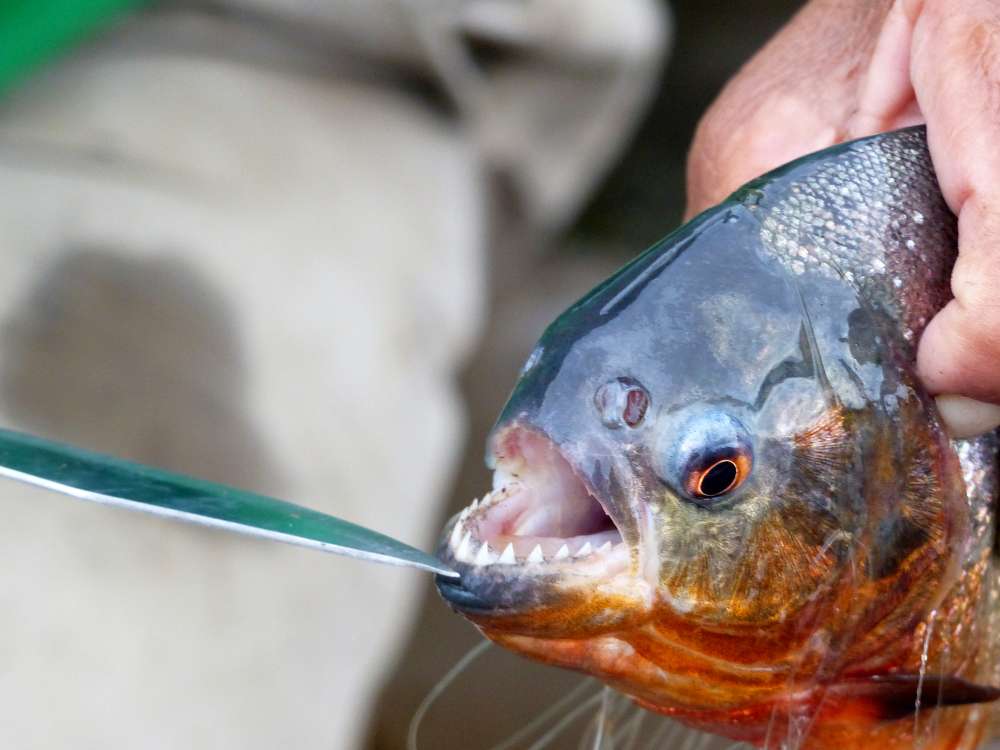 Of course, what is an Amazon excursion without seeing a piranha and its gleaming teeth? We do have to report this one's gums are healthy and its teeth are in perfect working condition!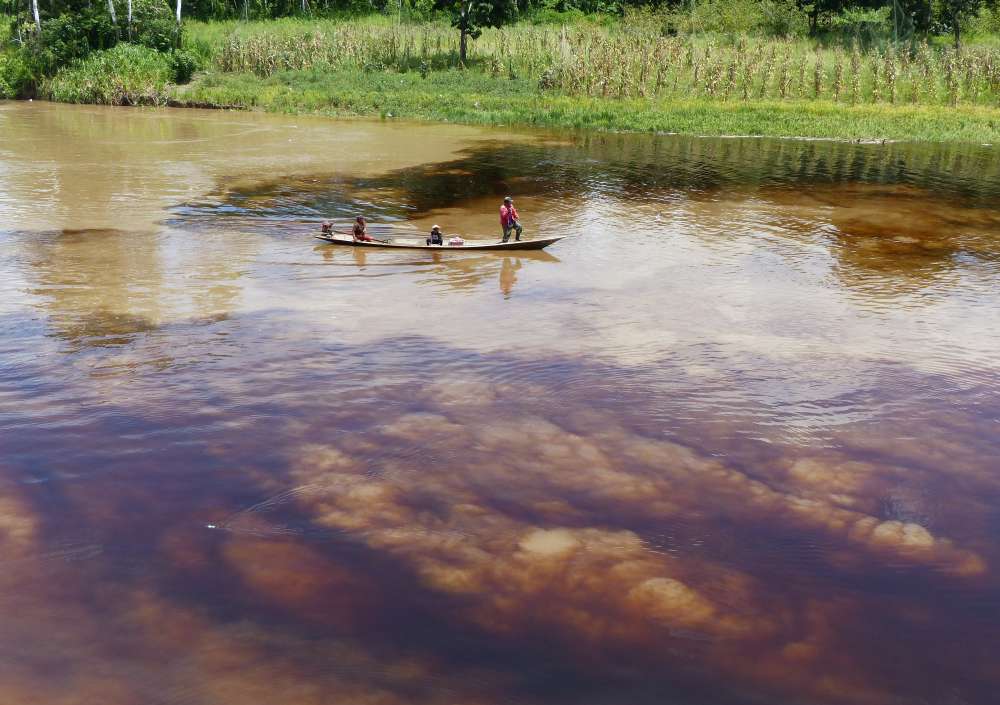 The next day was spent around the Pacaya-Samiria National Reserve, which contains the headwaters of its namesake rivers. These inkblot-like blooms are the result of the comingling of two water bodies with different sediments and flow rates. One river is sandy-colored as it contains a high volume of eroded substrate from the river bed, while the other is dark brown because it's full of tannins from decayed vegetation.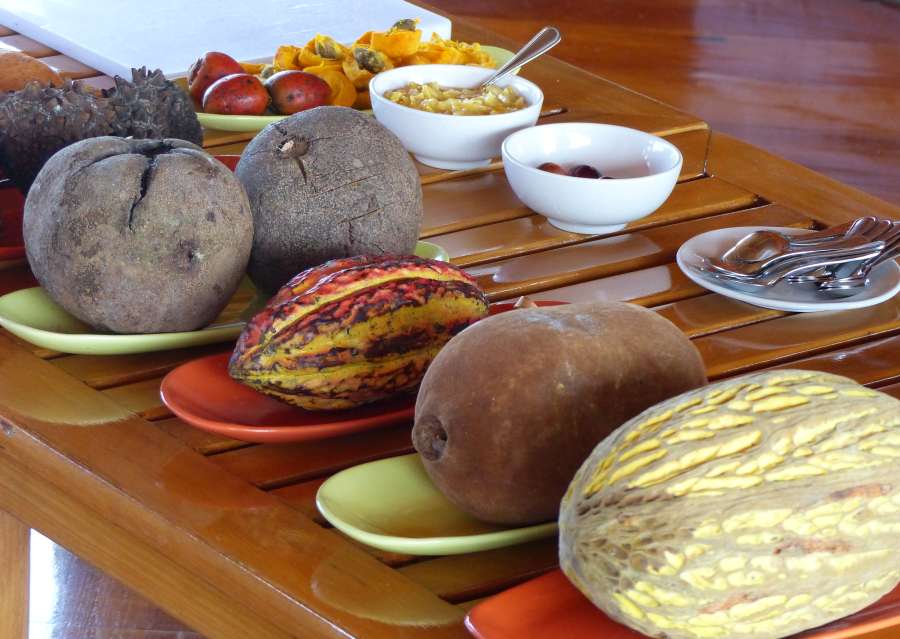 In between hikes and boat tours are daily presentations by our National Geographic expert, photography instructor, naturalists and cruise staff. In this session, we got to sample the exotic fruits of the Upper Amazon. It was a veritable smorgasbord of tastes and textures for the adventurous palette. Later around cocktail hour, we learned how to make the famous Peruvian Pisco Sour from our ship's bartender.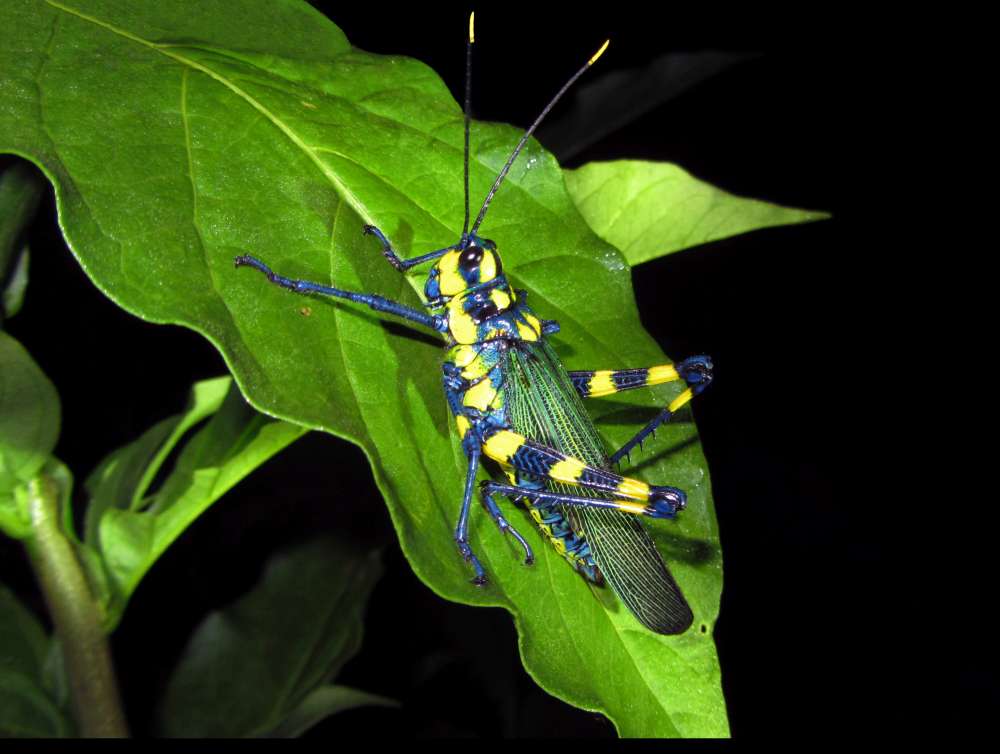 There was a surprise Night Safari with our naturalist guides that was not on the printed program. The diversity and surreal appearances of some of the insects made it one of our more memorable night tours!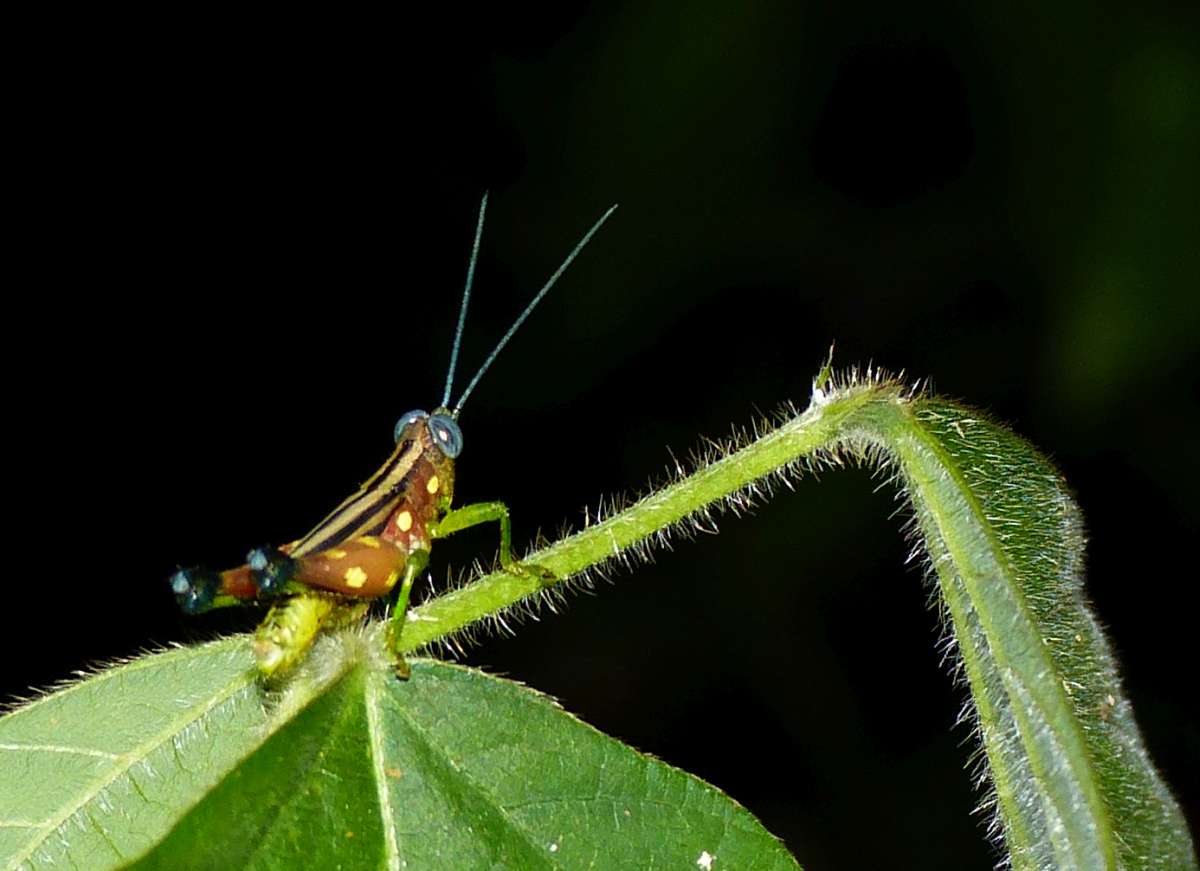 Another colorful insect that was spotted by one of our eagle-eyed fellow passengers on the Night Safari. Though no fan of bugs, I find the plethora of mind bogglingly bizarre looking insects in the Amazon utterly fascinating. I recall our overnight camping trip in the Ecuadorian Amazon 13 years ago. The insects there were generally super-sized, alien and vicious looking, with our guide constantly warning against being bitten by them…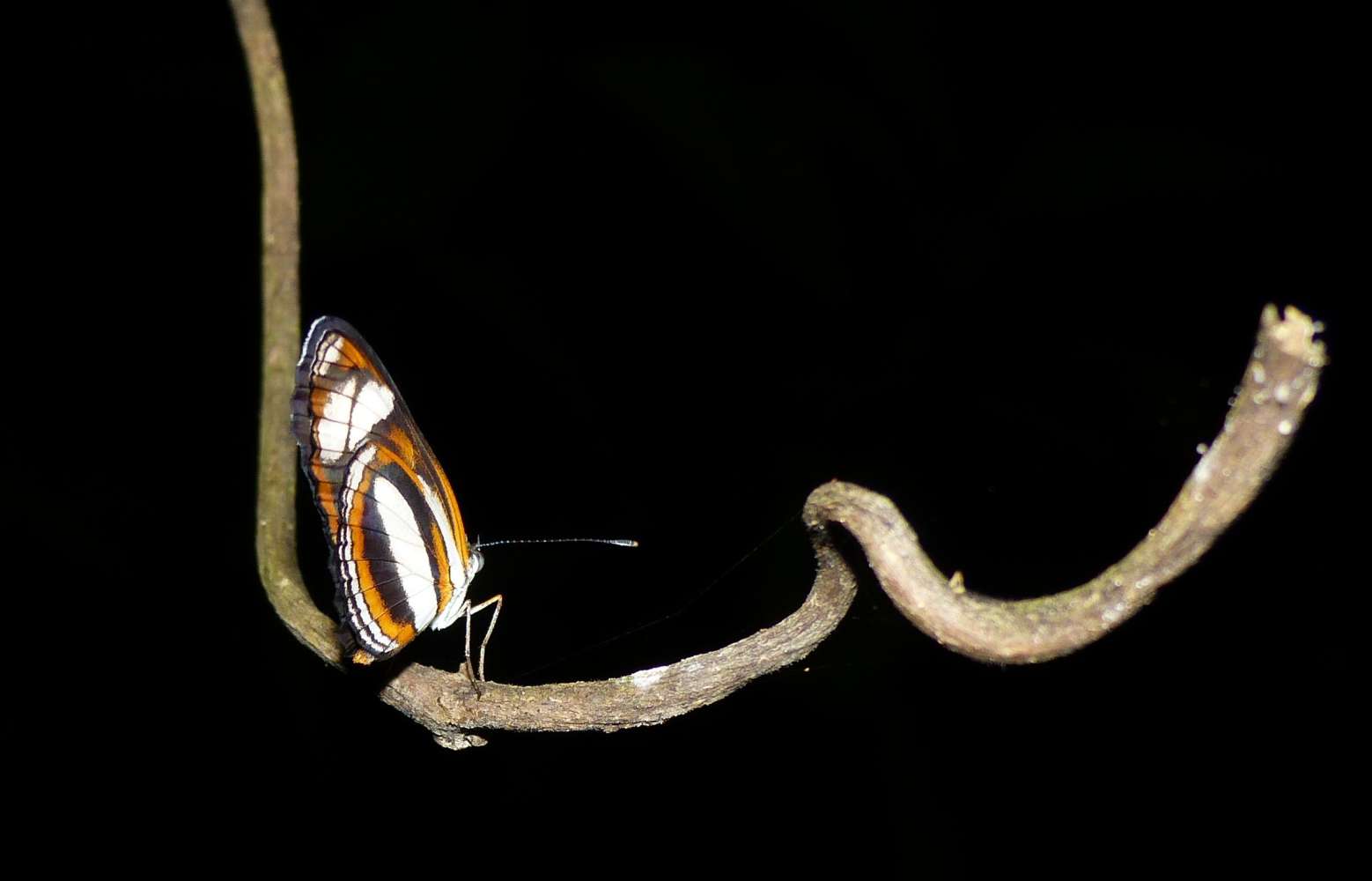 It was nice catching this butterfly asleep on its perch. Finally, a harmless insect – guaranteed!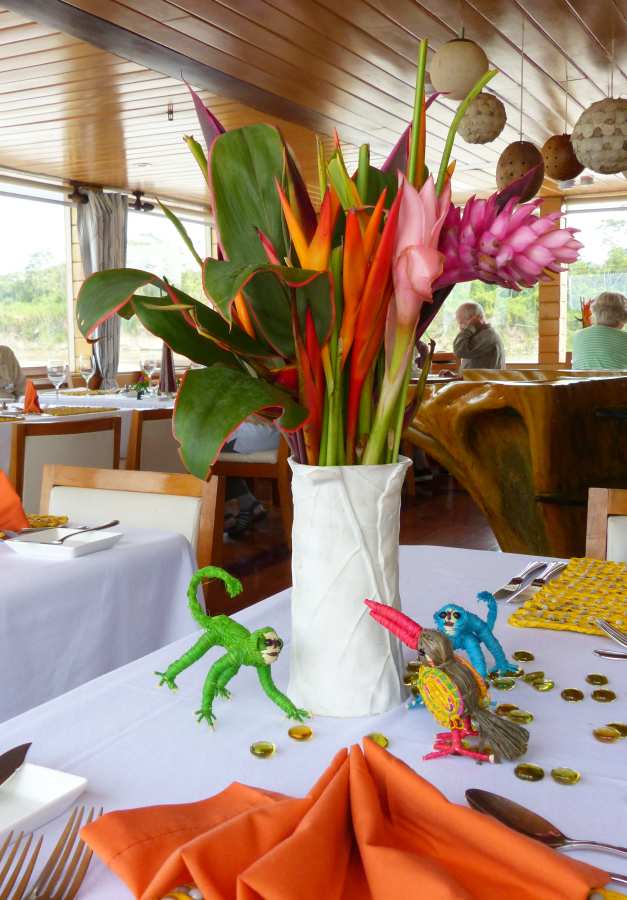 The spacious dining room has wrap around windows for full views of the mighty Amazon. Each table was decorated daily with a new selection of handcrafted birds and animals made by the local community.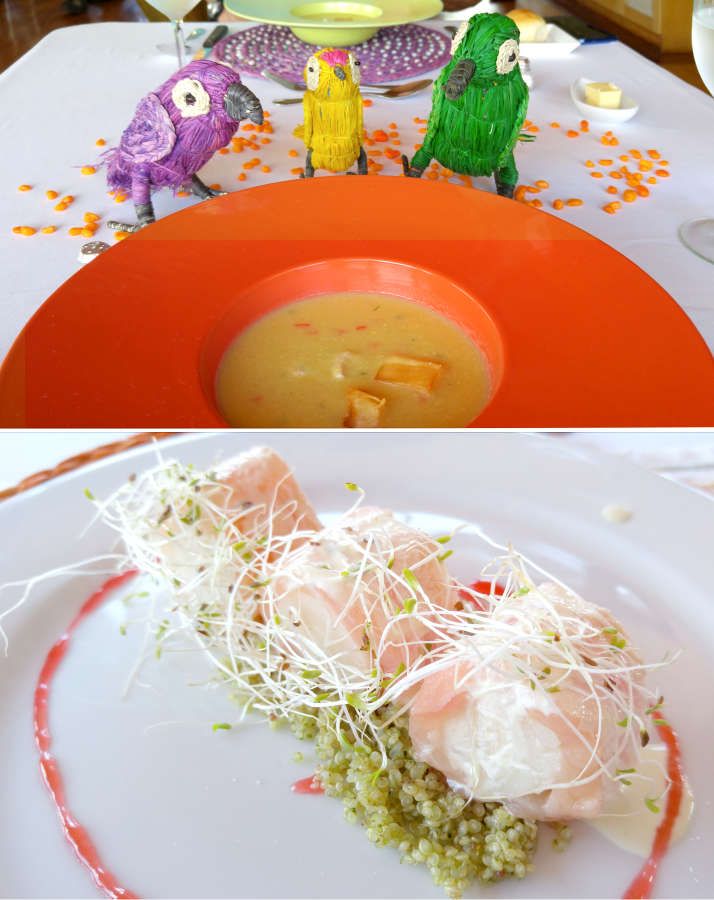 Lunches and dinners were delectable 3-course affairs, drawing almost exclusively from local sources to showcase the country's incredible food culture.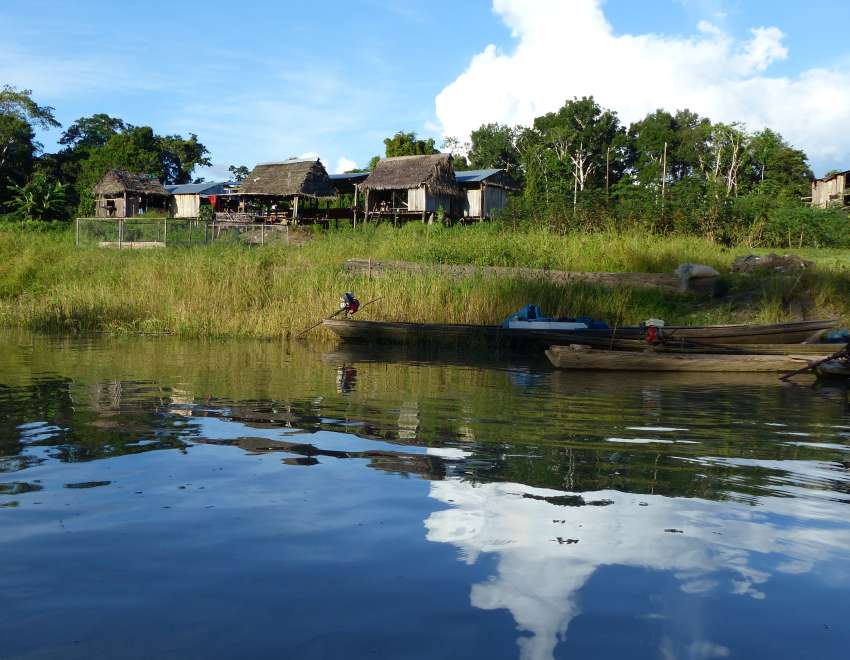 The next morning was a fairly light schedule: a visit to an Amazona community and then see the confluence of the Marañón and Ucayali Rivers, generally accepted as the headwaters of the Amazon River.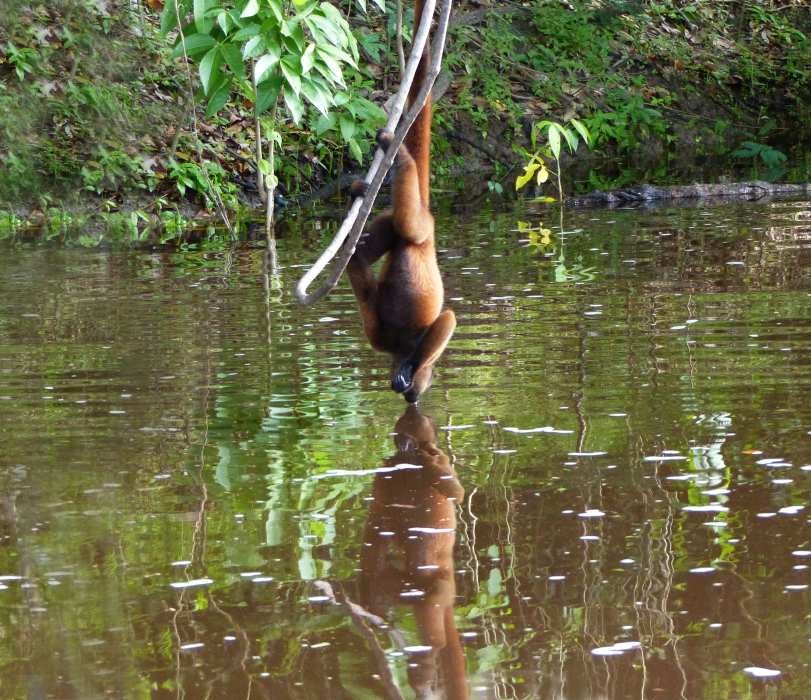 After lunch, our photo instructor held another class, and then it was off on a kayak and skiff exploration of the Yarapa River.  As luck would have it, a rare and critically endangered Yellow-Tailed Woolly Monkey scampered across some vines in front of us to drink from the river.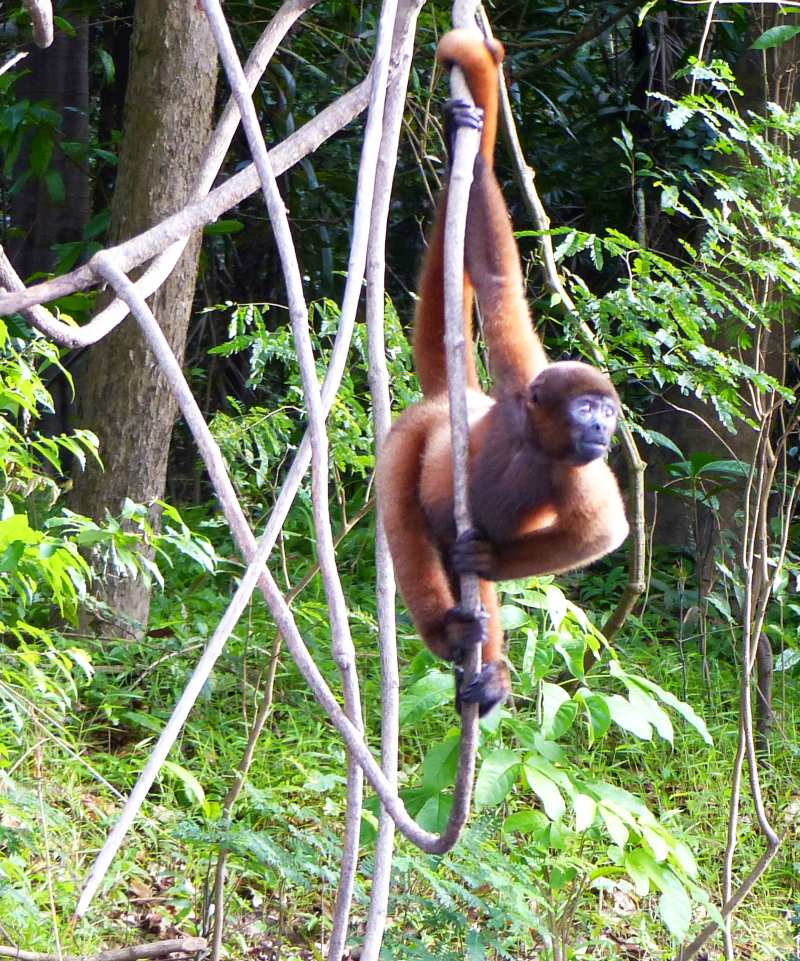 It obligingly hung out a while and posed for our skiff, making it the highlight of our day!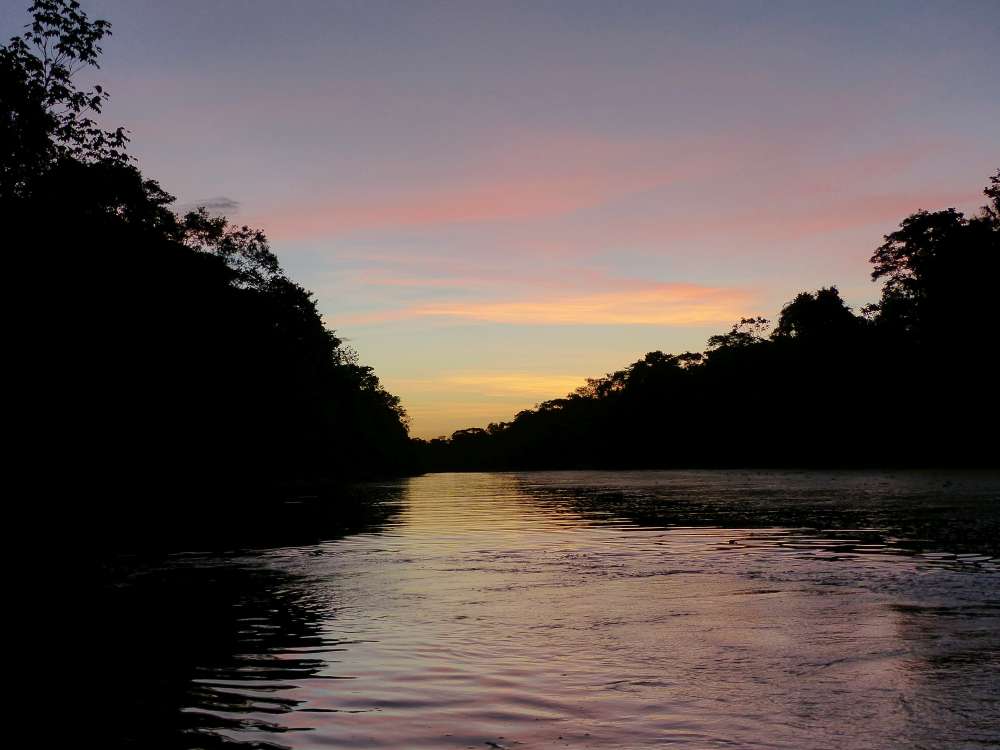 A beautiful sunset, promising another exciting day to come as we cruise down the Ucayali River at dusk.