Many of my favorite kitchen furniture and fixture designs hail from the EU, so I'd love to use this opportunity to share several of them with you. Check out this post and you too will be charmed by the colorful vent hoods, dazzled by its bejeweled coffee makers, and seduced by some of the most deliciously curvilinear kitchens!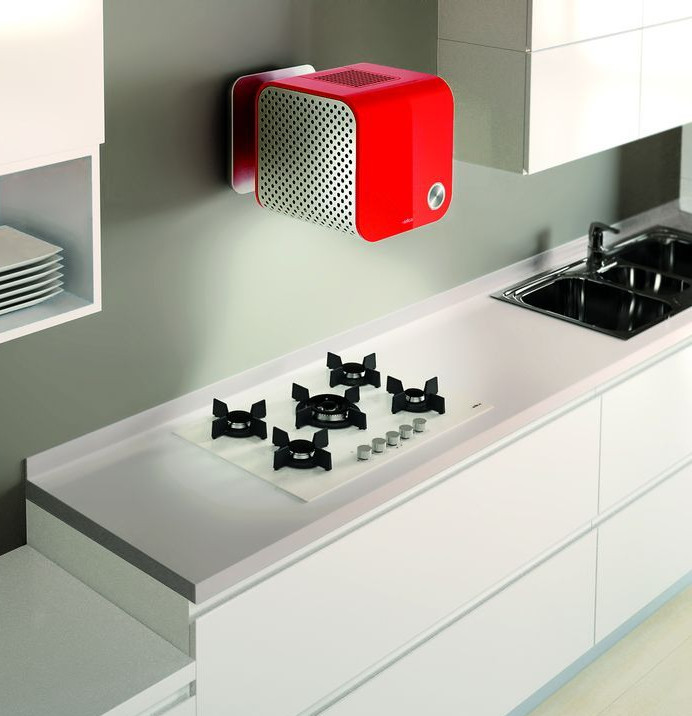 35CC is a small but mighty range hood by Italian industrial designer Fabrizio Crisà that captures cooking fumes on 3 sides. The 35 cm (13.8") cube is comprised of 2 interlocking 'C' shaped pieces. The decorative glass shell is available in rainbow hues depending on function: white, orange, taupe or lilac for the ductless filtration hood and red, black, yellow or green for the exhaust duct version. The ductless hood vents via the edges of its stainless steel cover while the ducted hood does so through its perforated metal skin. The latter also comes with a choice of low profile flue or wall bracket.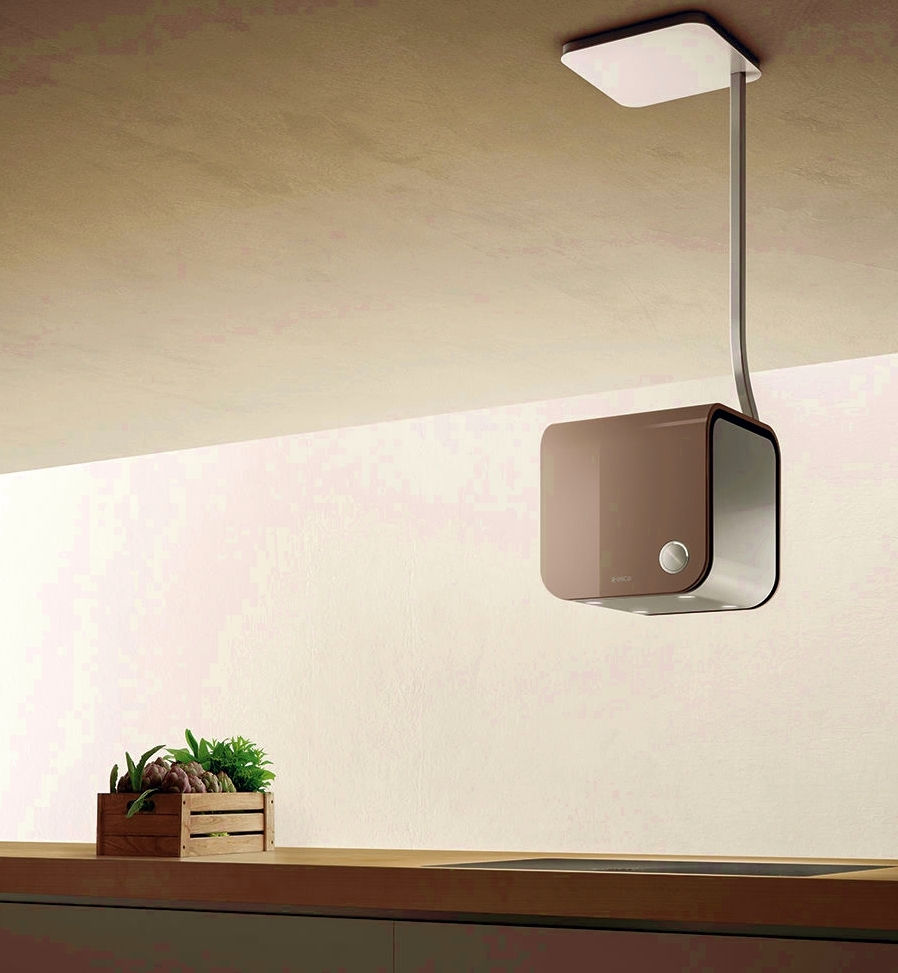 As further proof that Elica's 35CC is an unconventional extractor fan, the island hood shown here is attached to the ceiling mount by a slender connector resembling a stylized comma!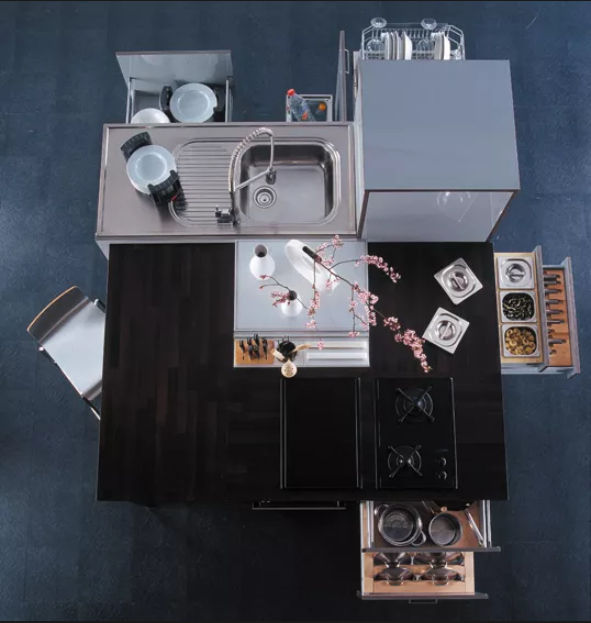 From French kitchen manufacturer Arthur Bonnet comes this all-in-one cook center. It boasts a dishwasher, undercounter fridge, stove, oven, sink, knife block, plate storage, drawers for: utensils, bar caddy, as well as pots and pans with lid storage. The food prep area is not only efficient but also doubles as a short order dining space.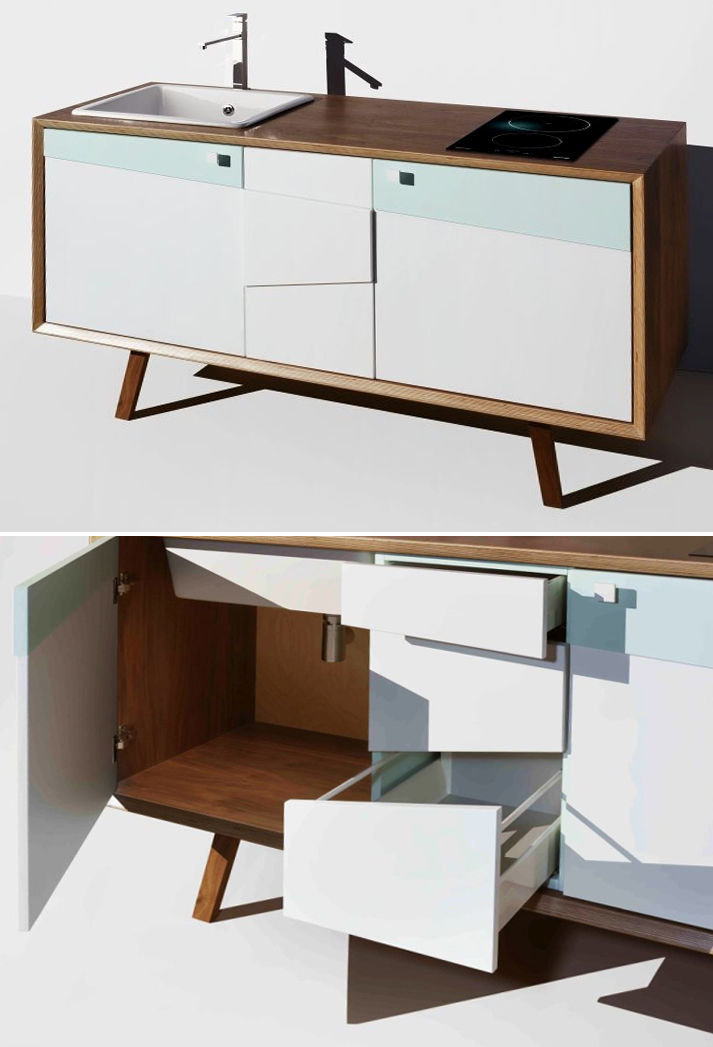 This whimsical kitchen furniture by Piotr Domanski of Four Boards, a Polish manufacturer, shakes up the norms of cabinet design. The oblique angles of the drawer fronts give the casegood an edgy look while packing a host of functionalities. Handcrafted in American walnut and lacquered plywood, the compact freestanding kitchen has a mini fridge, sink and battery powered stove that can be recharged with a cable, plus storage for cooking equipment and accessories. It's available in 2 sizes: 63″ x 35″ x 24″ and 71″ x 35″ x 24″.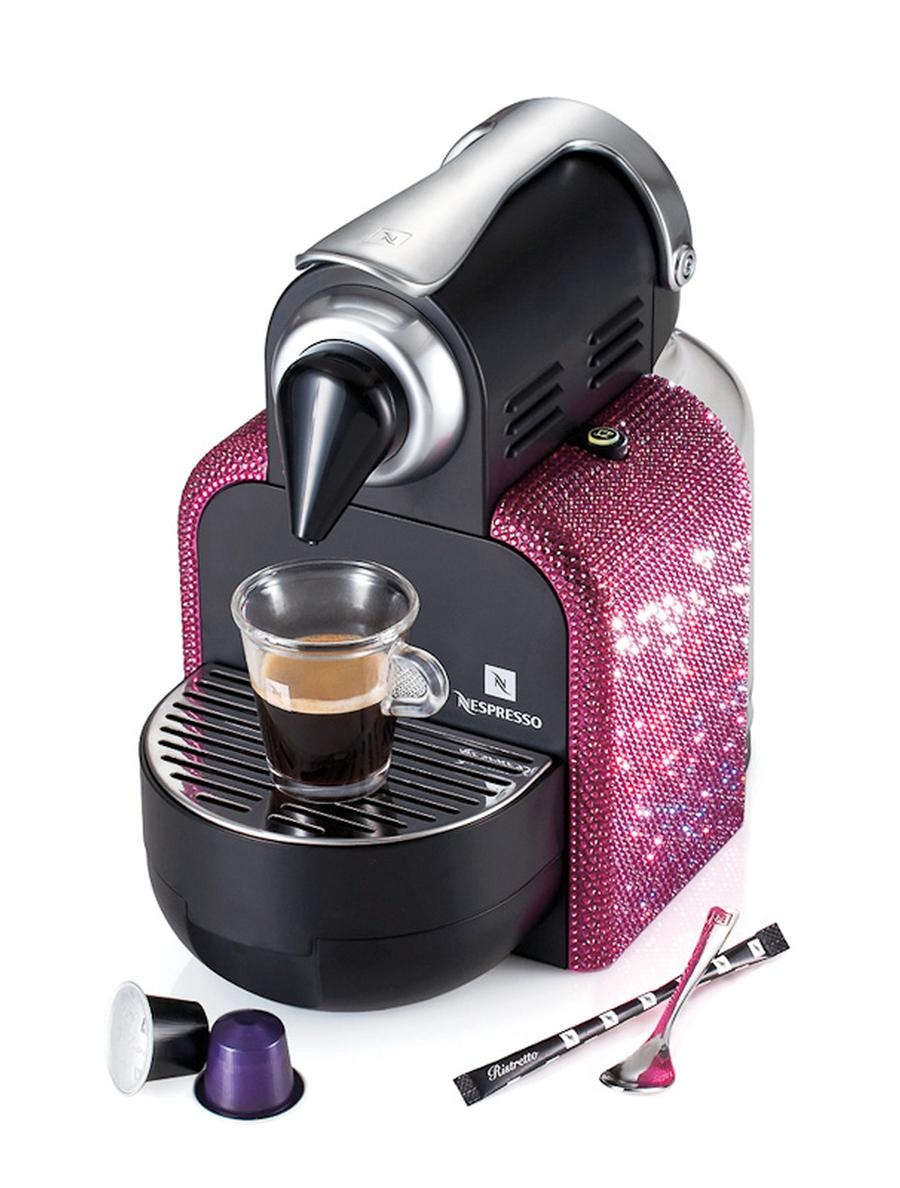 For coffee enthusiasts who have everything, this bling-to-the-max Essenza espresso machine might be a worthy acquisition. Costing $1000, this glittering limited edition Crystal Couture caffettiera sports a pink Swarovski crystal encrusted body that's sure to turn heads!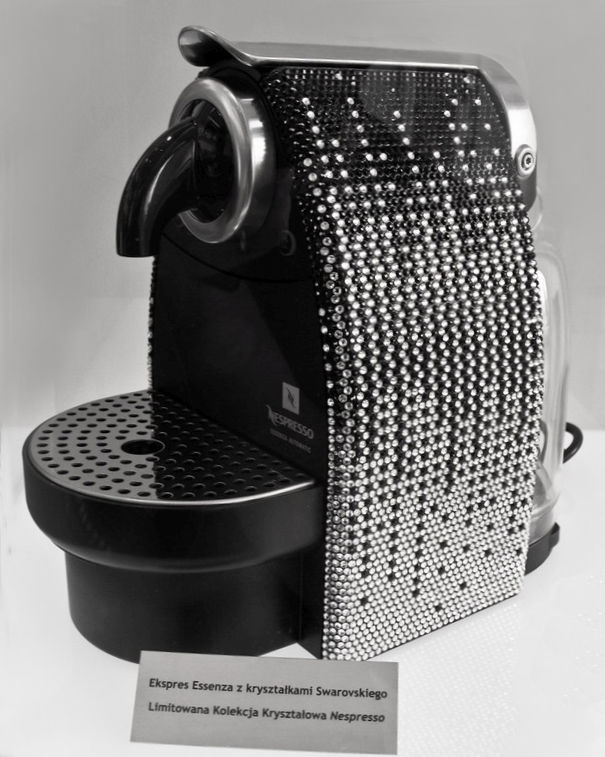 A more restrained version from Nespresso in a stately silver and black combo is also available.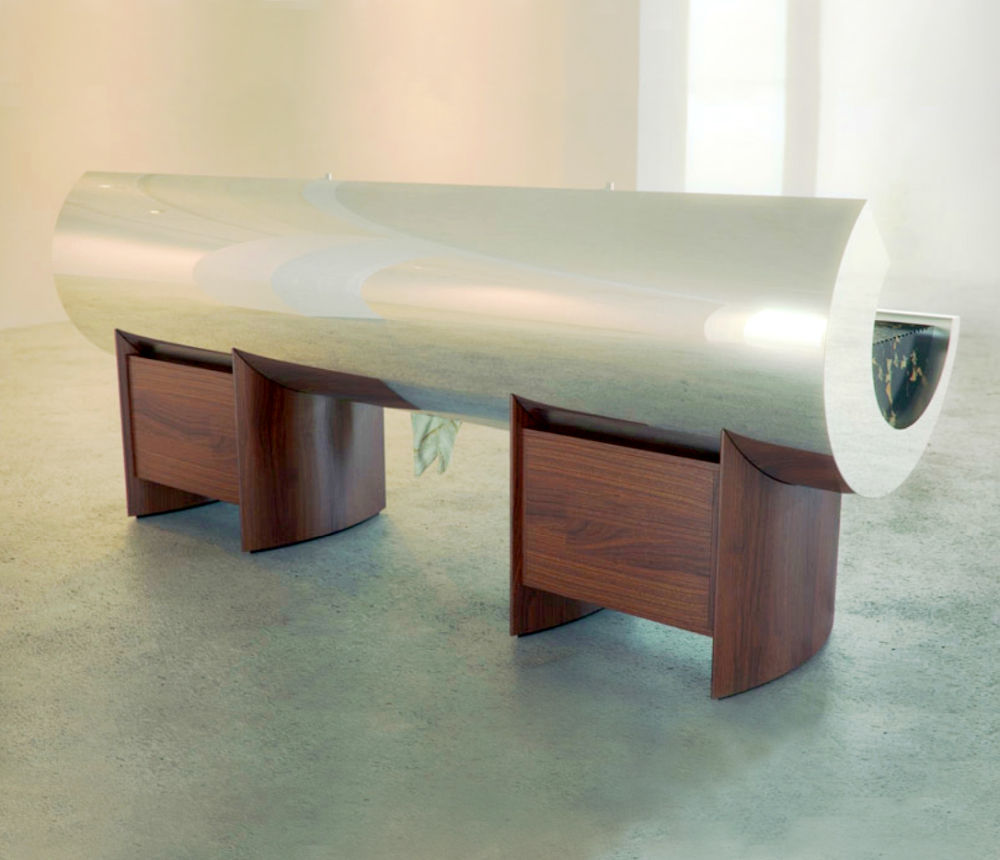 Created by UK-based SplinterWorks, the 118.1" w x 31.5" d x 49.2" h Cink injects pizzazz to the normally utilitarian sink duty. The unit is encased in a monolithic cylinder of mirror polished stainless steel that will make a bold statement in any contemporary home. The twin French walnut base cabinets counterbalance the industrial aesthetic while hiding the dishwasher and requisite plumbing.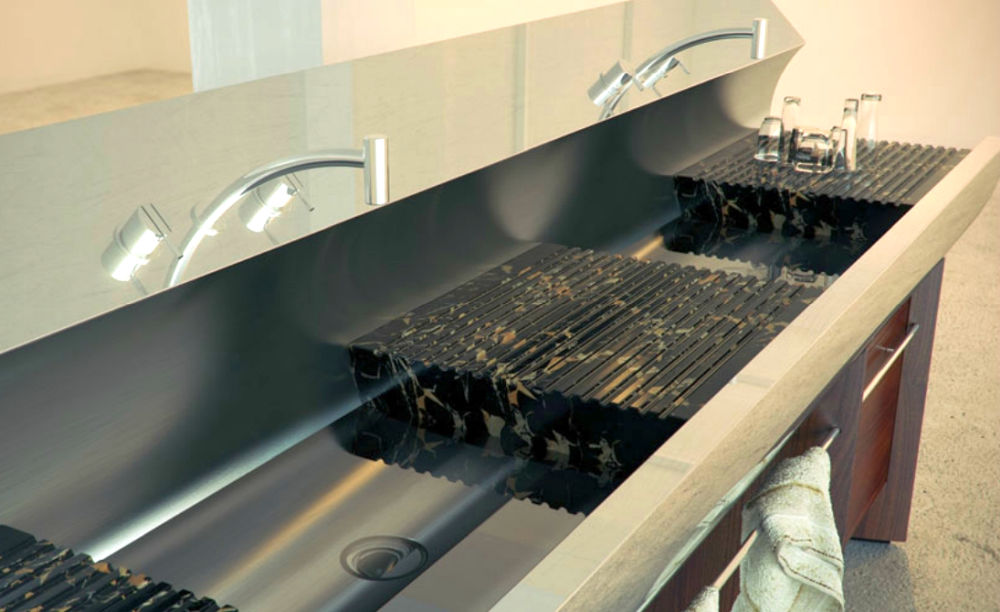 On the workstation side, sumptuous black and gold Portoro marble drainboards that flank the sinks are as beautiful as they are practical, while a singular line of stainless steel rods beneath the trough function as door pulls or towel bar, depending on their location.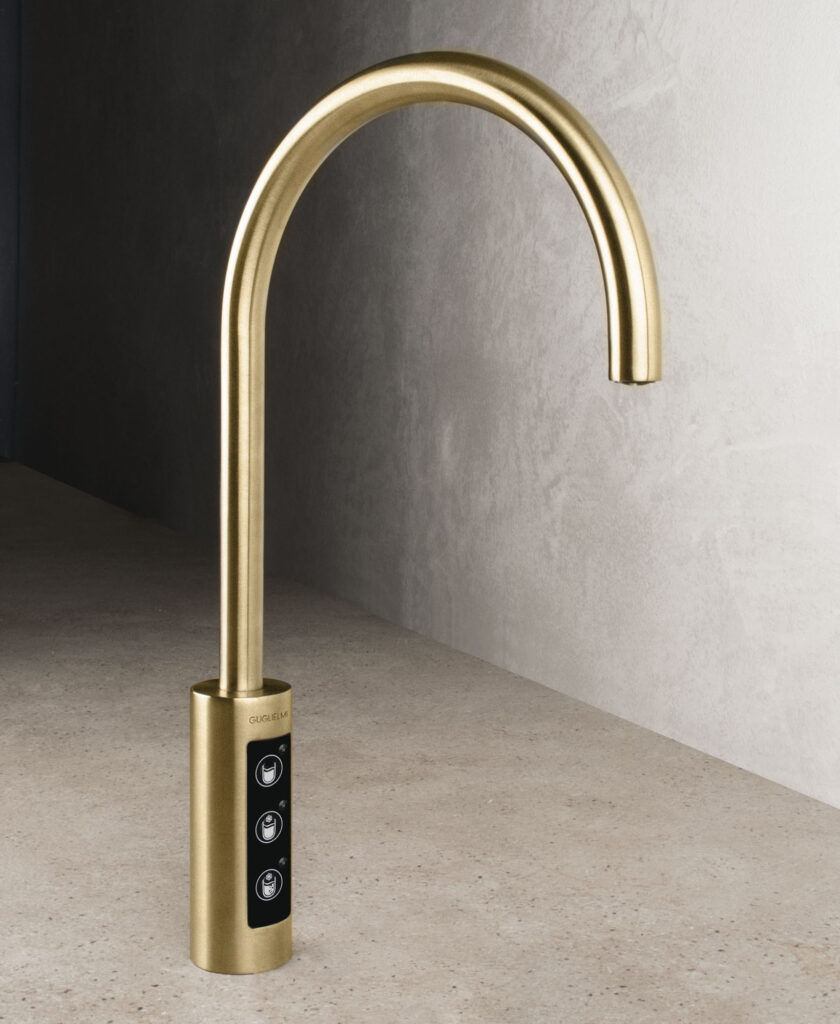 For those who want to enjoy purified still or sparkling water at different temperatures, Italian faucet manufacturer Guglielmi's PURA Touch Still + Sparkling dispenser tap is for you! The touch faucet comes with 3 settings – the microfiltered still water is available either room temperature or chilled, while the aerated water is always served chilled.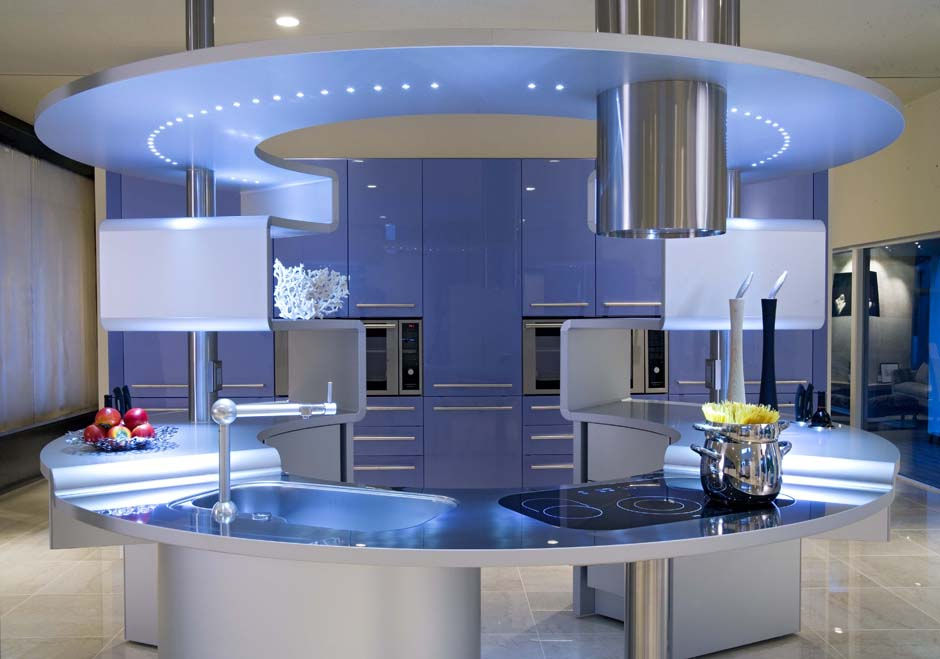 Just as the Acroplolis was the center of social life in ancient Greece, Snaidero's Acroplolis by industrial designer Paolo Pininfarina physically centers the home chef in his/her domain with a circular kitchen. Patterned after the efficient layout of a musician's drum set, kitchen elements such as cooktop, sink, utensil racks and built-in computer are all within easy reach of the cook, to facilitate entertaining and cooking at the same time. Recognizing consumer interest in conservation, Acropolis is made with recycled aluminum that is 40% lighter using innovative manufacturing processes.